This report is based primarily on investigations by Human Rights Watch researchers who were in Lebanon from the onset of the conflict and who carried out investigations throughout the conflict (July 12-August 14, 2006) as well as in the months after the conflict (August-December 2006). The research team included Human Rights Watch's Lebanon researcher, the director of Human Rights Watch's Emergency Program, Human Rights Watch's Senior Military Analyst, and consultants hired by Human Rights Watch.
Human Rights Watch has long experience in investigating the conduct of armed conflict. Human Rights Watch monitors and reports on conflicts around the world, from the civil war between the Maoist and government forces in Nepal to the multi-dimensional conflict in Iraq. Among our previous reports on air wars are our 1999 Report on the NATO air campaign in Kosovo, Civilian Deaths in the Nato Air Campaign, and our 2003 report on the US-led Coalition's air war in Iraq, Off Target: The Conduct of the War and Civilian Casualties in Iraq. Our investigations have contributed to the prosecution of war criminals and genocide suspects from Rwanda, the Balkans, Sierra Leone, Liberia, Darfur, and the Democratic Republic of Congo.
Human Rights Watch has covered previous armed conflicts between Israel and Hezbollah. Our 1996 report, Civilian Pawns: Laws of War Violations and the Use of Weapons on the Israel-Lebanon Border, examined the impact on civilians of military activities from July 1993 until April 1996 between Israel and Hezbollah; our 1997 report, Operation Grapes of Wrath: the Civilian Victims, examined the conduct of the IDF and Hezbollah during the escalation of military activities in April 1996.
Our investigations are guided by international humanitarian law, also known as the laws of war, which can be found in treaties such as the Geneva Conventions of 1949, and by customary international law. The aim of our investigations is to provide an impartial account of the adherence to the law of all parties to a conflict—including non-state actors such as Hezbollah—and to document serious violations of that law. Human Rights Watch researchers are trained in the laws of war and professional investigation techniques, and have many years of experience working in conflict zones.
During the 2006 conflict, Human Rights Watch issued a preliminary report of its findings, Fatal Strikes: Israel's Indiscriminate Attacks Against Civilians in Lebanon. The report was based on Human Rights Watch's extensive on-the-ground investigations into some two dozen incidents in which IDF bombing and missile attacks killed civilians. It concluded that the IDF consistently committed indiscriminate attacks in which it failed to distinguish between combatants and civilians and that some of those responsible had committed possible war crimes. The report also concluded that in some cases, the timing and intensity of the attack, the absence of a military target, as well as return strikes on rescuers suggested that individual Israeli combatants may have deliberately targeted civilians, although Human Rights Watch has no evidence that this was done as a matter of policy. The report explicitly recognized the limitations of its findings because the ongoing fighting limited the information and investigative opportunities available to researchers: "Human Rights Watch does not claim that the findings are comprehensive; further investigation is required to document the war's complete impact on civilians and to assess the full scope of the IDF's compliance with and disregard for international humanitarian law."22
After the imposition by the United Nations Security Council of the ceasefire that ended hostilities, Human Rights Watch researchers immediately embarked on a more extensive investigation of the IDF's and Hezbollah's conduct during the war, a process of investigation that took five months to complete. Human Rights Watch researchers visited over 50 villages, towns, and locations to assess the impact of the war on the civilian population of Lebanon, and interviewed over 355 persons to get as accurate a picture as possible about individual incidents. We selected these villages and towns because civilians had died in them. The end of hostilities dramatically improved the research climate, as researchers were able to locate and interview witnesses in the privacy of their own homes and to conduct on-site visits to attack sites and cemeteries around Lebanon.
Human Rights Watch researchers followed a standard methodology to investigate the impact of the war on civilians throughout Lebanon. In each village, town, or location investigated by Human Rights Watch, our investigators first established the total number of persons reportedly killed, civilian and combatant. The researchers then interviewed local officials as well as family members and eyewitnesses to the incidents in which persons were killed, to establish the exact circumstances of those killings. In the majority of villages visited, our researchers were able to investigate every death in the village.
We conducted all interviews separately and independently from each other, so witnesses were normally unaware of what others had already told Human Rights Watch. Each interview normally lasted about one hour, and was designed to gather enough factual detail to assess the consistency of, and corroborate information given by, different witness accounts. Human Rights Watch asked interviewees for as much information as they had about attacks. We attempted to ask each person the same set of questions about an attack, but on some occasions witnesses could not provide answers to particular questions, such as the location of Hezbollah fighters or weapons, simply because they did not have such information available to them. In each instance, Human Rights Watch researchers endeavored to find multiple witnesses to individual events, in order to allow for corroboration and the checking for consistency of accounts.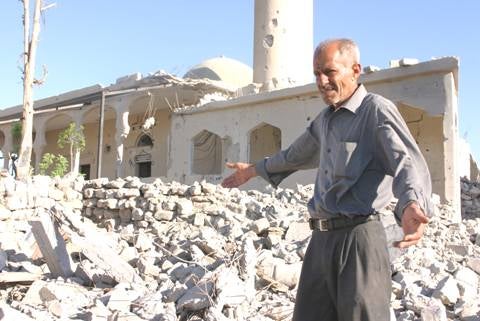 In some cases in this report, particularly in cases where Lebanese witnesses discuss Hezbollah abuses, we have withheld the names of the witness and other identifying information to protect these witnesses from possible retaliation. To ensure that witnesses would speak candidly about both Israeli and Hezbollah abuses, Human Rights Watch researchers conducted all interviews in as private a setting as possible, and explained to witnesses that they could chose to remain anonymous to prevent relatiation. In all cases, the identities of the witnesses are on file with Human Rights Watch.
In addition to the detailed interviews, Human Rights Watch also conducted on-site investigations of attack sites, examining them for signs of Hezbollah presence or the types of weapons used. For each site visited, Human Rights Watch researchers photographed the site, documented any forensic evidence found, and collected the GPS coordinates.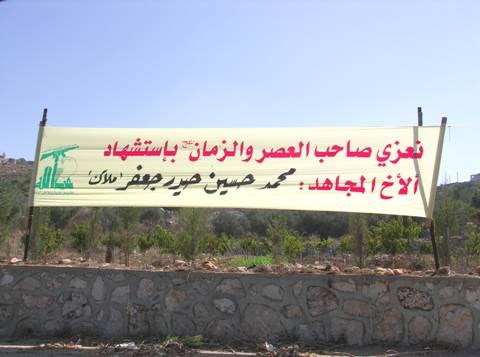 Whenever possible, Human Rights Watch researchers also visited the cemeteries where those killed in Israeli strikes were buried, to examine whether their gravestones identified them as civilians or as "martyrs" or "fighters" for Hezbollah or other armed groups. Our researchers also examined the many "martyr" posters found throughout Lebanon to establish whether certain individuals killed were civilians or combatants.
The information collected by Human Rights Watch researchers from cemeteries and "martyr" posters proved important in corroborating whether an individual was a civilian, combatant, or Hezbollah official. In southern Lebanon and elsewhere in the country, many consider it an honor for persons who died in the conflict to be identified as a "martyr" or "fighter," with little likelihood that a Hezbollah fighter would be buried as a civilian. Human Rights Watch did not find any cases in which known combatants or Hezbollah officials killed in the conflict were buried as civilians, or where the family or Hezbollah officials denied a person's status as a fighter or Hezbollah official.
Burial practices also distinguish between civilian members of Hezbollah or other militant organizations, who are buried merely with a Hezbollah (or other militant organization's) symbol on their grave stone, and Hezbollah fighters (or fighters from other militant groups), who are buried as military "martyrs" with distinct markings on their grave stones and Koranic verses different from those used on the graves of Hezbollah civilian members (or other civilians). Hezbollah commanders and elite fighters who died in combat have additional markings on their grave stones, such as an identification of their leadership position (e.g., "the martyr leader," al-shahid al-qa'id) or noms de guerre given to full-time Hezbollah fighters.
| | |
| --- | --- |
| | |
The same applies for the much smaller number of militants from the Amal party and the Lebanese Communist Party who died fighting in the conflict, although it appears that at least in one case, Amal tried to claim two non-combatant members killed in the war as "martyrs" in order to bolster its status as a militant organization.
The visits to cemeteries provided an important safeguard against potential misrepresentations by witnesses. For instance, in our Fatal Strikes report issued during the war, eyewitnesses were not always forthcoming about the identity of those that died, and in the case of Srifa, misled our researchers. After the conflict, a visit to the graveyard made it possible to establish that most of those killed in Srifa were actually combatants because they were buried as "martyrs," not civilians.
Human Rights Watch researchers, using corroborative visits to the cemetaries, did not find any other cases where witnesses deliberately tried to mislead us on whether casualties were civilian or militants.
In addition to interviewing persons who witnessed attacks, Human Rights Watch also conducted numerous interviews with various officials, including Lebanese military and humanitarian officials; Hezbollah members and officials; UNIFIL and other United Nations officials; members of the Lebanese Civil Defense and the Lebanese Red Cross who were present at various recovery efforts, as well as their spokespersons; representatives of international and local humanitarian organizations; doctors and officials at various hospitals that received the wounded and the dead; international and local journalists and photographers; and diplomats, academics, and other policy makers.
To further check the accuracy of our research, Human Rights Watch reviewed all publicly available information about the incidents it investigated, including statements of the IDF and the Israeli Ministry of Foreign Affairs; international, Israeli, and Lebanese newspapers, wire services, and magazines (in English, Hebrew, and Arabic); statements by local and international organizations; and reports by local and international human rights and other investigative agencies (such as the UNHRC's Commission of Inquiry) to ensure that there were no accounts that contradicted our own findings. Whenever we found contradictory or additional information, Human Rights Watch carried out additional investigations and interviews to determine the accuracy of our information. Where we could not resolve factual contradictions, this report reflects the competing accounts and makes it clear that there are contradictory accounts of individual incidents.
Human Rights Watch researchers sought information from Israeli officials, including the IDF and the Israeli Ministry of Foreign Affairs, about the various attacks investigated by Human Rights Watch, as well as any evidence to support claims of Hezbollah shielding practices in these attacks. Human Rights Watch provided Israeli officials with a complete list of place names, GPS coordinates, and times of the attacks it was investigating (Lebanese and Israeli place names do not always correspond, and attacks are normally logged by GPS location and time of attack, not the name of the location). Human Rights Watch received only a limited response to its queries to Israeli officials, but this report reflects those responses where relevant. In addition, the report reflects any public IDF statements.23
Human Rights Watch investigators also investigated the conduct of Hezbollah inside Lebanon during the conflict, including allegations of abuses against the Lebanese population during the war. This report focuses on the behavior of Hezbollah with respect to its conduct inside Lebanon; Civilians under Assault: Hezbollah's Rocket Attacks on Israel during the 2006 War focuses specifically on Hezbollah's rocket campaign against Israel.
A note on terminology: we use the term "Hezbollah fighter" or "combatant" to identify Hezbollah military personnel who took an active part in combat, as opposed to non-military Hezbollah members, who we refer to simply as "Hezbollah members." Hezbollah is a huge, multi-faceted organization in Lebanon. It has both a military wing (known as the "Islamic Resistance" or al-Muqawama al-Islamiyya) and non-military organizations, such as its political party, its educational institutions, and its social welfare organizations, including hospitals. Because most Lebanese civilians distinguish between the Hezbollah organization as a whole and its military or "resistance" wing, this report keeps the term "resistance" when witnesses used it during quoted interviews. The use of the word "resistance" in this report is not meant to imply a Human Rights Watch position on the legitimacy or illegitimacy of Hezbollah's military campaign against Israel.
Like other Lebanese political parties, Hezbollah has thousands of members who are not actively involved in any aspect of its military operations. While Hezbollah combatants are legitimate military targets, ordinary members of Hezbollah, as well as Hezbollah officials not directing or engaged in military activities, are not legitimate military targets. The term mukhtar identifies a local official in Lebanon who performs various administrative tasks such as birth registrations or authentication of documents. In Lebanese villages, mukhtars know a lot about the community they serve and represent an important source of information.
In accordance with its institutional mandate, Human Rights Watch maintains a position of strict neutrality on matters concerning the legitimacy of resorting to war because we find it the best way to promote our primary goal of encouraging all sides in the course of the conflict to respect international humanitarian law. Accordingly, this report does not address whether Hezbollah or Israel was justified or acting legally in their decisions to go to war or to escalate the war. We look only at how they complied with their legal duties to spare civilians the hazards of that war.
---