In addition to the arrests during protests, the security services also conducted massive raids at dozens of monasteries beginning the night of September 26, some of which have been documented in this report. Many of the nighttime monastery raids were extremely violent, involving severe beatings of monks, gunfire, and significant destruction of religious property. At many of the monastery raids, all of the monks were taken away into detention, or were ordered to de-robe and return to civilian life. Since many monks fled into neighboring civilian areas during the raids, monastery raids often were followed by sweeps of the neighborhoods to locate hiding monks and arrest people that might have assisted the monks.
During these raids, the security forces took several thousand monks into detention throughout Burma, particularly in Rangoon, Sittwe, and Kachin State. Many monasteries were completely emptied of monks, and were occupied by the security forces for weeks following the crackdown—a number of monasteries remain occupied at the time of the publication of this report. At some monasteries, pro-SPDC abbots—or abbots who were afraid of potential repercussions—refused to allow monks who had participated in protests to return.
The security forces' frequent raids on monasteries, arrests and forcible de-robing of monks, and their occupation of the monasteries forced many monks to "vanish" from the streets of Rangoon and to return to their home villages to seek safety. Others were forcibly de-robed and ordered by the security forces to return to their villages. As a result, the streets of Rangoon, once filled with thousands of monks and nuns seeking alms, were virtually emptied of clergy.
"Htet Win Naing," a taxi driver from Rangoon, recalled to Human Rights Watch that two desperate monks came to his home on October 2 or 3, begging for money to allow them to return to their villages in Rakhine State:
One of them told us he had been the only monk left at his monastery in Yangin Township—all of the other monks had been arrested. He only escaped because he climbed out of a window. …They just said they couldn't stay in Rangoon anymore, they had to go back [home]. They really appreciated our help, because many houses didn't allow them to enter. They smelled of sweat. They only had one set of robes, nothing else to change into. They had to hide in houses because they couldn't stay at the monastery.202
Detained monks were subject to forcible de-robing, in addition to humiliating treatment, physical abuse, and extended interrogation. The conversion of monks back to lay status can be conducted only by senior monks and ordinarily requires the consent of the subject. On September 28, the authorities brought several Buddhist monks who were part of the state-controlled Sangha Nayakas to the detention facility at the Government Technical Institute (GTI) and ordered them to perform the ritual to de-robe hundreds of monks detained at the GTI; the detained monks were mostly from Ngwe Kyaw Yan Monastery, Maggin Monastery, and Mingalar Rama Pali University. The monks who were summoned to conduct the ceremony refused to do so. Security officials subsequently ordered the detained monks to remove their robes and wear a lay clothes which, unlike ritual de-robing, does not negate the holy status of the monks.203
Some monks returned to their monasteries after their release, but the security forces ordered the majority to leave the monkhood (Sangha) and to return to their native areas. Others returned to their monasteries to find them still occupied by security forces. In some cases, monks stated to Human Rights Watch that the abbots of their monasteries refused to accept them back because they had been involved in the protests or had been detained. One 76-year-old senior monk, who was suffering from intense chest pains and had difficulty breathing because he had been kicked in the side of his chest repeatedly during his arrest, was barred from returning to his monastery after being released from Insein prison on October 25, 2007.204
The forced defrocking or disrobing of the monks, and their forced return to civilian life in their villages, provides part of the answer to the common question about "what happened to the monks." Although a few monks are known to have been killed during the protests and an undetermined number remain in detention, the available evidence suggests that most of those who "vanished" from public view have since returned to their native villages. 
The siege of the monasteries was continuing as this report was being finalized. Many monasteries in Rangoon, particularly those around Shwedagon Pagoda, remain occupied by the security services (who are residing inside the monasteries in some cases) and continue to be empty or largely empty of monks and novices. Monasteries continue to be raided and shut down by the security forces: on November 27, for example, two officials of the Ministry of Religious Affairs and an official from the Township Peace and Development Council ordered the closure of the Maggin Monastery in Rangoon, one of the original monasteries raided on September 27, 2007, shutting down not only the monastery but also the HIV/AIDS care center being run there. The abbot of the monastery and several other monks have been in detention since they were arrested in September.205
The Continuing Arrest Campaign
Following the government crackdown, the security forces undertook a massive witch hunt to track down suspected protest organizers and activists, using the images and information collected during the protests. These continuing arrests highlighted the SPDC's fear-inducing, totalitarian ability to penetrate the private lives of its citizens. Each household in Burma is required to deposit a register of its inhabitants (with photographs) with the authorities, and immediately announce the presence of overnight guests (including relatives not registered in the household) to the ward Peace and Development Council. Multiple, overlapping organizations keep everything and everyone in Burma under surveillance: the local ward Peace and Development Councils, the USDA, and Swan Arr Shin all supplement the capacity of the state to monitor and police its citizens. By mobilizing this dragnet of informants, the government systematically began to track down organizers and activists.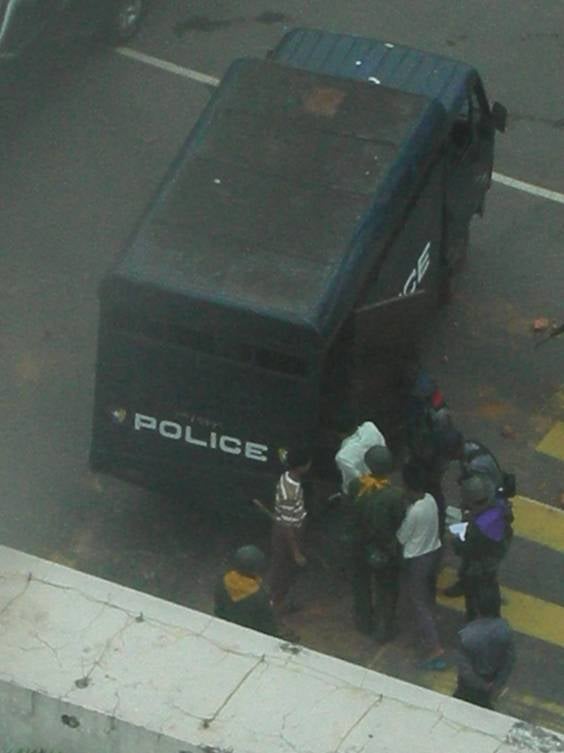 The state-controlled New Light of Myanmar claimed on November 7 that a total of 2,836 persons had been detained throughout the country during the protests and the subsequent crackdown, and that only 91 persons remained in detention.206 Such figures bear little resemblance to reality: the total number of people arrested in Rangoon alone was much higher than 2,836. Although thousands have indeed been released, available evidence indicates that those who remain in detention, both of the known political leadership of the NLD and '88 Generation students as well as countless unknown protesters and monks, number in the hundreds. 
Particularly distressing, the SPDC has failed to provide information on the whereabouts of those detained to their families, violating the international legal prohibition against enforced disappearance. The nongovernmental Assistance Association for Political Prisoners in Burma (AAPPB), based in Thailand, lists 72 persons who have "disappeared" since the crackdown, many of them from the vicinity of the Tamwe High School on September 27, but the actual number of such "disappearances" is undoubtedly much higher, as families frequently do not report their missing relatives to exile organizations. In some cases, families have been able to confirm that missing relatives are being detained or were killed, but many remain uncertain about the fate of their relatives and are too afraid to ask the authorities for information.
The arrest campaign has relied significantly on the photos and videotapes collected by government intelligence agents at the protests. Almost all the protests that took place were carefully videotaped and photographed by plainclothes intelligence agents, and during the crackdown, these photographs were distributed to the ward Peace and Development Councils, USDA, and local law enforcement officials to help them identify and arrest persons who had taken a part in the protests.
On numerous occasions, security forces detained family members of wanted activists when they could not locate the activists themselves, in an apparent attempt to get them to turn themselves in. In mid-October, security officials detained two brothers, a sister, and the parents of U Gambira, the leader of the All-Burma Monks Association (ADMA), reportedly stating that the family members would not be released until U Gambira himself was detained (U Gambira was arrested in early November, but his father and brother remain in detention).207 On October 2, security forces detained the abbot of Thitsar Mandai Monastery, reportedly until his younger brother, a monk involved in the protests, was detained or turned himself in.208 On October 19, security officials detained the mother and mother-in-law of wanted activist Thet Thet Aing, in an attempt to force her to come out of hiding (her mother was released only on November 2).209 Authorities also arbitrarily  detained Khin Marlar, the wife of wanted poet Ko Nyein, from October 1 until October 21, to pressure him to turn himself in.210 Such "collective punishment" violates the right under international law against arbitrary deprivation of liberty.211
"Shwe Thandar," an NLD activist who had participated in the prayer meetings for the release of Aung San Suu Kyi prior to the protests as well as in the protests themselves, told Human Rights Watch that police officials raided her family home at 1 a.m. on September 29. The police searched the entire apartment looking for her, but she escaped arrest by pretending to be the wife of her brother-in-law and feigning to be asleep. Their neighbors "assisted" the police, telling them to check to make sure she was not hiding in the bathroom. The police told her sister that she should report to the police station as soon as possible. "Shwe Thandar" immediately went into hiding, moving from apartment to apartment. In mid-October, the security forces arrested her teenage daughter, who had not played an active part in the protests. The daughter remained in detention at this writing.212 
"Naing Soe Myint," a trader who helped organize some of the protests explained to Human Rights Watch that he was warned on September 29 by a friend who had contacts in the security services that he was about to be arrested and should flee his home, and did so immediately. After he fled, officials from the Ward Peace and Development Council, the police, and the USDA came to his home, showed his wife pictures of him taken at the protests, and demanded to know his whereabouts. When his workers tried to re-open his shop, township security officials ordered them to keep the shop closed, saying that "no business can be run in 'Naing Soe Myint's' name."213
"Zaw Thein Htike," a protest organizer, told Human Rights Watch that his apartment was raided on September 29, but he was already hiding elsewhere. When the authorities could not find him, they detained two of his siblings for one day. They confiscated his computer, which stored documents about the democracy movement in Burma. Realizing he was about to be arrested, he fled.214
"Tin Htut Khaing," who had participated for a few days in the protests, explained to Human Rights Watch that he was detained at 3 a.m. on October 3 when the ward Peace and Development Council and army soldiers conducted a mass sweep in Bahan Township. They conducted a house to house sweep, checking the house registries and arresting anyone suspected of involvement in the protests. Because the soldiers counted the detainees at the end of the sweep, he knew that 105 men and 98 women had been detained that night.
"Kyaw Zin Min," a university student, explained to Human Rights Watch that security officials and ward Peace and Development representatives first came to his neighborhood in Rangoon on October 5, and ordered all the students to accompany them to the ward Peace and Development Council offices for questioning. He was not at his apartment at the time, and so escaped arrest. He then learned from relatives that the ward Peace and Development Council had come to look for him at his home, and decided to go into hiding. His mother told him that the ward Peace and Development Council officials came to check for him every day at her home. On October 12, he and his friends fled to Mandalay, but found the surveillance there even more intense. They were unable to find a place to sleep because of the requirement that the ward Peace and Development Council approve all overnight stays. They returned to Rangoon the same day, before fleeing.215
"Kyaw Zwa Oo" explained to Human Rights Watch that the chairman of the ward Peace and Development Council, a Special Branch Investigator, a policeman, and two other officials came to his mother-in-law's home on October 11, looking for his wife who had participated in the protests. The officials then went to the home of "Kyaw Zwa Oo," where his wife narrowly escaped arrest after she was tipped off by one of the officials that she was about to be detained. When "Kyaw Zwa Oo" told the officials that he had a fight with his wife and did not know where she was (to protect her), they confiscated his wife's identification papers. "Kyaw Zwa Oo" and his wife immediately went into hiding to avoid arrest. He explained to Human Rights Watch: "The laws in Burma are [flexible] like a rubber band. Whatever they want to do, they can do. If we showed our faces to them, they will punish us."216
The vast majority of ordinary protesters and bystanders who were detained at the protests themselves appear to have been released after a few days to a week. Many were required to sign a statement in which they admitted their "guilt" and pledged not to take part in further anti-government protests or "unlawful activities." Generally, a relative was also required to sign a pledge accepting legal responsibility should those released be found to be involved in future protests and "crimes" against the state.
The arrests have not ceased since September. As of this writing in early December, Human Rights Watch was continuing to receive regular, almost daily, reports of new arrests. This was despite repeated statements by the Burmese authorities that the arrests had ended. For instance, Burma's Permanent Representative at the United Nations, U Kyaw Tint Swe, told the UN Security Council on November 13 that there "had been no further arrests in connection with the demonstrations," a statement contradicted by the facts on the ground in Burma.217
As noted above, in early November, the authorities arrested U Gambira, the head of the All-Burma Monks Alliance (ABMA) which had spearheaded the September protests, and reportedly charged him with treason.218 On November 13, as UN Human Rights Envoy Paulo Pinheiro was in Rangoon, the authorities detained labor rights activist Su Su Nway and her fellow NLD activist Bo Bo Win Hlaing as they were putting up protests posters near the hotel where Pinheiro was staying (Su Su Nway had been in hiding to avoid arrest since organizing a protest in August).219 On November 26, civilian-dressed security officials detained Aung Zaw Zoo, a member of the Human Rights Defenders and Promotors network, from a tea shop in Kyauktada Township in Rangoon.220
Other recent detentions include the November 5 arrest of U Khaymarwuntha, a monk from Zantila Kamahtan Monastery in Rangoon, for involvement in the protests; the November 15 arrest of U Than Rama, a monk involved in the protests, from a monastery in western Rakhine State; the November 20 arrest of Dr. Myint Naing  (an elected NLD member of parliament and former political prisoner from 1990 to 2004); the November 20 arrests and interrogation of three members of the Committee Representing the People's Parliament (CRPP): Aye Tha Aung, Soe Win, and U Pin Cin Saing Thaing; and the November 20 and 21 arrest and questioning of ethnic Arkanese leaders U Tin Ohn, Cin Sian Thang, and U Aye Thar Aung, Mon National Democratic Front leader Naing Ngwe Thein, and ethnic Kachin leader U Hkun Htoo, which compelled many other ethnic leaders to flee (most ethnic leaders were released after questioning). 221
---