Research by Human Rights Watch and SOS Habitat has found that between 2002 and 2006 the government of Angola carried out at least 18 mass evictions involving violence and excessive use of force, in contravention of its international and national obligations. 38 In addition, the government did not comply with the procedural safeguards enshrined in both international and national law or provide adequate compensation. The government ignored the humanitarian consequences of the evictions, particularly on vulnerable groups such as women and children. It also failed to ascertain information concerning which rights residents had over their land or housing before evicting them. 
Evictions have often involved intimidation and unnecessary violence and destruction, which have sometimes led to confrontational reactions from persons losing their homes and property. Residents were subject to traumatic "surprise evictions," where people were caught unguarded by the unheralded arrival of police, bulldozers and trucks. Such "surprise evictions" are illegal under international law.
Evictees interviewed by Human Rights Watch reported that they had been subject to intimidation and threats by uniformed police officers and members of the provincial and municipal administration (fiscais). Evictees from the neighborhood of Wengi Maka, for example, told Human Rights Watch that police officers "pass by saying 'you're too insolent, we'll come to destroy these houses again.'"39 Many reported that the same officers used excessive force against residents in the course of evictions. They fired shots, beat people, used aggressive language, and pushed residents away from their houses when they were trying to remove their possessions:
They were so many…the police cars came all packed. We couldn't even count, in that confusion…all you could see was dust all over, men being beaten, people being thrown in police cars, gun shots…it was like a civil war. They came very early in the morning and surrounded the whole neighborhood.40
In many eviction and demolition operations, government officials (both municipal and provincial officials accompanied by police officers) are reported to have responded violently to residents who tried to question the grounds on which they were being evicted and their houses demolished. Evictees from Soba Kopassa and Cambamba I told Human Rights Watch:
In June 2005 they came to demolish us. I tried to ask for information, but they beat me with the handle of their guns.41

My husband, when he arrived, he asked: "You're tearing down my house, where I am supposed to live now?" They fired shots to scare him away…Those who said something were beaten. No one could say anything at that time. You could only look at what they were doing; you could only stay there, live through it...42
In six of the neighborhoods where Human Rights Watch and SOS Habitat documented eviction operations (Cambamba I, Cambamba II, Soba Kopassa, Bairro da Cidadania, Benfica and Wengi Maka), numerous evictees reported that they were physically abused by uniformed police officers using a variety of weapons, including broom sticks, baton sticks, and the handles of guns, pistols, and machetes:43
I ran to get my wife and my child and take them out of the house. We left holding each other and they came to beat us with batons. We continued to hold each other and they continued to beat us, pushed us and threw us to the ground. At the end there were eight policemen hitting me and my wife, holding our one-year-old baby. Then they threw me into the police car…At the police station they beat me with broom sticks…They said we would receive 30 catanadas [beatings with the flat part of a catana, or machete] each one. Fifteen in the hand and fifteen on the backside.44
International law requires law enforcement officials to only use firearms in cases of serious threat and when other less extreme means are not available to achieve the same objectives.45 In the evictions researched for this report, however, police officers carrying semi-automatic AK47 assault rifles pointed their weapons at unarmed individuals, including children and elderly persons, gesturing aggressively, immediately upon arriving at eviction sites and during the process of demolition and removal.
I tried to defend my things…I was holding my granddaughter in my arms and went in the direction of the police man. He pointed [his gun] right at me. I shouted, "You want to fire that thing at me? You want to shoot me? Well, go ahead."46
In many instances the police fired shots into the air or the ground to intimidate residents. In a number of incidents shots were fired apparently indiscriminately at persons protesting evictions. For example, during evictions in Cambamba I and II on March 13, 2006, shots were fired into the crowd, hitting a small child and causing injuries to the left knee.47 Staff of national and international organizations who witnessed this particular eviction operation stated that the population was unarmed. The UN Human Rights Office in Angola described what happened:
While carrying out evictions, members of the National Police Force, members of the Fiscal Police as well as agents of a private security company shot into the crowd of residents, kicked and hit people with guns and whips. One 4-5 year old child got seriously wounded by a bullet in his left knee and had to be brought to the hospital. Other cases we witnessed were three women who were beaten during their arrest (one of whom, eight months pregnant, was kicked in her abdomen, causing hemorrhagic bleeding), as well as a young man beaten repeatedly with a whip during his arrest who continued being beaten at the police station. The law enforcement agents acted with excessive use of force and use of fire arms that were in no proportion to the level of resistance offered by the unarmed population.48
In June 2004 a man was shot in the head by police officers during an eviction in the neighborhood of Wengi Maka, resulting in severe speech and mobility impairment.49C.L., another evictee from Wengi Maka who was shot four times in his right leg and as a result limps visibly, shared his experience with Human Rights Watch:
They came around 5 a.m…We were walking the four of us. All we heard was the firing and then they were saying we were agitators. The men that shot ran away and the people took us to the hospital…I got hit four times in my leg. I used to be a bricklayer. Now I cannot work.50
V.L., who was accompanying C.L. at that moment, also described what happened:
The demolitions started at the other side, over there. We went there to see what was going on. When we were coming back we passed by police men. When we were around 50 meters away, they started to say we were "agitators" and then fired at us. They were three [the victim identified the three officers by first name or nickname they used]; first [name withheld] fired and then the others. I got three shots in my right leg. When all the people ran to help us, the policemen fled. People took us to the hospital and I stayed there for a week.51
Many evictees, international and national NGO staff, and UN officers told Human Rights Watch that private security guards from a company called Visgo were present during the evictions in Cambamba I and II, on March 13, 2006.52 Witnesses said that private security guards carrying guns were acting together with the police, beating residents, and among those who opened fire:53     
The policemen [who was beating me] was using a dark blue uniform…They were using gun shots to make people run away…They fired to the ground, close to people's feet. There were also police men in ocean blue uniforms and private security in green. They shot when the confusion started...I saw the private security guards shooting.54
According to the UN Human Rights Office in Angola, "the uniformed and armed individuals identified as members of the private security company Visgo made use of their heavy firearms (AK47) against the population and participated together with the police in several acts of violence against residents." The UN Office questioned the legal mandate of a private security company to take such action against the population.55 
Under international law and standards, the Angolan government remains responsible for human rights abuses perpetrated by private actors and must "ensure that legislative and other measures are adequate to prevent and, if appropriate, punish forced evictions carried out, without appropriate safeguards, by private persons or bodies."56 
Under international law, no one can be deprived of their liberty except on such grounds and in accordance with such procedures as are established by law. Anyone who is arrested must be informed, at the time of arrest, of the reasons for his arrest and shall be promptly informed of any charges against him.57 Article 39 of the Angolan constitution contains the same provision.
Under Angolan law, people can only be deprived of their liberty preventively when caught while committing a crime, when there is reason to believe the person may escape or damage a police investigation, or when there is strong and substantiated suspicion that this person committed a crime punishable with a prison sentence of over a year.58 The police must bring anyone who has been detained before the public prosecutor for confirmation of the legality of the detention on the same day as the arrest. 59
Human Rights Watch interviewed victims and eye witnesses to the arrest of more than 50 residents which did not conform to the legal standards noted above. These arrests took place during or right after evictions in Cambamba I and II, Banga We, Bairro da Cidadania, Benfica, Wengi Maka, Maria Eugenia Neto, and Soba Kopassa.  In all the cases documented, police did not inform the persons of the reason for their arrest and could not legally arrest such persons because they were not caught committing a crime or endangering an ongoing criminal investigation. Most cases documented were of detentions for short periods—usually a few hours—but in a few cases police detained individuals for several days or weeks.60  
A male resident of the neighborhood Maria Eugenia Neto was detained by local government officials during an eviction operation on August 16, 2001 after he complained about the operation. He was told he had no grounds to complain and was then taken in a private car to the police station of the VII Division where he was held for two days. He was then transferred to the Palenca prison where he was held for a further four days.  At no stage was he told the grounds for his detention or did he have an opportunity to see a lawyer. After his six days of detention, he was brought before a judge who authorized his continued detention for an additional 15 days, which he served at Luanda's central prison. Although he was represented by a lawyer provided through legal aid at the hearing, the evictee claimed that the lawyer did not prepare his defense with him nor informed him of the offense for which he was being detained.
The man was finally released on September 7, 2001. His release form (termo de soltura), which should identify the crime for which he was arrested and detained, stated that such crime was "not specified."61 Failure to inform a detainee of the grounds for his or her arrest renders a detention arbitrary and makes it unlawful under international standards. In practical terms, being denied basic information such as the alleged offence also makes it impossible to verify whether the person has been held beyond the detention limits provided for under Angolan law, as the time period varies depending on the offense.62
Human Rights Watch interviewed a female evictee from Wengi Maka who in 2004 was taken into custody with her four children, who were respectively eight years, six years, two years, and six months old. The woman and her husband were rebuilding their house, which had been demolished two years before, when police officers arrived and told them they must move. The officers left after a heated argument involving others present at the site in which they opened fire in the air. The police returned some hours later. When they did not find the man, they took the woman and children to the 33rd police station at the V Division and told her that she would only be released once her husband reported. She was neither charged nor informed of any crime she may have had committed, and appeared to have been held as a hostage to secure access to the man. The family slept three nights in a cell. The three older children spent periods detained on their own while the mother was released with the baby once a day to go home and prepare their meals.63 The eight-year-old child told Human Rights Watch: "There were shots…I slept on the floor in the cell. There was a padlock in the door…We stayed on our own, me and my brothers, when mummy left to get food."64 Even if this woman had been legally arrested, her older children should not have been incarcerated with her, as they were minors and not accused of any crime. An alternative arrangement, such as placing the children with family members or a child care institution, should have been made. In the end, the woman and children were released after three days following representations by the residents' committee of Wengi Maka.
In one case in October 2005, evictees were detained when they went to the Kilamba Kiaxi municipal administration to seek information on the demolition of their houses that had occurred the previous day. The police held approximately 20 people in custody, some in cells and others in the corridors of the police station at the V Division, from early morning until 6 to 7 p.m. None of them was formally charged with any crime or received any justification for their detention. One of these evictees recounted the arrest:
[We asked what was going on and] they told us to go to the [municipal] administration the following day. We went there, approximately 20 of us. Then they said we were there to invade the administration. The administrator called the police and we were taken to the police station. When we got there they said we had disrespected the administration and had to be arrested.65
During an eviction operation in June 2005 in Soba Kopassa, a police officer beat with the handle of his gun an evictee who was demanding explanations for the forced removal. The police pushed him into a police car and took him to the police station at Vila Estoril. He stayed there two nights and was then released with the help of SOS Habitat. He was not told why he was arrested or formally charged with any crime.66
Many other evictees reported that they had been beaten with the flat/lateral part of machetes:
I and three more people were taken to the nearest police station. They took us to a small room and beat us with sticks. They let me go because I had children to take care. But the men slept there.67

They did not beat the women, but they beat the men…At the police bureau at the Project [Nova Vida] they were using a broom stick, but it broke, so they used a shovel. When they took us to another building [police station] they used machetes. I saw it.68

They took us to a room and beat us. There were around five police men. Then they took us to [the police station at] Golfe and there they beat us with machetes, thirty times each.69

The last time they came I tried to show the documents we had presented at DNIC [National Directorate for Criminal Investigation].70 There was no talk. They beat and handcuffed me. I and eight other people stayed there [at the eviction site] handcuffed from 9 a.m. to 2 p.m. Then I and about four people more were taken to the command of the VII Division. We didn't stay for more than an hour…71
During most of the evictions investigated by Human Rights Watch and SOS Habitat, the government officials and police officers unreasonably interfered with people's privacy by taking disproportionate measures such as the destruction of personal possessions. Evictees' accounts indicate that the government's actions during these evictions were excessive and caused avoidable damage to their personal belongings and livelihoods. Many people reported that they were threatened or beaten by police officers when trying to retrieve their possessions from their houses before bulldozers ran over them. Other evictees reported to Human Rights Watch that municipal and provincial officials and police officers carrying out evictions did not allow them to empty their houses. One evictee from Cambamba II recounted his experience with police officers on March 13, 2006:
They arrived and didn't talk to anyone...and they pushed down the houses…There was time for nothing…we couldn't take anything out. They broke my bed, my oven; they ran over everything. I tried to do something and they took me. I was trying to get my stuff out and they threw me in the police car…I had a brick house.72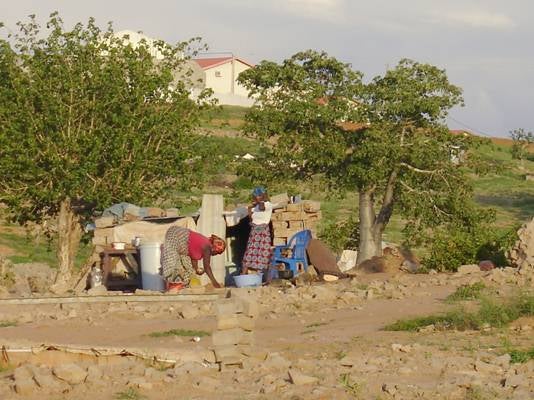 Elderly residents, women and even children who did not have the means or capacity to retrieve bigger or heavier possessions, such as beds and stoves, lost everything. One woman told Human Rights Watch that when she saw the police and the bulldozers she ran to look for her children and left everything behind: "We were left only with the clothes we were wearing."73
Evictees also said that bulldozers crushed their houses and crops and then covered the remains with earth so that people could not reuse them. Many who had no time to empty their houses had their personal belongings buried under the debris. They had to dig under their original housing site in search of things that could be saved. Many lost their identification papers and other documents. Several evictees recounted their experience of destruction during evictions:
They threw earth in our water tanks. They buried our furniture. They destroyed our manioc and our mango trees.74

They came in with trucks after the bulldozers, and they took metal sheets, wood stalls and whatever else they found. There was no talking. Some things I could not take out of the house; I only got the stove and some clothes…The bulldozer broke down the house and then covered everything.75

I got here at the same time as [name withheld of female who arrived in 1996]. [My house] was broken in 26 of September, 2005. I could not save anything that was inside. It was fourteen for nine square meters. It was finished and painted. If there was anything good left, doors, windows, they would take it. This is all I got left [showing the door knob].76
In the neighborhoods of Wengi Maka and Bairro da Cidadania, evictees told Human Rights Watch and SOS Habitat that whenever doors, metal sheets or any other parts of the houses were left intact after demolitions, unidentified civilians accompanying local municipal officials and police officers collected these materials, put them in trucks and took them away:
They went to the market over there and called some young men—they offered some money to them—to come help with the demolitions. They destroyed the houses and those young men followed collecting metal sheets, doors, whatever was left.77
The Committee on Economic, Social and Cultural Rights has clearly stated that all those carrying out evictions should be properly identified to safeguard residents against abuses.78 The use of untrained and unaccountable individuals to carry out evictions greatly increases the risk that evictees' physical security and property will endangered, and that there will be little recourse should such incidents occur.
Harassment of civil society organizations
Police officers also intimidated staff of human rights organizations who witnessed eviction operations. According to a journalist present during the March 13, 2006 eviction in Cambamba:
I arrived after the first evictions that day…I was there with Luiz Araujo from the NGO SOS Habitat and two representatives of United Nations Human Rights. The police spoke very aggressively with all three of them.79
SOS Habitat director Luiz Araujo was arrested during evictions in the area of Cambamba I, Cambamba II, and Banga We, on November 24, 2005. Araujo arrived at the eviction site around 9:30 a.m. and soon after tried to address the police officers present at the site to enquire about the eviction order. He was surrounded by four or five police officers who beat him, put him in a police vehicle, and took him and 12 residents of the area, to the police station located at project Nova Vida. While there, he was kept in the office of the police station commander. On the same day he was transferred to the police station at Golfe, put in a cell, and not allowed to see a lawyer. The following day he and the 12 residents were taken by the police to the court. The residents were forced to keep their shirts off during the car drive. At the court Araujo was allowed to see his lawyer for ten minutes before being brought before the judge. The judge heard a government official (fiscal) and a police officer. At no point during this process was Araujo informed of the reason for his arrest or heard by the judge. The judge decided to return the case to DNIC for further investigation and released Araujo and the others, having taken and registered their personal identity elements (termo de identidade e residencia).80           
SOS activist Rafael Morais was arrested on May 5, 2006, during an eviction at Bairro da Cidadania. He was arrested by members of the Command for the Protection of Strategic Objectives Unit (Comando da Unidade de Proteccao dos Objectivos Estrategicos, CUPOE) when trying to explain the rights of the residents. They accused him of being an "agitator" and took him to the municipal administration. While in custody they kept him barefoot and without a shirt. He was released later that same day after intervention by UN staff and a lawyer from the Angolan bar association.81
During evictions in Wengi Maka on June 26 of the previous year, the same activist was also arbitrarily arrested. The police did not inform him of the reasons for his arrest and he was not committing a crime. According to SOS Habitat Director Luiz Araujo, Rafael Morais "identified himself as an SOS Habitat activist, addressed the official that headed the group of police officers, and asked clarifications about the legality of the acts they were carrying out. Without obtaining any answer, he was immediately detained together with citizen [name withheld] and [both] were subsequently transported in a police car, to the police station at Calemba II."82   
Luiz Araujo went to the police station to enquire about the arrest of his coworker and, while there, was also detained and taken to the command of the V Division:
Called by another activist from SOS Habitat, I went there with Mr. Adriano Parreira. Together we went to the police station where Rafael was to find out about what crime he was accused of. We were inside talking to an officer and meanwhile, residents of Wengi Maka concentrated in front of the police station. Suddenly the police started shooting to disperse the people, they arrested [name of female resident of Wengi Maka withheld] and other neighbors. Then they transported us to the Command of the division and there we learned we were accused of attempting to invade the police station. We spend the day there. In the presence of [lawyer] Mr. Luis Nascimento, we finally learned that we were not arrested or detained.83    
An eye witness to the March 13, 2006 eviction in the Cambambas testified that SOS Habitat activists were harassed at other times: 
The police wanted to take Luiz Araujo,84 who refused to go with them. They [the police] came to talk to us and wanted to take our cameras…When we were leaving, the police was preparing to take one of SOS activists into custody. He was taken to the police station.85
The SOS staff member who was arrested was released later the same day, after the Director of SOS Habitat and staff of international organizations present at the eviction site went to the police station and made the case against his illegal detention. 
Human Rights Watch's interviews with evictees indicate that they were not sufficiently informed of, or consulted about, planned eviction operations. Contacts between the government and the affected population prior to and during evictions varied greatly in each neighborhood. However, in all of the 18 mass evictions documented by Human Rights Watch and SOS Habitat, evictees reported lack of, or insufficient information concerning: (a) the authority that ordered the eviction and the reasoning behind it (justification); (b) the specific use to which the cleared land would be put after the eviction; (c) compensation to displaced residents; (d) the legal status or length of their occupation or possession of the land; and (e) possible alternatives to their removal. Most evictees reported that they had never been informed that the government "would need their land" before eviction day.
Evictees in Cambamba I and II, Banga We, Soba Kopassa, Talatona, Benfica, Onga, Mbondo Chape, and Munlevos reported that municipal officials visited their neighborhoods with no prior notice and numbered people's houses. Although residents could not be precise about the dates when the numbering occurred, it usually preceded the first eviction in the neighborhood by a few days. In most of these cases, officials provided no information about the purpose of the numbering, even when residents asked them directly.86
Evictees from Benfica told Human Rights Watch that only those individuals who were home on the day of the numbering had their houses marked. All those who were not present had their houses ignored. Later when they were evicted and their houses demolished, only those who had their houses marked were relocated.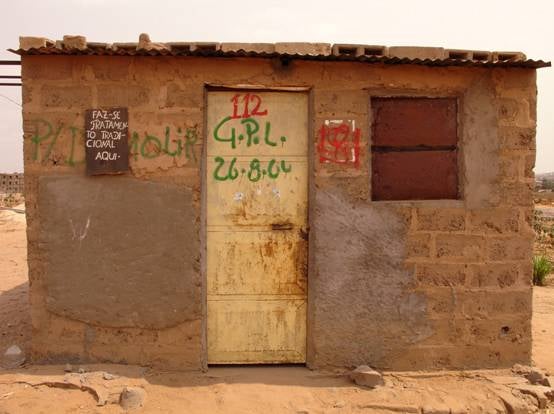 F.T. told Human Rights Watch that he had lived in Benfica since 2000, but he was traveling when they marked the houses: "Because they did not tell they were coming, many people were not home. Those who were not home did not receive anything. When I and the others went there to complain, they told us there were no more [relocation] houses left."87
In Munlevos, the opposite happened. When municipal officers came to mark the houses in September 2005, they only marked those houses whose residents were not present and only the marked houses were supposed to be demolished:
They put numbers in all houses whose owners were not here. If the resident wasn't home, the house was marked. But they didn't say why, they didn't say anything…[When they came back a few days later] they arrived and didn't speak to anybody. They only pointed "this house" and the bulldozer would come and destroy the house. First they only destroyed the houses that were numbered. But at the end even some houses which were not numbered ended up demolished. My sister, for example, her house was not numbered but they demolished it and now she's living here with me.88
In the Cambambas neighborhood in November 2005, the numbering of the houses was also a prelude to demolitions:
In 2005 some fiscais [local government officials] and the police came and marked GPL [Provincial Government of Luanda] in people's houses. They left a notification requesting the Committee of Residents to be at Samba's municipal administration at 10 a.m. the following day [Kilamba Kiaxi, not Samba, is the municipality that oversees the area of Cambambas]. The next day around 6 to 7 a.m., when the members of the commission were meeting to discuss the visit to the administration, they arrived and started to demolish.89
The exact reason for marking the houses, as indicated in the accounts above, varied greatly from one neighborhood to the other. Since the government fails to provide clear (or any) information to residents, the numbering of houses often creates fear, suspicion, and confusion.
Many evictees told Human Rights Watch and SOS Habitat that they tried to request information about eviction operations from the municipality or provincial government, but that officials would not meet them. An evictee from Sapu Vacaria told Human Rights Watch that when she and her neighbor tried to seek information about their imminent eviction after numbering, municipal and provincial authorities "would send us from one place to another."90Evictees from Mbondo Chape affirmed that they were continuously told by local government officials to come back at a later date after waiting for hours and left with no reply but the setting of a new date for a meeting where the same situation would repeat itself.91
Municipal officials told farmers from Bem-Vindo that their land would be expropriated for the construction of a public hospital. When farmers contacted the provincial government and the Ministry of Health to discuss their removal, officials at both institutions told them they were not aware of projects under development in that area:
We had a meeting with the provincial government and with the health authorities and they said they knew nothing about a hospital in this area. But the sign they put there says "authorized by the Provincial Government!" We sent letters to DNIC[National Directorate for Criminal Investigation] and to the Municipal Administration of Samba, but there's no reply to this date. 92 Because there are guards there, we cannot get to our land anymore. The construction works are already starting.93
As described earlier in this report, Angolan legislation requires the government to carry out an impact assessment, including a public hearing with the communities affected, when planning a development project with significant social or environmental impact.94None of the evictees interviewed by Human Rights Watch had been involved in or knew of any such impact assessment and consultations in their respective neighborhoods.
Several residents of areas under the constant threat of evictions told Human Rights Watch and SOS Habitat that they never know "who is telling the truth" and that they wanted a formal and open procedure to take place so they could better understand what was happening to their land. One evictee from Bairro da Cidadania who remained in the eviction site after the eviction waiting for negotiations with the government regarding adequate compensation or relocation, explained "[h]e [the municipal administrator] has many 'languages'. First he comes here saying the land belongs to [name of a private investor withheld],95 later he says this is an industrial area, then he says we really have to go, because this belongs to the state."96
While international law does not prescribe a specific notice period prior to evictions, the UN Special Rapporteur on adequate housing has recommended that there should be a notice period of at least 90 days before resettlement.97 The general deadline under Angola law for notification to individuals of any public administration decisions is at least eight days.98
In the majority of evictions investigated by Human Rights Watch and SOS Habitat, the government gave no formal notice before municipal officials and police forces arrived to carry out evictions. Bulldozers started to demolish houses and crops immediately upon arrival with no prior warning. Many evictees were not present when their houses were demolished and returned home to find only the debris of what used to be their houses:
When they arrived they didn't say anything; didn't ask people to present documents. They only knocked down the houses. They did not bring a warrant [court order] and had not provided notification.99

I went to work and when I came back my house had been destroyed. My neighbors only managed to save the metal sheets that used to cover the house. Everything that was inside was broken…I rebuilt a shelter with the debris of the house.100
In the few cases where evictees were clearly warned about when evictions would take place, this notice to the evictees came after several other evictions had already taken place, was not issued by an appropriate authority, or the notice period was insufficient. For example, in the Cambambas, in February 2006, people were given 72 hours to leave their land by the director of the development project on site (Nova Vida) through an announcement on Radio Eclesia.101 Such general announcements are contrary to the legal obligation under Angolan law to notify each individual affected by decisions of the administration. They also hamper evictees' capacity to submit individual complaints to contest or appeal the evictions order because they do not contain sufficient information to prepare an administrative or judicial claim.  
In Boavista in May 20, 2004, people were orally informed by municipal officials that they would have to leave the following day: "They used to come and say that we should be prepared…Then one day they came during the afternoon, around 6 p.m., saying we would be removed around 7 a.m. the next day."102
In Bairro da Cidadania in April 2006, evictees received a written notification but only 48 hours before the evictions were due to take place. Only 12 families received the notification, although almost 300 would be affected by the eviction. The notice did not precisely define the purpose of the evictions and failed to include proper reference of its legal basis:    
We are hereby informing you that the land plot you occupy, illegally, constitutes industrial reserve of the State.

Equally we alert your Excellency that the state intends to carry out the project developed for that plot, so you should for this fact clear it of people and belongings.

In order to address your needs, we want to inform you that the Municipal Administration, has created the conditions to award you another space with a view to satisfy your Housing needs, if you voluntarily withdraw from the mentioned space [that you occupy], within 48 hours from the date of reception of this document.

Once the deadline mentioned in the paragraph above expires, this Administration will avail itself of the procedure contained in law 10/87 and its regulations to withdraw compulsorily anything that stands in that place and without a right to any other benefits.103
During all mass evictions documented by Human Rights Watch, when requested to present eviction orders issued by a competent authority, municipal officials and police forces failed to provide any document outlining the reasons for the eviction and naming the authority responsible for it (see also section on harassment of NGO activists).
According to the UN Committee on Economic, Social and Cultural Rights, states party to the ICESCR must ensure that individuals have a right to adequate compensation for any property that is affected by eviction orders, including both personal possessions and real estate.104 Angolan law also obliges the state to provide compensation.105 Neither international nor national legal standards define precisely what constitutes "adequate" compensation for eviction, or what form it may take. In civil law countries, such as Angola, governments usually provide either monetary compensation, in-kind compensation (alternative housing or land, material for rebuilding, etc.), or a combination of both. An Angolan land law expert confirmed to Human Rights Watch that it is a common practice in legal terms in Angola for authorities to provide alternative land or housing instead of money as a form of compensation to families evicted from their land or residence. This expert noted that the underlying assumption behind compensation is to create a situation as close as possible to the situation that existed before the eviction.106 According to the information collected by Human Rights Watch and SOS Habitat, in most situations the Angolan government provided some form of compensation but without a consistent procedure in place to determine either its form or amount. However, many evictees received no compensation at all:
We want to expose our situation. If the government wants the land, then compensate us for the purchase price and regularization expenses already paid or give us another decent location to live, where there are schools and hospitals. We're not requiring this land but everything that we have put into it; this is our right!107

There was never compensation, not even a pack of cement, nothing.108

On the day they broke my house they brought us here [to the relocation area], left us in the rain and gave us 20 nails. 109

In 2002 they demolished houses over there to build the hospital. The Administration said they would indemnify, but we know no one who received anything.110

When they took us out of Onga they didn't say anything. When we got here [to Fubu] they said they were going to give us material [for construction], but all they gave us was some nails. I never received compensation.111
In several neighborhoods where evictees received some form of compensation, they described the process of allocating such compensation as flawed, irregular, or unfair: "[t]hey were counting on there being few people but after all there are a lot and they don't have money anymore. They started out by paying well but now they are not paying enough."112Witnesses told Human Rights Watch and SOS Habitat that people sometimes received money in envelopes and were made to sign receipts before seeing their content: "[f]irst they tell people to sign; when people see the amount they complain. But they say 'now you've already signed.'"113
Evictees from Bem-Vindo said that only about 30-35 small farmers of the 105 affected by evictions in this neighborhood had received some money as compensation when Human Rights Watch visited the area in August 2006. The ones that did not agree with the amounts initially proposed have been trying to negotiate compensation since August 2005 when local administration officials first came to the area and told them the government needed their land. In November 2005 several land plots had been fenced without the farmers consent and without compensation having been agreed. Many small farmers and residents have meanwhile left the area, either because they eventually agreed with the compensation proposed, were discouraged by the lack of progress and intimidation, or because they could no longer access their land.114
In Benfica, Mbondo Chape, and Bem-Vindo, some evictees who received monetary compensation for their demolished houses or land found the amounts insufficient and much lower than the market value they estimated for their property.115In Mbondo Chape and Onga evictees reported that in their neighborhood residents received different amounts of money as compensation, although no evaluation was carried out to ascertain the exact size and value of each housing unit or land plot.116 In Bem-Vindo some evictees received compensation while others did not–without any justification or apparent criteria for such different treatments:
We were waiting. He called us, tore up a paper in two and asked us to sign. I didn't want to sign before knowing the amount. It was 30,000 kwanzas [approximately US$375]. I didn't accept…it wouldn't cover the damage they had already made. When I went there to get the money, they had already destroyed my crop [land cultivated by a female evictee in Mbondo Chape since 1975].117

The 28 of October was the date agreed for paying the people...They gave people 11,000 to 30,000 kwanzas [approximately US$140 to US$375]. People started to protest against these amounts…Mr. [name withheld] was threatened…From then on people were afraid.118
Evictees from Cambamba I recounted a similar experience. They told Human Rights Watch that the government's housing project being developed in the area provided compensation for the residents evicted initially in 2001, but not for those evicted in 2004, 2005, and 2006.119 On April 18, 2006, when people had been living in makeshift shacks for almost a year and the neighborhood was almost destroyed, the director of the project sent two representatives to the community to register the remaining evictees, allegedly to provide for their relocation.120 The document appointing these two representatives, however, said nothing about the purpose of the registration and when Human Rights Watch visited in December 2006, these evictees had not been relocated.
SOS Habitat staff accompanied one group of evictees from Bem-Vindo to the municipal administration of Samba to support them in requesting information on the criteria used to define the compensation amounts. According to a staff person from SOS Habitat, this was the administrator's reaction:
Mr. [name withheld] said the state would not go on buying land from any peasant and that the amounts granted corresponded to a kind of reimbursement for the time peasants had spent working in those lands. They should not think of high amounts…Mr. [name withheld] said the peasants were free to seek a solution anywhere they wanted, but they should have in mind that the state never loses in the courts and that he, in his capacity as a public agent, had the law always on his side.121
During the course of this research, Human Rights Watch and SOS Habitat identified five relocation and resettlement sites provided by the government: Zangu, Panguila, Sapu, Camana, and Fubu.122 Human Rights Watch interviewed evictees from Onga, Benfica, and Boavista who had received alternative housing or land plots in the relocation areas of Fubu and Panguila.123 Evictees from Onga and Benfica told Human Rights Watch that they had not wanted to be removed to Fubu or Panguila but had no option because their houses were destroyed and they had no other place to go:
People didn't want to come here, but they had to because their houses were demolished.124

A lot of people said: "there is no food here, there is no water, it is far from the road"; what am I going to do here? And they destroyed all my bricks, how will I build a new house in this place?125
One woman evicted from Boavista in May 2005 and relocated to Panguila, told Human Rights Watch that residents were not informed that they were going to Panguila until after they were evicted and on the day they were transported to the new site in trucks.126 Two other young women relocated on the same day said it was the truck driver that told them where they were going.127 In Bairro da Cidadania the municipal administration offered the residents bare land plots in Sapu as compensation, but only after evictions had taken place, and only when faced with the evictees who had stayed in the area under very harsh living conditions and who insisted on adequate resettlement conditions.128 
In a meeting with Human Rights Watch, the Angolan minister for urban management and environment provided general information on low income housing units built by the government in recent years, some of which have been used to resettle evictees from several areas of Luanda. However, the data from the ministry did not include precise information on the total number of evictees who received land plots or housing as compensation for the evictions from the areas researched for this report.129
In some neighborhoods researched by Human Rights Watch and SOS Habitat, evictees reported that local government officials came to the area and collected some information about families, their date of arrival and settling in the area, and number of residents in the neighborhood. In many of these cases officials gave residents a paper with a number (fichas) and often told them they were written with a view to awarding compensation.130However, such officials failed to provide any further information or consult residents about the amounts of compensation or possible relocation sites. Evictees reported they often never came back to the neighborhood, continuously told people to wait, or just halted the process once they realized the residents did not agree with the proposed compensation amounts or relocation areas.131
In the mass evictions researched by Human Rights Watch and SOS Habitat, the government failed to ascertain whether people had any formal title or other legal entitlement to the land before evicting them.
One evictee from Talatona told the two organizations that "the government never asked for any document; it didn't matter if people had document or not, they just said the government needed the land."132Evictees from Gaiolas, Soba Kopassa, and Fubu told us this was also the case in their neighborhoods: "They hushed away people with and people without documents. They never asked."133 
In addition to being illegal, it is also not reasonable to make proper expropriation procedures and compensation dependent on formal titles in a city where informality is so predominant and where the government has failed for decades to provide efficient and accessible land registration mechanisms. (See section below on security of tenure.)
Over the period of 2002 to 2006, many informal housing areas saw repeated evictions taking place at different times. Many families, who had nowhere else to go after the first eviction operations and rebuilt shelter in the same area, were later evicted again.
In the area of Cambambas, Banga We, and 28 de Agosto residents have already faced six eviction operations; in Bairro da Cidadania, residents have faced five evictions. These neighborhoods have been completely demolished but some evictees remain in the areas waiting for proper relocation:
They've come six times to destroy our houses. They always come with guns in their hands. The police came. There were shots. There are shots every time.134
Residents of different parts of Maria Eugenia Neto have been subject to evictions and demolitions at five different times and most of them have rebuilt their houses with their own means. Benfica sustained four evictions and the neighborhood has been completely cleared.
Soba Kopassa has experienced demolitions three times and residents have mostly rebuilt since the last eviction in September 2005. An evictee from Soba Kopassa shared his experience with Human Rights Watch:
They destroyed everything, but people had no place to go, so they re-built houses with metal sheets…In June 2005 they came again; no notice, no warrant, they arrived breaking everything…We complained to a lot of people…to Radio Eclesia, to the provincial government, to politicians, to the president…I believe that's why they didn't come back since that last time. I'm still living here, in a metal sheet house with all my children.135
People stay in some evictions sites or return soon after because they have nowhere else to go and often the land from which they were evicted remains unused. For example, in Soba Kopassa and Bairro da Cidadania, people were evicted respectively for the expansion of a public hospital and the creation of an industrial zone, neither of which had been carried out at the time this report was written. The government could have waited until construction started to legally evict people and used that time to consult with them and to explore suitable alternatives to relocation. 
Repeated evictions highlight that the government's support to people immediately following evictions was inappropriate–had the government provided adequate compensation or, at least, emergency shelter immediately following an eviction, people would not likely have returned to live in makeshift shelter in places that they had already been evicted from (see section below on inadequate shelter following evictions).
International human rights standards clearly state that evictions should not result in homelessness or render individuals vulnerable to the violation of other human rights.136 The UN Committee on Economic, Social and Cultural Rights clarified that "[w]here those affected are unable to provide for themselves, the government must take all appropriate measures…to ensure that adequate alternative housing, resettlement or access to productive land, as the case may be, is available."137In many of the situations researched by Human Rights Watch and SOS Habitat, evictions resulted in deprivation and in some cases homelessness. One evictee told Human Rights Watch:
We were around 300 families. People were brought here [to the relocation site] in phases. Some were brought by the trucks; other had to rent a car. Some people had their houses destroyed and lived in the open for one month before they were brought here, because they had no other place where they could stay.138

I wasn't here when they destroyed my crop. There was nothing left…Where will I get food now, where will I work? Who is going to give me a job at this age? 139
In Cambamba I and II, Human Rights Watch visited evictees who, following repeated evictions in 2004, 2005, and 2006 (the last on March 13, 2006), were living in makeshift shelters built from old plastic sheets and materials recovered from the debris of the demolitions. Human Rights Watch researchers visited the Cambambas area three times during 2006 with SOS activists. During a visit in April 2006, two evictee women in Cambamba II told us, "[w]e have no place to go, so we stay here and wait."140 In August 2006, Human Rights Watch witnessed the poor conditions in which people were still living through the cold season in Angola. At that time, more than 100 families were still waiting for a decision by the government concerning compensation or alternative relocation to affected families. When Human Rights Watch visited the site again in the beginning of December 2006 the situation remained unchanged. The government had provided no emergency shelter or assistance to these families.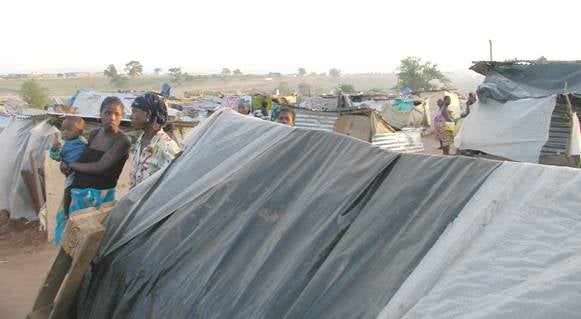 The provincial government gave empty land plots in relocation areas to some evictees from Onga. These evictees affirmed they did not receive any construction material to build new houses to replace the demolished ones, or for the construction of emergency shelter. They lived for months in shacks while saving money to build:  
Fubu [relocation site] was divided into plots. They put up poles marking the plots and left people here. They didn't give us any construction material. We built a shack and only today–you can see the construction–only today we're building a brick house. 141
Evictees from Benfica told us that after their first eviction in September 2002 local government officials took them to a land plot not far from their original residence site. A few days later, people claiming to own this new land told the evictees to leave because they were on private property. The evictees returned to the original eviction site by their own means and were later evicted again:
They [government officials] took us and left us in a desert–it was some agricultural land that belonged to other people. We went there on a Wednesday and on the Saturday the owners of the land came to send us away. They said, "You have to leave in 24 hours. You WILL leave, one way or another"…We had to pay cars to take us back [to the site from where we had been initially evicted].142
When Human Rights Watch visited Bairro da Cidadania in April 2006, a small group of evictees from this neighborhood had accepted a compensation offer from the government of bare plots in Sapu. Human Rights Watch did not carry out interviews in Sapu but visited the site, which was very distant and isolated from the main road into central Luanda. People were living there in makeshift shacks and no water supply or basic sanitation had been established. Those evictees who stayed in Bairro da Cidadania to try to negotiate with the local authorities for a better relocation site as compensation for their eviction were not given any emergency help. When Human Rights Watch and SOS Habitat visited in April 2006 they were living in shacks made from the debris of their previous homes. When Human Rights Watch visited the same site again in August 2006, the evictees had been moved a few hundred meters but their shelter was the same.
The majority of individuals interviewed by Human Rights Watch who were resettled had been evicted from areas in the extreme south of the city and relocated to the north side, several municipalities away.143Average relocation distance was more than 30 kilometers, which affected evictees' access to jobs, health care, and education.
An evictee from Benfica relocated to Panguila, told Human Rights Watch that still today it can take her three hours to reach work back in Benfica.144 She said that initially public transportation was only available in Panguila from 6 a.m. to 4 p.m. Another evictee told Human Rights Watch that when he was first taken to Panguila, he would leave work just past 6 p.m. and would only get home around 12 a.m., because at that time candongueiros (local informal buses) did not serve Panguila.145
Two young women evicted from Boavista told us that their older sister lost her job after resettlement to Panguila because she was unable to arrive as early as required by the employer due to distance and lack of transportation.146 One girl evictee now living in Panguila told us that her father also had to look for another job after relocation from Benfica. Her mother still went to work in Benfica, but had to stay overnight several days with other family members because it was too distant and difficult to come back home everyday.147 Access to transportation in the relocation areas visited by Human Rights Watch has improved (for example, today buses serve Panguila until 7 p.m.), but the residents of these areas still claim that there are not enough buses or that they stop running too early.  
Evictees relocated in Fubu were settled in an area that is more than one kilometer away from the central road to Luanda where public transportation runs.148Many told us that when they were relocated, not even candongueiros served the area.
Women were particularly affected by the interruption of income-generating activities such as the selling of homemade donuts, popcorn and home grown vegetables in nearby street markets:149
When I lived in Onga I used to work at the street market, sell things. Here, there is nothing. People don't buy anything and there is no market close by.150

There I used to sell water to sustain myself; they broke my tank and gave me nothing.151
A significant proportion of female evictees interviewed by Human Rights Watch were heads of households, many of whom were widows who lost their husbands during the civil war:
There were a lot of widows and we didn't have husbands to argue with them. There were a lot of single mothers and I think that's why they didn't pay attention to us…It is us–single mothers with no support–that are suffering the most.152
In Panguila, there were no medical centers in operation when the first group of evictees arrived in March 2003. Even today, Panguila and especially Fubu residents must travel a long way (20 kilometers in the case of Fubu) to get to the nearest hospital. Nearby medical centers are private and charge for the treatments.
We don't have hospitals here...It's a serious problem. People can not live without a hospital. Things are bad. Here, to get to a hospital only in Maria Pia [in another municipality]. By the time you get there you're already dead!153
Children's access to education was also often disrupted because of evictions. In some cases, schools were not available at relocation sites when evictees were initially moved there. Distance and lack of transportation made it difficult to access schools in other areas. When Human Rights Watch visited, only primary schools were available in the relocation sites of Panguila and Fubu. Teenagers in junior high school had to walk two hours every day to get to school.
The government is not worried about bringing a school to this neighborhood–these people cannot stay illiterate–so the Catholic mission decided to set up a big school here. But nothing from the government. The urbanization company put another school up there, but this was days ago. When we got here there was nothing.154
Two young women relocated from Boavista to Panguila told Human Rights Watch about the difficulties they still face to go to and come back from school in central Luanda:
We do it in stages. From here to Cacuaco and from Cacuaco to Luanda…When we return after school, the candongueiros only run up to 8 p.m. and the bus only up to 7 p.m. When we get to Cacuaco sometimes there are no more buses. Candongueiros are also a problem. Sometimes there are no candongueiros, so we have to hitchhike. We get here by God's will. You have to see if you find someone you know to give you a ride. If not, it's a problem.155 
This situation represents a potential risk to these young women, who have to walk on their own in the dark and sometimes cross isolated areas in a city marked by street criminality. The lack of transportation may render these girls vulnerable to assaults and abuses, including sexual violence.
In Cambamba I two evictees told Human Rights Watch that they were unable to send their children to school for more than a year. They tried to register their children in the nearby public school located in the housing project Nova Vida (developed in the land from which they were evicted) but were not allowed by the school board to do so. Today these children go to schools that are very distant:
I went there [to the school at project Nova Vida] last year at the time of registration. I wanted to register three [children]. They told me that "here only those who belong to the project Nova Vida can study, you from the neighborhood of the demolished houses cannot." I spoke with the director of the school…She said that the director of project Nova Vida said "from the demolished houses no"…My neighbor F.F. also tried and they told her the same thing…[The children] walk to school. It takes more than an hour. I leave them there so they can come back. They come back alone but in the morning they can't because the way is full of young men that intimidate the children. So I take them and come back to go to work.156

I went there with five children and we had to talk to the director [of the school]. They said, "We are not authorized to accept children from that demolished neighborhood," and I said, "What am I going to do now?" Now they are in a school four kilometers from here. One is six, one is eight, one is nine, one is 12, and one is 14…They walk to school and it takes an hour. Sometimes they go alone; sometimes we try to accompany them when we are not working; otherwise they go alone.157
States parties should…take immediate measures aimed at conferring legal security of tenure upon those persons and households currently lacking such protection, in genuine consultation with affected persons and groups.158
Secure land tenure gives residents clear legal rights against the government or private entities who make competing claims to the land. When evictions occur, clear rights to the land place residents in a stronger position to negotiate reasonable conditions for vacating their housing or land and adequate compensation. The Committee on Economic, Social and Cultural Rights states that irrespective of the type of tenure, all persons should possess a degree of security of tenure that guarantees legal protection against forced evictions, harassment, and other threats.159
In the cases researched by Human Rights Watch and SOS Habitat, insecure tenure made residents particularly vulnerable to forced evictions. Insecure tenure in these cases resulted from three main factors: inadequate land legislation and lack of public information about land rights and urban management policies; inadequate registration procedures; and a consequent false perception of security of tenure by residents.  
The legal framework for land rights in Angola that has been in place since independence is complex and confusing. Lawyers and land law experts in Angola have highlighted this situation:
The global national situation of identification of the rights that effectively apply to land rights is chaotic. This is caused by multiple factors that occurred post-independence, namely the overlapping of real rights over the same thing, including rights by the state through nationalization and confiscation, or by the evolution of different rights' regimes implemented since the 1st Republic, aggravated by how outdated if not empty are the real rights registration records which do not reflect the real situation.160
After 1975 private property established under colonial laws that was not nationalized or confiscated was respected, but individuals could no longer acquire new private property rights.161Instead, they were granted "surface" or "possession" rights (right to use and exploit) over land owned by the state, including land that had been nationalized or confiscated.162 Possession was–and still is–protected by law to the extent that even bad faith possessors (those who knew that the land they occupied belonged to someone else) are entitled to compensation for expenses incurred on necessary improvements to the property in case of eviction by the rightful owner. Additionally, people in possession of property over an extended period of time (five to 20 years, depending of the circumstances in which possession was established) could acquire property rights over a piece of land.163
The Constitutional Law approved in 1992 declared that "the state respects and protects the property of people…and the property and possession of land by peasants."164 However, it also stated that "all land belongs originally to the state." The exact meaning of this provision was never clarified and Angolan land law experts have different interpretations of it today.165 The first land law of independent Angola, also approved in 1992, recognized land occupation and concessions dating before its entering into force, both before and after independence.166 However, it was mostly concerned with rural land. The occupation of urban areas was largely unregulated until 2004, when the Government approved a new Land Law167and a Law on Territorial and Urban Management (law on territorial management).168
These two laws provide a comprehensive framework for the concession, acquisition and exercise of land rights in both rural and urban areas, but so far they have not been effectively implemented. The government took several years to approve general implementing regulations.169It has also so far failed to approve other more specific regulations required by these laws that could protect people from forced evictions.170Finally the government has not developed the urban land management plans required by law which should define what land is reserved by the state and which areas are appropriate for residential, commercial, industrial, or other activities.171 
In some urban centers such as Luanda, alternative planning instruments have been approved and implemented in substitution for the urban land management plans. However, these do not match the standards set forth in the land and territorial management legislation. These instruments were also not created in consultation with, or widely publicized among, residents of the areas they cover. In most cases researched by Human Rights Watch and SOS Habitat, evictees had heard rumors about the projects to be developed in their areas of residence but did not receive consistent and accurate information from government officials, especially in advance of evictions.172
Finally, Angola has not passed specific legislation detailing when and how evictions can be carried out legally. This means that when the evictions documented in this report took place, the conditions under which central and local administration or private individuals (or both in association) can carry out such operations were not defined by law. In the absence of such legislation, the standards for verifying whether evictions were legal are those in the land and urban management laws and regulations and in the general administrative provisions described above—which were not observed in the evictions described in this report. 
As a result of this complex legal situation, people cannot know with certainty where they can legally settle for residential or other purposes. They cannot, therefore, be presumed to have illegally occupied (or, indeed, be known to be illegally occupying) land from which they were evicted. The government's actions, however, indicate that it does presume that all people are illegally occupying land and fails to ascertain whether this is, in fact, true in each individual case. Persons affected also do not know exactly what their rights are, or what the government can legitimately do to pursue its goals. Their land tenure is inevitably insecure, which can lead to human rights violations such as those that occurred in the forced evictions documented above.
In addition to the confusing and overlapping legislation highlighted, the land registry system in Angola was essentially inactive throughout the war period due to human, material, and financial resource constraints.
Past practice in Angola shows that processing regularization requests can be a very difficult task.173 The 1992 land law established a period for regularization of informal land tenure but the government was unable to successfully carry out this endeavor—mostly because of the war, but also because it lacked resources and the population was not sufficiently informed about this regularization period.174  
Informal areas in Luanda are currently estimated to comprise approximately 400,000 households.175 A review of official files by an Angolan organization working on land issues suggests that only approximately five percent of the regularization requests submitted by individuals to the government in 2005 were duly processed.176 The remaining 95 percent were not processed because of physical, human, and financial resource constraints.  The Angolan government is aware of this situation. According to Sita Jose, the minister for urban planning and environment:
Here in the province of Luanda there is a certain slowness in replying to regularization requests. People end up building [despite lack of authorization].177
The minister acknowledged that other problems have also made regularization a difficult process: 
Management tools set forth by the Urban and Territorial Management Law are not yet finalized. In the absence of such tools, it is difficult to authorize [property] registration.178
From the perspective of a member of the public seeking land title, the process appears costly—another barrier to the poor:
Depending on your land plot, it is not that easy to legalize. Financially, I don't have the means. You have to pay but you never know if there will be a reply.179

It's not easy to get a property title; there are a lot of expenses and a lot of waiting.180
In the mass evictions researched for this report in which persons were relocated by the government, evictees were not provided with formal titles or security to the new land or housing, leaving them vulnerable to further eviction. Evictees from Benfica relocated to Panguila told Human Rights Watch that the government destroyed the housing they had built with their own savings and resources and provided alternative housing in which they only had tenancy.181In Fubu evictees said that they received a resettlement card but this card said nothing about the legal status of the land or housing or their rights over it. Some evictees with such cards have had problems with local government officials who come and tell them they cannot build on the land to which they were relocated.182
The 2004 Land Law, which came into force on February 7, 2005, addresses the problems described above by establishing a period of three years for regularization of untitled occupancy of land.183 This means that the government, acknowledging the overwhelming informality of land occupancy as well as its own limitations in providing for land registration in the past, has decided it is necessary to provide for a specific period within which citizens can regularize their situation. However, many of the evictions documented in this report were carried out after the Land law had been passed but before its implementing regulations had been introduced, in ways that contradict its protective intent. While this may not have been technically illegal, it nevertheless suggests bad faith and a lack of regard for the rights of the poor.
Equally important, the Land Law establishes a deadline for regularization but does not define the government's responsibilities to ensure that (a) that it can effectively implement the law, and (b) that people will in practice have a genuine opportunity to legalize their situation. The failure to define these responsibilities gives rise to concern that forcible evictions might take place after the three-year period under the cloak of seeming legality because individuals have failed to regularize their land in a situation where the government has not provided sufficient resources or established appropriate procedures to ensure there is capacity to promote and process regularization requests. This concern is given weight by the fact that in the past the government has not ensured that there is sufficient capacity to process all regularization requests.
According to the Land Law, the onus is on each individual to request regularization. If, after the three-year period, individuals have not submitted a regularization request to the authorities, the government is authorized to use judicial or forcible means to obtain the land they occupy.184 Such forcible means include: (a) "the appropriation, destruction or deterioration of some thing"; (b) "the elimination of undue resistance offered to the exercise of the [state's] right [over the land]"; and (c) "anything analogous." Not only are these measures formulated in broad and unclear terms, but their use is subject to only two conditions: they must be "indispensable" to avoid the nullification of the (state's) right over the land and they must not exceed what is "necessary" to avoid damage to that right.185 This means that after the three-year period the state will be authorized, by law, to forcibly evict individuals in a situation of untitled occupation under a minimal set of conditions that do not reflect the safeguards required by the Covenant on Economic, Social and Cultural Rights (CESCR) and described before in this report.   
The impact of this measure cannot be underestimated, given that the majority of Luanda's population lives in informal areas:
This [three-year period for regularization] will affect most of Luanda's population. It is a kind of criminalization of the poor. Maybe that was not the intention, but that's how it is.186
To give effect to the security of tenure principle, the Angolan government should put in place concrete and effective measures to register land currently under informal possession during the three-year period, and should provide for regularization procedures to continue to be available beyond that period. Unless this is done, the deadline for regularization will in practice result in increasing insecurity of tenure, thus leaving many of Luanda's residents vulnerable to forced evictions.
As mentioned earlier in this report, because of the situation of real estate properties immediately following independence, informal or untitled occupation of land and housing became a common form of tenure in Luanda. The displacement of populations during the war made this a widespread situation.187 This situation did not mean, however, that people necessarily perceived their tenure as insecure. Receipts for informal transactions of land or housing, payment of construction, or other fees to municipal officials and long standing occupation without opposition by authorities caused many residents to believe that they were legally settled in the land they occupied.188
In Maria Eugenia Neto evictees told Human Rights Watch and SOS Habitat that "[i]n March 2002 municipal administration officials came to the neighborhood and asked to organize the neighborhood and submit a regularization request.We did in 2002."189 Evictees from Bairro da Cidadania said that as recently as 2004 they bought land from municipal officials or people acting on their behalf, so they believed their settlement in the area was legal. They were later informed this sale was illegal because the officials who allocated the land plots were not empowered to do so. 190
In Cambambas residents were told by representatives of project Nova Vida, during the first phase of the project (which ended in November 2005), that the area they were occupying was not required by the state and that if the government would need their land it would come and talk to them. After that, government officials came to evict them and demolished their houses with no prior discussion or notice.191
Until they are faced with forced evictions, the majority of residents of informal areas do not believe that they need to seek formal registration and titling of land to secure their tenure. Because of the inadequate legislation and registration procedures and the lack of public information about these, residents often do not know what they should do to register land or that they may be required to register formal land rights they may have acquired over the years.192 A 47-year-old female evictee from Mbondo Chape told Human Rights Watch that she did not register the land she has occupied and cultivated for more than 20 years because she did not know she could or should do so. She now knows she needs to contact the local authorities, but she does not know exactly where to go or what to do.193
Although in the mass evictions researched in this report, instances where preexisting formal land registration and title were established were the exceptions, several evictees told Human Rights Watch that they had documents proving that they had requested authorization for construction of residences or the regularization of existing housing.194 According to Angolan general administrative regulations, when such requests are submitted to central or local authorities by a citizen and are not replied to within 90 days they are considered tacitly granted.195 Accordingly, anyone who submitted such a request to the authorities and did not receive a reply within the deadline has, in effect, had their occupancy authorized by the government. Such persons can legitimately expect that they have a degree of security of tenure that protects them from forced evictions. However, such perception of security of tenure is shattered when the government proceeds to evict people without verifying whether they have submitted such requests. For example, the residents of Bairro da Cidadania submitted requests for regularization of their occupancy. Between February and April 2005, approximately 290 people submitted individual files to Luanda's provincial government. By June 2006 none had been replied to, but the government still carried out forced evictions in this area in 2005 and 2006.196
In Talatona, Bem-Vindo, Gaiolas, and Rio Seco initial plans for the removal of small farmers were suspended because the farmers complained. Farmers' associations and residents' committees in these areas are trying to negotiate appropriate relocation and compensation terms with local authorities and representatives of on-site development projects, but a final solution is pending. In Wengi Maka the construction project announced for the area has not been started and people who remain in the area are at risk of further evictions when construction starts. Unless the government's performance changes significantly from the practices documented in this report, reconstruction and development projects targeted for informal areas will likely result in further forced evictions in Luanda.
---