In addition to the accounts above, Human Rights Watch reviewed additional information about insurgent attacks in which civilians have been killed or injured, from published and unpublished accounts and reports. The following section presents some of our findings.
Insurgent forces launched a large number of attacks in 2006 in which civilians were killed or injured. Based on our own data, information collected from other reliable sources, including both domestic and international monitors, and a review of various accounts, Human Rights Watch found that in 2006 there were at least 350 cases in which insurgent attacks caused civilian deaths or injury. These attacks—including bombings, shootings, kidnapping and executions, and other violence—killed at least 669 Afghan civilians.115
(These figures do not include the numerous civilians killed and injured during military engagements between insurgents and Afghan government, NATO, and coalition forces.)
The totals cited here are conservative. Numerous Afghan officials and civilians have suggested that many deaths and injuries go unreported, and that violence in remote rural areas often remains unknown. The real number of civilian victims during insurgent attacks is likely higher.
Most civilians who died in insurgent attacks were killed in bomb attacks, although large numbers of civilians were also targeted in shootings or were killed after having been abducted.
The following is a breakdown of the available data:
Bomb Attacks (Suicide Attacks and "Improvised Explosive Devices" or IEDS):
In 2006, there were at least 189 bomb attacks in which civilians were killed or injured (these include suicide, IED, and other types of bomb attacks).
The 189 bomb attacks killed 492 civilians and injured approximately 773, a total of over 1,000 casualties.
At least 118 of the attacks appear to have been directed at military targets, while another 57 appear to have been directed at civilians or civilian objects. (In 14 other cases, the target was unclear.)
The 118 bomb attacks that appeared to have been directed at military targets killed 268 civilians and injured approximately 534 more.
The 57 bomb attacks that appeared to have been directed at civilians or civilian objects killed 192 civilians, and injured approximately 215 more.
Shootings, Abductions, and Executions, and Other Non-bombing Attacks:
At least 177 other civilians were killed in targeted shootings, abductions/executions, or other types of non-bombing attacks.
Suicide bombings, which were once very rare in Afghanistan, occurred on a regular basis in 2006. Two suicide attacks were reported in 2003; six in 2004, and 21 in 2005. In 2006, however, at least 136 suicide attacks were reported in Afghanistan—a six-fold increase from 2005. (Note: this amount is a subset of the 189 bomb attacks noted above.) The US military has cited similar numbers, reporting 139 attacks in 2006, which appears to include attacks that were not publicly reported.116 US military commanders said they expected the number of suicide attacks to grow in 2007.117
A total of 803 Afghan civilians were killed or injured in suicide attacks in 2006 (272 killed and 531 injured). The numbers of suicide attacks escalated in the second half of the year.118
Suicide Attacks by Year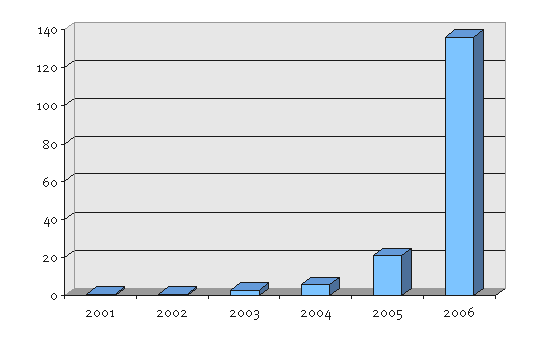 As discussed in the Legal Analysis section below, suicide attacks are not an unlawful method of combat. However, most suicide attacks in Afghanistan have violated the laws of war. Suicide bombers have typically attacked using perfidious means—that is, attackers have feigned protected civilian status to get close to targets. Suicide attacks have also frequently directed their attacks at civilians or civilian objects, or made no effort to minimize civilian casualties.
Taliban forces, which are believed responsible for the overwhelming majority of suicide attacks, have expressed little concern for the high civilian toll. Taliban commander Mullah Dadullah released a video in December 2006 lauding suicide attackers and claiming that they are particularly effective against foreign troops.119 Taliban spokesman Qari Yousuf Ahmadi told Pajhwok Afghan News in December 2006 that attacks would continue in 2007, and that "Suicide attacks are part of our warfare approved by our supreme military council."120 Gulbuddin Hekmatyar has also spoken approvingly of the role of suicide attacks in insurgent activities.121
Statistics on casualties from suicide attacks in the past year highlight their lethality to the civilian population. Over 80 percent of suicide attacks in 2006 (112 attacks) appear to have been directed at military convoys or installations, while 13 percent (18 attacks) appeared to have been directed at civilians or civilian objects. (There were six bombings in which the intended target was unclear.) In the 18 suicide bombings that appear to have been directed at civilians or civilian objects, over 200 civilians were killed or injured (91 killed, 119 injured).
In theory, suicide bombers as weapons are very discriminate: a suicide bomber can detonate at a target with an accuracy that could match or exceed that of the most sophisticated guided weapon. It is thus not an inherently indiscriminate weapon, such as land mines. However, it appears that in some circumstances, suicide bombers become nervous or confused, and detonate their explosives accidentally or prematurely. In Afghanistan, many attackers in 2006 appear to have erroneously detonated their explosives away from intended targets, killing and injuring civilians.
Thus while the majority of suicide attacks appear to be meant for military targets, the actual victims have been predominately civilian. Of the 112 bombings in which suicide attackers appeared to be targeting military targets, 32 resulted in no civilian or combatant casualties.122 Of the remaining 80 attacks on military targets in 2006, 57 attacks killed or injured more civilians than military or police. (See graph.)
Suicide Attacks Targeting Afghan and International Security Forces in 2006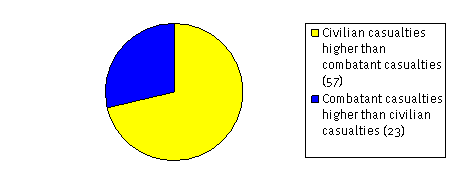 Overall, the 80 suicide attacks on military targets killed 181 civilians and 37 US, coalition, NATO, or Afghan military or police personnel. In other words, in suicide attacks on military targets in 2006, insurgents killed nearly five times as many civilians as combatants.
Suicide attacks overall have had an even greater impact on the Afghan civilian population. Combining attacks that appeared to be on military targets and attacks that appeared to be directed at civilians, a total of 803 Afghan civilians were killed or injured in suicide attacks in 2006 (272 killed and 531 injured). Suicide attacks overall have killed almost eight times as many civilians as combatants.
The Afghan civilian death toll was not the only problem that grew worse in 2006. Insurgent forces also continued to target the Afghan educational system: Afghan schools, teachers, and parents. Human Rights Watch in a July 2006 report Lessons in Terror documented anti-government bomb and arson attacks—primarily against girls' schools—and killings of teachers and threats against parents.
As discussed in that report, anti-government forces target schools either because of ideological opposition to secular education generally or to girls' education specifically, or because teachers and schools represent symbols of the government or the work of foreigners.
The problems detailed in Lessons in Terror have grown worse. In 2006 overall, anti-government forces carried out at least 190 attacks on teachers, school officials, students, and schools, including bombings, arson attacks and shootings—over twice as many as the 91 attacks on schools and teachers reported in 2005.123
The escalating attacks have continued to severely impact school attendance, especially in southern areas. In early August 2006, only a little more than half way through the year, UNICEF released figures indicating that in four main southern provinces more than half of all schools were closed because of attacks or threats, and that approximately 100,000 children had been driven out of school.124 In August 2006, the Afghan ministry of education released a statement that 41 students, teachers, and school support staff were killed between January and July 2006 in insurgent attacks.125
In a speech in October 2006, President Karzai said that 200,000 children nationwide had been driven out of school by ongoing violence.126
The armed conflict is also contributing to displacement and lack of development in many areas of Afghanistan.
From August to September 2006, an estimated 15,000 to 20,000 Afghan families—about 90,000 to 120,000 men, women, and children—fled their homes in the southern provinces of Helmand, Uruzgon, and Kandahar because of ongoing violence and armed conflict, according to the UNHCR and the Afghan government.127 Approximately 115,000 other Afghans were already internally displaced within these provinces, meaning that, as of September 2006, at least 200,000 Afghans were reported to be displaced from their homes in these three provinces alone. In addition, an unknown number of others have been displaced in border regions of Paktika, Paktia, Khost, Nangahar, and Kunar. Millions of other refugees from all of these areas remain abroad in Pakistan or Iran.128
In late 2006, the Office of the UN High Commissioner for Refugees noted that it was incapable of providing assistance in numerous conflict-affected areas in the southeast:
The security situation is likely to remain a concern in the south and south-east of the country where anti-government groups remain active, using increasingly indiscriminate means, including ambushes, suicide bombings and IEDs. Such activities are expected to have an impact in slowing down administrative reforms at the provincial and district levels. UNHCR's direct access to returnees in Afghanistan is unlikely to be significantly improved in 2007.129
UNHCR's Global Appeal for 2007 makes clear that the situation remains grave:
At the time of writing, the situation in the south and south-east of the country remains extremely volatile, making it very difficult or impossible to have access to returnees. . . . The security situation continues to be a major concern and will likely restrain operational access, especially in the south and the south-east of the country.130
To help handle the continuing caseload of displaced Afghans, UNHCR has requested over US$52 million, yet only expects about 400,000 refugees to return in 2007.131
There is little for refugees to return to. Besides ongoing violence, little government assistance or developmental or humanitarian aid is available in southern and southeastern areas. International and government assistance and development projects have been suspended in most districts within the south and southeast for most of the last two years.
---