Hundreds of civilians have been killed or injured in insurgent attacks in Afghanistan over the last five years. This section provides accounts of attacks targeting civilians, as well as indiscriminate and disproportionate attacks and other attacks carried out with little or no regard for the consequences for civilians. The accounts are taken from witnesses, survivors, and the relatives of victims.
The most deadly attacks targeting civilians by insurgent groups have occurred in Afghanistan's south and southeast. Because of the poor security conditions in many of the areas in which attacks have occurred, it is difficult to obtain first-hand testimony about many attacks. Human Rights Watch nonetheless has been able to speak with witnesses in some cases, and collect accounts from security reports by the United Nations and the Afghanistan NGO Security Office (ANSO), a security consulting organization for non-governmental organizations, and from media reports.
On January 17, 2006 in Spin Boldak, a border town in Kandahar province, a bomb exploded in a crowd attending a wrestling match, killing at least 20 civilians.
Haji Agha, a car dealer with a house near the site of the attack, told Human Rights Watch about the attack:
There was a wrestling match during the Eid festival. There were around 2000 people gathered there to watch these [wrestling] matches. I was with two other friends and we were enjoying the festival.

It was about 5:30 pm when the matches finished and all the people were returning home. A lot of people left but we were delayed for some time because of the crowd. We were in the car and about to leave when there was a bang and yellow flames and smoke. We were about 50 to 60 meters away [from the blast]. There were many cars in front of us. There was shrapnel from the bomb which made holes in the bodies of the car. There was smoke and dust all over and we could not see for a long time. The shrapnel made large holes in the bodies of the men. Some [men] were blown to pieces.

Our car shook from the blast. . . . We parked our car off to the side and did not approach the bomb scene as we were afraid there might be another blast following the first.50
On the day of the attack a Taliban spokesman claimed responsibility for the bombing, but later rescinded his statement and said the Taliban was not involved.51 In addition to the initial claim of responsibility, the later Taliban denial is drawn into question by the fact that the attack took place in the heart of Spin Boldak, in the heart of the Afghan-Pakistani border area in which the Taliban regularly operate and transit. Some Afghans in the area suggested that the Taliban were responsible and were targeting government officials who were attending the wrestling match, but that they then denied responsibility for the attack because of the high number of civilian casualties.52
Another major attack targeting civilians occurred in the southern province of Helmand around August 28, 2006. A bomb (by some reports a suicide bomber) detonated in the middle of the day in a crowded bazaar in Lashkar Gah, Helmand's capital.53 According to local officials, the bomb killed 15 people and wounded 47, including 15 children. Local officials told journalists that one of the wounded children was a two-year-old boy, who had a leg amputated.
Types of Attack
Methods of attack by insurgent groups can be roughly categorized as follows:
Remote bomb or "Improvised Explosive Device" (IED). An explosive device, buried in the ground or hidden in a cart, box, or basket, detonated remotely or with a timer.
Suicide bomber, on foot. A person carrying explosives, typically worn in a concealed vest, who detonates the explosives manually.
Vehicle Bomb or "Vehicle Borne Improvised Explosive Device" (VBIED). An explosive device placed inside a vehicle, detonated manually by a suicide bomber in the vehicle, or, if the vehicle is parked and unoccupied, remotely or with a timer.
Assaults. Armed attacks, usually with small arms.
Arson attacks. Setting fire to government buildings, typically girls' schools, usually at night.
Abductions/Executions. The abductions of civilians, sometimes followed by execution, typically by gunshot, knifing, or beheading.
A shopkeeper named Razaq Khan, whose shop was damaged in the attack, told a journalist at the scene:
[It was] the biggest explosion I have seen in my life. I was shocked. When I opened my eyes, everywhere was smoke and dust. Many people and children were lying in pools of blood, killed and injured.
Qari Yousaf Ahmadi, a Taliban spokesperson, told the Associated Press that Taliban forces were responsible for the bombing, and that its target was a businessman and former police chief who had served in the government during the Soviet occupation of the 1980s. Ahmadi said the attack was not intended to cause civilian deaths, an groundless claim given that the targeted man—his past political affiliations aside—was a civilian. Ahmadi said: "We are very sad about the civilian casualties. We only wanted to kill this former police chief."54
Numerous other bombings directed at civilians and civilian objects occurred through the south and southeast in 2006. (See Appendix A for a selection of other examples.)
However, bombings were not the only form of violence used to target civilians in the south and southeast. In 2006, anti-government groups in border regions also continued to carry out assassinations of clerics, teachers, and government officials and employees.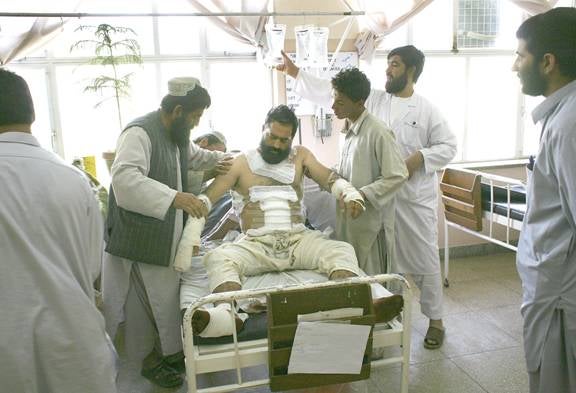 Human Rights Watch believes that at least 17 governmental officials were killed by insurgent forces in 2006—mostly governors, deputy governors, district administrators, provincial council members, and senior officials in government ministries.55 Almost all of these killings took place in the south or southeast of the country.
For example, on September 10, 2006 in Khost, in southeastern Afghanistan, a suicide bomber killed Abdul Hakim Taniwal, the 63-year old governor of Paktia, along with his nephew, driver, and a bodyguard.56
On September 25, two gunmen on a motorcycle killed Safia Ama Jan, a woman in her mid-60s and the Kandahar director for Afghanistan's Ministry of Women's Affairs.57
The Taliban claimed responsibility for both incidents.58
There were also several cases in 2006 in which school teachers, officials, and students were attacked by alleged insurgents. In an incident in early December 2006, gunmen scaled the wall of a residential compound in a village in the southeastern province of Kunar, entered the house, and shot and killed two sisters who worked as local schoolteachers, as well as their mother, grandmother, and a 20-year-old male relative. According to Gulam Ullah Wekar, a provincial education official, the two teachers had recently received a written warning from the Taliban to stop teaching or "end up facing the penalty."59
In 2006, anti-government forces extended their reach beyond south and southeastern Afghanistan, carrying out attacks throughout the country. Attacks were even launched in and around the western city of Herat and the northern city of Mazer-e Sharif, largely Dari-speaking areas in which most anti-government forces—who are predominately ethnic Pashtun—have less local support.
On May 12, 2006, a United Nations Children's Fund (UNICEF) convoy transporting doctors from a clinic in Badghis province back to neighboring Herat was ambushed in Karokh district in Herat province, approximately 80 km from Herat city.
Combatants armed with rocket propelled grenade (RPG) launchers and AK-47 assault rifles launched an RPG at the lead vehicle in the convoy, a civilian vehicle clearly marked with a "UN" logo. Two people were killed in the attack: a UN staff-person and an engineer with a non-governmental humanitarian organization.60 The engineer was named Zamarey, and was a health specialist for Malteser International, a German aid organization working in Badghis province.
Naser Mohammadi, Zamarey's elder brother, spoke with several witnesses to the attack and with local security officials who investigated the scene.61 He told Human Rights Watch:
There were two UNICEF vehicles and four soldiers. The UNICEF vehicle came at the beginning, then the second UNICEF vehicle and then the soldiers. The Taliban fired at the vehicle first with a rocket propelled grenade. The RPG went into the mountain, not into the vehicle.

My brother survived the [first] RPG. He got out of the vehicle. . . . [But] when my brother was escaping the Taliban fired a second RPG. The RPG hit a rock next to my brother. The shrapnel hit my brother in the head and killed him.
Naser said he had been worried about Zamarey earlier in the day, after he received a call from Zamarey's fiancée, who was wondering where he was. "She asked me if my brother was in Herat or not. I told her no, he was not here yet. . . . I tried to call my brother but he did not answer." Naser then called one of the UN workers traveling in the convoy. He then learned that his brother's convoy had been attacked, that two people in the convoy had been killed, and that an injured man had been brought to Herat city hospital. He rushed to the hospital.
I went to the hospital, but the injured person was not my brother. I knew he was dead then. So I immediately set off for the location of the attack on the border of Herat and Qala-e Naw.
When Naser got the scene, he learned that police had taken Zamarey's body to a local police station. Naser retrieved his brother's body and returned to Herat.
A CNN dispatch later reported that the one surviving UN worker had his leg amputated, because of the injuries he sustained in the attack.62
Local security officials told Naser that his brother had been killed by Taliban forces. Naser, from his own discussions with police officials at the scene, also believed the Taliban was responsible.
A few weeks after the attack, two suspected Taliban fighters were arrested in Herat province in connection with the killings.63
Zamarey and his fiancée were to be married two weeks later. Naser said his family spent "thousands and thousands of dollars to prepare for the wedding ceremony."

The money we collected for his wedding party had to be spent for his funeral. Everything was ready for his wedding. We had everything prepared for him and his wife to start a new life. Everything was ready and they [the Taliban] just killed him.

You know, it is really hard. You're expecting your brother to come, and you want to have a party for him, and suddenly you are going and bringing home his dead body.
Naser continued:
This was a young person the Taliban killed; he could have helped many, many people in Afghanistan. He was a malaria coordinator for a clinic in Badghis [he coordinated NGO anti-malaria campaign]. I can say with my whole heart that my brother cured 90 percent of the people in Qala-e Naw who had malaria. You can ask people from Qala-e Naw they will tell you the same. The Taliban did this. . . .

My brother knew the Koran. . . he was a real Muslim. . . . You could ask him anything from the Koran. . . he could tell you hundreds and thousands of verses about religious issues. . . .

Everything, it's just too much now. . . I don't know. . . . I can't see the world anymore, I don't know if this is a carpet or if this is a pillow, or what that is. . . . I don't know if I am drinking or if you are eating. It's just leaving and moving and coming. Everyone in my family is like this now because my brother was killed, just because my brother is dead.

He was innocent! He was innocent! Twenty-two years. Twenty-two years old, he was just starting his life. . . . Now he is dead.
*      *      *
On May 30, 2006, four aid workers with the humanitarian organization Action Aid, three women and one man, were killed on a road in Mingajig district in the northern province of Jowzjan, when two gunmen on a motorcycle fired on their vehicle in broad daylight.64
One of the women killed, named Binafsha, was 17 years old. Binasha's mother Latifa told Human Rights Watch how on the day of Binafsha's death she received a telephone call from Binafsha's co-workers, telling her to come urgently to the Action Aid office:
They told me I had to come to the main office that we needed to have an urgent meeting. . . . One of her colleagues said that my daughter's car had been attacked in Mingajig district by insurgents.

I was terrified when I heard. . . . I don't know happened next because I fainted. When they told me my daughter had been killed, I fainted.

When I woke up, I saw all of my relatives at my house. They were crying, and they were gathered here outside in the yard. The only thing that I thought about was Binafsha.65
The family went to a local hospital to retrieve Binafsha's body and prepare it for her funeral.
I went to the hospital to see my daughter. [But] I did not get to see my daughter's body until the following day because she had been bleeding very badly. [The family did not allow Latifa to see her body until it had been washed.]
A doctor told Latifa that Binafsha's colleagues were killed instantly, but that Binafsha had likely survived for over an hour after the attack.
Nobody went there to help for five hours because they supposed that there could have been another ambush. . . . Maybe somebody could have helped her; brought her back here [to Shiberghan] to save her life. But it was impossible for the people to go there, because their life was at risk too. People believed that if they went there they would be attacked like my daughter was. I understand that it is a difficult decision for someone to have to make but I really would have appreciated anybody who could have saved my daughter's life.
Before her death, Binafsha was working to support her family and studying to become a doctor. According to her mother Latifa:
She used to say "I just want my father to own a house.". . . She really wanted to help out our family because we are not well off. She used to always tell her father that "since you didn't have a son, I am your son. I'll work with my mom; I am here to support our family."

She was one of the most intelligent students in her class. She was first or second in her class and used to pray five times a day; she could cite the Koran. She used to always tell us she wanted to be a doctor. She was studying hard because she wanted to go to medical college and become a doctor. She wanted to help her countrymen; she wanted to be a qualified doctor.
Latifa went on to say that Binafsha was more than a daughter to her, "She was not just my daughter, but my teacher."
She used to teach my husband and me every day and every night. She used to give us news updates. . . . Our relation wasn't only mother-daughter, but more like student and teacher. . . . With her gone now, my life has changed a lot; I am like a skeleton now.
One of the other women killed in the attack was named Bibi Sadaat. Her husband, Mohammad Hashim, was in Kabul, on work-related travel, when she died. He told Human Rights Watch how he learned of his wife's death:
I received a phone call from my son the night my wife was killed. He told me that something bad had happened, but he did not tell me what. He told me to come back to Shiberghan because something bad had happened. . . . So I went back at 10pm, because I was worried. I thought that maybe my son had gotten into fight, or had done something wrong, and he needed my help. When I arrived there were some 50 people or so standing at our door. I supposed that something had happened in my house, so I called my son over to me. My son told me that my wife had been martyred in an attack.

I was extremely upset. We were married for 30 years.66
Mohammad said his wife's death took him entirely by surprise, that he never imagined that his wife would be killed in an attack. "She did not have any enemies." Mohammad said. "She worked for four years helping people and made many friends, a lot of people loved her. Even now people are still coming to express their condolences."
My wife's death has really affected the life of my family. We relied on her salary. We have to pay $50 [US] a month for this house. We are now facing a lot of difficulties. . . .

Mohammad told Human Rights Watch that his wife's death affected him deeply. "Over 30 years I have collected many memories of my wife," he said.

She was great mother and good woman. All of our relatives used to tell me that. Whenever she got her salary she used to give part of it to the poor. All of her co-workers are sad too. They said, alone she [Sadaat] could do the work of 200 people. She was literate and highly educated. . . . She was a good wife. It was like we were newly married everyday. She was my best friend.

I am lost now and the only thing I have found is depression. Whenever I enter a room that she had been in, I get depressed. . . . Because my wife is dead, I have not only had enough of this government—I have had enough of this world.
Although no group claimed responsibility for the killings, a Taliban spokesperson had telephoned BBC on May 29, 2006, the day before the attack, and warned of attacks in the north of the country.67 However, many northern residents whom Human Rights Watch interviewed believed that Gulbuddin Hekmatyar's Hezb-e Islami forces were responsible for attacks in the area, and for the attack in Jowzjan.
*      *      *
On June 8, 2006, a week after the incident detailed above in which four Action Aid staffers were assassinated, three humanitarian aid workers working in Chimtal district, in the northern province of Balkh, were gunned down by unknown assailants while traveling around the district performing humanitarian assessments.
While on a remote road between villages, their vehicle was stopped by two armed-men on a motorcycle, and all three men were shot multiple times with an automatic weapon; two were killed and one was serious wounded. The two who were killed were an engineer, Mattiullah, and a driver, Abdul Qayoom.68
Human Rights Watch interviewed the sole survivor of the shooting, Shafiq Ahmad. He was shot four times at close range in the left arm and leg. He told Human Rights Watch what happened:
It is our job to go the districts and hear what kinds of projects they want for their villages. . . . We left Mazar-e Sharif at 8 am that day, for Chimtal district. We had a female colleague with us too; we dropped her off in another district. All of us usually go to the districts to talk to people but after the event in Shiberghan where four people were assassinated [discussed above], our office told us to take extra precautions. Since the attack in Shiberghan we felt more at risk, so we dropped her [the female colleague] in another village.
Shafiq said that he, Mattiullah, and Abdul visited several districts in Chimtal before starting back to Mazar-e Sharif around 3 pm.
When we reached Arab-e Mazari, on the way to Mazar-e Sharif, a motorbike appeared, then a second one. There was one person on the first motorbike and two on the second. They both passed us on the passenger side of our car, the side where Matiullah was sitting.

The men on the motorbikes looked very anxious and worried. We thought they were concerned because of the dust in the air from our car. They were driving really fast and did not let us pass. It was like a race.
Shafiq said that "It seemed as if the bikes were signaling to each other." Shafiq told Human Rights Watch that a man on the first motorcycle seemed to be signaling to the second in some manner than suggested "this is the car, now you can attack."
The motorbikes came very close to each other and then first one disappeared and the second kept going in front of us.

I was really suspicious of those men because they kept touching their side of their bodies like they were carrying guns. They were wearing shawls on their shoulders. I told Qayoom to be careful because the men looked suspicious. They just did not look good to me.

After the first bike disappeared, the second one with two men pulled to the side of the road and one man pulled out a gun and started shooting. We stopped the car about 15 meters from the man [who was shooting]. When we saw the gun we had no choice but to stop the car on the left hand side of the road.
Shafiq said he did not know whether the first shots hit anyone. He was in the back seat. "I was scared so I ducked down behind the front seats to protect myself."
Shafiq said the shooter got off the motorbike and continued to fire at the car. He walked around the left side of the car, the driver's side, and shot Abul Qayoom first, and then Mattiullah, who was in the front passenger seat, and that he himself was then hit in the leg and arm.
The gunman then fled on their motorcycles.
I heard Qayoom saying the Kalimah Shahidat [the martyr's prayer], but he died before he could finish it. I could hear that he was in pain. It was devastating. . . .
Matiullah was wounded, but died two hours later. According to Shafiq, Matiullah was to be married in three days in his home province of Wardak, near Kabul.
Abdul Qayoom, the driver, was the father of nine children in Mazar-e Sharif.
Abdul Qayoom's widow, Paykai, described to Human Rights Watch, how she and her family learned of Abdul's murder:
I was sitting here [in her house] when I found out that my husband had been killed. . . . I could not do anything when I found out he had been killed; all I could do was cry. He was everything for us; he was just everything.69
Paykai told Human Rights Watch that Abdul Qayoom "was a very good father, neighbor, and husband." She said:
The only thing Abdul Qayoom wanted to do was to work to feed and bring up his children in the best way he could. This was the fifth year he was working with the NGO office. He was very proud of his job.

He was a very good man and father. He got along well with the neighbors, and used to pray five times a day. He was very good Muslim and used to encourage the children on the street to pray and study as well.

My husband was very kind to us. Since my husband was killed, my children cry for their father everyday. He was a good husband, he did not prevent me from doing things, and he did not criticize me. He did not criticize me for what I cooked or did not cook. He really was a good man. My memories of him are my life now.

Abdul's death also affected the future of my children tremendously. My goal is to send my children to school. But I want them to wear the same clothes as the other children do. I don't want other children to make fun of them for what they wear. I also don't want other children to ridicule them for not having a father. This has really affected our life.
Wahida is Abdul Qayoom's 14-year-old daughter. She told Human Rights Watch:
My father's death has affected all my brothers' and sisters' lives. . . .

We don't have enough money for books, bags and clothes to go school, so people laugh at us. Even the neighbors' children don't talk to my brothers and sisters anymore.70
Wahida's oldest brother now works to support the family, but she says the money is not enough, and that the family does not know what to do.
"I never expected my father to leave us," she said.
Numerous other attacks on humanitarian and developmental workers took place in the west and north around the same time. For instance, on June 20, 2006, a Turkish worker for a road construction company and three Afghan colleagues were reportedly ambushed and killed in the western province of Farah.71
Kabul City and Surrounding Areas
On March 12, 2006, two suicide bombers in Kabul carried out an attack apparently directed at former Afghan president Sibghatullah Mojaddedi, a senior official in the upper house of the Afghan parliament and the head of a reconciliation committee that seeks dialogue with Taliban leaders and reintegration of former combatants into civilian life.72 Mojaddidi was leaving his office when two men with suicide vests detonated their explosives near his vehicle, killing four pedestrians. Mojaddidi was slightly burned on his hands and face.
Human Rights Watch spoke with "Sharzad,"73 a nine-year-old girl who was seriously wounded in the blast. Sharzad said that at the time of the attack she was walking home with her brother and sister from a visit to the Pir-e Boland shrine in Bagh-e Bala, situated on a crowded street near Mojaddidi's office. When the bomb went off, Sharzad was struck in the abdomen with a large piece of shrapnel. Sharzad told Human Rights Watch:
I went to the mosque that day to say prayers. I was worried that I may not be accepted to school [a school she had applied to], so I went to ask God to help me to get into the school. My younger brother and sister came with me too.

The explosion happened on our way home. It cut my stomach open and I thought I was going to die.74

Sharzad's stomach was badly ripped open. The bomb did serious damage to her abdomen, intestines, and kidneys; her mother showed Human Rights Watch the massive and gruesome scars left on Sharzad's stomach. Doctors had to remove 156 cm of her intestines after the attack.

I tried to walk after the explosion knocked me down, but when I got up, I fell down again. I think I fell because I tripped on my intestines.

Sharzad said "the first explosion did not do anything to me." It was the second:

I remember the explosion throwing me a few meters. . . . I did not feel getting hit by the bomb. The bomb threw me down but then I stood up and ran away, but then I fell down again and don't remember what happened after that.
"Faronuz," Sharzad's mother, recounted to Human Rights Watch her fear and confusion when she learned of the attack:
The very first thing that came to my mind when I heard that there was an explosion was that my youngest daughter, who was with Sharzad at the time, had been killed. That daughter is very small and weak. I knew that an explosion like that would kill her instantly if she was close by.75
Faronuz rushed out of her home and found a taxi to take her to the hospital.
When I got into the taxi I wanted to scream, but I couldn't in front of the taxi driver. My heart was about to burst, I could not wait to get to the hospital to see my child.

I thought my child had been killed, I just assumed that she was dead.

Faronuz said that she arrived at the hospital around 11am but did not manage to see Sharzad until 3 pm.

The first moment I saw my daughter, she was white like a sheet. I did not recognize her. When I touched her body it was cold like ice. I thought then that she would not come back to us.

There have been a lot of strong men killed with one bullet. Sharzad was hit with a large piece of metal. I thought that she would not come back.
But Sharzad was lucky and recovered, although she was hospitalized for several weeks afterwards. Given the major damage to her torso and internal organs, the doctors told Sharzad's parents that her recovery was "a miracle," and that she easily could have died that day.
Nearly ten months after the attack, Sharzad still has pain in her arms and legs.
For Sharzad's mother Faronuz, the attack revived painful memories of Afghanistan's past conflicts, including civil conflicts in the early 1990's. Faronuz told Human Rights Watch:
During the wars, many of my family members were killed. I just assume [these days] that my family will be killed in fighting. An attack like this only reminds me of those terrible feelings I had [in the past]. . . . I am not normal now; I can't take things like this.

Faronuz said Sharzad is still affected by the attack:

She [Sharzad] still has bad memories from that day. Once we took Sharzad to a shop near the site of the explosion, and she started shivering. We asked her what was wrong and she said: "Dad! Take me away from here now!" We immediately put her in taxi and took her home.
Sharzad told Human Rights Watch that she still has nightmares from that suicide attack:
Sometimes I dream about that day—I have nightmares. I thought that I would not survive.

I started saying the Kalimah [the martyrs' prayer] when I was hurt that day, because I thought I was going to die, but my brother told me to stop [i.e., because he didn't want her to think she would die]. I said no [and kept praying] because I did not want to die haram.76
*      *      *
On July 5, 2006, three bombs targeting government employees and offices exploded in Kabul during the morning rush hour, killing several people and wounding over 50. Two bombs targeted buses carrying workers to the Commerce and Interior Ministries, and a third detonated in a vendor's cart near the Justice Ministry.
Human Rights Watch spoke with Ghulam Haider, an employee of the Commerce Ministry and a survivor of the attack on the ministry bus.
He detailed to Human Rights Watch how he experienced the attack:
It was Wednesday, July 5th, at about five minutes to 8 am. I was going to work. I picked up the bus a little bit past the stop, because the road was blocked. When I got on the bus began moving again.

We came to a speed bump, and our bus slowed down, and when it did there was a sound of a huge explosion and fire surrounded the bus. I didn't understand what had happened.

The explosion was very bright and made a nasty sound. Inside the bus was like hell. The bus was engulfed in flames. I could see that the fire was coming from the floor of the bus. The first thing I realized was that I was very badly burnt. I ran to the emergency door at the back and I tried to get out of the bus.
He continued:
The man sitting next me died on the spot, I couldn't move him. I was bleeding very badly but I managed to get out of the bus. I shouted at the police and people to come and help me but everyone was scared and were screaming and running away from me. A few minutes later some army guys came and they put us in their trucks. They opened up the door of the truck and put in two women who had been injured in the bus. We were taken to Emergency Hospital.

While we were driving to the hospital one guy died on the way.

I was examined by the doctors. There was a big bomb fragment in my back. They operated on me and discharged me the next day.

Ghulam had a scar on his back from the fragment and had to receive continuing medical treatment for the scarring on his legs, arms, and head.
Later the same day, a second bomb exploded at a busy intersection near the Justice Ministry, killing two civilians and injuring another twelve. The intended target of the bombing was unclear.
Mohammad Rasoul, whose taxi was damaged in the explosion, told the Associated Press that he was inside his car when the blast went off about twenty feet away. Rasoul said: "The glass windows were blown in toward me. When I turned my head, I saw one man with both legs cut off and he was screaming."77
Mohammad Yusef Aresh, one of the injured at the scene, described the attack to Human Rights Watch: "The street after the bomb exploded was like Afghanistan 23 years ago [i.e., during the war against the Soviet occupation]. People were running and screaming because of the bombs."78
Moments before the attack, Aresh said he was walking by the by the Ministry of Justice and saw a man pushing a vegetable cart about 20-25 steps in front of him. Aresh believes the bomb was in the cart, although it is not clear whether the man pushing the cart was even aware of this.

I thought there was something wrong with this man pushing a cart in this area. You know, this area is a really crowded area with heavy traffic and at lunchtime there is even more traffic. That road was a major road and it was busy. Carts are usually not on that road.

The road and bazaar was so crowded. I passed the cart and few seconds later the bomb exploded. It was like an earthquake. It blew me back about three or four meters.
When Aresh regained consciousness he realized that he was lying in the middle of the street and bleeding profusely out his side: "While lying [in the street] I thought I was going do die, 100 percent, but I trusted in God. If someone had not helped then, I would have died. I was bleeding very badly."
I think I was unconscious for five minutes on the road. I woke up and saw people and body parts everywhere; fingers, hands, feet, toes, almost everything.

The windows of the Ministry of Justice were shattered. People were screaming and others were screaming that another bomb would explode but it never came. I started to check my body to see if I was injured. . . . I was wearing a white suit that day and I saw that my suit was red. I was hit by a four-inch piece of shrapnel in my hip.
Aresh recalled that immediately before the explosion he had seen one of the women killed in the bombing:
I was walking next to a woman who was killed by the bomb. We were walking very close to each other because the street was very crowded. When I woke after the explosion I saw her laying on the street ahead of me and I asked the people to see if she was dead or alive. Somebody told me she had been martyred.
He also recalled thinking about his mother and family while he was lying in the street.
"I wanted to call my mother and family to tell them what happened to me, but I lost my phone in the attack. I wanted to call somebody but I couldn't. I remember losing hope."
Aresh detailed to Human Rights Watch how his injuries from the attack have affected his present-day life and health:
I can't walk fast now. You know, I was a boxer. I can't box anymore. I lost a lot of speed and power with my boxing after the attack. Also the attack has affected my memory and my mental health. I am depressed everyday. My leg hurts everyday and I have a hard time walking.

There have been many changes in my life since the attack. I will tell you three changes: One, my memory has gotten worse. I hate that I can't remember. Two, I am depressed. And three, it [the explosion] has affected my eyesight. It's hard for me to read. When I think about these things it brings tears to my eyes. When I think about these and put them all together it makes me want to leave this country.
In addition to attacks that target civilians, insurgent forces have also launched numerous attacks aimed at military targets that appear to have been carried out with little or no regard to the consequences for civilians. While limited information often makes it difficult to determine conclusively that a particular attack violated the laws of war, insurgents appear to have repeatedly used methods or means of attack that did not distinguish between civilians and combatants (indiscriminate attacks) or knowingly conducted attacks in which the loss of civilian life and property exceeded the expected military gain (disproportionate attacks).
On August 3, 2006, a suicide attacker detonated a car bomb in a crowded market in Panjwai Markaz, a town about 25 km west of Kandahar city. The Taliban claimed responsibility for the attack, which killed at least 21 civilians, including children, and wounded dozens more.79 From the circumstances of the attack, it appeared the intended target of the attack was a Canadian ISAF patrol, roughly 200-400 meters from the blast. The patrol was unharmed. (The same day, another ISAF patrol was ambushed elsewhere in the same district, and four Canadian soldiers were killed.)
An Associated Press correspondent who visited the scene of the bombing attack reported: "At least fourteen shops were burnt by the blast that left a crater 1.5 meters across and 50 centimeters deep."80 The report also said that wreckage from the car bomb was flung 100 meters from the blast site and that human body parts and debris littered the road.81
Human Rights Watch spoke with "Abdullah," a motorcycle repairman and an owner of one of the shops destroyed in the blast.82 His brother, son, and nephew were all killed in the attack, as was one of his employees.83 Abdullah said that, at the time of the attack, he was inside his shop with his son Idris, his nephew Kawun, and his assistant Naseem. It was a very hot day, just after lunch, and he and his assistant, Naseem, were sleeping while his son kept watch for customers.
"I was awakened by the sound of the blast. I jumped with fear," he said.
I was not sure what had happened, I thought there was fighting between the Taliban and the coalition forces whose tanks and vehicles were standing not far from my shop. My shop caught on fire, the roof had collapsed and part of it was blown off from the blast. . . .

I could not see anything. My shop was filled with smoke and it was very difficult to see and breathe. I ran towards the door but saw that my nephew, assistant, and my son were lying on the floor.

I didn't know that they were injured and I was angry with them for not leaving the shop. I yelled to them to get up and get out of the shop, but then I realized that they were all injured. . . . My son was unconscious and so was my assistant. . . . I took them out of the shop one by one. . . .

Then I ran towards my brother's shop, which was opposite to my shop. I saw that he and his assistant were lying dead in front of the shop.
Abdullah told Human Rights Watch he was slightly wounded but his son, nephew, and assistant all sustained severe injuries.
My son was hit by pieces of shrapnel, the car metal that flew into the shop with full force. He received injuries to his head, chest, legs and stomach. All the flesh from his cheeks was gone; all of his teeth were visible.

My assistant received injuries to his chest, stomach and legs. My nephew's arms and legs were shredded by the metal pieces from the car. Somehow I was safe and received almost no injuries except for some cuts on my hands and feet.
Abdullah's nephew soon died. His son, Idris, lived for a few days after the attack but then eventually succumbed to his injuries as well. Abdullah told Human Rights Watch about how the deaths affected the family:
When I brought his body to my home his mother fell unconscious. In my house we were mourning the death of my brother and nephew and we thought that my son would survive, but it was not our fate. . . .

I have lost my shop; my brother lost his life and his shop. He got married just last year and now his infant son is an orphan and his wife who is very young is now a widow. . . . I lost my son, brother, and nephew because of the Taliban. They say that they are fighting for God and Islam but they are not; they are killing good and innocent Muslims and Afghans who have done nothing wrong.
Abdul, an 11-year old, was also injured. He was working as an assistant in one of the other motorcycle repair shops near the site of the attack. Human Rights Watch interviewed him in a Kandahar city hospital, one month after the attack. He was lying in traction, having sustained severe injuries to his hands, leg, and his left eye. He described the attack:
On the day of the explosion, my boss, the owner of the shop, was sleeping in the shop [it was just after lunch] and I was sitting outside the shop. It was afternoon, I don't know what time, but it was very hot in the shop and I did not want to sleep so I came out and sat outside the shop. I saw these [ISAF] tanks and soldiers who were standing at the other end of the market, I wanted to go near them but was afraid they would scold me and send me away, so I stayed there sitting in front of the shop, in the shade of the cloth we had in front of the shop, when all of a sudden I felt something hit me. . . . I don't remember any car bomb or blast sound; nothing. . . . I don't remember what happened, but when I opened my eyes I was lying in this bed in this hospital.84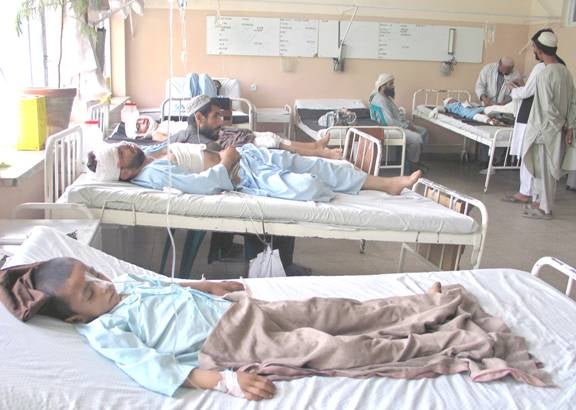 Human Rights Watch also spoke with another shop-owner, Arbab, who like Abdullah owned a motorcycle repair shop at the site of the attack, which was also destroyed. Lal Mohammad said business was slow on the day of the attack and he and his son closed the shop around midday and went home for lunch. He was at home when the attack occurred:
At about 3 pm there was a big bang I thought there was some fighting between the army and the Taliban or it was a bomb dropped by a US plane. I asked my son to go up to the roof to see. He went up, and said there was smoke coming from the market. . . . A few minutes later my cousin Hafeez called me. . . . He said there was a car bomb, a suicide attack, just in front of my shop and my shop together with the other shops were on fire and were completely destroyed. He said that there were a lot of injured and dead.85
Arbab then went to the market with his cousin:
As I approached the scene my heart felt as if it was sinking and my legs didn't have any power. There was smoke and fire all around, the shops were on fire some of the shops were totally demolished and others had their windows, doors, and roofs blown away. There was this black smoke which made it hard to breathe and go near some of the shops. There were injured men and children crying, screaming, others trying to help those who were trapped in their shops.

The most terrifying thing I saw was in one of the shops, which belonged to a man by the name of Hezbollah who was a welder and owned a welding shop.

Hezbollah was severely injured and was screaming for help. Nobody could get near his shop because it was on fire. We could see him lying on the floor with stretched arms and screaming for help but no one dared to go near as there were these gas tanks in his shop which he used when he was welding. He was burnt alive. Sometimes I see him lying on the floor and screaming for help, in my dreams.
Arbab knew many of the families who lost relatives in the blast.
Many of my friends lost their relatives and their main source of income which was their shop. . . . That night was very distressing because we [my family] could hear the women and children who lost their family members crying and mourning throughout the night.
A Taliban commander claimed responsibility for the two attacks in Panjwai: "We carried out all the attacks," said Mullah Amnullah, a Taliban commander who spoke by telephone with a reporter a day after the attack.86
We destroyed two big vehicles and killed a lot of Canadians. . . .

We also carried out the suicide attack in the market. . . .

We keep asking Muslims to stay away from NATO and Canadian convoys as we have martyrs chasing them. We feel bad about today's civilian deaths, but the people haven't been taking our warnings seriously.87
Local residents told Human Rights Watch they were angry that the Taliban would choose to carry out an attack in the middle of a crowded civilian area.
Arbab noted that the ISAF patrol near the market was unharmed in the attack, and questioned why the Taliban carried out the attack in the manner they had:
That day, the Taliban—why didn't they hit the army? Who are they fighting? Why did they [the bombers] stop in front of the shops when they could have hit the convoy, as it was not more then 400 or 500 meters away? They didn't hit them but blasted right in front of the shops, killing innocent Afghans, Muslims, even kids.
Numerous other bombings and attacks like the one above occurred in southern and southeastern Afghanistan in 2006.
Late in 2006, insurgents launched another rash of suicide attacks on military targets moving around Kandahar: nine suicide attacks occurred in and around Kandahar during a two-week period in late November and early December.88 The attacks mostly appeared to be meant for passing NATO patrols. The Taliban claimed responsibility in five of the nine attacks. In all nine cases the attacks were carried out within or close to crowded civilian areas. One of these attacks "failed" and killed only the attacker, but seven of the eight remaining attacks caused civilian casualties, and all seven killed more civilians than combatants.
A December 8 bombing, seemingly directed at a NATO convoy in the Chawk Madat neighborhood of Kandahar, caused ten civilian casualties. A hospital official at Mirwais hospital, Dr. Najibullah, told journalists: "We've got two dead bodies and seven injured in our hospital. They're all civilians."89
On April 8, 2006, a Taliban suicide bomber unsuccessfully attempted to drive an explosive-laden cart into the main gate of the Italian-led ISAF Provincial Reconstruction Team (PRT) compound in Herat.90 The gate lies on a civilian street on which there was regular foot and vehicle traffic. The attack caused severe damage to the surrounding buildings but only lightly affected the PRT. The attack killed an Afghan guard on duty at the time and three civilians, and injured seven others. The attack highlights apparent disregard for the security of civilians, both by the Taliban insurgents who carried out the bombing and by the ISAF forces that placed a military compound inside a populated area of the city.
One of the civilians killed in the attack on the PRT was Jalaluddin, a local vegetable seller and a father of four. "He left in the morning with his cart. At about 9 am he was on the street when the bomb exploded and he was killed," his widow Leila told Human Rights Watch. "His children did not sleep for a week after that."
Leila told Human Rights that she heard about the attack that killed her husband on the local televised news.
That day we heard on the TV that there was an explosion near the PRT. They announced where it was and how many people were killed. Herat TV said that a person pushing a cart near the PRT was killed. When we heard that we went to the hospital.

The hospital told us that my husband had been injured and to come back in the morning. Someone else told me the man who was killed was not my husband but the next day another person came to our house and told us that the man who was killed was my husband.

They told me to prepare some water to wash my husband's body. We buried him that day.

The doctors did not know the night before if the dead man was my husband because his head was not with his body. He was also very badly burned.
Qari Yusuf Ahamdi, the Taliban spokesman, claimed responsibility for the attack on the Provincial Reconstruction Team (PRT). Ahmadi told Agence France-Presse that the attack "was a suicide attack carried out by a citizen from Herat named Abdul Rahim."91
*      *      *
Human Rights Watch also collected information about a bombing that occurred in Herat in 2004: On July 11, 2004, at around 10:30 am in the morning, a man left a bomb near a police station in the city's main bazaar. The bomb blast killed several civilians. No military infrastructure was damaged in the blast. Police stations are not normally valid military targets.
Human Rights Watch spoke with Mir Ahmad, who witnessed the attack, and lost his 17-year-old son, Amanullah. Mir Ahmad said that he and another of his sons owned adjacent hardware shops about five meters from the police station, and that he saw the man place the bomb, attached to a bicycle, outside his son's shop.
Amanullah was minding his elder brother's shop (the other shop). His school was out that day. At around 10:30 am a man riding a bicycle with a large package attached to the back of the bike appeared in front of our shops. Actually he was right in front of my son's shop. I saw the man, he seemed out of place and nervous. The man parked the bicycle with the package in front of Amanullah's elder brother's shop, next to electric pole, which is only about three meters from that police station; an arm's length from our shops. The police station was the target.

The man parked the bike and walked away in a hurry, which raised my suspicion. A few moments later the bomb exploded killing many civilians and causing minor injuries to only one police officer.92
Mir Ahmad was working in his shop at the time, sorting nails.
The bomb exploded sent nails flying everywhere like bullets. I shouted for my son. I remember it was dark when the bomb exploded. There was a lot of smoke. When I could see, I saw my son lying out in front of the shop. He was torn apart from the shrapnel from the bomb.
According to Mir Ahmad, Amanullah was in sixth grade when he was killed. Mir Ahmad said he was well-respected among his family and peers:
One day there was a ceremony in his school where the school gives awards to the best students. His teachers and his classmates gave him many awards not just for being a good student but for being a good person, and good Muslim. I was very proud of my son. . . . Whenever we go to the cemetery, we see a lot of people at his grave. Our whole family respected him. His mother is still crying for him.
Amanullah's death has severely affected Mir Ahmad's family. Mir Ahmad told Human Rights Watch that Amanullah's elder brother, who owned the shop at which Amanullah was working the day he was killed, "will never open his shop again. He has not been to his shop since then."
My family and I can't go on as usual without my son since he was killed. At least we have memories of him. My family, they can't go out anymore. They won't go to wedding parties now. They are too sad because when they see happiness it reminds them of Ammanullah. He was a happy boy. They just remember him and cry. The rest of my children can't live as normal now.
*      *      *
"Panic" was how Lal Mohammad, a survivor of an IED attack in Mazar-e Sharif, described the reaction of victims immediately after a powerful bomb exploded in city's crowded main bazaar on July 13, 2006.93 The attack took place across the street from the city's Blue Mosque. According to a report about the incident by the Afghanistan NGO Security Office (ANSO), a monitoring and consultative body that monitors security incidents:
An IED detonated in Darwaza-e Balkh area of Mazar-e Sharif, approximately 500 meters west of the Blue Mosque when an ISAF convoy was passing. Subsequently, 3 people and 1 child were injured. The bomb was placed on a bicycle in front of a row of shops in a heavily populated area.94
Sher Jan Durrani, a city police official, told Pajhwok News Agency that one man died in the attack.95 The ISAF convoy was unharmed. Lal Mohammad said:
People were running and screaming. A lot of shop windows were broken. I was wearing white clothes, they turned red, and they soaked with blood. When I got to the hospital and I saw the other injured, I thought that the fighting [i.e. war] had started again in Afghanistan.
Lal Mohammad was struck in the back with a piece of shrapnel as he was loading a television into his car, parked near the bazaar.
My back was towards the explosion, I was facing away from the street towards the shops. I knew something had happened because people were running and screaming but I didn't feel getting hit by the bomb. First I did not understand what happened. Someone told me I was bleeding from my back. When I put hands on my back and brought them back in front of my face, I saw all the blood and started going into shock.
Habibullah, a survivor of the same attack, described the scene as something like what he had "watched on the TV or on the films."96 He said, "It was like I was dreaming. If I had taken two steps forward, I would have been killed, because the bomb that exploded was very close to me."
Habibullah was also injured and hospitalized.
I was in front of the explosion, so I saw the explosion, I saw smoke going into the sky. I was thrown onto the ground and went unconscious. When I got up, I didn't know I was injured. I didn't know what to do. I was bleeding from my head, arm, and leg. One person came to me and told me I was bleeding. I didn't know what was happening because I was in a panic.



At first I didn't know that I was injured. I had heard at university that when a person gets injured sometimes he doesn't know what is happening. I was really worried about severe injuries on my body. I just didn't know what was happening, where I was. . . .
Although no one claimed responsibility for the attack, victims like Habibullah think that the Taliban were responsible:
The fight with Taliban was only in the southern part of Afghanistan, but recently it has expanded to the north too. This attack shows that fighting is not just one or two parts of the country but has expanded to all of Afghanistan.
Lal Mohammad, Habibullah, and other witnesses to this attack told Human Rights Watch that fear of a second explosion was the cause of much of the panic that day.
I have heard that sometimes a small explosion will be followed by a big explosion. I have heard a lot about such things. For instance, there is an explosion, a small explosion and people gather to help the injured and then another bomb will go off there. There are examples from Kabul, Kandahar, and Helmand. I heard the same things have happened there. That situation made me and everyone else very scared.
*      *      *
Kabul City and surrounding areas
Around December 10, 2005, a civilian vehicle rigged with explosives detonated on Dar al-Amman Road in Kabul, as an ISAF convoy was passing by. Three civilians were wounded in the attack, and one other civilian was killed (the suicide bomber was also killed). The attack reportedly only slightly damaged the ISAF vehicle, and ISAF reported no casualties.97
Roshan and Abdul Hadi were two brothers who shared a home with their families on the Dar al-Amman road in Kabul.
Both were victims of the attack—Abdul Hadi was killed. Human Rights Watch spoke with Roshan about the attack that day, and his brother's death.
At the time of the attack, Roshan said he and his brother were on their way to mosque to say Friday prayers.
We were walking down the street when we heard a horrible sound. I didn't know what happened. I only remember the sound and something pushing me towards the sky. Then I went unconscious.

When I woke up I found myself in the hospital. We were just a few moments away from where we were going.

When I regained consciousness people told me that there was an international military convoy which was coming from behind us. We were walking on the right side of the road, away from Darulaman Palace, and they [ISAF] must have been coming from the other direction towards the palace. The explosion took place somewhere in the pavement, not on the street. 98

Roshan's first thought was about the fate of his brothers:

When I became conscious I realized I was in a hospital. I raised my head and saw that my leg was injured and the first question I asked was "How's is my brother?" [As it turned out,] he and I were in the hospital together the entire time but I did not see him.

The hospital staff told me that my brother was injured very badly and that he was in the intensive care unit. I had three pieces of shrapnel in my back but my brother had a large piece of shrapnel in his head.

He died in the hospital ten days later. [Roshan never saw him.] The last time I saw my brother he was on the street.
Roshan sustained serious injuries to his arms and legs which badly impaired his ability to walk and sit comfortably. "My legs and hands were injured. When I move them it feels like I am being cut by a knife" he said.
I see a big change in my life; I can't move at times because it is too painful. It's been quite some time since my legs were injured in the explosion; they still have not healed properly.

I think my injuries have undermined our family life, economically and psychologically. Actually, psychologically, we are all depressed.
Human Rights Watch also collected information about some of the numerous IED and vehicle bomb attacks that have taken place on the road that leads out of Kabul city to the east, commonly referred to as Jalalabad Road. Since January 2006, the Taliban and other insurgent groups have claimed or are suspected to have carried out dozens of IED attacks on Jalalabad Road.
The attacks usually target NATO or Afghan military convoys that are traveling to or from the center of Kabul to NATO's "Camp Warehouse," which lies on Jalalabad Road.
The road, however, is typically busy with civilian traffic, and although these attacks appear to target military convoys, they frequently incur needless loss of civilian life. Some accounts collected by Human Rights Watch illustrate the point:
On May 21, 2006, the Taliban carried out a suicide attack on a US military convoy traveling towards downtown Kabul on Jalalabad Road. Hanif Ahmadi, the Taliban spokesman, said the attack was carried out by a Taliban member named Sayed Mohammad Mujahid, and that the attack inflicted heavy casualties on US soldiers traveling in the convoy.99 However, witnesses interviewed by Human Rights Watch, as well as by ANSO, said that no US soldiers were harmed in the attack.100 ANSO and various media sources reported that two civilians were killed in the attack, in addition to the bomber, but witnesses told Human Rights Watch that six civilians were killed and seven others injured.
Human Rights Watch spoke with two witnesses: Najib and Habibullah. Habibullah's brother Saifoor was killed in the attack.
According to Najib and Habibullah, Saifoor and a shopowner named Sayeed Gul were sitting in front of Sayeed Gul's shop on the morning of the attack, eating watermelon. Habibullah described how the attack unfolded:
Usually I don't eat breakfast early in the morning; usually I go to Sayeed Gul's shop and talk with him [before breakfast]. That morning, I went to the shop and then came home for breakfast, but then my mother told me to go back out and buy some laundry detergent.101
Habibullah described what he saw when he returned:
I went back to the shop and [when I got back] I saw a car near there on the other side of road. The man in the car stared at me. We saw each other; he had a long beard. I saw the driver talking to another man; he was a Kandahari. I could tell because he spoke with a Kandahari accent. They were speaking loud, almost yelling. They were talking about the stones in the road. [White stones put in the road, usually to block off a portion for maintenance.] One man was in the car and one man was standing outside pointing to the stones.
Habibullah said the car was parked on the opposite side of the road, in front of Najib's house and Sayeed Gul's shop. Habibullah saw the military convoy coming down the road.
When the Americans came, the car [with the bomber] started to move. . . . Then the car jumped into the air. It was like it was a stone in a slingshot. The car exploded. I think [the explosion] hit the last American car. [According to ANSO and media reports, the explosion occurred just after the convoy passed; no military personnel were harmed.] I could not see anything.

All I could think of then was the smell in my nose. It smelled like burning meat.

I saw the shop and it was on fire. There was fire where Saifoor was sitting [inside the shop]. I went to get him; I knew he had to be hurt. I rushed to him and Sayeed Gul [who was outside the shop].

Sayeed was ok. Sayeed Gul and I ran into to the shop even though it was on fire. . . . I was injured but I went inside the shop to get my brother. He was dead.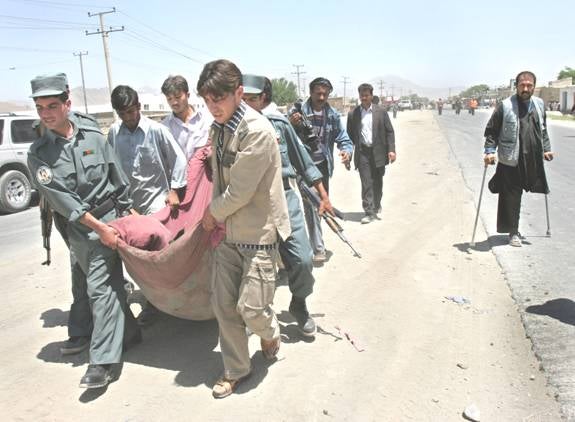 Najib, Saifoor's closest friend, told Human Rights Watch what he saw that day:
I was on the way there too but my friend stopped me on the road while on the way and asked me to borrow some money. So I returned home for a few minutes. . . . I heard the explosion and went running back.

I saw my friend Saifoor, I grabbed his hand but he was already gone.

Before the explosion, I saw the suicide bomber in his car talking to another man. He was parked on the right side of the road. He saw all the children on the street and he must have seen Saifoor and Sayeed Gul eating watermelon.102

Sayeed Gul, who was with Saifoor during the attack, told Human Rights Watch "It was terrible day."

Saifoor was going to be a father in a few months [Saifoor was married in December 2005, six months before he was killed]. We were talking about that and how he was happy that he going back to work the next day to earn money to support his family. He had been sick and the doctor told him not to go to work for 10 days. The day he was killed was the tenth day, the next day he was going back to work. If that explosion happened one day later Saifoor would not have been here and his child would have a father.103
Habibullah explained to Human Rights Watch how the attack affected his mother:
Our lives are different now that Saifoor is gone. Our family is different and it has affected us in very bad ways, particularly my mother. My mother, she is always thinking of him. I never remembered my mother being sick when I was boy. She was never unhealthy. Since Saifoor was killed, she is always sick. She cries a lot too. I am terrified that these people who took Saifoor from us will also take my mother too.
Saifoor's friend Najib described the affect of the attack on the neighborhood:
The shop was a good shop. It was more than a shop where we bought things. All the neighbors came here during the day. Some of us came in the morning, some of us came in the afternoon. But all of us came here during the day.

We all live here. There are many houses around here and we are like brothers and we take care of each other. [Now] the shops are destroyed and we have no money to rebuild them.

The tragedy here is not that the shops were destroyed but that we don't meet one another everyday now. We don't hear all the news and the stories about the families here.

I was thinking about this when I had to clean the shop. I had to take the body parts away that were in the shop. I had to take the hands and feet of Saifoor, my friend, away. That day was hell for me.104
Habibullah told Human Rights Watch:
We are worried about this street now. We were [worried] before but not like now. When we see the foreigners come in the cars and military trucks we go inside or around the corner to get off the street. We are suspicious of every car that is parked here now because there are so many children on the street.

There are always a lot of civilians on this road. There are homes here. There are so many children on this road. There were so many innocent people on that road, working and talking during the day. Why would they blow themselves up here?105
Two other attacks in Kabul in September 2006 killed numerous civilians:
On September 8, 2006, a suicide bomber detonated next to a US military convoy traveling through a crowded street in the Wazir Akbar Khan area of east Kabul; two US troops and 14 Afghan civilians died, including several women and children.106 Journalists who visited the scene right after the attack saw trees set on fire by the bombing, and body parts, hats, shoes, and clothing scattered across the street.107
On September 30, 2006, a suicide bomber detonated near the Interior Ministry office in downtown Kabul, killing 12 civilians, including an eight-year-old boy, and injuring another 42.108 Tom Koenigs, the UN Secretary-General's Special Representative to Afghanistan, released a statement condemning the September 30 attack, saying he was "shocked and appalled":
It is particularly upsetting that so many lives have been lost in such a callous attack against innocent Afghans who were simply going to work. Afghanistan's people have suffered enough. It is wrong for any conflict to be played out in a civilian arena with such wanton disregard for so many innocent lives.109
---