The publications and public statements of the Office of Children and Family Services paint a picture of juvenile facilities in which girls and boys are kept safe and provided an impressive range of individualized services.154 The views of children currently or formerly held in OCFS facilities as well as juvenile justice experts paint a different picture, one of an agen cy confronted with children with exceptionally significant and complex needs, in which overwhelmed staff too often use excessive physical force and other forms of abuse, including threats, and where services such as counseling and education often are inadequate.155 Girls' stories of their experiences in the facilities focus on their day to day interactions with staff, some of whom treat their wards with compassion and good humor, many of whom are simply marking time, and some of whom affirmatively harm the children in their "care."
Girls incarcerated at Lansing and Tryon experience serious threats to their safety. Some girls complain that other girls attack, threaten, and confront them, or spread rumors and personal information about them and that staff fail to intervene to stop peer violence and mistreatment. 156 Generally, however, complaints of peer-to-peer abuse are relatively rare, while reports of staff abuse of girls, especially under the guise of the "restraint" procedure, are common.
HRW/ACLU attempted to corroborate girls' accounts of abuse by recourse to agency records, but our request for incident reports that would reflect staff accounts of situations in which they used restraints was categorically denied.157 Nevertheless, the number and consistency of reports among interviewed children and adults, as well as available documentary evidence – including references in the facilities' monthly reports – leave little doubt that Lansing and Tryon have a serious problem of abuse that has yet to be addressed.
It was grown men there attacking girls like they had no sense.158
Girls held in both the Lansing and Tryon facilities told us that staff frequently employ physical force in response to minor rules violations that pose no threat to the security or safety of either staff or girls. The force is not only used without just cause, but is excessive, sometimes resulting in injuries to girls and staff. The exercise of force against girls almost always takes the form of a procedure known as a "prone restraint" or "face down restraint" and is referred to by staff and incarcerated girls simply as a "restraint."159 In a restraint, one or more facilities staff seize a girl from behind and push her to the floor, face down. They then pull her arms up behind her and hold or handcuff them.
Like adults, children have the right to be free from violence and cruel, inhuman, or degrading treatment.160 This right also applies to prisoners, who must be treated with humanity and dignity,161 and to incarcerated children, whom governments must protect from "all forms of physical or mental violence, injury or abuse, neglect or negligent treatment, maltreatment or exploitation, including sexual abuse . . . ."162 Corporal punishment of incarcerated children constitutes cruel, inhuman, or degrading treatment.163 The use of physical force against incarcerated children is strictly prohibited by international standards, except "in order to prevent the juvenile from inflicting self-injury, injuries to others or serious destruction of property.164 Even in such circumstances force can only be used, "in exceptional cases, where all other control methods have been exhausted and failed, and only as explicitly authorized and specified by law and regulation."165 This "harm to self or others" rule is echoed in recognized U.S. standards governing the treatment of incarcerated children.166
Statutory law governing OCFS absolutely forbids corporal punishment "for any purpose and under all circumstances,"167 and permits the use of physical restraints as well as isolated confinement only when a child "constitutes a serious and evident danger to himself or others."168 OCFS's internal policy regarding the use of force, however, is more permissive than what is legally mandated. In addition to cases in which a child poses a threat to herself or others, the policy permits restraints in two broad categories of cases: "To enforce a direct order to a resident for reasons of safety or control," including an instruction to move or stay still, and "To respond to an immediate threat to the safe, secure operation of the facility."169
Girls who had been confined in OCFS facilities described the use of the forcible face-down restraint in numerous situations which did not suggest dangers or threats to security, staff, or any residents. Girls described being restrained or witnessing others being restrained for: failing to hold their hands behind their back in the prescribed manner when standing in line, holding and waving a comb while speaking to a staff member, failing to make their bed correctly, talking back to staff or "acting out," misbehaving in school, not following directions,  refusing to go swimming, "mouthing off,"  not raising their hands before speaking or acting, being loud,  moving without permission, and "playing around."170 As a girl formerly held at Lansing stated, "They thought restraints were the answer to everything. They'd use them for anything."171
Stephanie Q., now 18 years old, described the use of restraints for failure to follow an order given by a staff member:
They only give you one time to follow a directive. If they tell you something and you don't do it, that's grounds for them to restrain you. What if you didn't hear? What if you didn't understand? I used to see this girl, she didn't speak English, she didn't understand what was going on. They didn't care, they'd restrain her, like for not getting in line when they said to.172
According to interviewed girls, staff sometimes unnecessarily increase the use of force used during a restraint. Alicia K., who was incarcerated at both Tryon and Lansing when she was between 15 and 17 years old, described one of several restraints she experienced:
It was in the medical unit. I forget who restrained me. It was probably for refusing to move. There were two people to start off with. They hook up under your arms from behind and throw you to the ground. If you were "resisting" as they like to call it, they push harder. They pull your arms behind you and push up. My thumb touched the back of my head. That you resisted, that's the excuse they use. They say "Stop resisting! Stop resisting!" even though you're not moving. That time it was four or five different staff, mostly male.173
Another formerly incarcerated girl, Devon A., was also held at each facility between the ages of 15 and 17. She said: "The trick they had was to 'escort' you, to hold you standing up and if you moved even a little you were going to the floor."174
As described by interviewees and confirmed by agency documents, use of the restraint procedure sometimes results in injury to girls and staff.175 For example, an agency letter addressed to a staff member states: "On November 6, 2004 . . . you used inappropriate and excessive physical force with resident [name redacted] during her restraint. Specifically, you punched resident [name redacted] in the leg."176 In one month in 2002, the Tryon facility reported that 15 of its 76 residents received medical attention following restraints.177 The most common injury reported by girls was facial abrasions, sometimes severe. Among residents of juvenile prisons, these facial injuries are called "rug burns."  Selena B. was 12 when she was sent to Tryon Reception. She told HRW/ACLU:
I was restrained once because I wouldn't eat fish, because I'm allergic. So the lady told staff, and staff threw my food away.  I got upset and started yelling. They took me to the bathroom. They take you and throw you on the ground. One man and a woman grab you and throw you on the ground. I got a rug burn. I had a scar for about two weeks.178
While incarcerated at Tryon, Felicia H., 17 years old at the time, was restrained and suffered a serious facial abrasion that took three weeks to heal. She wrote to HRW/ACLU:
Staff here do restraints and they do it bad. I been restrained two times during my stay here and they do it to hurt you. And if you don't get along with that staff then they hurt you, like when I got restraint they had messed up my face real bad, they broke someone's arm before, busted my lip, that's one thing I don't like about here. . . . [T]hey shouldn't touch us 'cause us kids get hurt real bad.179
Formerly incarcerated girls described seeing others restrained, or seeing injuries to others in the aftermath of restraints, including at least one instance of a broken arm and a broken leg.:
"You'd see kids walking around with rug burns on their faces from their temple all the way down to the bottom of their chin, with crutches, one girl was in crutches and a cast because they broke her arm and leg. They had bent her up like a pretzel," said Devon A.180
"I was never restrained upstate. I've seen girls get rug burns, bad bad bad, rug burns, where you can see the meat of their faces… and so I make it my business not to get restrained," 16-year-old Denise J. reported.181
One incarcerated girl complained that she suffered backaches since being restrained, and although facilities staff gave her Motrin in response to her complaints of pain, the medicine did not help.182 Facility records confirm that girls are injured during restraints. Such injuries include lacerations requiring sutures and, in one instance, a concussion.183
Some girls reported that some staff members seemed to vent their anger on girls. Alicia K., said, "It seems like the staff like restraining kids."184 Anne C., 15 and 16 years old at the time of her incarceration, said:
It's aggression that the staff puts on you. The staff are so quick to put their hands on you. I know they're trained to put you on the ground, but sometimes it seems like they don't care how they do it.185
The facilities' grievance logs also suggest that the misuse of the restraint procedure is a perennial problem at both the Tryon and Lansing facilities.186 Alicia K., quoted above, gave further details about her restraint in the medical unit of Tryon:
When they push your arms up [behind your back], they kind of slide you across the floor at the same time. You try not to say anything, but after they keep going you start yelling and cursing. Then they put handcuffs and shackles on you until they feel you're calm enough. That time it was an hour. They ask if you're calm. If you're not they just leave you there and stand there having a nice little conversation like nothing happened, like about the new motorcycle they just got, like everything's O.K. Then they let one handcuff go and you put your hand forward. If that one's not moving they let the other one go. Then you go to the nurse and they document your injuries.187
Stephanie Q. also described being restrained and kept in a prone position for a long period of time. Her account suggests that girls sometime resist the use of force by staff and escalation quickly occurs. Such escalation is particularly likely if staff have not been properly trained in managing and defusing confrontation. Stephanie Q., as well as some other interviewed girls, interpreted some instances of restraints as intentionally inflicting pain or harm:
When they restrain kids, they purposely hurt them, seriously. . . .They'd have rug burns all over their bodies. You can see that they're doing it on purpose. . . They hold your arms back and they purposefully push your face in the rug. They have their knee in your back and your arms all the way back. I've been restrained before so I know. It makes me angry, I just want to fight some more. They have an advantage over you because there's like five of them, and that just makes you angrier. Most of my restraints, I fell asleep, because they had to hold me down for so long. I got a scar on my face, it was a discoloration. I don't have it anymore, that was years ago. It could last for maybe six months. How long they hold you down depends on how long you're being defiant. If it gets long, like more than an hour and a half, they'll get the handcuffs and shackles and leave you there. At the OCFS facilities out in the country, they'll start using the handcuffs and shackles.188
According to Alicia K., "Some staff were known for restraints. If you got restrained by them you got at least one injury. They'd talk about restraints they did where they hurt a resident. Kind of like they were bragging about it. Most of the staff known for restraints were male."189 The cavalier attitude taken by some OCFS employees is reflected in official records of a staff member "making remarks about 'betting' when residents would be restrained."190
Dana G., who is 16 and was pregnant when she was subjected to the restraint procedure, described her experience at Tryon:
I didn't like how you had to put your hands behind your back, and how they'd restrain you. I was four months pregnant, and this [staff member] slammed me up against the wall. I could've miscarried! He knew I was pregnant because I had purple laces.191 I was in the mudroom192 standing with my hands in a diamond.193 He was talking to me and I told him to "shut the f up." That's when he took me and slammed me.194
Although most of the physical violence perpetrated by staff against girls incarcerated at Lansing and Tryon appears to be some form of a "restraint," OCFS records suggest that other kinds of violence, including forms that are never permissible, also occur. The facilities' complaint logs and other records also contain reports of girls being hit, 195 kicked,196 choked,197 thrown against a wall,198 and subjected to the use of "pressure points."199 In one incident reported in a facility's monthly report, a girl complained that "a staff was handplaying with her and caused bruising on her neck."200 Unsurprisingly, our review of three years of grievances from both facilities revealed numerous complaints that children do not feel safe at the facility or do not feel safe in the presence of a particular staff member.
The use of excessive force occurring in the Lansing and Tryon facilities would be damaging to any child, but it may be especially harmful to girls. As noted above, a high proportion of incarcerated girls have experienced physical and sexual abuse in the past,201 making them especially susceptible to additional trauma upon being assaulted by an adult while incarcerated. Girls' experiences of trauma may also expose them to greater physical harm during a restraint: According to an expert in juvenile crisis-management techniques, when staff seize previously-abused girls and throw them to the floor, they replicate and provoke past trauma. In part because of their past experiences, these girls may not acquiesce to the application of force, and their resistance may be exaggerated, in turn escalating the situation even further.202  Of course, even absent a past experience of physical abuse, children already embroiled in an escalating confrontation then abruptly seized and pushed to the floor may react in kind with physical aggression.
The frequency of restraints in the investigated facilities and the proclivity of staff to escalate staff/girl conflicts to physical violence rather than to prevent or deescalate such conflicts also points to a failure to recognize and respond to girls' needs. Research has revealed that incarcerated girls experience a high level of anxiety and anger from past trauma, leading to intense, uncontrollable emotions.203 Experts prescribe teaching such girls "self-soothing" techniques to employ when they begin to feel anxious.204 Yet such techniques are not consistently utilized at OCFS facilities, where some staff lack the training and skills necessary to resolve a confrontation with a child in a way that saves face for themselves and protects the child.205
Monthly reports by facility administrators at Lansing and Tryon confirm girls' accounts of the frequent use of restraints. At Lansing, the number of forcible face-down restraints per month at that facility between January 2004 and January 2006 ranged from 35 to 108 and averaged 65. The average population for these months was 81 girls, yielding an average of 10 restraints per child per year. For the same period, mechanical restraints such as handcuffs were used an average of 38 times per month. This figure excludes mechanical restraints used during the transportation of girls to court and elsewhere, and likely includes handcuffing in the aftermath of physical restraints. Over the last two years, Lansing reported an average of 1 restraint-related injury to a girl and 2 injuries to staff per month.206 Monthly reports from Tryon indicate that there were between 10 and 43 face-down restraints per month, averaging 22 per month. Distributed across an average population of 77, this amounts to 3 per child per year. Tryon averaged 11 instances of use of non-transport mechanical restraints per month. Over the last three years, Tryon reported an average of 3 child injuries and 4 staff injuries per month as a result of restraints.207
At least some facilities administrators are aware of the excessive use of force, and have even made attempts to reduce the frequency of use and the incidence of misuse of the restraint procedure.208  At Lansing, beginning in January 2003, one of the facility's annual goals was to "Decrease use of physical restraints." This remained a goal until at least January 2006 (the last date for which we have Lansing monthly reports). Over the years, the monthly reports contain brief two or three sentence references to general actions being taken to achieve the goal. For example, a typical statement is "We continue to make progress in this area.  The weekly unit computation as well as staff debriefing after every restraint continues to help in this area."209 Nevertheless, during 2004, the per capita use increased. In 2005 it dropped slightly, but was still higher than that in 2003. Tryon's monthly reports also include references to efforts to ensure restraints are used properly and less frequently. For example, the September 2005 report notes:
The Facility director and/or Assistant Director have been attending CMPR [Crisis Management/Physical Restraint] refreshers to discuss the need for 'safe' restraints and to brainstorm with staff on suggestions/ideas to reduce restraints. We are putting this list of suggestions together and will distribute to staff when complete. The internal format for tracking restraints has been revised.  We will now be tracking additional information to see if patterns exist. Facility Director/Assistant Director distributed a memo to all staff regarding the need to do restraints according to trained techniques and to reduce restraints.210          
Top OCFS administrators know about the excessive use of force. Inez Nieves, the Associate Deputy Commissioner for Programs and Services for OCFS's Division of Rehabilitative Services and the former director of Lansing recently convened a meeting of almost the entire Lansing staff and, in relation to the use of the face-down restraint, and reportedly accused all present of being "child abusers."211 According to knowledgeable sources, "the red flags are up everywhere."212
HRW/ACLU received anecdotal reports from girls and anonymous adult sources that excessive use of force occurs much more frequently at Lansing than at other OCFS facilities, but efforts by HRW/ACLU to obtain comparative statistical data to verify these reports were denied by OCFS for unclear reasons.213 In response to HRW/ACLU's appeal of this and other denials of information, OCFS stated: "OCFS does not maintain cumulative statistical data regarding abuse of youth placed in facilities, disciplinary measures employed with youth, suicide or self harm."214 This failure to maintain readily available data reveals insufficient institutional concern regarding the danger to children posed by the prone restraint and frustrates monitoring of the use of force and trends in it, whether internally or by outside observers.
Our research suggests that physical abuse and other mistreatment are systemic problems, not the work of a few bad eggs. Ultimate responsibility thus rests not with the well-meaning but under-prepared and overworked line staff, but rather with the policymakers and administrators who place both the girls and their keepers in inordinately difficult circumstances. Understaffing in Lansing, for example, is persistent and severe. Between January 2004 and January 2006, the Lansing facility, whose budgeted staff level is 100, had an average of 22 staff vacancies and 6 backfilled vacancies.215 Of the actual vacancies, 13 were positions involving the direct, day to day supervision of girls. Entries in the facilities' monthly reports regularly include expressions of concern over the number of vacancies and the amount of overtime worked by staff.216 Lansing's staff shortage and the amount of overtime worked prevents facilities administrators from being able to send staff to training sessions.217 The Tryon facility, whose budgeted staffing level is 137, had an average of 10 vacancies for the same period, of which five were counselor positions. Tryon's records also express concern at the number of unfilled staff positions.218
It is likely that the staffing shortages contribute significantly to the stress experienced by line staff, making healthy relationships with confined girls difficult. The excessive "mandating" of staff, that is, requiring staff to work excessive hours, and the intense emotional strain workers experience is described by informed sources:
They get horribly mandated, there are some who are mandated three 16 hour days in a row. You can imagine they're sleep deprived, family deprived, everything, and they're not going to be good with the kids. The staff are emotionally crumbling, they're falling apart because they're so overworked.219
Facilities administrators and OCFS officials are aware of the effects of overwork.220 The severe staff shortage, likely caused in part by the remote location of the facilities, may in turn exacerbate inadequate screening of potential employees and preclude necessary supervision. 221 The failure of supervision is also related to the self-protective bureaucratic culture pervading OCFS:
Everybody has their job to do, so the YDC222 is not constantly on the unit observing how staff are working or dealing with the kids in any way. The top doesn't know what the bottom is doing because it's a cover up from the bottom to the top.223
Despite the obstacles posed by institutional policies, staff shortages and difficult working conditions, many facilities workers help and nurture their wards in the face of institutional failures. HRW/ACLU was told:
There are some staff that are wonderful to the kids, they really go the extra mile, they spend their money on the kids, they buy arts and crafts supplies, they buy them yarn to crochet with, and shampoo.224
The goodwill and enthusiasm of facilities workers is also apparent in the monthly reports generated by each facility. Although these documents are intended for OCFS administrators and as such are inclined to portray facilities' performance in a positive light, what nevertheless shines through is the difficulty of operating an institution with such a difficult mandate under severe budgetary and other bureaucratic constraints, and the degree of genuine concern many staff members show for the welfare of girls confined in the facilities.225
Regardless of the challenges, all juvenile institutions should provide at least the minimally acceptable conditions for children set forth in domestic and international laws and guidelines. International norms set standards as to staffing levels and supervision,226 insist on equal treatment and opportunities for girls and boys, 227 and address numerous other areas affecting the lives of incarcerated children.
It feels like jail, the barbed wire, the restraints, the cells. They call them rooms but they're just like cells. They have little beds with thin mattresses, a desk, and you get locked in it. To me, that's a cell.228
Both international and New York State law emphasizes the importance of avoiding institutionalization and unnecessarily restrictive measures to the greatest extent possible where children are concerned.229  International standards require in addition that different degrees of security be available to different groups of incarcerated persons according to their needs.230 Certain conditions and practices at the Lansing and Tryon facilities fail the test.
According to OCFS literature, the Tryon Girls Center comprises four distinct parts, two of which are Tryon Girls Secure Center and Tryon Girls Residential Center.231 Tryon Secure is classified as a "secure" facility. OCFS literature describes secure facilities as "the most controlled and restrictive" providing "intensive programming for youth requiring a highly controlled and restrictive environment."232 Tryon Girls, on the other hand, is classified by OCFS as a "non-secure" facility. OCFS literature describes "non-secure facilities" as consisting of "a variety of urban and rural residential centers and community based programs . . . . Youth in residential centers require removal from the community but do not require the more restrictive setting of a limited secure facility."233
According to available evidence, however, there is little or no difference between Tryon Girls and Tryon Secure in physical layout or operation. The entire Tryon facility is encircled by perimeter fencing topped with coils of razor-wire.234 Within this perimeter, the boys' area and the girls' area are each encircled by a second layer of fencing with razor wire. A third layer of razor wire-topped fencing surrounds each housing unit regardless of its security classification.235 Thus there is no difference in the physical layout of the "secure" and "non-secure" girls' housing units at Tryon.
Procedures are also similar in the different parts of Tryon. Visitors must pass through metal detectors before entering any of the Tryon units. Facility-wide, girls are allowed only one magazine in their room at a time, and are not allowed to keep pens or pencils in their rooms.236 According to facilities staff and some girls incarcerated at Tryon, the only difference in the operation of the sub-facilities is that in the secure portion, the girls' individual cells are locked at night, whereas in the non-secure portion they are not.237 Residents in each facility cannot move about the facility grounds freely. "Privileges," such as a later bedtime, number of phone calls, and access to a television are meted out according to a girl's "stage," with very minor variations across facility types.238 HRW/ACLU requested documents from OCFS that would verify or contradict these accounts, but our request was denied.239
Thus, although girls classified as "secure" and "non-secure" at Tryon are segregated from one another, in almost all respects both groups are held in a maximum security environment. Presumably, judges sentencing girls to Tryon Girls rather than to Tryon Secure do so because they have determined that placement in a high-security environment does not serve their best interests. The maximum security treatment such girls receive not only contravenes international standards but also frustrates the rehabilitative intent of other actors in New York's juvenile justice system.
International standards require that different degrees of security be available to different groups of incarcerated persons according to their needs.240 The use of security measures beyond what is needed or appropriate for juveniles is also cause for concern because such measures have a tendency to interfere with children's ability to exercise other rights, such as rights to free expression241 and family contact.242
I really didn't like it at all, because they was disrespecting my privacy. But I was locked up, so what could I do?243
Girls held at Tryon and Lansing are frequently strip searched and even more frequently pat searched for contraband and weapons. A pat search consists of staff touching the pockets of the child's clothing and asking the child if she has anything concealed.244 Agency documents describe how a strip search is carried out on girls.245 The girl is required to take off all of her clothes. The staff member then performs the following:
visual examination of mouth;246
visual examination of the nose and ears;
resident runs fingers through her hair and staff visually examines;
resident lifts arms to expose armpits to visual examination;
visual examination of hands, between fingers, bottom of feet and between toes;
resident lifts breasts to expose areas to visual examination;
resident separates body folds or creases to expose areas to visual examination;
resident removes any sanitary articles from body or clothing, i.e. tampon, sanitary napkin;
resident squats and coughs deeply to dislodge any articles concealed in the anus or vagina;
resident bends over and spreads the buttocks to expose the anus and vagina to visual examination;
staff search of each article of clothing.247
Alicia K. described a strip search:
Most of the time it was in the bathroom. The female staff came in, you take off all your clothes, you shake out the clothes, they check the pockets, you bend down and cough. No one wants to be strip-searched.248
Girls described strip searches being performed every time they returned from outside facility grounds, and at Tryon, after merely having been transported to the boys' side of the facility for a medical appointment or for any other reason.249 OCFS policy documents confirm this.250 Strip searches are performed regardless of how little time was spent away from the facility, and even though children are always monitored by facilities staff and almost always handcuffed and shackled when they are taken outside facility grounds, although their handcuffs may later be removed, for example, during a court appearance. Girls described being strip searched after medical appointments,251 and Selena B., who was 13 when she was held at the paramilitary "L-Unit" at Lansing described being strip searched upon returning from weekly hiking trips.252
Devon A., formerly held at the Lansing and Tryon facilities, told HRW/ACLU:
You'd get a pat search after eating and a pat in certain classes. They'd pat search when something was missing. They'd strip you when you went across the yard even to the dentist at the boys' side. You get strip searched any time you have shackles and handcuffs on. It feels like a violation.253
When asked about the frequency of strip searches, Alicia K. responded: "Monthly at least. There was a basic routine, a unit search. And anytime something came up missing, like a pencil or a crochet needle."254 The girls interviewed did not report male staff conducting or observing strip searches.
The International Covenant on Civil and Political Rights prohibits governments from inflicting degrading treatment on any person.255 International standards prohibit both the imposition of excessive security measures on confined children and treatment that is degrading,256 as well as measures that could compromise children's mental health.257 While strip searches at any time may be perceived as humiliating or degrading by the child enduring it, international human rights law does not absolutely prohibit strip searches when there is a legitimate security need to search for weapons or contraband that cannot be met through other means, i.e. when there is an individualized reason to suspect a child may have concealed contraband in a body cavity. The routine and precautionary use of strip searches for all girls regardless of their security level, in circumstances in which it is unlikely girls may have acquired contraband or weapons is inconsistent with international norms.258
At the beginning it bothered me, but there was nothing I could do about it.259
According to the accounts of incarcerated girls and their lawyers, all children in OCFS custody, regardless of their crime, disciplinary history, or any other individual circumstance, routinely are handcuffed and shackled when they are transported to Family Court, to medical appointments, and at other times when they are taken off facilities grounds.260 This violates OCFS's regulations, which permit the use of mechanical restraints "only in cases where a child is uncontrollable and constitutes a serious and evident danger to himself or others," and during transport only if restraints are "necessary for public safety."261 In addition, and also in apparent violation of its own regulations, OCFS in at least some cases employs restraint belts and metal boxes fitting over wrist shackles, shortening the distance between the handcuffs.262 In December 2005, New York's Legal Aid Society filed suit challenging the practice of handcuffing and shackling children and of using restraint belts and restraint boxes on children when they are transported to court.263 The suit was pending at this writing.264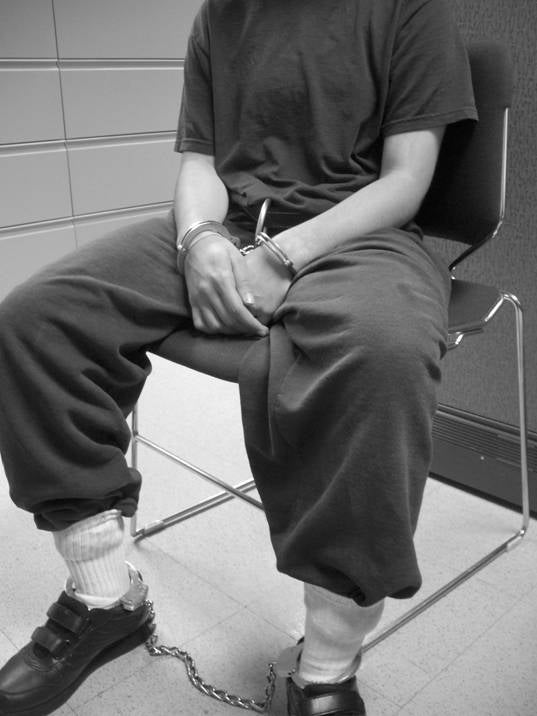 A girl is held in handcuffs, shackles, and a "restraint belt." The chain connecting the handcuffs runs through a metal loop connected to the leather belt fastened around the girl's waist, further restricting her ability to move. Girls typically are held in these devices during several hours of transport and while awaiting court hearings. © 2006 Mie Lewis/Human Rights Watch/ACLU
International standards prohibit the transport of juveniles in conditions that in any way subject children to hardship or indignity.265 They also prohibit the use of instruments of restraint outside of "exceptional cases, where all other control methods have been exhausted and failed, and only as explicitly authorized and specified by law and regulation," specifically, when a child poses an imminent danger of harm to herself or others.266 When used, such restraints must not "cause humiliation or degradation, and should be used restrictively and only for the shortest possible period of time."267 New York state regulations permit the use of such restraints only when children pose a threat to themselves or others, and during transport only where there exists a threat to public safety.268 OCFS practice should be made consistent with these standards.
Although OCFS and other New York child welfare agencies are occasionally the subject of scandals involving the sexual abuse and exploitation of children in their care,269 it is difficult to gauge the extent of such abuse occurring in the facilities because of girls' understandable reluctance to discuss such issues, combined with OCFS's refusal to release even partial or redacted reports of abuse. Available evidence suggests that incarcerated girls are more commonly targeted for sexual abuse than their male counterparts.270
HRW/ACLU interviewed one girl, Ebony V., who was repeatedly sexually abused at the Lansing facility when she was held there in late 2002 and later at a non-secure residential facility. Ebony V. stated that girls at Lansing known to have previously been commercially sexually exploited, as she was, are at risk of being targeted by male staff members. When asked to describe this targeting, Ebony V., who was 16 at the time of her incarceration, described the conduct of male staff, including her abuser, who was her facility-assigned counselor:
The male staff would flirt with me, like [the abuser]. [The abuser] continually made me repeat my story in detail, he made me do things I did to them to him. He said what I was I would always be that. When I said: "I'm going home, I'm not doing this anymore." He said "You like doing this, you like having sex."271
The targeting of previously sexually exploited girls was also observed by Janine Y., who was not herself sexually abused. When asked whether staff flirted with girls, Janine Y. replied:
At Tryon [Reception] one staff did, because some of the girls were in there for like prostitution and stuff. . . . Most of the ones [girls] who got reported for doing stuff with the staff were like prostitutes or strippers.272
The increased vulnerability of previously exploited girls to abuse within juvenile facilities may arise from factors in addition to targeting by staff. In written testimony concerning sexual abuse of adult women prisoners by guards, Terry Kupers, a psychiatrist who specializes in prisoner's mental health, explained:
Women prisoners, because of the level of sexual and physical abuse in their backgrounds and their resulting psychological make-up, are less able than many other women to know when their boundaries are being violated or they are being harassed or disrespected. Often this is because they remain confused about who was responsible for the sexual assaults in their past. (Children tend to think that the bad things that happen to them are their own fault.) Because of early and repeated boundary violations, usually involving the people they should have been able to trust (for instance a father or close male relative), because of the resulting guilt, confusion and diminished self-esteem, and because of a lack of confidence that a man in a position of power might heed their wishes or commands, they do not have the confidence to give a clear message to halt in the early stages of an evolving sexual assault, privacy invasion or violation of bodily integrity—for example when a male officer makes a lewd or infantilizing comment or conducts an inappropriately sexualized pat search. Rather, they are just as likely to partially dissociate, become passive and let the abuse develop without angrily protesting. The offending staff take this as a signal, not of consent, but rather that this woman is unlikely to submit a grievance or sound an alarm when he assaults her, and consequently he may more confidently continue to make demeaning comments or move ahead with the evolving sexual assault.273
Ebony V. continues her account of her experiences in the Lansing facility:
It was very exploitative in there. I was living better than I was on the street but I was still living street life in there. I was still being sexually exploited by the staff there. A staff member had sex with me. . . . When I was there, it was at least three of us. And before I came there, he was on it. . . . Even when I was in there, he was under investigation for inappropriate behavior with girls on the unit.274
When asked about the facility's response to the abuse, Ebony V. stated that she did not report her abuse to other staff, but that the abuser was investigated for having sex with another girl:
He wasn't allowed to counsel us with the door closed, but that was just for about two weeks. But once the investigation ended he went back to counseling us with the door closed. They said he was not guilty. . . . The state protects their staff. So it's hard to convict him of anything.275
When asked how the staff person was able to isolate her, Ebony V. replied:
He was the YDC.276 So when girls would make collect calls, they did it from his office. Or, if you're going home or had problems with anyone in the unit, you spoke to him. . . .  [During the day,] he'd come pick me up from the lunchroom. He was allowed to take me back alone while the other staff and residents were in the cafeteria. He took me back to the unit and had sex with me. [At night,] most of the time we went to the schoolhouse right next door to the unit or we went to his office and said I had to make a phone call.277
When asked whether any other staff were aware of her abuse, Ebony V. replied:
We got caught one time by another YDA278 from another unit. The way the office was set up, [the abuser's] office had two doors. He was leaning against the front door, the guy came in the back door. He said:  "Oh, oh, oh, oh I'm sorry" and closed the door. It's crazy, isn't it?279
By failing to intervene or report the abuse, the YDA violated his duty under state law as a mandated reporter of child abuse. When asked why she herself had not reported the abuse, Ebony V. replied:
I was 16, I needed attention. At that time my body had been through so much trauma that it didn't matter. Having sex with me was the same as loving me.280
Court records describe a similar case at Tryon in 2001, in which a girl, Silvia N., was approached by her facility-assigned mentor as she left a bathroom, undressed, and taken back into the bathroom where they had sex. As she puts it, she "was surprised" but did not file a complaint.281 After a second, similar, incident, Silvia N. became pregnant. Silvia N. then attempted to contact the facility director but the director "didn't come to work and didn't get the letter right." Later, Silvia N.'s mother called the facility and reported what had happened.282
Court records describe another alleged sexual assault at Tryon occurring in late 2002. Sandra Z. was 15 years old when, according to court pleadings, a Youth Division Aide (YDA) sexually assaulted her on six occasions in a common area of the facility during the evening when the YDA was on duty and other residents were confined to their rooms.283 Sandra Z. alleges that on the first two occasions, the YDA touched her breast or breasts, on the second two occasions, he touched her vaginal area, and on the last two occasions, he had sexual intercourse with her. Sandra Z. made an "internal complaint" about the abuse. Of the five criminal charges brought against him, the YDA pled guilty to Official Misconduct.284
Sandra Z. alleges, among other things, that OCFS acted negligently, recklessly, and carelessly by failing to properly screen, train, and supervise its employees, to take proper precautions against the YDA, who had "entered into a meretricious relationship[] with one or more infant residents," and for failing to terminate or investigate the YDA when it "knew or should have known" of his relationships with girls at Tryon. OCFS denies Sandra Z.'s allegations.
According to interviewed girls and facilities records, sexual abuse short of intercourse occurs at the facilities. For example, facility records from Tryon describe allegations by a child of "kissing, hugging, touching and sexual contact" between a child and a staff member.285 Another report describes the suspension of a staff member for "emailing [a girl] while she was in the community. . . It is also alleged that [the staff member] met [the girl] in the community and he gave her his cell phone number, e-mail address and home address. [The girl] further alleged that they have contacted each other on several occasions via e-mails and cell phone."286 Other allegation of sexual contact are noted in facility reports.287
Devon A., who was incarcerated between the ages of 15 and 17, described her observations while held at Tryon:
Staff would really get into the kids' sex lives. They'd start a conversation about kids' sex lives. One girl kissed a staff and then he restrained her. I guess their talking went a little too far. He restrained her so bad she defecated on herself.288 It was in the hallway where our rooms are at. There was a lot of ongoing investigations, but they came up not guilty or inconclusive, because nobody would snitch.289
Felicia H. described flirtatious behavior by staff: "The staff like playing with their hands too much with the females. They'll play-fight, or chase us around or put ketchup or paint on our clothes. They'll call you 'ugly' and 'fat-ass,' that's how they flirt."290 Wendy M., who had been held at Tryon Reception and other state and local facilities said:
All over at every facility, staff flirts with girls. They have side conversations, they treat them better. They ask things like, have you ever had sex? How did it feel? The girls can't do nothing about it, because if you complain, you'll be overruled.291
Girls' grievances also suggest that staff sexually harass girls. One grievance reads:
Grieving the fact that she feels like she was being disrespected by [name redacted]. One day at the Gym, they were playing "Batman" and he had spanked her in the butt with a racket and she feels uncomfortable. She feels he is taking advantage. She wants [this] to be looked into and not ignored.292
Other examples of sexual talk include a staff person telling a girl that "she likes to be touched by men,"293  or to "stop walking the way she is walking because she is not on the strip."294
Grievance records also indicate that male staff are sometimes present in the housing area when girls are showering, dressing after a shower, or changing their clothes. One girl complained that when one male and one female staff member are on duty, the male staff member watches the showers.295 Other complaints suggest that male staff in the housing area are required to announce "man in hall," but that sometimes they do not, catching girls by surprise while they are undressed. One girl complained of a male staff member, "residents would be getting dressed, but he just says 'I won't look.'"296
According to grievance logs, peer-on-peer sexual harassment appears to occur at the facilities,297 and as to some grievances it is not possible to tell whether the harassment is being carried out by a staff member or another girl because names have been redacted and the entries contain no gendered pronoun referring to the perpetrator. For example, one grievance from Lansing reads: "[name redacted] is touching her, slapped her butt, and made comments about chest."298 Several such ambiguous grievances are present in the logs obtained by HRW/ACLU. Other complaints are vague, stating only that a child feels unsafe or uncomfortable in the presence of a staff member, or are exceedingly terse.299
The sexual abuse and harassment present in the facilities are likely to pose particular risks to the psychological well-being of incarcerated girls because of the high rate of sexual abuse in their pasts. The emotional impact of abuse at the facilities is suggested in a grievance entry which reads: "Is angry, flashbacks, cannot sleep, [name redacted] has come in when she/other peers showering. She feels unsafe with him,"300 and another which reads: "grieving [name redacted] and his inappropriate comments. She feels he is a pervert especially watching showers and is having nightmares about it."301 Available evidence suggests girls who have suffered sexual abuse prior to their incarceration are not only more vulnerable to abuse within facilities but also more likely to be retraumatized by such abuse and harassment. In his testimony concerning sexual assault against adult women prisoners, Dr. Terry Kupers stated:
When male officers treat women with disrespect it has a different impact than having women officers act disrespectfully to male prisoners. Disrespect towards women by male officers is more likely to be sexual in content or implication, and in women who were traumatized by sexual abuse perpetrated by males, it is more likely to be experienced as a "retraumatization." . . . Of course, in a prison setting, the picture is much more complicated and the possible sequelae are much more severe. The woman who is sexually harassed (for instance experiencing prurient and inappropriate observation or pat searches), assaulted or raped remains imprisoned in the same setting where the assaultive conduct occurred, and absent a complaint being sustained and the officer being terminated, the same officer who committed the traumatizing acts remains in total control of the woman.

Even if there is no grievable sexual misconduct, the mere presence of male officers in the housing units where the women toilet, shower, undress and sleep can constitute a retraumatization. The deprivation of privacy that is inherent in incarceration becomes much more of a deprivation than is necessary to accomplish the proper goals of incarceration. Previously traumatized women who might choose to avoid the gaze of males in order to create a safe place are forced to live in a situation where male officers are constantly present and might intrude on their most personal and private activities at any moment. The woman can develop a generalized fear, and this situation is quite likely to make her symptoms and disability worse and more long-lasting.302
Much of the physical abuse and almost all of the sexual abuse described by incarcerated girls appears to be perpetrated by male staff,303 raising concerns about the supervision of girls' housing units by male staff. HRW/ACLU has been informed that OCFS policy requires that there be at least two staff members on each unit at all times, but at least one resident has alleged that her unit was left supervised by only one staff member.304 Grievance logs contain specific requests by girls not to be left alone with male staff, or for female staff to be assigned.305 It appears that OCFS administrators have previously considered "gender-based staffing" to address the problem of sexual relationships between girls and staff, but details of such discussions were withheld from HRW/ACLU.306
International standards prohibit the supervision of female inmates by male staff.307  Implementing such a policy in the housing area of girls' facilities could decrease the incidence of sexual abuse in OCFS facilities, as well as the incidence of extreme use of force. OCFS's refusal to release documents to HRW/ACLU relating to sexual abuse makes evaluation of the facilities' response to individual allegations difficult.308 Yet the allegations of both physical and sexual abuse at the Lansing and Tryon facilities points to failures of screening, training, and supervision, as well as the lack of oversight of the facilities by outside monitors.
The practices reported here run contrary to the United States' international legal obligations. In July 2006, the UN Committee Against Torture, an international body of experts, for the first time evaluated U.S. policies on imprisonment and concluded that, among other things, the U.S. needed to "design and implement appropriate measures to prevent all sexual violence" against incarcerated persons. The U.S. was called on to ensure that allegations are investigated promptly and independently, perpetrators are prosecuted, and appropriately sentenced and victims can seek redress, including appropriate compensation.309
Several girls interviewed by HRW/ACLU complained of collective punishment. The most common complaint concerned what is known as "retraining." As Devon A. put it, "If five, six, or seven kids do something, you [the unit of approximately 20 girls] go on 'retraining.' They're very strict, they follow all the procedures."310 According to Felicia H., retraining consists of each girl being required to spend a substantial part of each day sitting on a chair placed in front of the door to her room. Girls may do nothing other than study the facility rulebook. Girls must take the rulebook with them wherever they go within the facility. During "retraining," girls must also attend meetings to discuss the misbehavior that has occurred.311
Girls subjected to retraining said they resented being held accountable for others' bad behavior. Girls also complained that they were not taken off retraining even though they exhibited good behavior.
Collective punishment contravenes the principle that a penalty should be imposed on an individual only for actions that he or she personally committed. Group punishment, defined as punishment "solely on account of the behavior or acts of other children" is prohibited under New York State regulations.312 International standards also specifically prohibit collectively punishing incarcerated children.313
Verbal abuse by facilities staff takes several forms. According to both interviewed girls and grievance records, staff sometimes threaten girls with physical violence. Wendy M., who was 16 when interviewed and who had been held in several pre- and post-adjudication facilities, including Tryon Reception, for over 4 years, gave as examples of such statements:  "I'm gonna fuck you up,"  "I'm gonna whoop your ass," and "I'm gonna put your lights out."314 A staff member at Tryon told a girl that he would "knock her teeth out."315 Several girls complained that staff threatened them with the restraint procedure.316 For example, one girl said she felt threatened by a male staff member because he told her that he "[felt] a restraint coming on."317
In addition, facilities staff sometimes curse and raise their voices at girls. Grievance records contain complaints of girls being called names such as "asshole," "idiots," "slow," "thug," "bitch,"  "cry-baby," "witch," "stupid," "ignorant," "little bastards,"  "nobody," and "lazy" and for being "screamed" at, "cursed" at, "yelled" at, told to "shut the fuck up," and "insulted."318 A girl confined in Lansing was told by a staff member that "I'm nothing, won't do nothing, and I'm about nothing."319 Many girls complained of being told to "shut up," and generally to being treated disrespectfully. Some girls said they felt as if they were treated like a "dog" or "animal," or not "as human but as if slaves."320
Girls also reported being taunted and provoked by staff to fight with their peers. Wendy M. said, "Staff would purposely get in my face, because they knew I had an anger management problem. They knew because they saw my records."321  Another girl complained, with respect to one of her peers, that the staff "are repeatedly telling her to fight them so she'll be put in jail – [She d]oes not want staff to push her."322 Another girl complained that a male staff member was "calling her a pussy because she will not fight another peer. She wants him to stop making comments that make her upset."323 Yet another girl complained of a staff person "telling residents that they should fight."324 OCFS did not provide HRW/ACLU with material indicating the extent to which facilities staff are disciplined for verbally abusing or taunting residents. We were provided one letter of reprimand that reveals a staff person was fined for telling a child, "Your breath smells like pussy, you need a tic tac."325
[Staff members] shout them out, say private things about them. They said, "you know you're burning." That meant, you have a disease, like HIV or Chlamydia.326
Both interviewed girls and reviewed grievance logs reveal a widespread practice among facilities staff of disclosing residents' private information to other residents. The disclosed information consists of details of residents' medical and mental health conditions such as a diagnosis of sexually transmitted infections, medication, past abuse including sexual exploitation, family problems, and bed wetting. The evidence suggests that staff members sometimes revealed residents' private information to others when they were angry with the resident, but more commonly without apparent reason.
Grievance logs consistently contain entries in which girls complain that their confidentiality was violated. Some entries read:
[Name redacted] is grieving that staff in Unit 53 is throwing the fact that she was abused in her face – Would like her personal business away from peers.327

[N]urse told peer she asked for an HIV [t]est328

[Name redacted] is grieving the fact that [name redacted] allows other residents to file residents' portfolios. Feels other residents shouldn't have access to this personal information.329

[Name redacted] is grieving [name redacted] as resident states that YDA330 bribes residents w/information and tells residents personal information about other residents.331

[N]urse told personal business in front of staff, blame everything on rape [illegible].332

[D]isclosed personal business in front of unit.333
Ebony V., 16 at the time of her incarceration, had been subjected to commercial sexual exploitation and incarcerated under a charge of prostitution. This was widely known among staff members, but Ebony V. nevertheless felt ashamed when a staff member remarked on it in the presence of other residents:
Sometimes, if the YDA gets mad, they say it in front of the others: "You don't want to go back to where you were now, do you?" They try to embarrass you.334
Confined children still enjoy their right to privacy as guaranteed both under U.S. law and U.S. human rights obligations, although the right may be subject to some restrictions inherent in the fact of incarceration.335 International standards require facilities staff to respect children's right to privacy, and specifically forbid staff from disseminating private information about children learned in the course of their duties.336
Girls at Lansing also complain that they are not allowed to keep a journal or are prevented from writing in their journal when they please, or that their journal is read by staff or confiscated.337 These seemingly small restrictions are very significant limitations on girls who because of their incarceration already have limited scope for a private life and for self-expression. It is important that the environment within juvenile facilities should promote and support children's capacity for general self-development in a manner that facilitates their intellectual independence.338
The exact number of lesbian, bisexual, and transgender girls incarcerated in the Lansing and Tryon facilities is not known. One estimate places the percentage of lesbian, gay, bisexual, and transgender youth in the New York State juvenile justice system as a whole at 4 to 10 percent, and this may provide a rough gauge.339 In addition, it appears that some girls who would not ordinarily identify as gay form romantic bonds with other girls when confined in single-sex environments.340
When asked whether she was aware of gay relationships while incarcerated, Alicia K., who was held at Tryon Reception and then at Tryon Secure for 7 to 8 months when she was 15 years old, then sent twice to Lansing when she was 16 and 17 years old, said, "That was common. It was like breathing air in there." Facilities records confirm that such relationships exist.341 When asked whether sex occurred between residents, however, Alicia K. responded, "That was pretty much impossible, because staff was always around. It was mostly letter writing."342 Selena B. confirmed that in the facilities "going out" means, "Talking, writing, and stuff."343 Thus the treatment of girls in the facilities identified as lesbian appears to spring less from the enforcement of rules against sexual activity than the propensity to single out certain girls for harsh treatment because of their perceived sexual or gender identity or their nonconformity to gender norms. Devon A., who is lesbian and who was held at Tryon and Lansing between when she was 15 and 17 years old, told HRW/ACLU:
If you're gay they think you think you're a man, so they restrain you harder. They have an attitude of "If you want to be a man, I'll restrain you like a man." That place [Lansing] was unstable. I was restrained ten or twelve times.344
Selena B., a straight girl who had been held at Tryon Reception and Lansing, said about gay girls in the facilities:
They had to hide out, or they'd get in trouble. They'd get extensions of placement. That was at Tryon [Reception] and Lansing.345
Non-sexual behavior, such as letter writing between girls or blowing kisses is punished if it is perceived as lesbian.346 Some girls reported that "special relationships" among residents are punished and can result in an "extension of placement," juvenile justice parlance for an increase in a child's sentence.347 Devon A. said she was subjected to room confinement for being lesbian:
At Lansing I was restrained because I was gay, they couldn't trust me. If I was talking to another girl, they'd think something sexual was happening. Once I was put on isolation for two weeks, they thought I was getting too close to a female. It's not fun because there's no rec [free] time, it's supposed to be mandatory but you can't even interact with your peers. That made me feel real depressed.348
Girls' accounts of discrimination and harassment based on gender identity are consistent with the findings of a 2001 report on the experiences of gay, bisexual, and transgender youth in the New York juvenile justice system,349 which concluded that the lack of policies protecting LGBT youth, combined with the lack of expertise among adults working with LGBT youth results in verbal and physical harassment of such youth by staff and peers.350 Given the strict sex segregation maintained in the facilities, punishing girls perceived as lesbian for speaking to and otherwise communicating with other girls essentially guarantees the targeted girl's social isolation.
Some girls also reported incidents of racial discrimination. Asked how she liked the staff at Tryon Reception, Miranda N. replied:
Some were friendly, really there was only one staff that no one liked because she was racist. She was white. She called girls "nigger." She made jokes. Once in the cafeteria the lights cut out by mistake. She said "when you cut out the lights I could only see 20 eyeballs, can't see any kids."351
One grievance from Tryon reads: "Grieving [name redacted]. Picks on her calling her white cracker & everyone laughs."352 Other grievances appear to relate to discrimination of some kind but are too abbreviated to provide a clear understanding of what occurred.353
"Our Kids Can't Act Like That"
The Missouri Model of Juvenile Correctional Facilities
Amid the seemingly inevitable realities of New York's existing juvenile justice system, it is often difficult for both officials and reformers alike to imagine anything other than the status quo. According to reports, however, for over 20 years, juvenile facilities in the State of Missouri have pursued a sincere commitment to juvenile rehabilitation that disposes with corrections convention in favor of a higher quality of life for residents coupled with some of the lowest recidivism rates in the country.354
The system, referred to as the Missouri Model, took shape in the late 1970s as the establishment of smaller facilities was slowly joined by a new approach to staffing and a working philosophy genuinely stressing treatment over punishment. From the outset, smaller, region-specific facilities ensured that residents were never too far from their homes. In these smaller group settings residents are far more likely to receive the specialized attention essential to rehabilitation.355
According to Mark Steward, former director of Missouri's Division of Youth Services and one the primary architects of the Missouri Model, a state can only fully realize the benefits of the small facility model when those staff-resident relationships are of a high quality. Steward said in an interview with HRW/ACLU that this starts with a uniquely equipped and caring staff composed of college-degreed individuals with a level of ethnic diversity reflective of the children in their care. 356 Within the facilities, both residents and staff are individually accountable for the personal relationships they forge while in residence, offering an organic solution for both resident behavioral issues and the staff apathy and turnover that characterize larger facilities. To Steward, controlling staff makeup is essential for a staff-resident relationship that steers clear of the correctional-style interactions that dominate the juvenile justice experience in other states.
Steward stresses that severing any philosophical or bureaucratic link between juvenile and adult corrections is a necessary first step in moving from a juvenile justice system that is an idle repository for rejected children to a refuge for kids who warrant renewed investment from their communities and governments. Often, says Steward, the transformation requires awakening a system and its politicians to the realization that "these kids are not demons."357
This change of mindset is made easier when policymakers realize that the investment required by the Missouri Model is a question of attitude and technique, not a matter of increased financial investment. The smaller resident populations are divided into 9- to 11-member "teams" in which each child and staff member is authorized to initiate impromptu rehabilitative discussions and therapy sessions and any child can call the entire team together in a "circle" for a discussion at any point during the day.358 These sessions allow residents to explore the underlying sources of turmoil in their lives, whether family history or bodily trauma. Physical and mechanical restraints are almost nonexistent in the Missouri Model; rather, when a conflict threatens to escalate, residents form a "trust circle," a simultaneous embrace of team members that calms residents whose outbursts endanger the group.
The Missouri Model also requires a complete rejection of the opaqueness characteristic of the New York system and instead a simple commitment to outside oversight throughout all levels of administration. In Steward's view, abuses and neglect are simply less likely to happen in an "open system." In Missouri, active advisory boards review facilities practices and "liaison councils" bring legislators and other officials into facilities to interact with residents. In another measure to increase openness, Missouri has situated its facilities in uniquely visible and social environs, such as placing a girls' facility on an active college campus where residents regularly dine with the student population.359 These measures simultaneously reduce the likelihood of abuse and increase public understanding of residents and the challenges they face.
Looking ahead, Steward predicts that the most significant barrier to Missouri-style change in a situation like New York's may be on the agency level. "A lot of people [within the agencies] say, 'Well, our kids can't act like that,'" laments Steward.360 The challenge ahead rests equally on the shoulders of administrators, legislators, and advocates to ensure that, while this state's most troubled children may not be identical to Missouri's, New York's juvenile justice system can indeed "act like that" and realize some of the lessons of the Missouri Model.
---