Jakarta is Indonesia's political and economic center. With a population of 7.47 million,3 Jakarta is Indonesia's largest city, as well as the largest city in Southeast Asia and the eleventh largest city in the world. Like so many cities throughout the world, Jakarta struggles with problems of urban poverty, inadequate housing, high unemployment, poor transportation, inadequate provision of health care, lack of services, and decreasing environmental quality. Jakarta is also a segregated city, where the rich live in exclusive residential communities while the poor reside in unplanned urban villages4 or slums.
Jakarta is formally known as Daerah Khusus Ibukota Jakarta, or the Special District of the Capital City Jakarta. Administratively, Jakarta is a region headed by a governor. It consists of five separate municipalities—Central Jakarta, North Jakarta, West Jakarta, South Jakarta, and East Jakarta—each with its own mayor appointed by the governor.
Jakarta's current governor, retired army lieutenant-general Sutiyoso, was appointed by President Soeharto in October 1997. Following changes in how governors are selected, the Jakarta provincial parliament elected Sutiyoso to a second five-year term in September 2002.5
The Regional Government for the district of Jakarta holds the mandate to create a capital city which is orderly, safe, comfortable, clean, and beautiful, so that Jakarta is representative of a capital city. However, the regional government faces the obstacle of unhindered urbanization and it is mostly the people with social welfare problems who obstruct the [public order laws]. Because of that, the regional government has chosen the means of law enforcement.

—Governor Sutiyoso6
One of the overarching themes of the history of Jakarta is the conflict between the desires of its rulers to create a model city to display to the world, and the desires of the poor of Indonesia to seek opportunities within it.7 This tension has often caused clashes between the urban poor who have built homes and communities to provide for their own survival, and regional and national leaders with urban planning visions and private developers with their own business interests. Over the years, a number of factors have been presented by the Jakarta government as justification for forcibly evicting people from their homes, including development and infrastructure projects, urban redevelopment and beautification projects, public order concerns, property market forces supported by state intervention, and alleged natural hazards such as flood risks.
Following the end of the Second World War and Indonesia's independence, Jakarta attracted internal economic migrants from around the country who fled poverty in rural areas for the opportunities available in the city. This rapid influx of migrants put incredible pressure on the city's facilities and led to a critical housing shortage. Many migrants could not afford land on which to build. Then, as today, the result was overcrowding of the existing housing stock and an explosion of informal squatter settlements. Scarcity of available or affordable residential land forced many people to build on land which they did not own. Migrants and the city's indigenous urban poor provided communities for themselves by building in any available space: reclaiming coastal areas and swamp land; subdividing unused lots; or staking plots in the public spaces along railway tracks, canals, rivers, roads, and under bridges.8
As Jakarta grew, retail and commercial buildings surrounded these more informal and unplanned settlements, but city leaders rarely incorporated these "urban villages" into their development plans or structures. Although a government initiative begun in 1968 known as the "Kampung Improvement Program" began to upgrade the physical infrastructure of many urban villages (kampung) with the help of foreign donors, it did not address underlying land tenure issues.9 Many communities, which had started as squatter settlements, acquired paved streets, drainage canals, and access to public utilities.10  Although the scheme has been hailed as a landmark in slum management in the developing world, in many cases officials did not consult with residents and the program was not as successful as it might have been.11 Indeed, researchers who have assessed the program have noted that many residents had little interest in maintaining the new facilities which they felt had been imposed on them.12 In other cases, upgraded settlements were later demolished in favor of new business and commercial facilities.13
As Jakarta's importance as an economic center increased, large private developers sought to build office buildings and shopping malls in the city center. These developers often exploited the tenuous legality and physical nature of many of the communities built by the indigenous and migrant urban poor to acquire the land for minimal compensation. The local government, at times aided by martial law, cleared large tracts of land to make way for public works projects as well as commercial buildings.
An improving economy during the 1970s, buoyed by high oil prices, assisted both public and private construction. Housing construction claimed tens of thousands of hectares of land during the 1970s, three-quarters of which was sub-divided in a manner that violated planning regulations.14 Many of today's urban villages grew out of these subdivisions. During the 1980s, Indonesia's economy began to diversify and local entrepreneurs invested more in property and construction, helped by financial deregulation and increased demand from an expanding middle-income group.
This increase in development led to a rise in land prices and also speculative practices by private investors. Less educated farmers and urban inhabitants were more prone to intimidation and non-market price acquisitions, and thousands of individuals were evicted from their farms and homes to make way for new luxury houses.15 During the 1990s, speculators controlled about 40 percent of the land in central Jakarta. They had considerable power over land prices and used it to construct large numbers of high-rise office buildings on favorable terms.16 Property speculators also moved aggressively to construct luxury houses during the 1990s, leading to over-building at the expense of agricultural land on the fringes of the greater Jakarta area.17
Indonesia's economic crisis that began in 1997 hit Jakarta hardest, and the city's urban poor population increased significantly as economic activity declined and high unemployment pushed workers from low-income jobs into the informal sector.18 The crisis also hurt property developers, large-scale developments slowed, many infrastructure projects were suspended, and sizeable areas of land fell idle.19
Today, the majority of poor and middle-income residents continue to live in unplanned and unregulated settlements.20 Poor residents continue to occupy disputed land, state land, and private unoccupied land. Land supply remains constrained because national government agencies, local government, and private developers hold most of the land that could be developed for new housing yet choose not to make it available.21
During Sutiyoso's tenure as governor, market-produced non-subsidized housing for low- and moderate-income groups has declined despite oversupply in high-income housing.22 Most low-cost housing is financed at the household level without any assistance from the government or formal financial institutions. People often start by building small houses, and then gradually expand and improve structures as needs dictate and finances allow. Such practices account for about 80 percent of Indonesia's housing supply.23 In contrast, the other 20 percent of housing, which is directed at moderate- to high-income households, is built with the assistance of direct government support through subsidized interest mortgages from the state-owned housing and savings bank.24
The state-owned housing company, Perum Perumnas,25fails to provide sufficient housing to meet the demands of the existing urban poor or new migrants to Jakarta, and their units are too expensive for the poorest of Jakarta's residents.26 Between 1997 and 2004, Perumnas constructed only 786 new units of housing,27 and many units are believed to be occupied by residents with incomes higher than allowed under eligibility criteria.28 Perumnas constructed just ten units of housing in Jakarta in 2004.29 In comparison, twelve new malls were completed in the same year.30
In 2005, a coalition of NGOs sued the National Commission for Human Rights (Komnas-HAM) for what the NGOs saw as its failure to take action to stop demolitions in Jakarta. The NGOs won their case, brought before the Public Court of Jakarta.31 When asked how the Commission had changed its activities in light of this ruling, a representative told us that the Commission had decided to increase the public information campaign about the work that the Commission does.32
The revival of economic growth in Indonesia and its likely impact on urbanization, urban productivity, and the broader economy can be expected to place further demand on land, housing, and infrastructure in Jakarta in the near future.
The Indonesian government has announced that it considers infrastructure development to be one of the primary targets for foreign investment and financing.33 Over the past few years the government has aggressively pursued international investors, private sector developers, and construction companies. The number of incidents of evictions is likely to continue or increase during the next few years, as Jakarta has a number of large-scale development projects scheduled. The government will need to acquire land for new dedicated traffic lanes for buses ("busways"), and the construction of a monorail, overpasses and underpasses, six turnpikes, flood canals, port expansion, and for the development of low-cost apartments.34
Since 1999, alongside the forced evictions detailed in this report, Governor Sutiyoso has waged a campaign against the informal sector which employs so many of Jakarta's poor, targeting street vendors, homeless children, pedicab drivers, commercial sex workers, and beggars. Public order officials evict individuals employed in the informal sector from their places of work. A large coalition of NGOs has organized to oppose this anti-poor campaign and forced evictions, bringing together evicted residents with urban poor, students, indigenous communities, local NGOs, farmers, and even religious scholars.
Governor Sutiyoso, himself not a native of Jakarta, also blames migrants for a variety of urban problems in Indonesia's capital, from unemployment to flooding, as well as the city's informal settlements.35 The Governor's attempts to deal with what he sees as a problem of "overcrowding,"36 includes heavy-handed tactics such as house-to-house raids targeting migrants unable to produce evidence of jobs and official residence. Under a draconian regulation promulgated by the Governor, new Indonesian internal migrants who fail to register with the city's population agency and obtain a visitor's identity card within fourteen days of their arrival—a process which requires proof of permanent employment and residence—are liable to imprisonment for up to three months or a Rp. 5,000,000 (US$550) fine.37
As Human Rights Watch has documented extensively in previous reports, Indonesia's military and police forces have a record of violating international human rights law with impunity.38 The internal security apparatus involved in evictions in Jakarta include the military (Tentara Nasional Indonesia; TNI), the police, and groups of security forces known as "public order officials." This last group has received little attention from non-Indonesian sources.
The term "public order officials" is used throughout this report to refer to three local government security forces under the authority of the governor and mayors of Jakarta: Satuan Polisi Ketentraman Dan Ketertiban (TRAMTIB; Police Unit for Peace and Order), Satuan Polisi Pamong Praja (SATPOL PP; Municipal Police Unit), and  Lindungan Masyarakat (LINMAS; Community Protectors). Established in 1990, these forces are separate from the police and are empowered to enforce administrative regulations concerning public order and security. They are used to collect local taxes, and enforce local public order ordinances, yet their overall mandate is not particularly well defined.39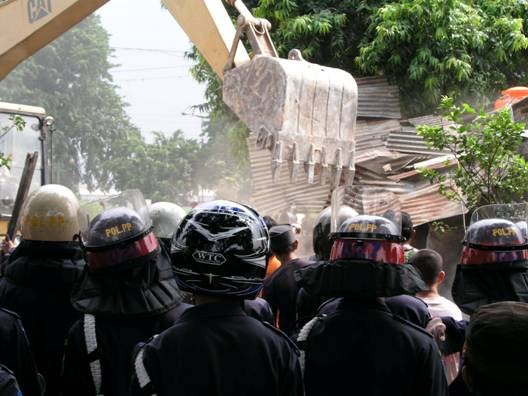 Photo 1: Public Order officials carrying out an eviction in Pisangan Timur, January 12, 2006. The "POL PP" on the back of some of the officials' helmets is an abbreviation for Satuan Polisi Pamong Praja, the Municipal Police Unit (c) 2006 Bede Sheppard/Human Rights Watch
Although they are empowered to use firearms and various forms of non-lethal weaponry, they receive less training in their use than Indonesia's regular police force.40 Public order officers may carry baton sticks (truncheons), gas-pistols (a pneumatic gun), and electric shock devices.41
One declared objective of the public order units is to operate closer to the people than the police do and to gain more respect from citizens.42 Numerous interviews, however, conducted by Human Rights Watch with victims of excessive use of force by these public order forces suggest that they are viewed as arrogant and aggressive. Some witnesses said the regular police actually had to intervene to protect civilians from excessively violent public order officials during evictions.43
Because the uniforms for all three forces can look similar, witnesses sometimes used the names for the different units interchangeably and were often uncertain as to exactly which units had been present at their eviction.
Frequently, gangs of thugs assist government security forces in carrying out evictions. Indonesians refer to these thugs by the term "preman."44
The phenomenon of gangs and youth organizations based on ethnic, religious, or political affiliations that make their living from racketeering and the use of force is not new to Indonesia. During the regime of President Soeharto, such groups acted as government henchmen, and have since transformed themselves into powerful social and political players.45 Following that regime's collapse, these gangs have become more organized in urban areas, often along ethnic or religious lines. These gangs have large territorial networks and connections with members of Indonesia's political and economic elite, affording them some immunity from the law.46 As a staff member from one of Indonesia's leading human rights NGOs explained to us: "The government doesn't want to be directly in conflict with the community. So Sutiyoso and others build new groups to face the community…[Jakarta's indigenous] Betawi people feel that they are not being respected. Feel that this is their place. They resent new migrants. So when Sutiyoso touched upon this issue they gave him help."47
In interviews with Human Rights Watch, some witnesses and evicted residents provided the names for different gangs involved during their evictions, while on other occasions witnesses were unable to identify the thugs as belonging to any particular gang. In three instances, only one witness was able to give a name to the gang, and in the absence of corroborating evidence we have declined to identify those gangs in this report.
One very visible group in Jakarta is a gang known as Forum Betawi Rempung (FBR; Betawi Brotherhood Forum), which claims to work to protect the rights of Jakarta's indigenous Betawi population. When Human Rights Watch met with a group of five members of FBR to discuss the allegations against their group regarding the eviction at Cakung Cilincing, East Jakarta, they denied being paid upfront by anyone for any of their activities. One member told us: "We would not take any payment because what is important for us is to defend those who are on the right track, who deserve the right of the land, these people who are being victimized….We're doing it voluntarily, without being paid."48 When asked where their money comes from to pay for items such as their uniforms, offices, and large black four-wheel-drive vehicles with "FBR" emblazoned in bright yellow, he responded: "It's a gift, or a blessing for Betawi, also donations. When FBR manages to help one person with a case, we would not ask for payment, but willingly they will give a donation [afterwards]."49
The representatives from FBR were also very reluctant to talk about the group's relationship with the government. This is how one FBR member explained how the group gets involved in a case:
There are some cases related to land…that if you're leaving the government to take care of this it would take decades. So FBR would like to help the government so that they will become a clean government by giving assistance and taking care of the situation….We're not really working with public order officials…[and in some instances we have even] had a lot of members captured by public order officials, because principally we're defending the right side…[W]hen residents are facing a problem, they will come and submit a claim to FBR, and report the problem they are facing. But FBR will not just take all their complaints or claims, but we'll start an investigation on this land and its legal situation and its historical background. Who owns the land, year by year. The host will know more about their home….So we have lawyers—it's almost the same as LBH [an Indonesian human rights legal NGO]—an investigation team.50
Governor Sutiyoso denies giving any money to FBR members,51 but the Governor has attended an FBR gathering at which the founder of the organization, Fadloli el-Muhir, supported Sutiyoso's re-election as governor in 2002.52 However, as the FBR representative was keen to stress: "We're not government officials and we could also fight against the government if they took the wrong step."53
---