VI. Impunity
A major reason for widespread RAB abuses is the atmosphere of impunity in which members of the force are allowed to operate.  Top officials have at times promised accountability, and RAB does occasionally punish its members, but the punishments are almost always administrative, and usually related to extortion, corruption, or other such misdeeds.154  Lawyers, journalists, and human rights activists in Bangladesh are not aware of any case for which a RAB member has been successfully criminally prosecuted for using excessive force, torture, or causing an unlawful death.  The most serious known punishment for involvement in a "crossfire" death is the administrative sanction of dishonorable discharge.
A major hurdle to accountability lies with the Armed Police Battalions Ordinance, 1979 and its 2003 amendment, on the basis of which RAB was formed.  Under section 6(c) of the amendment, an officer of RAB, while conducting an investigation, shall "follow the procedure prescribed in the Code of Criminal Procedure, 1898."  The code of criminal procedure prohibits police from threatening individuals but does not specifically refer to torture.155  The Convention against Torture and Other Cruel, Inhuman or Degrading Treatment or Punishment, to which Bangladesh is a party, provides that a state must ensure that all acts of torture are offenses under its criminal law.156
Under Bangladeshi law, a confession based on coercion cannot be used in criminal proceedings.157  However, under section 27 of the Evidence Act, a statement made by the accused in police custody that leads to the recovery of incriminating information is admissible in court.  Other corroborative evidence collected as a result of a forced confession may also be admissible.158  These provisions violate the Convention against Torture, which says that "any statement" given as a result of torture may not be invoked as evidence in a court proceeding.159
Section 14 of the Armed Police Battalions Ordinance calls for the issuance of rules to regulate how RAB performs its law enforcement tasks.  The government issued the rules in 2005 but never made them public.160  Human rights advocates complained to Human Rights Watch that, despite repeated attempts, they have never seen the rules and therefore do not know precisely how RAB is mandated to operate when combating crime.  "I cannot get them and no one knows what they say," one human rights lawyer said.161
In addition, the ordinance and its amendment created special internal courts similar to a military court martial to adjudicate RAB offenses.  As such, RAB performs its duties similar to a police force according to the code of criminal procedure, but it is monitored by an internal military-style tribunal.  In other words, RAB performs a civilian police function but is governed largely by military rules.162
Sections 8 and 9 of the ordinance list the offenses that are punishable by a special court and a summary court respectively.  Most of the offenses are related to dereliction of duty, such as mutiny, insubordination, or abandoning a post.  Only one offense of 12 is a crime under the penal code, and that is for anyone who commits or attempts to commit the rape of a woman.  Of the 21 offenses reviewable by the summary court, only extortion may be considered a civilian criminal offense.  Sections 8 and 9 fail to include the excessive or improper use of force, torture and other mistreatment of persons in custody, murder, or other crimes under the penal code that are documented in this report.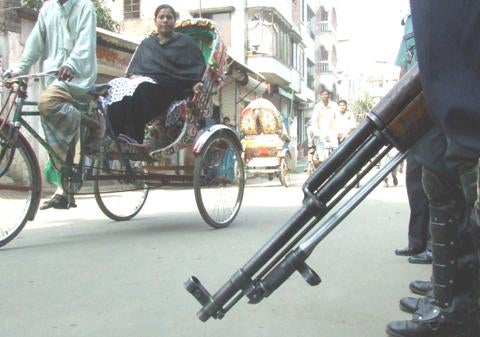 Lawyers and human rights activists have particularly complained about the lack of transparency with the special and summary courts.  No one outside RAB seems to know who sits on the RAB courts, how they function, and what decisions they have made.  Occasionally RAB announces that a certain number of members have been disciplined but it rarely provides specifics on the individuals or their offenses.
On June 6, 2006, Human Rights Watch asked the BNP-led government about RAB's internal rules and regulations and the process for accountability within the force but, as of October 27 the government had not replied (see Appendix).  Human Rights Watch asked the same question on November 8 to the head of the caretaker government, President Iajuddin Ahmed, who also holds the defense and home portfolios, as well as the new director general of RAB, Khoda Baksh.  As of December 1, neither had replied.
Lastly, section 13 of the Armed Police Battalions Ordinance contains a broad indemnity provision, which states that "no suit, prosecution or other legal proceeding shall be against any member of the Force for anything which is done or intended to be done in good faith under this Ordinance."  It is not known how often this provision has been applied.
Another hurdle is Bangladesh's code of criminal procedure, which hinders aggrieved individuals from pressing charges against government officials.  Sections 132 and 197 require sanction by the government for courts to consider any offence by a public servant on official duty, including members of the police and other security forces.163  The government is often reluctant to provide this sanction.  When it does, individuals and families face great difficulty in convincing witnesses to speak.  The Convention against Torture requires that a state shall ensure that victims of torture have the right to bring a complaint and have this case promptly and impartially examined by competent authorities.164
Even without the legal hurdles, many victims and their families are too intimidated to take legal steps.  "We never tried to file any case against RAB. We were too afraid," the father of one victim told Human Rights Watch. "There has never been any police investigation."165  During its research, Human Rights Watch had great difficulty identifying families to talk about their experience with RAB, and those who did requested anonymity.  Many of them said they had received threats not to speak.
Human rights organizations in Bangladesh face similar difficulties when researching abuses by RAB.  "Fact-finding missions on RAB are very difficult because people shut their mouths," one activist said. "Sometimes people talk and sometimes not, because people are scared."166  According to an activist with the organization Ain o Salish Kendra, which published a large report on RAB abuses in 2005, most families were terrified to talk about the force.  "They were too scared to talk, let alone lodge complaints or file cases," wrote Shah Mohammad Mushfiqur Rahman.  "Upon hearing that our investigative team was coming to visit them, they even locked up and left their houses."167
Faced with mounting complaints of abuse, RAB has taken some steps.  In March 2005 RAB announced that it had taken measures against 107 members, including 10 who faced prison.  The deputation orders of at least 72 members were cancelled, RAB said, for unspecified activities against the rules and regulations.  Seventy-two people were being sent back to their parent organizations (it is not clear if this was the same 72 people whose deputation orders RAB had cancelled).168 According to one press report, as of April 22, 2006, RAB had punished 201 of its members for various crimes, including extortion, fraud, drug peddling, and the hiring of sex workers.169
According to some reports, RAB members involved in illegal deaths have been held accountable, but the government and RAB provide few details and no members are known to have suffered a punishment worse than dishonorable discharge.  According to an article from May 2006, RAB has punished 133 of its personnel for involvement in "crossfire" deaths—41 percent of those were returned to their parent organizations and 22 percent received suspensions; the rest received a dishonorable discharge.  No one was criminally punished.170  An article in the same paper two days later said that 152 "crossfire" deaths were under investigation, but it did not specify by whom.171
In one known case, RAB sent three of its members back to their parent organizations for torturing a detainee and 10 others were warned (see case of Sheik Abubakkar Sultan, known as Bitan, above).  This apparently only happened because the victim's family knew a top official in RAB.  And even in this case, the special committee that investigated the incident determined that RAB could not take further action against the perpetrators due to the absence of relevant internal regulations.172
The High Court, which is formally independent from the government, has at times issued rulings to keep RAB within the bounds of the law.  On August 6, 2006, the court issued a show-cause ruling for the government to explain why it should not be directed to ensure the protection of people it had arrested or detained.  The ruling ordered the state minister for home affairs, inspector general of the police, director general of RAB and the commanders of RAB-1, RAB-2, RAB-3, RAB-4, and RAB-10 to reply within three weeks—but they did not.  The court issued the order after a petition filed by the nongovernmental organization Human Rights and Peace for Bangladesh.  "Surprisingly from the very first day, the activities of RAB were neither within the limits of the constitution nor within the bounds of any law of the land," the petition said.173
---