IV. Torture by RAB
RAB has become notorious in Bangladesh for committing unlawful killings, but RAB members have also been implicated in hundreds of cases of torture.  As in cases detailed in the previous chapter, many "crossfire" victims have also shown signs of physical abuse.130
Torture methods attributed to RAB include beatings with batons on the soles of the feet (falanga) and other parts of the body, boring holes with electric drills on the legs and feet, and applying electric shock to open wounds.
In at least one case (detailed below), medical workers were present during the torture to revive and attend to the victim.  According to the UN Principles of Medical Ethics relevant to the Role of Health Personnel, particularly Physicians, in the Protection of Prisoners and Detainees against Torture and Other Cruel, Inhuman or Degrading Treatment or Punishment, "it is a gross contravention of medical ethics, as well as an offense under applicable international instruments, for health personnel … to engage, actively or passively, in acts which constitute participation in, complicity in, incitement to or attempts to commit torture or other cruel, inhuman or degrading treatment or punishment."131 
In one documented case from early 2006, members of RAB-2 in Dhaka arrested four men and severely beat three of them.  The fourth man, who requested anonymity, told Human Rights Watch,
In the beginning they treated us very roughly.  The first night in RAB office we were in a small room.  We were handcuffed to rings on the wall near the ground.  We were four people in a room about 8 x 8 feet.  It had no window, one fan, and an iron door.  They put us in the cell and they took us one by one for interrogation.  Three of them were beaten badly.  When they called me, they asked if I knew about the heroin trade or if I knew the other three guys. They threatened me.  When they arrested me I asked where they were taking me.  They said, "Keep quiet or we'll crossfire you!"… They had no name tags.  It was RAB-2.

They took and beat all three guys.  One had been in prison for about 10 years [in the past].  They beat him on the legs with a cane.  The others were beaten on their hand.  This I saw but I think they were also beaten on their legs.132
According to the interviewee, RAB kept asking whether he knew the other three men.  "They put a pistol to my head and said if I don't admit my crimes I'll get crossfired," he said.  "They threatened me with an 18-inch electric prod."
RAB-2 members interrogated the man four times for about 10 minutes each time.  The four men spent that night in a cell, each with one hand tied to a metal ring on the wall, about one foot above the floor.  The following afternoon RAB handed all four men over to the police.  The interviewee said he was released after one month and he does not know what happened to the other men.
In another case, RAB-7 in Chittagong arrested a man, who also requested anonymity, in late 2004.  He told Human Rights Watch what happened after his arrest on a Chittagong street:
They beat me with batons and an iron stick that looks like a spring.  And they had an electric stick.  A RAB van was nearby and they took electric wires from the van and shocked me.  They put the wires around my fingers…  The shocks lasted for about five minutes. They beat me for about 20 or 25 minutes all over my body. 

While beating me they were saying "You must tell us where the arms are."  Ten to twelve people were beating me.  The rest were watching the public and keeping control.  The assistant superintendent of the police [name withheld], I recognized him, but I did not know the others.133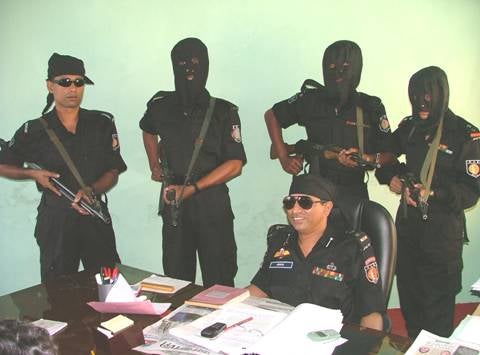 After about 25 minutes, the RAB forces pushed the man into a van and took him to a deserted hill in the city.  They put a cloth over his head and the beatings resumed:
They poured water on my head.  The cloth got wet and stuck to my face so I could not breathe properly.  This lasted two or three minutes, and then they pushed me to the ground and four or five people stood on me with their boots.  At that moment, one of their batons broke so another guy brought another baton and they started to beat me.  This was before I was blindfolded.

They pressed their guns against my head, again asking me about the arms.  They said, "If you want to save your life, give us the arms."  They were talking about illegal arms but I did not know what they were talking about.
After this, RAB forces took the man to the RAB-7 headquarters in the area of town called Steel Mill, where the interrogation continued until early evening.  The next morning, then-commander of RAB-7 Lt. Col. Emdadul Haq allowed the man to call his family to say that he was alright.  That afternoon RAB took the man to the hospital, the man said, where he got x-rays and received first aid.  RAB took the medical report and transferred the man to the police.  He was subsequently released on bail and is currently facing a host of criminal charges.134
Human Rights Watch spoke with a person who visited the man while he was still in RAB detention, the day after his arrest.  "I saw he had been beaten badly.  His hands were all swollen," said this witness.  "I asked RAB about the signs of torture and they said, 'Hey, you know we have to rough them up a bit.'"135
On July 15, 2005, RAB-1 members beat, detained, and then tortured Dhaka businessman Sheik Abubakkar Sultan, known as Bitan.  They released him after four hours because of the intervention of a top RAB official, who knew the victim's family.  RAB subsequently sent three officials with direct involvement back to their parent organizations and gave 10 others disciplinary measures but, to date, no one has faced criminal charges.
The incident began when Bitan, executive director of Relic Label Industries Ltd, was driving in Dhaka with four friends around 7 p.m.  According to Bitan, interviewed by Human Rights Watch, and media reports, the five men got stuck in traffic on a side road near Jasimuddin Road in Uttara, and Bitan got out to see what had caused the jam.136  Three men traveling in a jeep had pulled an elderly man from his car, and they were pushing him, beating him, and forcing him into a stream of sewage, Bitan said.  Bitan asked the men to stop abusing the old man.
According to Bitan, he wanted the elderly man to move his car so he and his friends could proceed, but one of the men from the jeep had confiscated the keys.  Bitan grabbed them and the man punched Bitan in the face.  Bitan struck back and hit one of the other men, who later identified himself as RAB Additional Superintendent (ASP) Ashraf Islam.  Bitan said he later learned that the other two men were Islam's driver, Nazmul Huq, and his bodyguard, Mohammad Manik. Inside the Jeep sat Islam's wife Farida Jasmin.
A few minutes later two pickup trucks with approximately two dozen RAB members arrived, Bitan said.  The men surrounded Bitan, pointed their guns at him and the crowd that had gathered, and started to kick Bitan and hit him with their rifle butts. They pulled Bitan's t-shirt off, ripped it into pieces, and used it to cover his eyes and tie his hands. At this point, Bitan lost consciousness.
When Bitan awoke, he was in the back of a pickup truck at the headquarters of RAB-1 in Uttara. His face was wet, and he thought someone had poured water over him to wake him.  RAB members took him off the truck and beat him with batons on his legs and back. They dragged him into a long and narrow room in the main building with a table and desk. A badly injured man was lying on the floor in the room, Bitan said, as well as a man with his hands and legs tied.
A group of between eight and ten RAB members tied Bitan's hands and feet, blindfolded him, and took turns beating him, Bitan told Human Rights Watch. At one point they held him upside down and beat him on the soles of his feet with a baton. "It felt as if they were hitting straight on my brain and my eyeballs were going to fall out," he said. Later they beat him on the lower parts of his legs with an iron bar before Bitan again lost consciousness.
When Bitan awoke again, a RAB medical officer was giving him first aid. But the beatings resumed. The medical officer did not take part in the torture, Bitan said, but he remained in the room. 
Over the next few hours, Bitan fell in and out of consciousness. At one point he remembered ASP Ashraf entering the room with his driver, bodyguard, and wife. The driver and bodyguard kicked Bitan a couple of times, and Ashraf's wife Farida Jasmin asked, "Is he not dead yet?" A RAB official in the room replied they did not have to worry because he "will be taken care of."
At some point, RAB members sprinkled sand on Bitan's back and beat him with batons, Bitan said.  They also beat him with a heavier baton on the right ankle and kicked him on the chin.
Around 11 p.m. RAB officers blindfolded Bitan and tied him to a tree inside the RAB compound. He heard one person (possibly talking on a mobile phone) say, "Sir, shall we take him out?" He then heard a gun shot, but felt no bullet.  After about 15 minutes, someone removed the blindfold and released Bitan from the tree. They carried him back into the building to a room where he found the elderly man whom Bitan had tried to help earlier in the evening.  RAB had also beaten the old man, Bitan said, but less severely.
Shortly before midnight RAB suddenly released Bitan, gave him food and water, and allowed his family to take him to the hospital.  Bitan later learned that his release was due to the intervention of a family member, a high-ranking member of the Dhaka police.  The family member had contacted the RAB director of intelligence, Lt. Col. Gulzar Uddin Ahmed, who knew the family and secured the two men's release.
Bitan spent more than a month in two different hospitals.  During his first days under treatment he said he received four or five anonymous phone calls warning him not to talk about what had happened or to file any complaints. He began to speak with the media nevertheless and the threats stopped.  He subsequently received treatment in Calcutta, India, at great personal expense.
According to Bitan, his left leg was broken in three places and his right leg in two; he was unable to walk without crutches for more than six months.  He received an operation for his left knee and doctors have recommended that he get another operation on his kneecap.  When Human Rights Watch interviewed Bitan in April 2006 he still complained of pain in his feet from having been beaten on the soles, and he was unable to wear shoes. He also had pain in the back of his head.
RAB's initial reaction to the incident was to claim that Bitan had assaulted a RAB member and acted like a "goon."137  RAB filed a so-called General Diary against Bitan with the Uttara police, saying that RAB had saved Bitan from an angry mob.138  One unnamed official told the press that Bitan had punched a RAB officer who was performing his duties.  "We just gave him a small lesson for his interference into our affairs," one official said.139
A few days after the incident, however, RAB established a special committee to investigate what had taken place. On July 20, the committee led by RAB Director for Finance and Administration Mokhlesur Rahman submitted its report.140  It concluded that RAB members had tortured Bitan, but that RAB could not take any action against them due to the absence of relevant internal regulations.  As punishment, RAB sent ASP Ashraf Islam (from the Dhaka police), his driver (also a policeman), and Nazmul Huq and his bodyguard Mohammad Manik (both from the Bangladesh Rifles) back to their respective organizations with recommendations that they face further punishment. RAB issued warnings and censures to 10 others involved in the case, as well as show-cause notices, which require them to explain why punitive measures should not be taken.141
Bitan's family also filed a general diary with the Uttara Police, which appointed Sub Inspector Abu Syed to investigate. In July 2005, he informed the press that he was waiting for the court's permission to pursue the case.142 As far as Human Rights Watch is aware, as of November 2006 the police have taken no further steps to investigate or punish the policemen involved.
---