<<previous | index | next>>
V.  Regional Warriors and Human Rights Abuses
Any time there is war, there is badness and suffering.
–  Abdul, 25, Liberia
The fighters interviewed by Human Rights Watch spoke openly about the atrocities they had witnessed and, in many cases, committed with their original group and as a foreign combatant. The vast majority had originally fought with two armed groups renowned for their brutality against civilians, the National Patriotic Front of Liberia (NPFL) and the Revolutionary Untied Front (RUF) of Sierra Leone.58 Each group with whom these combatants fought has, to varying degrees, committed egregious violations against civilians, often on a widespread and systematic scale. These violations include sexual violence, forced labor, summary execution including massacres, torture, mutilation and forced recruitment and use of children as soldiers. Their explicit motivation for fighting abroad, however, as noted earlier in this report, was the perpetration of another serious violation: the looting and pillaging of civilian property.
The combatants interviewed for this report had typically received no training in the laws of war either at home or abroad, and operated in armed groups where attacks against civilians were condoned, if not ordered, at the highest levels.59 The fighters described perpetrating frequent violations against civilians who were exploited for sex, labor, and food. The groups they fought with – the NPFL, ULIMO, RUF and CDF militias – had a history of meting out deadly collective punishment against civilians on account of their political, ethnic or religious affiliation.  During the armed conflicts in Liberia, Sierra Leone and Côte d'Ivoire, and in attacks on neighboring Guinea, tens of thousands of civilians have been killed, raped or maimed, and millions more have been forced into squalid refugee or internally displaced camps.  This shattered the bonds of family and community needed to shield such fighters from their already precarious economic situation and at the same time made them more vulnerable to exploitation, recruitment and violence.60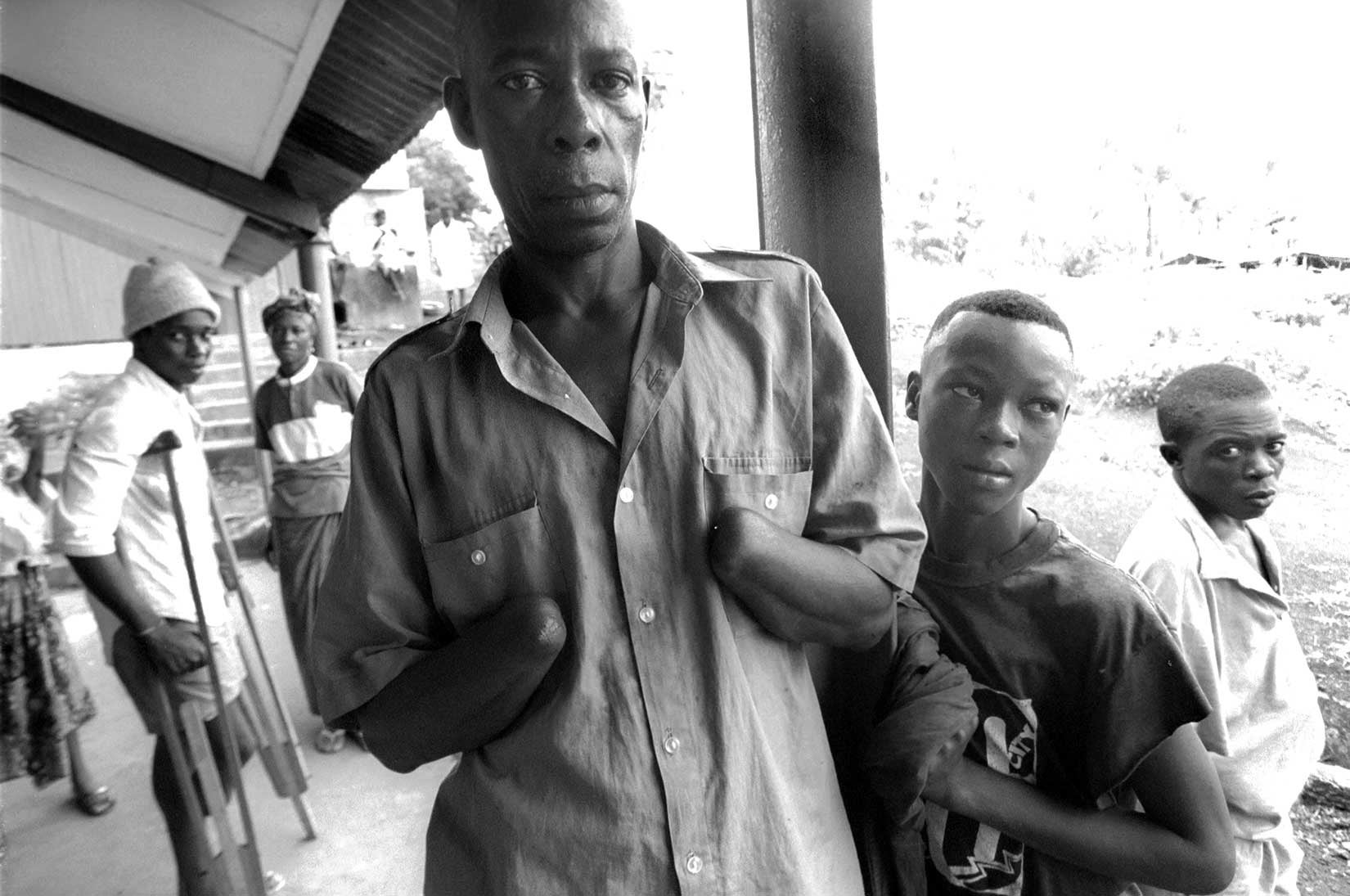 Civilians whose hands were amputated during the RUF/AFRC rebel offensive against the Sierra Leonean capital Freetown in January 1999 wait for medical attention outside a clinic in Freetown in June 1999. Many Liberian fighters took part in the devastating offensive which left several thousands civilians dead. © 1999 Corinne Dufka
The regional warriors came from countries characterized by a longstanding culture of impunity. As armed combatants, these warriors existed within a universe devoid of responsibility and justice for the most brutal of violations. The combatants originated from and fought in countries where the rule of law was weak and the judiciary compromised by a combination of corruption, ethnic favoritism, political party affinities and religious prejudice – factors which had in part given rise to the armed conflicts which engulfed the region.  None of the interviewees indicated that the insurgent or state actor groups of which they were part had taken serious measures to hold accountable members believed to be responsible for serious crimes. In fact, none of the rebel groups active in the region since 1989 ever established a legitimate judicial authority within the territory they controlled. The perpetrators of the regions' wars, including those interviewed for this report, have not faced – nor seen others face – any legitimate accountability process. The exception is the Special Court for Sierra Leone, created by the United Nations through an agreement with the government of Sierra Leone which indicted thirteen of those "who bear the greatest responsibility" for serious violations of international humanitarian law and certain violations of domestic law committed in Sierra Leone since November 30, 1996.61 Prosecution is on-going for nine of the original 13 defendants, including three leaders from the CDF62, three from the RUF63, and three from the AFRC64. Two of the remaining four indictments – for RUF leaders Sam Bockarie and Foday Sankoh – were withdrawn after both died. Former AFRC leader Johnny Paul Koroma's whereabouts are unknown; and Charles Taylor is "not in the custody of the Court."65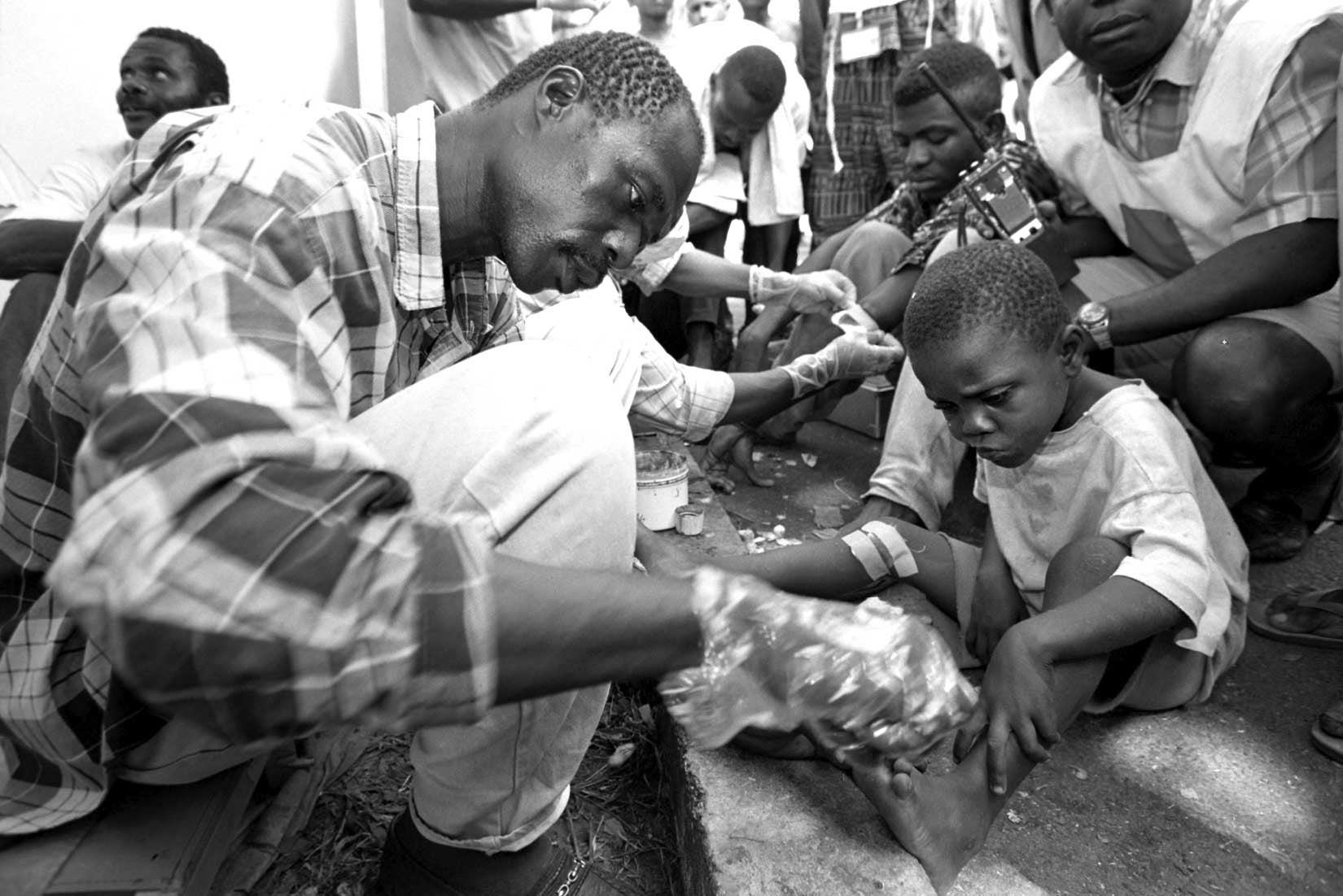 Wounded civilians are treated in a make-shift clinic in the Liberian capital Monrovia in April 1996.  Thousands of civilians were wounded and hundreds killed in April and May 1996 when forces from the NPFL and ULIMO-J fought for control of key areas of the Liberian capital.  © 1996 Corinne Dufka
Human Rights Watch interviews with the ex-combatants suggested that they were not necessarily more prone to commit abuses against civilians from a neighboring country than against their fellow citizens. Rather, the degree of effective command and control, and discipline maintained in the different armed groups played a key role in the kind and frequency of violations observed and perpetrated by the interviewees while fighting outside their own countries. Some atrocities, like those committed against Guinean civilians during the 2000-2001 joint cross-border attacks by the RUF and Liberian security forces, were the result of clear orders given at the highest level.66 Numerous regional warriors singled out the LURD for their efforts to instill respect for civilians, and discipline those who committed abuses against them. However, their efforts were inconsistent and often unsuccessful. Other war crimes, like looting and pillage, were not ordered, but were, sanctioned at the highest level within all armed groups represented by those interviewed for this report.
In some cases, the introduction of foreign troops into an internal conflict led to a dramatic increase in the frequency and nature of attacks on civilians. A notable example is the Ivorian armed conflict, where the involvement of the Liberian backed Movement for Justice and Peace (MJP) and Ivorian Patriotic Movement for the Great West (MPIGO) rebel factions, which included hundreds of former RUF fighters, members of Liberian militiamen, and notorious Sierra Leonean and Liberian commanders like Sam "Mosquito" Bockarie, Kuku Dennis, and Benjamin Yeaten, led to a marked increase in attacks against Ivorian civilians, Both the MJP and MPIGO were implicated in widespread killings, rapes, and abduction of children in and around the Western Ivorian towns of Man, Danane and Toulepleu.67
All regional warriors who had participated in the 2000-2001 cross-border attacks on Guinea, namely on the towns of Gueckedou, Macenta and Nongowa, described receiving explicit orders to perpetrate atrocities against civilians. A twenty-nine-year-old operational commander with the Marine Division militias of the Liberian security forces described the orders he got:
They were harboring the LURD rebels so an order came that we should raid Macenta. The order was to cause destruction and really hurt their feelings; to execute, burn houses and kill. This was a verbal order.  I received this order from my Special Forces commander who said it had come from Taylor.68
An RUF mid-level commander, whose father is Guinean, described similar orders he received before leaving from Sierra Leone to attack Gueckedou, and his reluctance to carry them out:
CO Mosquito called a meeting in Tongo with twenty-eight commanders from Kono, Kailahun and Tongo and said, 'Gentlemen you are to advance to Gueckedou. This is a mission to kill the enemy, but also to kill everyone you come across, to turn the place upside down.' Since my father was originally from Guinea I protested and said, 'Guinea is my fatherland - I don't want to burn it and do those things.' He said, 'Shut up - if you say that a second time, you're a dead man.' During the attack I saw the RUF kill many, many civilians and burn and loot. I killed three people and my boys killed others – I'm not sure if they were armed or not. We were following Mosquito's orders to destroy and kill. We also attacked Nongowa – around midnight. We captured many refugees from the camps because we wanted them to guide us.  I personally abducted twelve refugees from a camp two miles from Gueckedou. During the Guinea operation, we did so many bad things – more than at other times. And the Charles Taylor soldiers were even worse than we were. They killed plenty and burned and burned. I saw one group of Liberians kill eleven civilians.69 
Previous research conducted by Human Rights Watch during the 1999-2003 Liberian war suggested that, while the LURD was responsible for serious human rights violations, including rape, summary executions, forced recruitment of boys and young men, and forced labor, such incidents were less widespread and systematic than those committed by Liberian government forces.70 Nearly all regional warriors who fought with the LURD confirmed this impression. Foreign combatants who had previously fought with the RUF and NPFL noted that, when fighting for the LURD, they were unable to 'get away' with as much as they had while fighting with other armed groups. They described numerous attempts by the leadership to ensure that their combatants respected the rights of civilians including meetings, orders given, and efforts to punish those accused of abuses, including through numerous extrajudicial executions. This twenty-four-year-old Sierra Leonean who had also fought with ULIMO, and the CDF, made this observation: 
The LURD treated people better than those fighting in the first Liberian war.  We really were under strict orders not to hurt civilians – this was difficult for some of the RUF who were used to doing these things, but they feared acting the way they had in the past for fear of being killed. However, some did misbehave and violate the LURD's laws.71
A twenty-seven-year-old Sierra Leonean who had fought with the RUF, CDF and LURD described LURD efforts at discipline:
There was more discipline inside the LURD than with other groups. Shortly after arriving in Voinjama, Commander V gathered about 500 of us and talked to us about how we should behave. He explained that if we got a prisoner, we shouldn't kill him. He and other commanders said we should not take civilians' things, don't take their women, don't beat them. If you get problem with civilians don't kill them. They didn't take nonsense. We were afraid of doing bad to soldiers or civilians, they'd put you in the guard room or even kill you. The civilians used to complain to the commanders about how they were being treated. I saw them punish soldiers who'd looted. And once around Kematahun a woman complained about being raped by a LURD rebel, and V beat the rebel and put him in the guard room for one week.72
However, as in all rebel groups represented by those interviewed for this report, the LURD's efforts to discipline were inconsistent and often unsuccessful, as illustrated by the conduct of this LURD fighter who previously worked as a military police officer with the RUF:
I was an RUF MP for eight years and an MP with the LURD as well. With the LURD there were some rules. For example, the commander told us that anyone who rapes a girl from nine to fifteen years-old would die; in the Gola Forest I saw LURD combatants executed for raping.  However, nothing happened if you raped an older woman – one above 15 years old. We had fine, fine girls. I had one too. They would be our wives because they were afraid to be killed. In Lofa I saw LURD rebels rape maybe eight or ten of them. Once we even entered into their society place [where the female circumcision ritual is performed and a location from which men are strictly forbidden entry] and abducted a few of them – but Commander M passed an order that we never do that again. I once killed civilians with the LURD. It happened even after A and S had told us how to deal with civilians – in a small village near Klay. We told them not to run but they were afraid and ran so we opened fire and killed several of them.  We also recruited young boys and men, and carried them away for training. I even killed some who resisted being taken by us.  I felt like I could do some of those things in Liberia because no one knew me there – they weren't my people.73
Each ex-combatant interviewed by Human Rights Watch noted that the war crime of looting and pillaging occurred on a massive scale in every armed conflict described in this report. While not explicitly ordered by their commanders, the promise of economic benefit derived from loot and pillage was the key component of the verbal contract between recruiter, commander and regional warrior.  As such it was described by those interviewed to have been sanctioned at the highest level of the respective command structures of the RUF, Liberian security forces, ULIMO, LURD and among those fighting in Côte d'Ivoire.
Numerous combatants described the hemorrhaging of looted goods crossing over the borders into the regional warrior's country of origin, and how this was permitted by the high command as compensation for their efforts. A thirty-two year old mid-level Liberian commander with the LURD who was subordinate to a Sierra Leonean LURD commander described this relationship:
We called looting "knock-up." The LURD forces were dominated by Mandingos from Guinea and Kamajors from Sierra Leone; many of them had never set foot in Liberia before. These guys seemed to have come into Liberia to loot – they were never stopped. The CO's told us the Liberians that they were special, they were missionaries and that they were being paid for fighting for our cause, so when they took things back to Guinea or Sierra Leone – even big things like generators and cars – we didn't say anything. The Kamajors looted more than us – they crossed everything over to Sierra Leone – rice, oil. During the battle for Monrovia, the looting was heavy. During these weeks I traveled to Kenema every day to sell what they'd looted; two times I went with my commander M. and about ten times with a Guinean commander.  We crossed at night between midnight and 1:00 am in cars. The Sierra Leone army and police were there, but there was an agreement; they were paid something. For example, one time we took forty bags of rice – we kept thirty and gave them ten. We took TV, rice, building supplies, soda and lots of other stuff we'd taken when the LURD took the Freeport of Monrovia and things we'd taken from looting people's homes.
There were similar levels of looting in western Côte d'Ivoire in 2002-2003 when Liberian government troops and hundreds of regional warriors helped themselves to the contents of Danane and other towns and villages. Liberians described the streets of Liberian towns being full of cars, trucks and heavy machinery with Ivorian license places. The military operation into Côte d'Ivoire and the associated pillaging was, according to commanders interviewed by Human Rights Watch, coordinated by high level Liberian government officials. Some of those interviewed speculated that the pillaging would have assisted cash-strapped Taylor of Liberia, who was under pressure from the U.N. arms embargo and economic sanctions, to reward his soldiers in lieu of cash payment from the government:
When things got tense in Danane we left in a convoy of about seventy-five of us, mostly Mano and Gio. We left with all the things we'd been able to take. It's a war – we needed something to bring back to benefit our people and besides, they hadn't been paying us our salaries and what we'd been promised. It was a big convoy – we were bringing a lot of loot, we were bringing cars, house materials, generators, computers, trucks – all from Danane.74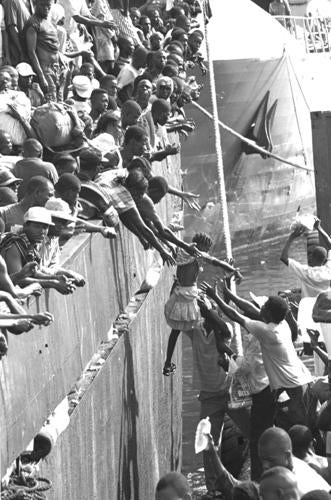 Thousands of frightened Liberians struggle to board a ship in the Freeport of Monrovia in May 1996 to escape heavy fighting between forces from the NPFL and ULIMO-K. The fighting from April – May 1996 resulted in heavy civilian casualties. © 1996 Corinne Dufka
Massive looting also took place when the RUF and Liberian government troops attacked Guinea in 2000. An operational commander with the Liberian Jungle-Fire militias explained: 
The SOP [Standard Operations Procedure] of that operation was not to loot, but to destroy. However, people had to loot because that was the only way we were paid. My boys who went on the operation brought me a car engine, freezer, video, tapes, clothes, jeans, boots, and money. The code-name of this operation was Laspan.75
---
[58] See, "Sowing Terror: Atrocities against Civilians in Sierra Leone," Human Rights Watch  Report, vol.10, no.3 (A), Getting Away with Murder, Mutilation, Rape, July 1998.
See, "Getting Away with Murder, Mutilation and Rape: New Testimony from Sierra Leone," Human Rights Watch Report, Vol.11 No 3(A), July 1999.
See, "How to Fight, How to Kill: Child Soldiers in Liberia," Human Rights Watch, Vol. 16, No. 2 (A), February 2004.
See, "Back to the Brink: War Crimes by Liberian Government and Rebels," Human Rights Watch Report, Vol. 14, No.4 (A), May 2002.
See, "Liberia, A Human Rights Disaster," Human Rights Watch Report, October 1990.
[59] Ibid.
[60] Transcript of United Nations meeting 4933rd Meeting: Security Council Calls for Regional Approach in West Africa to Address Such Cross-Border Issues as Child Soldiers, Mercenaries, Small Arms. March 25, 2004.
[61] See http://www.sc-sl.org/about.html (last visited March 1, 2005).
[62] See "Background on Cases,"http://www.sc-sl.org/CDF.html (last visited March 1, 2005).
[63] See "Background on Cases," http://www.sc-sl.org/RUF.html (last visited March 1, 2005); cases against Sam Bockarie and Foday Sankoh have been withdrawn.
[64] See "Background on Cases,"http://www.sc-sl.org/AFRC.html (last visited March 1, 2005).
[65] See http://www.sc-sl.org/cases-other.html (last visited March 1, 2005).
[66] Human Rights Watch interviews, Sierra Leone and Liberia, July-August, 2004.
[67] See, "Trapped Between Two Wars: Violence Against Civilians in Western Côte d'Ivoire," Human Rights Watch report, Vol 15, no 14 (A), August 2003.
[68] Human Rights Watch interview, Monrovia, Liberia, August 14, 2004.
[69] Human Rights Watch interview, July 31, 2004
[70] Human Rights Watch, Back to the Brink: War Crimes by Liberian Government and Rebels, Vol. 14, No. 4 (A) (May 2002).
[71] Human Rights Watch interview, July 30, 2004
[72] Human Rights Watch interview, Monrovia, August 14, 2004
[73] Human Rights Watch interview, Kenema, July 24, 2004
[74] Human Rights Watch interview, Monrovia, Sierra Leone, August 10, 2004
[75] Human Rights Watch interview, Monrovia, Liberia, August 14, 2004