Map of Andijan Center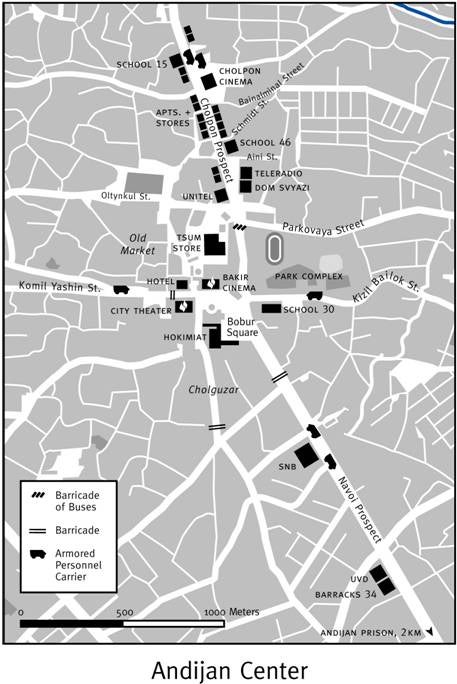 Most people died near School 15, near the Cholpon Cinema. There were armored cars there, and troops on the road. They were also shooting from the buildings. It was getting dark and the bullets were very big, they would go through several people. The road was completely blocked ahead. We couldn't even raise our heads, the bullets were falling like rain. Whoever raised their head died instantly. I also thought I was going to die right there.
Survivor of the Andijan massacre
The next day [May 14] I heard there were lots of bodies near School No 15, and I went there. I got there before lunch time, but there were already no bodies there — I just saw blood, insides, and brains everywhere on the street. In some places there were up to 1.5 centimeters of dried up blood on the asphalt. There were also lots of shoes — most of them looked really old and shabby, and there were some tiny kids' shoes there. Then I went to the hokimiat and saw the same scene there, plus lots of machine-gun and automatic gun shells.
A witness to the Andijan massacre