Migrants and asylum seekers face a significant risk of arbitrary detention in Ukraine. Human Rights Watch's research indicates that migrants and asylum seekers in Ukraine are routinely subjected to substandard conditions of detention, physical abuse, and verbal harassment. Our research revealed that those in detention lack basic procedural rights, including access to counsel, doctors, and interpreters, the right to challenge the lawfulness of their detention, and the opportunity to communicate with family, friends, and the outside world. Many migrants and asylum seekers we interviewed were not informed of the reasons for their detention, nor told how long they were likely to remain in detention. Although Ukrainian law provides a limit on the length of immigration detention, those time limits had been exceeded in many of the cases we researched. The long periods of detention, combined with severely substandard conditions and lack of procedural guarantees, raise serious concerns that detention conditions in Ukraine for migrants amount to cruel, inhuman or degrading treatment in violation of Ukrainian law and Ukraine's international legal obligations,136 and violate other human rights standards, including those contained in the European Prison Rules, and the U.N. Body of Principles for the Protection of all Persons under Any Form of Detention or Imprisonment.
Under international standards, asylum seekers generally should not be detained. Article 31 of the Refugee Convention states that governments "shall not impose penalties, on account of their illegal entry or presence, on refugees who, coming directly from a territory where their life or freedom was threatened
The United Nations High Commissioner for Refugees' Guidelines on Applicable Criteria and Standards Relating to the Detention of Asylum Seekers (UNHCR Guidelines)138 clarify these provisions with regard to those who are seeking asylum by reaffirming the basic human right to seek and enjoy asylum, and by stating as an explicit guideline that "[a]s a general rule, asylum seekers should not be detained." The UNHCR Guidelines also note that detention should not be used as a punitive or disciplinary measure, and that detention should not be used as a means of discouraging refugees from applying for asylum.
Although it is an accepted premise of international law that asylum seekers should not, in general, be detained, the Refugee Convention does permit states to detain asylum seekers in certain limited circumstances. Thus, "[i]n time of war or other grave and exceptional circumstances," states may take "provision[al] measures" to detain asylum seekers, "pending the determination that the person is in fact a refugee and that the continuance of such measures is necessary in the interests of national security."
The UNHCR Guidelines further elaborate the instances in which detention of asylum seekers  "may exceptionally be resorted to": (i) to verify identity; (ii) to determine the elements on which the claim for refugee status or asylum is based; (iii) in cases where refugees or asylum seekers have destroyed their travel and/or identity documents or have used fraudulent documents in order to mislead the authorities of the State in which they intend to claim asylum; or (iv) to protect national security or public order. However, under the exception regarding the determination of the elements of a claim, the guidelines state that "[t]his exception... cannot be used to justify detention for the entire status determination procedure, or for an unlimited period of time." According to the Guidelines, any other reason for detaining asylum seekers, such as it being part of a policy to deter future asylum seekers, is contrary to principles of international law. The guidelines emphasize that "detention [should] only be imposed where it is necessary and reasonable to do so and without discrimination. It should be proportional to the ends to be achieved and for a minimal period."
More than 8,000 foreigners were detained by the Border Guard Service of Ukraine in 2004.139 The detainees interviewed by Human Rights Watch in Ukraine were migrants and asylum seekers detained either for illegally entering Ukraine or for living in Ukraine without valid travel documents or residence permits. They came from Afghanistan, Armenia, Azerbaijan, Bangladesh, Belarus, China, Côte d'Ivoire, Egypt, Georgia, India, Iran, Iraq, Kazakhstan, Lebanon, Moldova, Pakistan, Palestine, Romania, the Russian Federation (Chechnya and elsewhere), Somalia, Sri Lanka, and Vietnam. The vast majority had been arrested by the police on the streets of various Ukrainian cities or by the border guards as they tried to cross without permission into Hungary, Slovakia, or Poland from Ukraine. Others were returned to Ukraine on the basis of bilateral readmission agreements after crossing irregularly into Slovakia or Poland.140
Human Rights Watch interviewed two categories of detained foreigners in Ukraine. The first category consisted of migrants and asylum seekers detained for lacking identification documents. The second category consisted of migrants and asylum seekers detained for entering Ukraine without permission, or for attempting to cross without permission from Ukraine into European Union territory.
Some had no documents at the time of their arrest. Others claimed that their documents were destroyed by police officers during their arrest.141 Many asylum seekers told Human Rights Watch that when they showed police a letter from UNHCR explaining that they had a pending claim for asylum, the police officers ripped up the letter.142
A.A. had been detained five times for lack of documents; in two cases his UNHCR pending letter had been destroyed. He sought voluntary repatriation to Afghanistan and was on his way to the Afghan embassy the last time he was apprehended. When asked to sum up his Ukrainian experience he said, "No other country would tear into pieces UNCHR documents and would keep me in detention again and again for a month [at a time] because of documents."143
After their arrest, undocumented foreign nationals are usually placed in administrative detention in vagabonds' centers, while the authorities verify their identity.144 Foreign nationals in vagabonds' centers are detained together with Ukrainian citizens who are homeless, or have been arrested for public drunkenness, vagrancy, or prostitution under the Code of Administrative Violations.145 The legal limit for detention in the centers is thirty days. However, we interviewed foreign detainees who were held longer, sometimes for more than fifty days. 146 We also interviewed detainees who were repeatedly arrested for lacking identification documents because the embassies of their home countries were slow in providing the documents or had refused to confirm their identities.147 Human Rights Watch interviewed two young Bangladeshi men in the Cernihiv vagabonds' center who had been in detention continuously for eight-and-a-half months, and another Bangladeshi man who had spent eleven months in detention.148
Migrants and asylum seekers detained for entering Ukraine without permission, or for attempting to cross without permission from Ukraine into European Union territory, are detained in centers under the control of the Border Guard Service of Ukraine. Under Ukrainian law, such detentions are authorized for the period necessary to prepare for deportation, up to a maximum six months. Detentions beyond six months are allowed in limited circumstances, including in cases of illness, and where there is a specified future date for the delivery of a passport or receipt of funds to pay for return travel.149 
Some of those interviewed by Human Rights Watch, however, had been detained for more than six months.150 P.P., an Indian detainee who was detained and released several times in the past and who, at the time of our interview, had been held for eleven months in Cernihiv vagabonds' center awaiting documentation to clarify his status, commented, "If the embassy is not responding for two years and eight months, how long do I have to stay here?"151
The majority of detainees interviewed by Human Rights Watch were men. Human Rights Watch interviewed women detainees in Kyiv vagabonds' center, Cernihiv vagabonds' center, Lviv detention facility, and Mukachevo center for women. A group of six Chinese women previously kept in Lviv vagabonds' center told Human Rights Watch they suffered humiliating and degrading treatment at the hands of guards.152 The six women, one of whom was pregnant, claim that guards forced them to strip naked. When they protested, the women said that five male officers touched their breasts while naked and threatened to beat them if they did not remain quiet. Border guards and police in Ukraine do not receive training on the correct procedures for women detainees, and there are no gender guidelines for either service.153
We documented two cases of children in detention at the time of our visit.154 One was a Vietnamese detainee in the Lviv border guard detention facility who was fourteen years old (as reported by three of his cellmates interviewed by Human Rights Watch); the authorities denied that he was a child.155 The other was a seventeen-year-old Afghan boy held for three months in the Pavshino center, where he was beaten several times, and subsequently detained by police in Kyiv on three occasions for several days at a time.156
We also documented three cases of separated children who had been detained previously. They included "Akhmed," fifteen-years-old when he was interviewed by Human Rights Watch, whose father was killed by the Taliban. He fled Afghanistan in 1998. He was separated from his surviving family in Belarus in 1998 and has not seen them since. The Belarusian authorities handed him over to the Ukrainian authorities at an unspecified date and he spent the next five-and-a-half months in detention. While he was being transported to Kyiv to be deported to Afghanistan he escaped. He tried to go to Slovakia but the Slovak guards caught him and sent him back to Ukraine. He was subsequently detained for two-and-a-half months in Pavshino detention facility. At the time we interviewed him, he was living privately in Kyiv with ten other Afghans. He told Human Rights Watch that he was unable to attend school because he has no identification documents. He claims that he was detained by police in February 2005, after they refused to accept the validity of a letter from UNHCR indicating he had a pending claim for asylum; he said that the police destroyed the letter. He was taken to Kyiv vagabonds' center, and held in a room with thirty-five people and an insufficient numbers of beds. He was released a month later.157
The deportation of two Chechen girls to the Russian Federation in June 2005 was halted only after UNHCR Kyiv intervened. The girls were apprehended at the border with Slovakia and held for two tothree days, along with sixteen men and two other women, in a basement with only two beds. They witnessed physical abuse of other detainees, and had their belongings confiscated by the guards. They were brought before a judge and fined for crossing the border illegally. The two girls were then transferred to Chop detention facility. They were finally released after UNHCR intervened, and were allowed to get off a train that was supposed to take them back to the Russian Federation.158
The manner in which foreign children are detained in Ukraine violates not only Ukrainian law but also international norms enshrined in the ECHR, the Convention on the Rights of the Child (CRC), and UNHCR guidelines.159 In particular, Article 37 of the CRC states that detention of a child must be "used only as a measure of last resort and for the shortest appropriate period of time," and that every child deprived of his or her liberty shall be separated from adults, with the exception of unusual cases in which it is not in the child's best interest to maintain such separation. In the event that children are detained in state facilities, the CRC requires that a state party do the following:
Ensure that the institutions, services and facilities responsible for the care or protection of children…conform with the standards established by competent authorities, particularly in the areas of safety, health, in the number and suitability of their staff, as well as competent supervision.160
It is a fundamental principle of human rights that no one should be arbitrarily placed in detention. The Universal Declaration of Human Rights states that "no one shall be subjected to arbitrary arrest, detention or exile," and Article 9 of the International Covenant on Civil and Political Rights (ICCPR) declares similarly that "No one shall be subjected to arbitrary arrest or detention [or] be deprived of his liberty except on such grounds and in accordance with such procedures as are established by law." Detention is considered "arbitrary" if it is not authorized by law or in accordance with law. It is also arbitrary when it is random, capricious, or not accompanied by fair procedures for legal review. 161
Arbitrary detention has also been defined as not only contrary to law but as including elements of injustice and lack of predictability. Due to the growing phenomenon of indefinite detention of migrants and refugees, the U.N. Working Group on Arbitrary Detention developed criteria for determining whether the deprivation of liberty of migrants and asylum seekers is arbitrary. Principle Three mandates that a migrant or asylum seeker placed in custody "must be brought promptly before a judge or other authority," and Principle Seven requires that a "maximum period should be set by law and the custody may in no case be unlimited or of excessive length."162
Article 5 of the ECHR or Article 9 of the ICCPR do not spell out explicitly a time limit for detention.163 There is a clear line of jurisprudence in the European Court of Human Rights that the lawfulness of detention can cease if the proceedings concerned are not conducted with due diligence.164 Thus, the lawfulness of a lengthy pre-expulsion or pre-extradition detention does not depend on its duration, but on whether the authorities are proceeding with due diligence in order to prepare the expulsion or the extradition.165
Although Ukrainian law provides a limit on the length of immigration detention, in many of the cases we researched (and as already illustrated in examples given above), those time limits had expired. Some migrants and asylum seekers were effectively in indefinite detention, with no idea of how much longer they would remain in custody.
Human Rights Watch interviewed two Indian men who had been detained in the Pavshino center for eight and nine months, respectively.166 Detainees and lawyers also told Human Rights Watch of cases in which people were held eleven and twelve months in detention both in immigration detention centers and vagabonds' centers.167
The Ukrainian authorities claim that some embassies or consulates of the detainees' home countries take a long time to respond to requests for confirmation of identity. Such confirmation is required before undocumented foreign nationals can be deported. A concern arises from the fact that there are no deadlines or strict terms embedded in the communications with the embassies, which generates the risk of protracted detention.168
Detention center staff gave inconsistent responses when asked by Human Rights Watch what happens when an embassy fails to respond to a request for identification confirmation within the legal time limit for detention. An official in the Cernihiv center told Human Right Watch that the authorities "cannot just release people onto the streets."169 His words were echoed by the head of the department of internal affairs in Transcarpathia region who told us: "While waiting they [asylum seekers] have no place to live and eat. Here [in detention] they have three meals per day."170 Similarly, the head of Cernihiv migration service saw detention as the reasonable solution for managing asylum seekers: "They are taken care of, and at least they are fed…[the] border guards [have] created special places [to house them] in the border guards unit; for them it is much better than to be homeless… It's better for them not to have complete freedom but to be taken care of… the purpose is to keep them in [a] closed regime…."171
In the Pavshino center, by contrast, asylum applications were transferred by the border guards to the migration service when the term for detention expired and even if no documents necessary to effect a deportation had been obtained (see section on detention of migrants and asylum seekers, below).172 
Officials also emphasized a lack of funding necessary to carry out deportations.173 In some cases migrant communities, businessmen, and relatives were asked by government officials to contribute money towards the cost of deportation.174 For some of those detained pending deportation, lack of funds from private sources to defray the cost of deportation contributed to the length of detention.
Article 28 of the Ukrainian Constitution is modeled on Article 3 of the ECHR, which prohibits torture and inhuman or degrading treatment or punishment of detained migrants and asylum seekers.175 Ukraine is also bound by Articles 2, 7 and 10 of the ICCPR prohibiting torture and cruel, inhuman or degrading treatment or punishment. The U.N. Human Rights Committee stated that the obligations under the ICCPR apply to any foreign national in the territory of a state party.176 According to the ICCPR, migrants and asylum seekers should be protected against ill-treatment during pre-migration, transit, interception, custody, or return.
Humane detention conditions had been defined in the European Prison Rules and the U.N. Standard Minimum Rules for the Treatment of Prisoners (Standard Minimum Rules). Moreover, the U.N. Working Group on Arbitrary Detentions has developed a list of procedural rights specifically for immigration detainees, aimed at protecting them from arbitrary detention.177
Detainees interviewed by Human Rights Watch reported physical and psychological abuse at the Kyiv, Lviv, and Cernihiv vagabonds' centers, Lviv border-guard regional detention facility, Pavshino center for men, and Chop and Rava Ruska border facilities. Afghan and Chechen detainees, in particular, reported such abuse.178 Abdulvahid, an Afghan asylum seeker, recalled, "They [the policemen] said that this is their revenge because Afghans killed Soviet soldiers in the war." K.K., a Chechen asylum seeker detained in Chop for a month, told Human Rights Watch that officials beat him upon detaining him and then in detention. "They constantly asked me, 'Did you fight [in Chechnya]? Didn't you fight? You didn't fight – well, why didn't you fight? Where did you think you were going?'" He claimed that he was beaten almost every day in detention with night sticks, mostly on his legs, but also on his head and back.179 Human Rights Watch interviewed six former detainees at the Chop detention facility who also reported that they were beaten with rubber sticks and night sticks on a daily basis while in detention there.180 Human Rights Watch documented allegations of physical ill-treatment by inebriated police officers in the Cernihiv and Lviv vagabonds' centers.181
One of the Chechens detained at Chop also claimed that guards at the facility sprayed a dense unspecified gas on them as punishment for asking to go to the toilet. The detainee told Human Rights Watch he suffered from bleeding and respiratory problems after exposure to the gas, and claimed the respiratory problems continued to affect him at the time of the interview, nearly a year later.182
In the Kyiv vagabonds' center and the Pavshino center, the detainees explained that they were afraid to talk to Human Rights Watch because they feared negative repercussions on their subsequent treatment. An Indian detainee in the Kyiv vagabonds' center was beaten with a night stick on his back, hip, and hands, soon after we interviewed him. In a subsequent interview, he explained that guards in the center had justified the beating as a punishment for writing on the walls.183 In Cernihiv, an Indian detainee told Human Rights Watch, "If they [policemen] feel like beating you, they'll beat you, whatever they feel like, they'll do…
An older Vietnamese man said that he had been beaten by guards after he failed to name the smugglers who brought him to Ukraine. The guards used fists, handcuffs, and clubs to beat him. He said that the guards forced him to keep his hands up while they beat him. The beatings left permanent injuries on his leg, and two broken ribs—when Human Rights Watch interviewed him, he was receiving medical treatment, which he claimed was related to the injuries he suffered as a result of the beating.185
International and European standards require that the material conditions for all persons in any form of detention—including persons subject to immigration control measures that include detention—must meet basic minimum standards that guarantee health (both physical and mental), safety, and access to social services.186
In Dougoz v. Greece, the European Court of Human Rights upheld a violation of Article 3 of the ECHR and considered that:
The conditions of detention…, in particular the serious overcrowding and absence of sleeping facilities, combined with the inordinate length of the period during which he was detained in such conditions, amounted to degrading treatment contrary to Article 3. 187
Detention conditions in Ukraine do not meet the minimum standards established by international law.188 Substandard conditions prevailed in all of the detention facilities visited by Human Rights Watch. Although some facilities appeared to have improved recently (e.g. Pavshino center for men), and many facilities were undergoing renovations at the time of our visit, we are concerned that these were merely cosmetic changes. Detainees told Human Rights Watch that prior to our visits, authorities took ad hoc measures to clean up some of the facilities (e.g. painting of benches and doors, cleaning the hallways, changing bedding, and printing schedules of daily activities).189
In every facility visited, however, overall conditions were poor, with overcrowding and poor nutrition. In all the facilities detainees lacked access to regular exercise, medical treatment, and adequate clothing. In some facilities there was no natural light, ventilation was extremely poor, and access to fresh air was limited or non-existent. Some facilities lacked heating, proper bedding, and adequate toilet or bathing facilities. Personal hygiene items were scarce.
Some guards sold basic items (food, phone cards, soaps) which otherwise were not provided and charged excessive amounts for them. A phone card can be procured through the guards at prices five to ten times higher than the market value.190
Overcrowding
In Kyiv vagabonds' detention center, there was severe overcrowding, with insufficient numbers of bed spaces to accommodate the detainees held in some cells. There were no mattresses, blankets, sheets, or pillows available. In one cell, seen by Human Rights Watch, there were twenty-five men but only fifteen beds. The beds, which were only wide enough to accommodate one person, comprised bare wooden boards. One of the detainees described the beds to Human Rights Watch: "This is not a bed, it's a piece of wood. I have to share [it] with another person. No mattress, no blankets, no pillows."191 Another cell contained fifteen men but only six beds. One detainee told Human Rights Watch that at one point his cell had contained thirty-five people, and was so overcrowded that detainees were forced to sleep lying on their sides.192 As "Abdulvahid," a former Afghan detainee recounted:
I had to share a bed with tramps, drunken people, and I got fleas, itches and illnesses from them, never mind the cold. I could not sleep at night because of the severe cold; my fists were clenched [because of the cold].193
In the women's cell, thirty women shared nine beds.
Former detainees at the Chop detention center have said they suffered from overcrowding when they were held there. One former detainee told Human Rights Watch that twelve men including him had been kept in a two-by-four-meter cell designed for a maximum of seven people.194 Another former detainee reported that in his cell twenty people had been held in a cell three square meters in size that contained only eight beds.195 Former residents of the facility also said it was infested with rats.196
The overcrowding in Lviv vagabonds' center is said to be particularly severe. Former detainees told Human Rights Watch that eighteen men held in one room had to sleep in shifts because it contained only six small beds, with those not sleeping forced to stand.197
There are credible reports of overcrowding in the Rava Ruska border guard post. Two former detainees who had been held in the post the day before our arrival told Human Rights Watch that they were held with thirteen others for two days in a dark room measuring two meters by one meter and containing only two beds.198 A.B., a Palestinian asylum seeker readmitted from Poland, described the two days spent in detention in Rava Ruska as "minus normal conditions: no beds, no sleep, a room three by one-and-a-half meters for fifteen people."199
Complaints about the quality and quantity of the food were common among detainees and former detainees interviewed by Human Rights Watch. A Chechen who had been detained in Chop border-guard detention told Human Rights Watch, "At one point we were given one onion and two cans of tomatoes for three days. Mostly we ate bread and [drank] tea."200 One detainee in Cernihiv vagabonds' center described the poor nutrition with the following words (in English):
This place is very bad, I [do] not like the food, I [did] not see this food in India, very bad food … this is very small food… At first I was hungry. Now I guess I have gotten used to it.201
In Lviv detention facility and Cernihiv vagabonds' center, detainees stated that the food had improved the day before our visit.202 It is unclear whether the improvement was sustained after our departure. In Pavshino, the only food items detainees were able to speak about were macaroni and kasha [buckwheat].203A detainee interviewed after twenty days in Kyiv vagabonds' center said that he thought he had lost seven or eight kilograms in weight during his detention.204 A former detainee at Chop remembered the food in the facility: "You wouldn't give that kind of food to pigs."205 Officials blame the poor nutrition on lack of resources.206
Limited Access to Fresh Air, Natural Light, and Exercise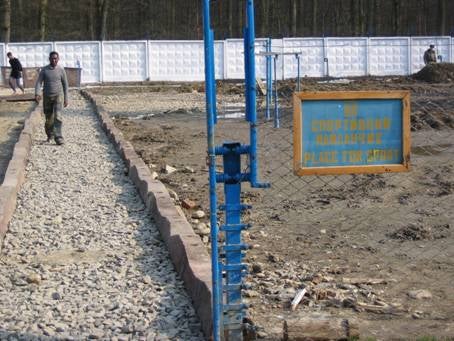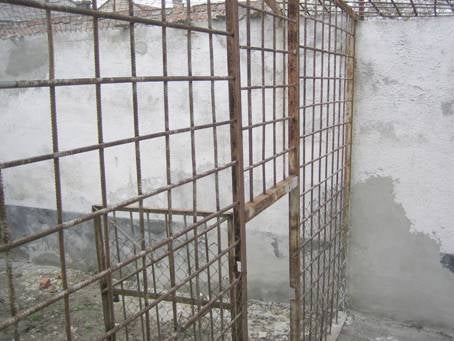 In the Kyiv vagabonds' center, Lviv vagabonds' center, and Lviv border guard detention facility, migrants and asylum seekers in detention were only allowed out of their cells to go to the toilet. They had no access to fresh air and were not allowed any exercise. One of the detainees in Kyiv vagabonds' center complained, "It is not possible to walk or to exercise, even the toilet is in the room."207 Officials in Kyiv vagabonds' center stated that there is "no practice to go out and exercise because we [the guards] do not have the personnel to supervise them, but they [the detainees] take walks from bath to the room and to the X-ray device room [during the medical examination]."208
Detainees were permitted to smoke inside the centers, leading other detainees to complain that the smell was difficult to tolerate.209 In Kyiv vagabonds' center, a woman detainee who was five months pregnant told Human Rights Watch she had repeatedly complained to authorities that the fetid environment and stale air in the center had made her feel unwell.210 She said that the authorities had not responded to her complaint.
In Lviv, Mostyska, and Rava Ruska border guard facilities all the cells were located in basements. In each case, natural light was either scarce or absent, and artificial lighting dim. In the Rava Ruska facility, some former detainees complained of a strong odor of paint and poor ventilation.211 There was a blackout in the Mostyska facility during our visit. Detainees there said that they often had to stay in the dark as the cells were in a cellar with no natural light, and that blackouts were frequent. A former detainee at Chop told Human Rights Watch, "I didn't see the sun for more than one month."212
At the Mostyska and Boryspil-Kyiv international airport facilities detainees were given access to small caged outside areas for taking fresh air. At both the Mostyska facility and the Cernihiv center, where detainees are allowed outside in a yard, detainees interviewed by Human Rights Watch said that in practice exercise was limited to five or ten minutes, rather than the one hour outside prescribed by the U.N. Standard Minimum Rules.213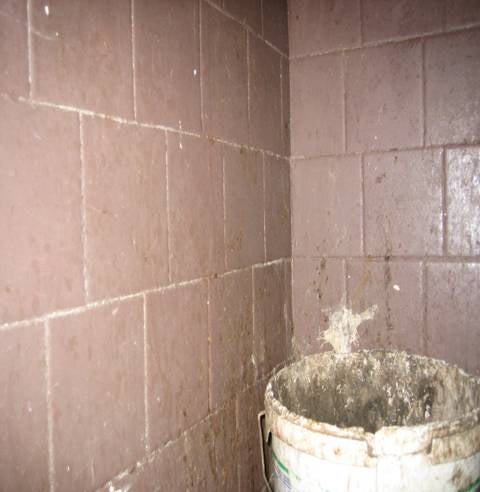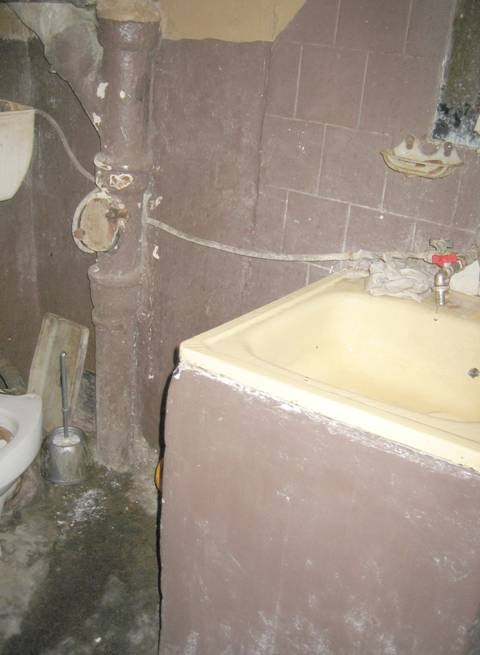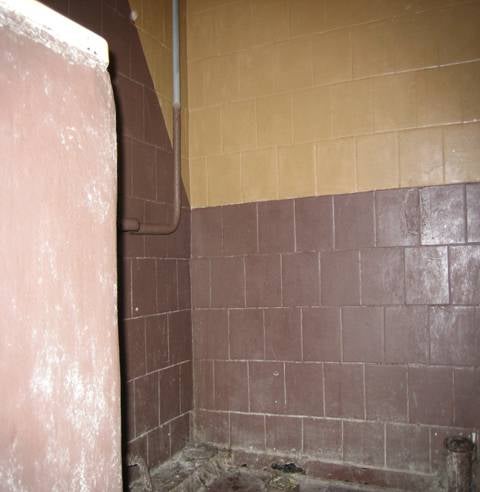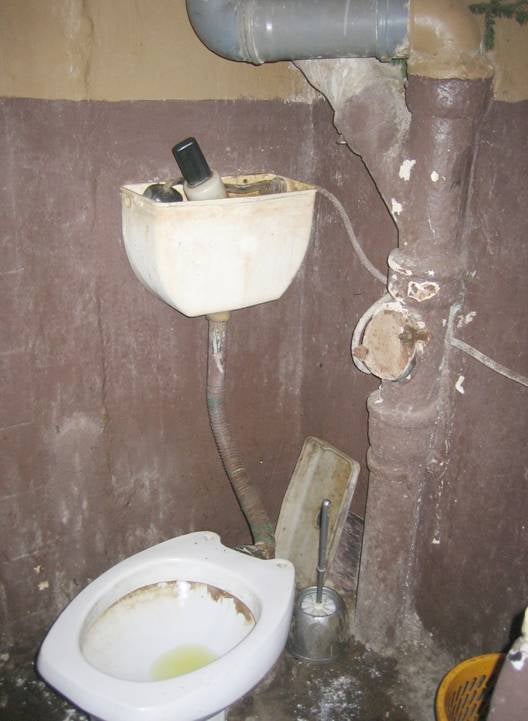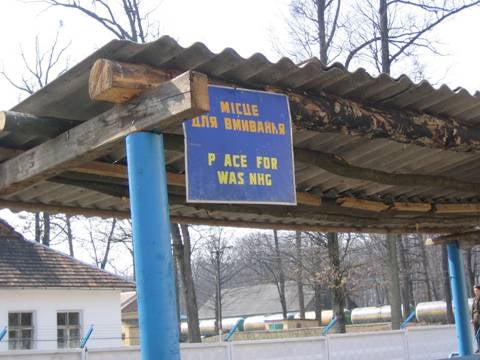 In every facility visited by Human Rights Watch, toilet facilities were unhygienic, and access to bathing facilities was limited. Detainees told Human Rights Watch that they were expected to clean the cells and toilets themselves, and were not provided with cleaning materials.
In Kyiv vagabonds' center, toilets in the cells were open, "squat" toilets and were not partitioned from the rest of the cell. Some of the detainees had to sleep in close proximity to open toilets. According to one former detainee at Chop, toilets at that detention center could only be used with the express permission of the guards, and those who asked for permission were beaten.214 One former detainee in the Lviv vagabonds' center reported that his entire group in one cell (seventeen men) was taken to the toilet three times a day, for five minutes each time. He told Human Rights Watch that the guards working there threw cold water at them if they were unable to finish in five minutes.215 The toilets seen by Human Rights Watch in the Mostyska detention center, the Lviv detention center and vagabonds' center, and the Pavshino center for men were extremely unsanitary.
In the Lviv border guard detention facility, detainees complained that they were not permitted to take a shower or wash themselves.216  "I am Moslem, this place is not clean, my clothes are not clean, my body is not clean, I cannot pray," said A.B., a Palestinian detainee.217 In the Cernihiv vagabonds' center, washing was allowed on an infrequent and arbitrary basis, according to detainees.218 In the Mostyska detention center, detainees relied on buckets of water to wash themselves.219 The Rava Ruska border guard post contained a single dirty washbasin outside the locked cell for detainees to wash themselves in.220
Essential personal hygiene products (soap, towels, sanitary napkins, etc.) were generally unavailable. In the Kyiv vagabonds' center and the Cernihiv vagabonds' center, detainees received one bottle of shampoo per month.221 The deputy head of the Kyiv center admitted to Human Rights Watch that the center had no budget for sanitary towels and other female hygiene products.222
Medical facilities in nearly all the establishments visited by Human Rights Watch were inadequate and badly in need of updating. Resident feldshers (nurses) are assigned on the premises, and emergency services are supposedly available upon request. All immigration detainees are required by law to undergo a thorough medical examination when detained. In the vast majority of cases, however, the examination is a perfunctory check consisting of a visual examination carried out by a nurse on the premises, without access to specialized medical equipment.223
One of the officials described the pre-screening in the following terms:
The pre-screening happens at the first meeting with the feldsher. If we are unable to solve a problem, they are hospitalized… Some [detainees] speak Russian, or if they don't speak they can show where it hurts… The medical examination is mostly a visual check up, a visual survey; they are without clothes and [the nurse] can see serious injuries and bruises.224
Many detainees complained that they were denied medical care, despite repeated requests to see a doctor. K.Z., a former detainee in Chop, remembered that she got ill to the point that "when the guards finally called the ambulance, the doctors shouted at the guards for allowing me to get so ill."225 "Abdulvahid," an Afghan former detainee in Kyiv vagabonds' center, reported that he was bleeding after being beaten by Ukrainian skin heads and his Ukrainian and Russian cellmates were massaging his head to ease his pain. "I received no medical help. The pills given would not help. I wanted to speak with the inspector in charge but could not reach him. Their response was, 'we can't do anything, this is not a hospital.'"226
One pregnant detainee in Kyiv vagabonds' center told Human Rights Watch that guards had ignored her request for medical attention after she blacked out for several minutes.227 When Human Rights Watch raised the issue several days later, the deputy head of the detention center called an ambulance for her while we were present. The women in her cell claimed that she had received no medical attention until Human Rights Watch intervened.228
A male detainee suffering from asthma in Cernihiv vagabonds' center said that an ambulance had come to the center several times after he reported having trouble breathing, but the man complained to Human Rights Watch that the treatment he received was limited to injections of medication he could not identify (he claims that his condition required hospitalization and specialized care), and did not provide real relief.229
Specialized treatment was not available in the detention centers visited by Human Rights Watch. A young asylum seeker from the Côte d'Ivoire who suffered from epilepsy said that he had lost consciousness several times while in detention, after the guards confiscated his medication. F.F. stated: "I did not see a doctor or [visit] a medical center while in prison." On February 11, 2004, he was taken to a police station in Kyiv, but he claimed that instead of taking him to the hospital when he lost consciousness, a policemen left him, unconscious, in the stairway of the UNHCR office in Kyiv.230
At the time of the Human Rights Watch visit, mandatory tuberculosis screenings were not being carried out due to a lack of resources.231 HIV/AIDS screening is not available for detained migrants and asylum seekers,232 nor is treatment available for those who are diagnosed with HIV/AIDS. The failure to provide adequate testing and treatment opportunities is extremely disturbing, especially given the fact that Ukraine's HIV/AIDS epidemic is one of the fastest growing in the world.233
Many asylum seekers and migrants in detention in Ukraine originate from countries rife with conflict, violence, discrimination, and other forms of persecution and abuse. Some are trafficked for forced labor or smuggled along routes that were extremely dangerous. As a result, they often appear traumatized.234 Aside from a limited visiting service at the Pavshino center, psychological counseling and other mental health services were not available in the detention facilities visited by Human Rights Watch.
Limited Access to Exercise and Recreational Activities
Detainees in the facilities we visited were unable to watch television or listen to the radio, and had no access to books or newspapers. There were no recreational or educational activities available for detainees in any of these facilities, including those centers where some migrants had been held for many months. The one exception was the Boryspil detention facility, where newspapers and TV sets were available, but the facility was empty at the time of Human Rights Watch's visit.
In several facilities, detainees complained that the heating did not work properly, particularly in the winter.235 The well-being of the detainees during cold weather was further compromised by a lack of blankets, and the fact that some detainees were still wearing the lightweight summer clothing they had been apprehended in. In the Cernihiv vagabonds' center, an official acknowledged that two Vietnamese women had been transferred to the hospital with pneumonia, "as it was really cold."236
Article 5.2 of the ECHR emphasizes the importance of the right to be informed promptly and in detail in a language the detainee would understand about any charges against him or her and the legal procedures.237 Article 29 of the Ukrainian Constitution reiterates similar procedural guarantees, but in practice they are not implemented.238
The vast majority of detainees interviewed stated that they were not informed of the reasons for their detention or its likely duration, or of their rights and obligations while detained, including the right to contact family members or lawyers or NGOs potentially willing to assist them.
We found no internal guidelines or rules regarding operational protocols translated into the languages of detainees—or even in Ukrainian—in any of the facilities visited. Pamphlets containing basic information regarding the right to seek asylum and the contacts of NGOs and UNHCR have been produced in seven languages and distributed to the Ukrainian authorities. However, it appears that these pamphlets are not reaching asylum seekers in detention. In Cernihiv vagabonds' center, a schedule with the daily program of the facility (breakfast, lunch, dinner, exercise) was posted in English, a language that many of the detainees did not speak or read.
No state-supported legal aid scheme exists for detained migrants and asylum seekers in Ukraine.239 Through its implementing partners, UNHCR has attempted to improve access to legal counsel, 240 but the vast majority of immigration detainees Human Rights Watch met did not have legal representation.
Moreover, most of the detention centers were located in remote areas, making it difficult for NGO representatives and lawyers to visit. In some facilities, visits from pro bono lawyers and representatives of human rights and refugee organizations were not always welcomed by the officials in charge.241 The combination of these factors limited access to legal advice and representation. As a result, many potential asylum seekers missed the opportunity to lodge asylum claims in the time prescribed by law, and many were unable to challenge their detention or deportation orders.
Article 5(4) of the ECHR states that "everyone who is deprived of his liberty by arrest or detention shall be entitled to take proceedings by which the lawfulness of his detention shall be decided speedily by a court and his release ordered if the detention is not lawful."
The European Court of Human Rights stated in the Amuur v. France judgment that "although by the force of circumstances the decision to order detention must necessarily be taken by the administrative or police authorities, its prolongation requires speedy review by the courts, the traditional guardians of personal liberties."242 This principle was reconfirmed by the Court in the Al Nashif judgment of May 2002:
The Convention requirement that an act of deprivation of liberty may be amenable to independent judicial scrutiny is of fundamental importance in the context of the underlying Article 5 of the Convention to provide safeguards against arbitrariness (...) The person concerned should have access to a court and the opportunity to be heard either in person or by a representative.243
When foreign nationals are apprehended in Ukraine, law enforcement agencies (Internal Affairs or State Border Guard Service) issue a detention order in relation to the person detained. The public prosecutor must be informed of the detention in writing within twenty-four hours, and endorse the detention order. In practice, the prosecutor endorses detention orders automatically in administrative detention cases. Once the prosecutor approves the order, administrative detention can last up to ten days.244
In theory, persons subject to administrative detention have the right to have their case reviewed before the competent authority (court or representative of the border guard service) within fifteen days. In practice, such reviews are extremely rare, because detained persons lack legal representation and are unaware of the right to request a review.245 In practice, the prosecutor's office which endorses the detention order is also responsible for supervising the legality of detention.246
The overwhelming majority of detainees interviewed during our mission were unable to challenge their detention. Most detainees had not been shown the order authorizing their detention, and were unaware that it was possible to challenge the length and legality of detention. Of the almost seventy detainees and former detainees interviewed by Human Rights Watch, only one had been brought before a court to challenge the detention following the request of his Ukrainian friends.247
Ukrainian lawyers explained to Human Rights Watch that in practice the constitutional guarantees of judicial review for persons in detention do not apply in cases of administrative detention, including immigration detention and vagabonds' centers. The Code of Administrative Violations enshrines the right to challenge any violation of the law in court.248  However, our research showed that migrants and asylum seekers in detention are not able effectively to exercise that right.
The lack of interpretation infringes due process rights. Chinese migrants detained in Lviv and Kyiv vagabonds' center stated that they were asked to sign papers in Ukrainian without knowing the content of these documents.249 "Joe," an Indian detainee in Kyiv, told Human Rights Watch, "I don't think they respect people very much…Once in this facility, I asked for a translator, and they slammed the door in my face."250
Detainees said that Russian-speaking detainees from the former Soviet Union were at an advantage, while those who did not speak Russian or Ukrainian were liable to punishment because they did not understand orders from the detention center staff. Arun, an Indian detainee from Cernihiv, was hit by guards for not understanding that he was supposed to take a tube of toothpaste from the guards.251 In Kyiv vagabonds' center officials acknowledged that "there are several people in each group speaking Russian but the guards have no language capabilities [other than Russian]."252 One detainee's description of the daily interaction was along the same lines: "When the guards bring meals [in the] morning, afternoon and evening, [they simply] open and close the door. [There is] no interaction, they don't speak any language [that we can understand]."253
Our research indicates that the right to inform a close relative or a third party about a detention is not always observed. In general, communication with the outside world is limited. In the Pavshino center for men there was only one payphone, serving a population of more than two hundred.254 Phone cards were provided periodically by the Ukrainian Red Cross. When they expired, detainees purchased their own cards from the border guards at excessive prices (see above). There were no telephones available for detainees in the other facilities we visited, except the Mukachevo center for women. Some detainees in the Kyiv vagabonds' center and the Lviv detention center stated that their families remained unaware of their detention after weeks or months, because they were unable to contact them.255 "Joe," the Indian detainee, told Human Rights Watch, "What really pains us is that we are unable to call our parents or anyone. They don't know where we are. They will definitely be worried."256 In Lviv, N.N., a Pakistani detainee complained, "No one knows if I am alive or dead."257
Family visits were not permitted in the Kyiv vagabonds' center, although detainees were encouraged to solicit packages with food, clothing, and hygiene products from relatives.258 In the Cernihiv vagabonds' center, detainees were permitted "one or two visitors per month," according to guards, but the visitors had to be Ukrainian citizens or legal residents.259 In the Cernihiv center, visits and the receipt of parcels and correspondence were dependent on authorization from the head of the facility.
As of July 2005, access by UNHCR and its partner organizations to Chop detention facility has been restricted, thereby limiting access to support for asylum claims for those detained there.260 Lawyers and NGOs in western Ukraine are particularly worried that Chechen asylum seekers will be deported without having the opportunity to seek asylum in Ukraine.
Human Rights Watch is concerned by the current use of detention as a deterrent against further migration to Ukraine, especially given the context of inadequate judicial review of detention and substandard detention conditions. The prospect of expanding existing detention facilities or of increasing their number runs the risk of further delaying necessary reforms in finding alternatives to detention and in improving detention conditions.
---