<<previous | index | next>>
Only twenty-one when arrested in 1990, Nabil Ouaer says he was a sympathizer but not a leader of the Nahdha party. He was nevertheless convicted along with the leaders in the mass trials of 1992 and sentenced to sixteen years and eight months in prison. He was freed in November 2004 after serving fourteen years of his sentence. He lives in el-Ouardia, a Tunis suburb, and is unemployed.
Ouaer is not among the prisoners who were placed in long-term isolation, but he did spend several periods in a solitary confinement punishment cell (siloun).  Ouaer was, by his own admission, a feisty inmate who stood up for his rights and had frequent run-ins with the authorities. After the last incident before his release, Nabil charged, the administration at Borj ar-Roumi prison placed him in a punishment cell, ordinarily reserved for a single prisoner, into which they introduced for a single night common-law prisoners who raped him.
While Ouaer was not in long-term isolation, the fact that this incident occurred while he was being held in solitary confinement as a punishment suggests the heightened vulnerability to abuse that is characteristic of an isolation regime. That vulnerability is exacerbated when authorities refuse to conduct a serious investigation into complaints of abuse, as happened in this case.
In Tunisian culture, great shame is attached to reports of rape and sexual violence. Such reports from Tunisian prisons are exceedingly rare and, among Islamist prisoners, Ouaer's account is the only one of its kind known to Human Rights Watch. (It is not known whether such reports are uncommon because rapes occur rarely or because the stigma makes victims reluctant to step forward.)
On December 9, 2004, a Human Rights Watch researcher interviewed Ouaer in a lawyer's office in Tunis and found his testimony credible.
In June 2004, Ouaer was one of four political prisoners in a communal cell housing some 110 inmates at Borj ar-Roumi prison. The cell had eighty-four beds; the remaining inmates slept on the floor.
One day early in that month, Ouaer met at his own request with the prison director and his deputies, outside the cell, to complain about what he called efforts by the guards to stir up problems between himself and other inmates. The discussion turned into a shouting match and then into a physical struggle. Ouaer states that he was set upon by Jamel Trabelsi, the deputy prison director, and Nabil Jelassi, who is responsible for the isolation wing. Several guards came to the aid of their directors, and joined in beating Ouaer, he said. They forced Ouaer down a set of stairs, across a courtyard, and into the isolation wing, where he was placed in one of the punishment cells.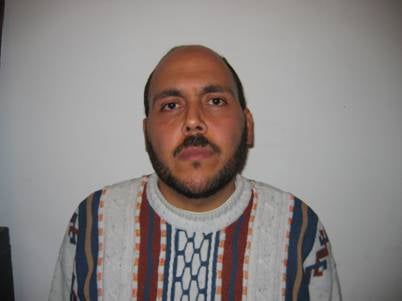 Nabil Ouaer, one month after his release from prison, where he spent fourteen years.
© 2004 Eric Goldstein/Human Rights Watch
Ouaer stated that two of his fingers were broken in the incident and did not get treated until his transfer three weeks later to Bizerte prison.
Ouaer was no stranger to the punishment cells in Borj ar-Roumi. He said that the light is left on at all times in these cells. However, on this occasion, the light was turned off. The door was opened, four common-law prisoners entered the cell, and the door was closed again. He did not know them. Ouaer, in relating to Human Rights Watch what happened next, indicated he was uncomfortable providing details but let it be understood that during the night one of these individuals raped him with the assistance of the others. In the morning, the guards allowed the four men to leave the cell, leaving Ouaer behind. He said the administration had not put these individuals in the isolation cell to punish them, but rather, for the purpose of assaulting him.
After the men left Ouaer started hollering from his cell, warning that he would never shut up about what had happened. He remained in the punishment cell six days, during which time no one came to see him, he said. After six days, he found his bags outside the door to his cell. Authorities transferred him to Borj el-Amri prison, 30 kilometers west of Tunis, where he remained eighteen days. At Borj el-Amri he immediately staged a hunger strike to protest the assault and his transfer from Borj ar-Roumi. He told Human Rights Watch he wished to remain at Borj el-Amri to see that justice was done to those responsible for the attack. During a family visit, he told his mother that he had been assaulted and that he wished to end his life. He said he did not detail to her what had happened, but that she had understood and contacted human rights attorney Saïda Akremi. Akremi is secretary-general of the International Association to Support Political Prisoners (Association Internationale de soutien aux prisonniers politiques, AISPP). On the basis of the information provided by the family, Akremi filed a criminal complaint, mentioning the sexual assault, at the court of Bizerte. She then filed requests, three times, with the court for permission to visit with Ouaer, as his legal counsel. The requests went unanswered and, she said, her complaint was never assigned a case number. The AISPP publicized the assault on Ouaer27, and his family complained to Tunisia's High Committee for Human Rights and Fundamental Liberties (Comité Supérieur des Droits de l'Homme et des Libertés Fondamentales), a state-appointed body that handles human rights complaints from the public and reports to President Ben Ali.
Eighteen days after arriving at Borj el-Amri, Ouaer was transferred to Bizerte prison. The director of the prison immediately received him and told him he would be well-treated. Ouaer said he was assigned to a good cell and was treated respectfully by the guards. When he was brought to a hospital for treatment of the hand injuries he had sustained during the incident at Borj ar-Roumi prison, he requested also a medical examination for the sexual attack. This request was ignored, he said.
Government officials responded to protests about the case by dismissing the rape allegations as "slanderous." "The prisoner denied himself that he had been the victim of any sexual assault" when he was questioned during a visit on June 28 by the president of the High Committee for Human Rights and Fundamental Liberties, an official told the Agence France-Presse. "Nevertheless, an investigation was begun and the preliminary evidence shows that the person concerned was not raped."
Ouaer describes differently his meeting in prison with Zakaria Ben Moustapha, president of the High Committee:
Mr. Ben Moustapha visited me in Bizerte prison. He brought a man who said he was from the office of the President of the Republic. Mr. Ben Moustapha told me to tell this man what had happened. But the man did not seem to believe me. When I told my story, he replied, "Perhaps you were beaten but nothing more."
Ouaer also said he encountered resistance when he tried to testify about the rape, in late July, before the investigating judge assigned to his complaint, Mokhtar Ben Hassine, of the court of first instance of Bizerte. Ouaer said he was able to describe the beating and the rape, but judge Ben Hassine refused to enter into the record the allegations regarding the latter. The judge summoned Ouaer two more times.
At none of these three hearings did Ouaer have a lawyer assisting him. Since Ouaer was the complainant rather than the defendant in the case, Tunisian law does not require the investigating judge to inform him of his right to have an attorney present during the questioning. However, it appears authorities intentionally blocked Ouaer's access to legal counsel, since the lawyer who had been engaged by his family, Saïda Akremi, had applied unsuccessfully to see him in prison upon learning of the assault. Akremi said she learned only after Ouaer had been released from prison that he had testified three times before the investigating judge.
At one of the hearings, the investigating judge questioned prison deputy director Jamal Trabelsi and other prison staff members who were accused of beating Ouaer or who witnessed the incident. All of them denied that Ouaer had been beaten. Ouaer said he repeated his version of events, but when he got to the sexual assault, the judge cut him off, saying that such things do not happen in Tunisia.
Since that session, both Ouaer and attorney Akremi say they have heard nothing further from the court about the disposition of the case. Nor, they say, did they ever see any report on the case prepared by the High Committee for Human Rights and Fundamental Liberties.
On November 2, Ouaer was freed from prison, nineteen months before the end of his term. Ouaer is not under administrative control and has not been bothered or harassed since his release.
Habib Cherif of the Ministry of Justice and Human Rights told Human Rights Watch that he had looked into the case on an unofficial basis and learned the following: During a routine family visit, Ouaer had told his mother that his "honor" had been "insulted." She had understood this to mean he had been raped and spread the word. But Ouaer himself denied the rape before the judge, Cherif said. Despite this, the Nahdha party publicized the rape allegation to further its political agenda, he added.28
Human Rights Watch wrote on January 3, 2005 to Zakaria Ben Moustapha of the High Committee to request the findings of the inquiry that he had apparently mounted into the case (see Appendix B). A copy of the letter was sent also to Cherif at the Ministry of Justice and Human Rights. No reply or acknowledgment has been received.
Tunisian authorities have failed to show that any credible inquiry into the reported sexual assault on Ouaer was conducted, either by the investigative judge assigned to the case or by the High Committee on Human Rights. Authorities claim that Ouaer himself disavowed the rape allegation, but Ouaer reaffirmed it in his December 9, 2004 interview with Human Rights Watch and described how authorities had thwarted him when he had tried to describe to relevant officials what had happened.
Tunisian authorities should allow a thorough, independent investigation of the incident, and ensure that the investigators have access to prison staff and prisoners who allegedly participated in or who witnessed the incident. Ouaer himself should have the opportunity to testify fully, and, if he requests, in the company of a lawyer of his choosing. The investigation should seek to determine the facts of the case and whether, in the weeks following the incident, Ouaer's complaint was properly addressed by the various authorities who were in a position to address it. Anyone suspected of participation or complicity in a criminal assault on Ouaer should be brought to justice. If it is found that officials failed to respond appropriately to his complaints of rape, or actively sought to cover up what happened, they should be disciplined or brought to justice.
---
[27] AISPP, « Scandale à la prison de Borj ar-Roumi: Un prisonnier politique est violé sur ordre du directeur, » June 28, 2004. The AISPP is a Tunis-based rights group that has been refused legal recognition by the government.
[28] Human Rights Watch interview, Tunis, December 9, 2004.