<<previous | index | next>>
III. Israel's Investigations Policy
During the first Palestinian uprising (intifada), which began in late 1987, the Israel Defense Forces (IDF) ostensibly acted in accordance with General Staff Command 33.0304, which required the opening of a Military Police investigation in every case in which a civilian was killed by IDF soldiers, except if involved in combat activities.58 In practice, this policy was poorly implemented.59 Nongovernmental organizations strongly criticized the adequacy, timeliness, and partiality of these investigations, pointing to a repeated failure to interview Palestinian witnesses, ethnic stereotyping, careless procedures, and inexplicable delays in investigation progress.60 In 1994 Brigadier GeneralAmnon Strashnov, Judge Advocate General from 1988-1993, acknowledged the loose standards followed by the Judge Advocate General's (JAG) office when he described the lenient standards his office used in charging, trying, and sentencing soldiers as the "intifada factor."61
The IDF used a broad definition of "combat activities" several times between 1993 and September 2000 when justifying its refusal to investigate killings. For example, the IDF refused to investigate the 1996 killings of forty-seven Palestinian civilians and thirteen members of the Palestinian security forces during clashes at the opening of a highly controversial tunnel near Jerusalem's al-Aqsa mosque compound, stating it had designated the events as "combat incidents."62 The IDF similarly refused to investigate its soldiers' conduct in the killing of six Palestinian civilians and two security force members during the May 2000 demonstrations on the 52nd anniversary of the first Arab-Israeli war.63
Within three weeks of the outbreak of current violence, in late September 2000, more than 120 Palestinians were killed by Israeli security forces, and over 4,800 injured. Thirteen Palestinian citizens of Israel were killed by the national police. In the outcry that followed, the government of Israel set up a formal commission of inquiry, known as the Orr Commission, to examine the deaths of the thirteen Israeli citizens.64 In the cases of deaths of Palestinian residents of the occupied West Bank and Gaza Strip, the IDF determined that the situation was "approaching armed conflict," and informed governments and human rights groups that these and subsequent killings would not be investigated.65 In January 2001 IDF representatives told Amnesty International that three investigations had been opened into killings of civilians. By this stage, some 300 Palestinians had been killed, including at least 85 children.66
The IDF's policy of non-investigation was immediately criticized — and not just by human rights groups. The report of the Sharm el-Sheikh Fact Finding Committee, headed by former U.S. Senator George Mitchell, described Israel's use of the term "armed conflict" as "overly broad, for it does not adequately describe the variety of incidents reported since late September 2000." The report's authors, charged with finding a means to return to a peace process, then underlined the consequences of Israel's policy decision not to investigate:
Moreover, by thus defining the conflict, the IDF has suspended its policy of mandating investigations by the Department of Military Police Investigations whenever a Palestinian in the territories dies at the hands of an IDF soldier in an incident not involving terrorism... . We believe, however, that by abandoning the blanket "armed conflict short of war" characterization and by re-instituting mandatory Mmilitary Police investigations, the [Government of Israel] could help mitigate deadly violence and help rebuild mutual confidence.67
From 2001to 2002, this IDF policy continued with little public scrutiny. This began to change after an unprecedented series of suicide attacks against Israeli civilians in March 2002 led to major Israeli military operations throughout the West Bank. During these operations, thousands of Palestinians were injured, arrested, or made homeless. Israeli troops forced Palestinians civilians to assist military operations and used others to shield themselves from danger.68 Troops looted and damaged the property of civilians and of the Palestinian Authority.69 In April 2002 the IDF carried out a major military operation in Jenin refugee camp. A Human Rights Watch investigation at the time confirmed that at least twenty-two of the confirmed Palestinian deaths in the operation were civilians, including children and physically disabled and elderly people.70 When the Israeli government reversed its earlier decision to cooperate with a United Nations fact-finding team on events in Jenin, the question of the behavior and accountability of Israeli military forces received greater scrutiny, for a short while, both in Israel and abroad.71 The Israeli government opened Military Police investigations into several cases of looting and the forced use of civilians in military operations, but did not investigate any cases of civilian deaths.72
In the following twelve months — and in the wake of several high-profile civilian killings — Israeli military officials developed a more cohesive public relations strategy. Faced with increasing scrutiny from Israeli journalists, parliamentarians, and nongovernmental groups, military spokespersons and members of the JAG's office emphasized the frequency with which Military Police investigations were being opened – but no such increase occurred regarding cases in which civilians were killed.73In 2002, the new chief of staff, Moshe Ya'alon, ordered that initial "operational investigations" into civilian deaths cross his desk within three days of any incident, and that the findings of regional command level investigations—in both cases inquiries conducted without investigative standards—be given to him within three weeks.74 The JAG's office released more detailed information regarding the number and nature of Military Police investigations, and agreed to make biannual presentations to the Knesset's Law, Constitution, and Legal Affairs Committee.75 Human Rights Watch asked the chief military prosecutor in July 2003 whether the increased information meant any change in underlying policy regarding investigations, and was told that it did not.76
Between September 30, 2000, and May 10, 2004, the IDF opened a total of 506 Military Police investigations into alleged wrongdoing by Israeli soldiers in the Occupied Palestinian Territories. In comparison to investigations into deaths and injuries, investigations into property damage or theft and beatings and ill-treatment were more frequent (see Graph 2): just seventy-four of these investigations were into alleged cases of unlawful use of lethal force causing death or injury.77 Fifteen individuals were indicted as a result. One soldier was convicted of (negligently) killing a Palestinian and was sentenced to two months' imprisonment.78 The soldier responsible for killing a sixteen-year-old student served only a fraction of the time to which five Israeli conscientious objectors had been sentenced a few months earlier.79
During the same period some 500 Palestinian children and 2,500 Palestinian adults were killed. Estimates of how many of the Palestinians killed were civilians vary considerably, and range as high as 75 percent.80 In January 2004, Israeli journalist Akiva Eldar reported that the Shin Bet had defined fewer than 600 of the 2,500 Palestinians killed as "terrorist."81 According to the Israeli human rights organization B'Tselem, between the beginning of the intifada and the end of November 2004, 3,040 Palestinians were killed by Israeli security forces, including 606 children, in the Occupied Palestinian Territories. B'Tselem concluded that at least 1,661 of those killed (including 531 children under the age of 18) were not involved in hostilities when they were killed.82 The number of official investigations into alleged wrongful use of lethal force equals just two percent of the total number killed (see Graph 1) and only 15 percent of the number of children killed, despite the fact that many deaths occurred in non-combat circumstances and the extreme unlikelihood that many of the children killed were legitimate targets. During this period, Human Rights Watch itself notified the JAG's office of more than sixty specific suspected cases of unlawful killing or injury.
When the IDF refuses to investigate its actions, there are no alternative forms of accountability. Unlike many other countries, there is no other institution with the power to investigate human rights abuses to which Palestinian victims and their families can effectively turn. The West Bank and Gaza Strip are ruled under military law: Palestinians cannot seek prosecution of Israelis in Israeli military courts, or in the courts administered by the Palestinian Authority. They must therefore seek recourse through Israeli civilian institutions, even though they almost always lack the mobility or resources to access them. 83 Unlike Mexico or Northern Ireland, Israel has no national human rights institution, nor any independent commissioner for complaints about human rights violations committed by the army. Unlike Turkey, Colombia, or the Russian Federation, Israel is not subject to the jurisdiction of a regional human rights court, such as the Inter-American Court of Human Rights or the European Court of Human Rights. At best, Palestinians living in the West Bank or Gaza Strip may employ Israeli lawyers to petition Israel's High Court of Justice to order the IDF to investigate – if they can overcome the severe logistical and financial barriers to doing so.
Graph 1: Palestinian Deaths, IDF Lethal Force Investigations and Indictments.84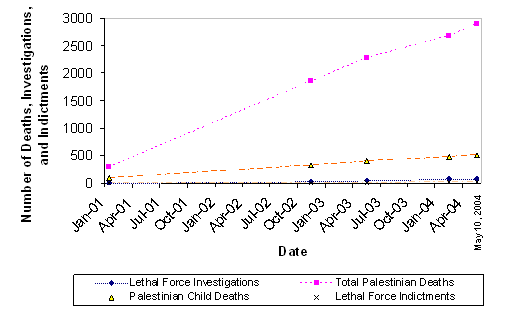 Graph 2: IDF Military Police Investigations in the Occupied Palestinian Territories as of May 2004, by Investigation Type.85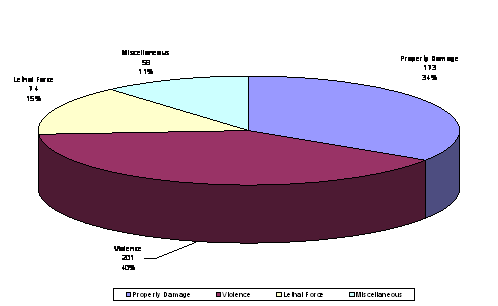 The IDF, in response to petitions before the High Court of Israel, has used several arguments to support its policy of non-investigation.86 The first is that investigations would harm the special nature of combat operations. The second is that other armies facing a similarly intense level of hostilities do not investigate civilian deaths. The third, discussed in section VI of this report, is that the practical difficulties of investigating civilian deaths in the Occupied Palestinian Territories are simply too much for the system to bear.
The IDF argues that combat operations have "unique characteristics" and serve an important national interest. To subject military personnel to investigation would discourage them from taking the risks required for successful combat operations, and place an unjustified burden on morale and the chains of command. The State Attorney's Office, responding to a petition to open an investigation of the July 2002 bombing of a Gaza apartment building that killed Salah Shihada, a leader of Hamas's military wing, and fifteen civilians, including nine children, cited an earlier High Court of Israel decision rejecting a petition for criminal prosecution on account of negligence, in which the Court wrote that "the unique characteristics of active operations sometimes constitute considerations negating the presence of a public interest in the instigation of criminal proceedings, even if criminal liability is present."87 In its ruling the Court acknowledged that in ordinary cases "there is a clear public interest in deterring offenders from similar acts in the future," but concluded that "in cases of negligence committed during active operations, there is, at the present, almost no need for such deterrence…."88 The state argued in the Shihada case that Court's reasons for not authorizing criminal investigations in negligence cases "during active operations" should be an even greater barrier to such investigations in "combat operations," where "the possible ramifications of a criminal investigation for the chain of command and the willingness of commanders to perform their functions are extremely dramatic…. Taking these policy considerations into account, it is clear that the cases in which a criminal investigation will be instigated with regard to combative operations shall be exceptional and unusual."89
In a meeting with Col. Daniel Reisner, assistant military advocate general, on May 5, 2002, Human Rights Watch asked what kinds of cases were "exceptional" enough to warrant investigation. Colonel Reisner did not reply directly. Instead, he said "[t]here is a big question regarding criminal investigation during armed conflict. The gravity of the crime [required to trigger an investigation] increases during armed conflict. International practice is not clear."90 Col. Reisner did not indicate if acts more serious than simple negligence would meet the gravity test; nor did he address the fact that many deaths and injuries did not occur in circumstances of armed hostilities.
The IDF's position cannot be reconciled with Israel's obligations under international humanitarian law or international human rights law. The government of Israel has ratified numerous treaties that contain explicit requirements to prevent violations of human rights or the laws or war and to discipline and bring to justice those responsible. This does not mean that every soldier's error must be followed by higher-level investigation or court-martial – but that all cases with prima facie evidence or credible allegations of serious wrongdoing should be investigated professionally and impartially. Mere operational debriefings (described in section IV) absolutely fail this test. No state can fulfill its responsibility to maintain public order if agents who abuse their authority or misuse lethal force are allowed to do so unchecked.
The IDF's second argument is to characterize the entire situation in the Occupied Palestinian Territories since late September 2000 as one of armed conflict, and assert that no other army investigates civilian killings in such circumstances.In support of its case, it has cited the lack of U.S. investigations in Afghanistan and Iraq, as well as the final report of a committee appointed by the prosecutor of the International Tribunal for the Former Yugoslavia to review the NATO bombing of the former Yugoslavia.91 When asked by Knesset member Gil'ad Arden in 2003 whether there was an army that handed investigations over to an external body, Major-General Dr. Menachem Finkelstein answered only in terms of U.S. practice:
[R]egarding your question, there is no similarity. I can give you examples. When the United States sent troops to Kosovo or to Eritrea, and to Somalia, there were cases in Somalia where hundreds were killed on the Somali side, and 18 on the American. If you think that in these cases there were investigations – there were not. At the same time, I think that in this matter, we do not need to learn from the Americans. We have our measures and our ethical standards. I think that there is no comparison ... ." 92
In the same Knesset hearing, Finkelstein publicly stated his commitment to ensuring Israel's conformity to best practices. "They [human rights groups] say to me, and I accept, that the Israeli army has to behave differently from the United States army. Completely acceptable to me. But, here I say to them: show me an alternative route to take."93
This argument ignores the fact that many killings of Palestinian civilians, including almost all of the cases investigated in this report, occurred when the army acted in law enforcement situations. When military forces engage in policing, they should be held to policing and law enforcement standards. Those standards are clearly articulated, and require timely, thorough, and impartial investigations into killings of civilians.
There are positive, practical alternatives to Israeli (and United States) practices in this regard, particularly when troops are accused of committing abuses in non-combat situations. There is the example of Canada, for example, which chose to investigate wrongdoing by Canadian troops accused of abusing prisoners while deployed in Somalia in 1993, and made sweeping changes to its military justice system as a result. Information on Canada's reform process is widely available, including on the Internet.94 The IDF has likewise failed to acknowledge a decade of U.K. reforms to investigation procedures in Northern Ireland. Ongoing complaints against abuses by the militarized Royal Ulster Constabulary and the British army recently resulted in an independent police complaints commission and ombudsman, and an independent assessor of military complaints.95 While the U.K. explicitly defined Northern Ireland as a law enforcement situation, not armed conflict, it does provide indicators for positive change.
There is at present no international law that requires civilian investigation of combat killings. However, the IDF's routine failure to conduct investigations extends to killings and serious injuries inflicted in clearly non-combat situations, when law enforcement standards apply. International law requires provision of an effective remedy for civilian deaths and injuries where there is credible information or prima facie evidence of excessive or unlawful use of force.
---
[58] See, the petitioner's brief in B'Tselem and Association for Civil Rights in Israel v. The Judge Advocate General, HCJ 9594/03, para. 14. Copy on file at Human Rights Watch.
[59] For a detailed account of IDF investigation practices during the first Palestinian uprising, see Human Rights Watch [Middle East Watch], The Israeli Army and the Intifada: Policies that Contribute to the Killing (August 1990), pp. 64-159. See also, John Conroy's extensive account of the case of Lt.Col. Yehuda Meir in Unspeakable Acts, Ordinary People: The Dynamics of Torture (New York: Knopf, 2000), chapters 2, 6, 10, and 14.
[60] See, Human Rights Watch [Middle East Watch], The Israeli Army and the Intifada: Policies that Contribute to the Killings (August 1990); HaMoked (Center for the Defence of the Individual), Escaping Responsibility: The Response of the Israeli Military Justice System to Complaints Against Soldiers by Palestinians (Jerusalem, December 1997).
[61] As cited in HaMoked, Escaping Responsibility, pp. 9-10.
[62] Letter to B'Tselem, Maj. Avital Margalit, Head of Assistance Branch, Office of the IDF Spokesperson, October 22, 1996. Quoted in B'Tselem, Illusions of Restraint: Human Rights Violations During the Events in the Occupied Territories, 29 September to 2 December, December 2000, p. 19.
[63] Ibid.
[64] The Orr Commission issued its report on 1 September 2003. The three-member panel found severe structural deficiencies in the response of the police and other public security officials to the demonstrations. It recommended action (but not prosecution) against seven individuals, several of whom had already left their positions. It also recommended the Department of Police Investigations of the Ministry of Justice open criminal investigations into ten killings and stated that the police should abandon the use of live fire and rubber-coated metal buckets as crowd control techniques. The government agreed "in principal" to carry out the Commission's recommendations. See, Inigo Gilmore, "Judges denounce Israeli police for deaths of 13 Arabs," The Daily Telegraph, September 2, 2003, and the Adalah website, available at www.adalah.org.   In September 2004, Teodor Orr, the former High Court justice who headed the commission, expressed frustration that "so far nothing has been done in the internal affairs investigation." See, Yair Ettinger, "Justice Or blasts apathy a year after his report on Arab riots," Ha'aretz, September 2, 2004,  www.unitedjerusalem.org/index2.asp?id=483901&Date=9/2/2004 (accessed May 20, 2005).  
[65] For example, the U.S. Department of State provided the Israeli government with a list of slain Palestinians and asked for explanations of each case. The Israeli government refused to provide the information, arguing the killings must be seen in the context of armed conflict. See, "Israel Rejects Mitchell Request for More Info," Ha'aretz, February 8, 2001. See also, Amnesty International, Israel and the Occupied Territories: State Assassinations and Other Killings, February 21, 2001, AI-index: MDE 15/005/2001.     
[66] Casualty data is taken from statistics of B'Tselem, the Israeli Information Center for Human Rights in the Occupied Territories, available at at www.btselem.org. Twenty-eight Israeli civilians and eleven security force members were killed during the same period.
[67] Report of the Sharm el-Sheikh Fact-Finding Committee, April 30, 2001.  See, http://usinfo.state.gov/regional/nea/mitchell.htm, (accessed February 5, 2004).
[68] See Human Rights Watch, In A Dark Hour: The Use of Civilians During IDF Arrest Operations, Vol. 14, No. 2(E), April 2002.
[69] For a precise enumeration of statistics, see United Nations General Assembly, Report to the Secretary-General prepared pursuant to General Assembly resolution ES-10/10, July 30, 2002, A/ES-10/186.
[70] Human Rights Watch, "Jenin: IDF Military Operations," vol. 14, no. 3 (E) (May 2002), available at http://hrw.org/reports/2002/israel3/.
[71] The fact-finding team was convened by the U.N. Secretary-General in response to Security Council Resolution 1405 (2002) and was disbanded on May 1, 2002.
[72] On May 5, 2002, Human Rights Watch presented its findings from this investigation to Col. Daniel Reisner and Maj. Efrat Segev of the IDF Spokesperson's Office. Col Reisner at that meeting undertook to examine each case for investigation and inform Human Rights Watch of the decisions taken and the progress of any investigations. In November 2002, Col. Reisner wrote to Human Rights Watch, saying that "these cases have been transferred to the appropriate IDF officials responsible for such examinations," and that "most of the substantiated cases in which Palestinian individuals were allegedly used as hostages or human shields have been transferred to the Military Investigative Police, and investigations have been instigated." The letter also provided summary numbers of Military Police Investigations and indictments against IDF personnel as of September 2002. On May 4, 2003, Col Reisner wrote to Human Rights Watch that the IDF inquiries into the cases presented "had yet to find any factual support for the allegations regarding deliberate targeting of civilians," but that two investigations were still underway regarding incidents of civilian deaths in the larger West Bank operations of March-April 2002.
[73] Alex Fishman and Guy Leshem, "Poorly Investigated, Forgotten and Buried," Yedioth Ahronoth, January 23, 2004.
[74] Initially publicized in media reports and confirmed by the Office of the IDF Spokesperson letter to Human Rights Watch on May 10, 2004.
[75] Transcript, Constitution Committee, 6682, Jerusalem 30 Sivan 5743-30 June 2003; Transcript No. 36, Meeting  of the Knesset Law, Constitution and Legal Affairs Committee, Sunday 22 Sivan 5743 (22 June 2003). Translated by Human Rights Watch.
[76] Human Rights Watch meeting with Col. Einat Ron, Chief Military Prosecutor, July 7, 2003.
[77] Response of the IDF Spokesperson to Human Rights Watch inquiry, with a cover letter from Maj. Sam Wiedermann, May 10, 2004. Human Rights Watch requested an update from the IDF in late February 2005, but as of early June 2005 had received no response. Israeli journalist Alex Fishman, writing in Yediot Aharanot's Saturday Magazine on August 17, 2004 "561 Military Police Investigations are just the tip of the iceberg," cites the Judge Advocate General's office as noting that of a total of 561 Military Police investigations opened as of the end of June 2004, seventy-four concerned complaints of unjustified shootings. B'Tselem told Human Rights Watch in mid-May 2005 that as of that time a total of 106 investigations had been opened, into cases involving deaths and injuries to Palestinians, resulting in nineteen indictments and six convictions—two for manslaughter, two for causing grave harm, and two for illegal use of a weapon (Human Rights Watch interview with Ronen Schnayderman, Jerusalem, May 19, 2005).
[78] Captain Zvi Koretski was sentenced on May 3, 2004, to two months of imprisonment, four months of "military tasks," and six months probation for having caused the death through negligence of sixteen-year-old Muhammad `Ali Zaid on October 5, 2002. Koretski was also demoted to the rank of first lieutenant. See, Amos Harel, "IDF Captain Jailed for Death By Negligence of Palestinian Teen," Ha'aretz, May 5, 2004.
[79] Five Israelis refusing to perform their compulsory service were sentenced in December 2003 to one year's imprisonment, with no reduction for time already served. Lily Gallili, "Five Conscientious Objectors Begin One Year Prison Sentence," Ha'aretz, January 7, 2004.
[80] There is no consensus on what proportion of Palestinian casualties from IDF fire is civilian. See footnote 8, above.  
[81] "The IDF's Standards of Punishment," Ha'aretz, January 6, 2004.
[82] B'Tselem had not been able to determine whether an additional 550 Palestinians (including 31 children) participated in hostilities.
[83] The movement of Palestinians has been increasingly controlled since 1991. Since September 2000 movement within the West Bank and Gaza Strip has been severely restricted, and movement between Israel and the Occupied Palestinian Territories impossible for all but the holders of special permits. Israeli citizens are forbidden by military order from entering Area A.
[84] Source: Lethal force investigation numbers taken from IDF correspondence with Human Rights Watch, Knesset testimony, publications of Amnesty International, and reports published in Ha'aretz. Indictment numbers taken from Human Rights Watch interviews with IDF and Knesset testimony. Data on total Palestinian and total child deaths taken from the Palestinian Red Crescent Society, at www.palestinercs.org, (accessed May 11, 2004).
[85] Source: IDF correspondence with Human Rights Watch, May 10, 2004. Of the fifty-eight miscellaneous investigations, Human Rights Watch was told by the chief military prosecutor that some forty were investigations into the forced use of Palestinians to assist military operations or the use of Palestinian civilians as human shields.
[86] See, HCJ 8794/03, Yoav Hess et al. v. Judge Advocate General et. al; Response on Behalf of the State Attorney's Office (Translated by Human Rights Watch); and HCJ 9594/03 B'Tselem et al. v. Judge Advocate General, Response on Behalf of the State Attorney's Office (Translation obtained from B'Tselem).
[87] HCJ 4550/94 Anonymous v Attorney-General et al., Piskei Din 49(5) 859, cited by the State Attorney's Office in HCJ 8794/03, Yoav Hess et al. v Judge Advocate General et. al; Response on Behalf of the State Attorney's Office (Translated by Human Rights Watch).
[88] Ibid.
[89] HCJ 8794/03, Yoav Hess et al. v. Judge Advocate General et. al; Response on Behalf of the State Attorney's Office (translated by Human Rights Watch).   On August 2, 2002, the IDF Spokesperson issued a statement concerning the findings of an IDF inquiry into the killing of Shihada and the others. According to the statement, "The inquiry findings show that the procedures followed in the IDF operation were correct and professional, as were the operational assessments…. At the same time the inquiry found shortcomings in the information available, and the evaluation of that information, concerning the presence of innocent civilians near Shehadeh.... The IDF and the [Israel Security Agency, ISA] stated that if their information had indicated with certainty the presence of innocent civilians in Shehadeh's vicinity, the timing or the method of the action would have been changed, as was done a number of times in the past."
[90] Human Rights Watch meeting with Col. Daniel Reisner, assistant military advocate general and head of the International Law Department, IDF; and Maj. Efrat Segev, Public Relations Department, Office of the IDF Spokesperson, May 5, 2002.
[91] HCJ 8794/03, Yoav Hess. v Judge Advocate General; Response on Behalf of the State Attorney's Office, Section 6. (Translated by Human Rights Watch). For Human Rights Watch criticism of the lack of U.S. accountability for civilian killings in Iraq, see Human Rights Watch, Hearts and Minds: Post-War Civilian Deaths in Baghdad Caused by U.S. Forces, October 2003, Vol. 15, No. 9 (E), available at http://www.hrw.org/reports/2003/iraq1003/.
[92] Transcript/ Constitution Committee, 6682 Jerusalem, 30 Sivan 5743 (June 30 200 3), Transcript No. 36, Meeting of the Knesset Law, Constitution and Legal Affairs Committee Sunday, 22 Sivan 5743 (June 22, 2003), 10:00. (Translated by Human Rights Watch).
[93] Ibid.
[94] Brig.-Gen. J.S.T. Pitzul and Comm. John. C. Maguire, "A Perspective on Canada's Code of Service Discipline," Air Force Law Review Vol. 52, 2002. pp. 1-15; Canadian Department of National Defense Report of the Somalia Commission of Inquiry, 1997, available at http://www.dnd.ca/somalia/somaliae.htm (accessed February 15, 2004).
[95] U.S. Department of State, United Kingdom, Country Reports on Human Rights Practices, March 31, 2003, available at http://www.state.gov/g/drl/rls/hrrpt/2002/18399.htm. For background, see Human Rights Watch [Helsinki Watch], Human Rights in Northern Ireland, October 1991; Human Rights Watch, To Serve Without Favor: Policing, Human Rights and Accountability in Northern Ireland, May 1997; Human Rights Watch, Northern Ireland: A New Beginning to Policing, November 1999. The website of the Police Ombudsman of Northern Ireland is available at http://www.policeombudsman.org/