<<previous | index | next>>
Aside from a series of inadequate efforts to investigate the December 2003 massacre in Gambella town, the Ethiopian government has not taken action to prevent ENDF forces from committing human rights violations against Anuak communities or to punish the individuals responsible for those abuses.  Indeed, federal authorities have not publicly admitted that the military has committed any abuses in Gambella since December 2003.  Regional and police authorities have also been unable or unwilling to respond to persistent complaints of abuse by members of affected communities, who report that military authorities have often responded to such complaints with hostility and threats of further violence.
The December 2003 massacre is the only case of human rights abuse committed by the Ethiopian military in Gambella that the Ethiopian government has made an effort to investigate or remedy.  The government's response, however, has been inadequate and often disingenuous.
Federal officials initially sought both to downplay the massacre and to blame it on the government's enemies.  Dr. Gebrehab Barnabas, who was then the deputy minister of federal affairs and the highest-ranking federal official with direct responsibility for Gambella, issued a statement several days after the massacre asserting that two insurgent groups the Ethiopian government considers to be terrorist organizations, the Oromo Liberation Front and Itihad al Islamiya, were behind the violence.170  After several days of increasing press and international attention, however, the federal government dispatched federal police officers to Gambella town to investigate and interview Anuak victims of the violence.  Several victims who gave their accounts to those investigators told Human Rights Watch that they found the officers to be honest and reasonably thorough in their efforts to gather evidence against the highlander civilians who took part in the massacre.  Whenever they implicated ENDF soldiers in the violence, however, they received far chillier responses.  All of the interviewees who later spoke with Human Rights Watch said that the police refused to take seriously their insistence that large numbers of clearly identifiable uniformed military personnel had been involved in the massacre.  Many of those witnesses said that the interviewing officers insisted that they could not take accusations about army violations seriously unless witnesses provided the names of the soldiers they had seen committing abuses, which not surprisingly they were unable to do.  One woman who witnessed her husband's murder at the hands of a group of ENDF soldiers said that when she told the police what had happened, "they were opposing me, telling me not to say it was soldiers who killed him.  They said, 'What are the names of those soldiers?  If you do not know this then why do you say it was them?'"171    One woman said that when she told investigating officers that her father had been killed by soldiers they replied, "How do you know?   Maybe he was killed by sickness."172 
Roughly one week after the massacre, Deputy Minister of Federal Affairs Gebrehab Barnabas flew to Gambella town and convened a meeting with several dozen Anuak survivors of the massacre.  Also present at these meetings were Omot Obang Olom, chief of security for Gambella region, and Almaw Alemeraw, an "expert" from the ministry of federal affairs who according to many reports has been wielding executive power in Gambella since the flight of former Regional President Okello Akway.  Gebrehab opened the meeting by saying that he wanted to hear what had happened to those present.  When victim after victim stood up and said that the military had taken the lead in the killing, however, he interrupted each of them and told them that they were mistaken, that the military had been there to protect them.  Eventually, when one man stood up and demanded that Gebrehab explain why the people who attacked his home were wearing uniforms if they were not soldiers, Gebrehab exclaimed, "You were not attacked by the military!  Why don't you tell the truth?"  He then spoke at length about the need to capture the Anuak shifta who had ambushed the ARRA car on the morning of December 13.173
The government's initial position, that no soldiers had taken part in the massacre, quickly became impossible to defend.  In March 2004, the Federal Government took the unusual step of appointing an Independent Commission of Inquiry to look into the violence, chaired by the chief judge of the Supreme Court, Kemal Bedri.  The Commission's report failed to put forward anything resembling an accurate description of the massacre.  The number of deaths was grossly underestimated at sixty-five, and interviewees' statements to the members of the Commission that large numbers of soldiers had attacked their homes alongside the mobs of civilians were not reflected in the Commission's findings.  The Commission's final report reached the conclusion that while a small number of rogue elements from within the ENDF's ranks had taken part in the killing, the military as a whole deserved only praise for single-handedly bringing the situation under control.174
Some moves have been made by the federal police to investigate and punish highlander civilians who took part in the massacre, but these efforts have been haphazard and have resulted in few reported convictions.175  Many Anuak victims of the violence told Human Rights Watch that they were still living surrounded by the same neighbors who had attacked their families on December 13, 2003, despite having provided the names of their attackers to federal police investigators.  The federal government eventually demoted Dr. Gebrehab and transferred him to Tigray to become the head of its Regional Health Bureau, but he has never faced any formal investigation or sanction related to the massacre.
Regional officials have taken some steps towards holding regional police personnel accountable for their role in the massacre; the regional authorities have arrested a small number of former police officers and recently stated that they had fired thirty-two others in connection with the massacre.176  Most significantly, the former head of the regional police force, Tadesse Haile Selassie, was arrested in early 2005 in connection with the killings.  Regional authorities have issued no public statements beyond an acknowledgement of his arrest and it is not clear whether he will eventually be charged with any crimes.177
In contrast, neither military nor federal authorities have taken any steps to hold ENDF officers accountable for their role in the violence. In September 2004, Ethiopian Prime Minister Meles Zenawi announced the launch of a second inquiry into the December 13, 2003 killings, but so far the only move it has made against the military was the arrest of eight low-ranking soldiers in January 2005.  MajorTsegyae Beyene, the commander of ENDF forces in Gambella at the time of the massacre, was transferred to the nearby town of Abobo within Gambella region.178  This was widely perceived throughout Gambella as an informal demotion, but he retains his rank and the troops under his command have been implicated in continuing human rights abuses in the Abobo area since his transfer.179 
Federal and regional authorities have not compensated the massacre's victims.  Soldiers and highlander civilians were ordered to rebuild many of the destroyed homes in Anuak neighborhoods in the weeks following the massacre, but they did such a poor job of constructing them that most of the houses were uninhabitable from the moment they were built.180  At the time of Human Rights Watch's research mission, these houses could be seen scattered throughout Anuak neighborhoods in Gambella town.  Most were overgrown with weeds and many of their walls and roofs had collapsed.  None of the houses were inhabited.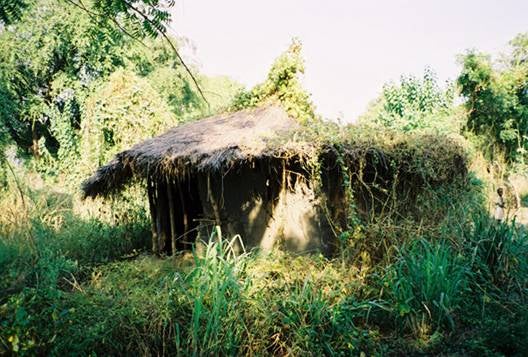 This house in Gambella town's Omminingah neighborhood was rebuilt by soldiers and highlander townspeople
after they razed the neighborhood during the December 2003 massacre.
The house was so poorly constructed that no family was willing to live in it, and its roof quickly collapsed.
Similar houses are scattered throughout Gambella town.
© 2004 Human Rights Watch
The Ethiopian Government has not publicly admitted that ENDF forces could have been involved in or committed serious human rights violations in Gambella since December 2003 and has taken no effective steps to halt those abuses or hold perpetrators accountable.  No explanation has been offered even for the highly visible attacks that have destroyed entire Anuak villages and neighborhoods.
Witnesses and victims from several Anuak communities told Human Rights Watch that ENDF officers usually responded to complaints of abuse dismissively or even angrily.  One officer in particular, CaptainAmare, has convened several meetings with Anuak community leaders over the past year, only to tell them that they themselves are to blame for ENDF attacks on their villages.181  He has routinely accused those present at these meetings of sheltering Anuak shifta and explains military attacks on their villages as a necessary response to the villagers' own complicity in attacks on highlander civilians.  Amare was stationed in Abobo when ENDF forces under his command burned the village of Okuna Pino to the ground in March or April 2004.  Shortly after the attack, Amare went to the village and gathered community leaders for a meeting.  One man who was present at that meeting recalled:
The military came and called the elders in the village.  They said, "Now it is peaceful and the people [who fled] have to come back."  They mentioned nothing about the burning—they said, "What happened is already past and we have to talk about how to live together now."  Nobody dared to ask them about the burning.  Captain Amare was there.  He was telling us, "Why do you people run to the bush whenever you see us—are you not Ethiopians, and are we not Ethiopian soldiers?  So why are you running unless you are the enemy?"  No one really could respond because he has to talk and talk and so people come only for listening.182
Captain Amare is currently in command of the garrison in Illea, near the town of Itang, where he has adopted a similar style of leadership.  When a delegation of farmers from a nearby village came to him to complain about a series of rapes that soldiers had committed in their village in November 2004, Amare accused them of being liars and sent them away.  One of the men present said that after that meeting, "the farmers decided not to report these things….We just keep quiet."183   
Major Tsegaye Beyene, a central figure in the December 2003 massacre who has never faced formal investigation or sanction, was in a position of command in Abobo as recently as January 2005.  One man from Abobo interviewed by Human Rights Watch attended a meeting called by Tsegaye in March or April 2004 where someone in the audience stood up to complain about abuses that ENDF soldiers had committed in his village.  Tsegaye's response was typical of statements he is reported to have made at several other such meetings:
He was saying that we are killing highlanders and that people from our villages are running to Pochalla [Sudan] and bringing back guns to ambush people with.  He said that we have to bring the people who ambush the cars to him and that if we do not it means that we are together with them.  He said that unless we expose these people they would continue to kill us.  We were saying that those who ran to Pochalla did so because they were afraid and not because they wanted to bring guns.  He did not accept this.  He said he knew that many of our young people are in the bush to ambush the government, but he said that we could bring nothing against him even if we all went to the bush to fight.184
Occasionally, ENDF officers profess their willingness to investigate abuses committed by the men under their command, but villagers interviewed by Human Rights Watch said that such assurances usually turn out to be disingenuous.  In May 2004, a delegation from a village near Chentoa went to the commanding officer of the garrison in Pochalla to report a gang rape committed by soldiers under his command.  The officer said that he would punish the men responsible if the victim could identify them.  When the delegation returned the next day they brought the victim with them and the officer lined up a group of soldiers in front of her, but the men who raped her were not present.  When the victim said that the men who raped her were absent from the lineup, the officer scolded her for falsely accusing his men and sent her away.185 
Regional government and police officials have been no more responsive to complaints of abuse lodged against ENDF soldiers.  In each of several instances reported to Human Rights Watch, officials responded to such complaints by professing their own helplessness to act and urging those reporting the abuse to remain silent for the sake of their own safety.  In one case in December 2003, wereda officials from Pinyudo went out into the countryside to see the bodies of three men who had been killed by ENDF soldiers.  One of the villagers who had reported the crime to them recalled, "[The officials] were Anuak people, but they said, 'There is nothing we can do.  The soldiers can do what they will do and we have no power over them.'"186 More recently, in November 2004 a delegation from an Anuak village in Gilo wereda reported the murder of three young men by ENDF soldiers to wereda officials.  One member of that delegation recalled that the official they spoke with told them, "Go, and if the body is not yet buried, bury it and keep quiet.  There is nothing we can do about this problem."187  
In the face of such obstacles, many Anuak civilians interviewed by Human Rights Watch said that they no longer made any attempt to report crimes committed by soldiers in their communities.  One man whose two sons were shot and killed by ENDF soldiers in front of his eyes during the December 2003 attack on Pinyudo said that he had never tried to report the killing.  "It is not easy," he said.  "If you report such things you will be asked who killed them.  It is difficult for me to say, 'you did' if I am talking to the military or even to say 'soldiers' if I am talking to the police.  So I kept quiet."  Human Rights Watch heard of only one occasion where ENDF soldiers were arrested and jailed for committing abuses against Anuak civilians after the December massacre.188
In January 2005, a high-level government delegation including the deputy prime minister and the ministers of federal affairs, information, education, agriculture, water resources and health visited Gambella to discuss the region's problems with community leaders.  However, some of the people invited to meet with those officials told Human Rights Watch that Anuak community leaders were not given the opportunity to express their opinions about Gambella's problems.   The delegation ultimately announced that they intended to solve Gambella's security problems by sending in more ENDF soldiers to combat the "anti-peace" elements responsible for ambushes along the region's roads.189
Federal authorities have tapped Omot Obang Olom, chief of security in Gambella, as their choice for regional president in the May 2005 elections.  Omot Obang is an Anuak but has taken an exceptionally hard-line approach to stamping out the threat to regional security posed by Anuak shifta.190  In each of several meetings with prominent members of Gambella's Anuak community in 2004, he has responded to complaints of human rights abuses committed by ENDF forces with threats of further violence.  Individuals who attended many of these meetings told Human Rights Watch that he often accuses those present of collaborating with Anuak shifta and asserts that they have no right to ask that violence against Anuak communities come to an end as long as they remain disloyal to the government.191  One reliable source recalled that at one meeting in late January 2004, Omot Obang told the assembled crowd that they had to choose between "do[ing] what the government orders" and going into the bush to fight.  If they chose the latter, "he said that the government has enough force to wipe us all out.  He said that they have thousands and thousands of soldiers throughout Ethiopia and that they could even destroy the forests we hide in if they need to."192
---
[170] "Ethiopia Accuses Rebels of Inciting Killings," Reuters, December 17, 2003.  Itihad al Islamiya is an insurgent group operating primarily in the Somali region of Ethiopia that is accused of having ties to international terrorist groups.
[171] Human Rights Watch interview with witness #32, Gambella, late 2004.
[172] Human Rights Watch interview with witness #2, Ruiru, Kenya, late 2004.
[173] Human Rights Watch interview with witnesses #12 and 52, Gambella, late 2004.
[174] Commission of Inquiry Final Report.
[175] Human Rights Watch interviews with Anuak sources and regional officials, Gambella, late 2004; Human Rights Watch interview with federal government official, Addis Ababa, late 2004.
[176] Exchange News Network, "Ethiopia: Eight Suspects Detained Over Gambella Violence," January 16, 2005,  [online] http://www.ennmedia.com/ennlive.php?subaction=showfull&id=1106002233&archive=&start_from=&ucat=& (retrieved February 7, 2005).
[177] Ibid.
[178] Human Rights Watch interviews with Anuak sources and federal official, Gambella and Addis Ababa, late 2004.
[179] Troops under Tsegaye's command have committed human rights abuses in Abobo town and Okuna kebele. See supra, Abuses Committed by the Ethiopian Military Against Anuak Civilians in 2004.
[180] Human Rights Watch interviews with regional officials and witnesses #61 and 63, Gambella, late 2004.
[181] Human Rights Watch interviews with witnesses #35, 39 and 45, Gambella, late 2004.
[182] Human Rights Watch interview with witness #39, Gambella, late 2004.
[183] Human Rights Watch interview with witness #62, Gambella, late 2004.
[184] Human Rights Watch interview with witness #37, Gambella, late 2004.
[185] Human Rights Watch interview with witness #56, Gambella, late 2004.
[186] Human Rights Watch interview with witness #38, Gambella, late 2004.
[187] Human Rights Watch interview with witness #59, Gambella, late 2004.
[188] In that particularly egregious case in October 2004, two soldiers dragged two women from their homes in the middle of a densely populated neighborhood in Pinyudo and raped them as horrified neighbors looked on helplessly.  Human Rights Watch interview with witness #35, Gambella, late 2004.
[189] Human Rights Watch telephone interview with Anuak source, Addis Ababa, January 27, 2005.
[190] Human Rights Watch interviews with Anuak sources and federal official, Gambella and Addis Ababa, late 2004.
[191] Human Rights Watch interviews with witnesses #12, 52, 59 and 63, Gambella and Ruiru, Kenya, late 2004.
[192] Human Rights Watch interview with witness #63, Gambella, late 2004.