<<previous | index | next>>
There are no human rights violations or rape. Darfur is one hundred percent Muslim.
—Al Haj Attar Al Mannan Idris, governor of South Darfur53
Regional government officials have far-reaching authority for security in their areas. This includes providing logistical and other support, such as arms, training, food and lodging, for militia, police, and other security forces in their area. Over the past two years many regional government officials have been implicated in crimes against humanity and war crimes, either through direct participation in abuses or as a matter of command responsibility for the forces under their effective authority.  As explored further below (Section VIII), none of these individuals have been investigated, disciplined or prosecuted for their role in the international crimes committed in Darfur.
A. Khartoum's Representatives: The Civilian Administrators
The walis (state governors) and mutamad (provincial commissioners) are the highest-ranking civilian representatives of the Sudanese government in the states and provinces of Darfur. They are not elected, but appointed by the national government. The walis are usually members of the ruling party, the National Congress (NC, formerly called the National Islamic Front, NIF).54 They may not necessarily come from the region or have administrative skills.
As with much of the Sudanese bureaucracy, even where a clear hierarchy exists, power often lies in the hands of trusted individuals close to the political leadership of the NC. Darfur exemplifies this pattern. As of May 2003, a select group of persons in the military and civilian hierarchies were responsible for implementing the Sudanese government's Darfur policy, many of them from allied nomadic tribes in Darfur or ruling party insiders who had previous experience in the region.  These individuals were placed in top posts in the region to coordinate the military/political policy of military defeat of the rebel groups through the security committees and army. They were the ones trusted to liaise with the tribal militias.
 The walis and mutamadplay an essential role in coordinating and implementing the security response in Darfur. The wali serves on the security committee of the state, with representatives of security, military intelligence, the police, and others. This committee decides how to enforce the emergency laws and regulations. They are usually responsible for arrests of higher-level persons accused of rebel collaboration and other political detainees.
The officials appointed to these positions were generally trusted insiders with ruling party credentials, military background, and either Darfur experience or affiliation. Many of these civilian officials are or were also former military officers directly appointed by the federal government in Khartoum, with strong links to the national military intelligence and security apparatus.
Putting trusted former military officers into the top civilian positions at state level has often been the policy of the current Sudanese government.55 For instance when the conflict ignited in Darfur, the governors of all three Darfur states in 2003 were retired officers from the armed forces directly appointed by President El Bashir.  The governors reportedly have direct reporting lines to the President.
The crucial role of the "civilian hierarchy"—the state governors, provincial commissioners, and locality directors—and their links to the Ministry of Interior were revealed in some detail in four government memoranda from 2003-2004, obtained by Human Rights Watch.56 These memoranda indicate that these officials were not just bystanders to events, but were pivotal figures in a chain of command that reached from the highest-level Sudanese leaders in Khartoum to the locality or sub-provincial level within each state, via these civilian officials. There are indications that at least in some cases these civilian officials also had hierarchical authority over the military commanders during military operations.
In addition to their role leading the security committees, the state governors and provincial commissioners had an important role coordinating local tribal leaders to recruit and supply militia activities. A November 22, 2003 letter from South Darfur governor Adam Hamid Musa to the commissioner of Nyala, Said Adam Jamaa, and the then-commissioner of Kass, Ahmed Angabo Ahmed, is entitled "Qardud Visit," a reference to a known militia training center and camp northeast of Kass town. The document elaborates on the November 18, 2003 visit by state Minister of the Interior Ahmed Haroun and Governor Musa to Qardud, South Darfur, and the follow up required in terms of providing development initiatives to the residents of the area. In the letter, the two commissioners were also commended for their "exceptional efforts against the transgressors," and requested to "prepare for the recruitment of three hundred knights for Khartoum."57
Three other memoranda obtained by Human Rights Watch also highlight the role of these civilian administrators and the way in which Sudanese government policy functioned in Darfur. Two of the memoranda are from Kutum province, one of North Darfur's five provinces.58 One is dated February 12, 2004, and is from the office of the commissioner of Kutum. It is marked "highly confidential" and addressed "To Those in Charge of Orientation and Mobilization Branch at Province Localities." It refers to President El Bashir's announcement three days earlier, on February 9, 2004, that the Sudanese government had won the war. President El Bashir had proclaimed that "military operations in Darfur have ended" and that humanitarian workers would receive "unfettered access to Darfur."59 The memorandum outlines a series of steps that officials in the localities are to undertake to guarantee that the "outlaw forces" do not reoccupy the areas from which they had withdrawn. One of the steps is "increase in border operation, and support of allied tribes, and providing them with enough military equipment to secure the areas." Another is "designing a plan for resettlement operations of nomads in places from which the outlaws withdrew, based upon field trips and evaluation operations."
The second memorandum, dated February 13, 2004, is from the director of El Waha locality (a special locality created for nomads),60 and appears to be a direct response to the February 12 memo from the Kutum commissioner's office.61  This document is addressed to "all security units in the locality," and it refers to the "directives of the Governor of the State and the Commissioner of the Province dealing with the effects of the rebellion and combating its elements among civilians." It specifically orders the security units to "allow [or permit] the activities of the mujahedeen and the volunteers under the command of Sheikh Musa Hilal to proceed in the area of Um Syala, Misserya and al Waha."
Another memorandum, this one from the office of then South Darfur Governor Adam Hamid Musa to the commissioner of Nyala, dated March 2, 2004, orders that a new security committee be established "with the objective of increasing the level of mobilization to ensure that the activities of the outlaws are not brought into the state and to safeguard stability and security." At the end, this document adds, "We also recommend you to swiftly deliver provisions and ammunition to the new camps to secure the southwestern part of the state."
Taken together, these memoranda demonstrate the deep involvement of senior government officials in the organization and activities of militia units: first, the essential role of the Khartoum-appointed civilian administrators played in decision making on security; second, the state apparatus used to convey policy decisions from central level in Khartoum to the lowest-level administrators in the localities; and third, the way in which liaison, recruitment, and arming of militias was coordinated by the state governors and provincial commissioners.  Such activities could only have been carried out with the cooperation of the Sudanese armed forces.
The government policy of arming militias continued well after clear evidence existed that they were responsible for massive abuses against civilians. Civilian administrators in Darfur such as the walis and the commissioners were fully knowledgeable about the atrocities taking place. In South Darfur, for instance, the top-ranking civilian administrative officials visited the sites of attacks and then took no action to prevent further abuses or punish the crimes that had been committed.62  Both former governor Adam Hamid Musa, and the current commissioner of Nyala, Said Adam Jamaa, visited the sites of villages that had been attacked by the militias, and Adam Hamid Musa promised village leaders to provide military protection to the area (which never arrived).63
B. Wadi Saleh: Perpetrators of the March 2004 Executions
One of the worst single atrocities documented in West Darfur was the mass executions of several hundred men over a few days in early March 2004, in Wadi Saleh. High-level government officials were present in Wadi Saleh at the time, including the commissioners of Mukjar and Garsila, the administrative capitals of the Mukjar and Wadi Saleh provinces in West Darfur, respectively. They are El Tayib Abdallah Torshain, then commissioner of Mukjar, and Ja'afar Abdul el Hakh, commissioner of Garsila at the time. The responsibility for security decisions and policies lies directly with the governor and, in Wadi Saleh, with the commissioners, who collaborated in a triangular network with the military and the Janjaweed.
Numerous eyewitnesses who knew him before he became a militia leader and identified him as leader of the attacks, described Janjaweed militia leader "Ali Kosheib" as the principal coordinator of the Janajweed militias in the Wadi Saleh area. "Ali Kosheib" is apparently the nom de guerre of Ali Mohammed Ali, an ex-army soldier based in Garsila, where he liaised with the commissioner, Ja'afar Abdul el Hakh, and with military and police personnel, in conducting the joint government-militia "ethnic cleansing"  operations and the mass executions of March 2004. The government gave Ali Kosheib a Thuraya satellite phone and a vehicle, with which he led the campaign throughout Wadi Saleh from August 2003 through March 2004.64
Ali Kosheib, with government support through the Popular Defense Force commander of Garsila, Hassa Balla [possibly a pseudonym], and the collusion of local officials, is alleged to be responsible for the execution of scores of men around Mukjar, Garsila, and Deleig in February and March 2004. Most of the victims were first detained in police or military custody, then transferred to trucks and military cars and transported out of the towns by the militias and government soldiers.65 According to several individuals who survived, the men were lined up and systematically shot by the militia men and soldiers then buried in mass graves in the area. Some of these mass graves have been identified in 2005.
At the time of the February-March 2004 attacks and executions, the army in Mukjar was reportedly commanded by Gen. Abdallah Hamadan, a Misseriya commander from South Kordofan.66 The army fully supported the militia operations, as did the highest ranking government officials in the region.  According to a source who saw the documents, memoranda from the army documented the transfer of weapons and other supplies from the military to the militias in Wadi Saleh.67
In mid-2003, the SLA had established a presence in the Sindu Hills on the eastern edge of Wadi Saleh, adjacent to South Darfur and south of Jebel Marra.68 The SLA was also present in some of the small villages to the west of Garsila.69 In August 2003, following attacks by the SLA on police stations in Mukjar and Bindisi, high-level government officials from Khartoum visited Wadi Saleh.  Residents say that these officials held meetings with the commissioners and other local regional officials and military commanders in both Mukjar and Garsila.70  Recruitment of militia members is believed to have started in this period.
The first systematic government-militia offensive in the Wadi Saleh area began with attacks on villages around Mukjar and Bindisi in August 2003. Ahmed Haroun, the state minister of the interior from Khartoum, exhorted the Janjaweed and army in a speech to "kill the Fur" according to a resident of Mukjar who heard the speech. The resident told Human Rights Watch that State Minister Haroun "came to Mukjar by plane on August 20, 2003, to discuss and to give a speech to the Janjaweed and the army. He asked them to kill the Fur because the Fur had joined the rebellion. Therefore the Janjaweed and the army had to kill the Fur and loot their property.  He gave the speech in front of a big gathering, talking through loudspeakers, so we all could hear it."71
The government military offensive in Darfur escalated in January 2004, following President El Bashir's announcement of a renewed effort to "annihilate" the rebels. According to local residents in Garsila, the Sudanese minister of defense, Bakri Hassan Salih, visited the town on January 1, 2004. People from Garsila interviewed by a journalist recounted how the minister had a meeting in the barracks with Arab militias, during which he distributed arms and matches to burn down the African villages.72
In January and February 2004, Sudanese government forces and militias launched sweeping attacks on civilians in West Darfur simultaneously with their attacks on SLA-vacated areas of North Darfur.  Some of the areas were hit again and again, such as the Masalit villages around Geneina. In February joint government and militia forces attacked the SLA in the Sindu Hills, on the way attacking and burning dozens of Fur villages around Mukjar and east and west of Garsila. 
In a simultaneous offensive on the western side of the state, on February 6, 2004, government forces and Janjaweed began attacking villages around Mornei town (including Sildi, Nouri, Tunfouka, and Dereissa). A resident of Mornei at the time of the attacks described this methodical onslaught on the civilian victims:
On February 6, the bombing started around Mornei. With the arrival of the Janjaweed the burning started. By February 12, there were forty-five thousand displaced and by February 25, there were sixty thousand displaced [in Mornei]. At least one hundred wounded, mainly from bullet wounds, and mainly women and children of varied age, arrived in Mornei. The Sudanese government and Janjaweed militias started in the north.… During one ten-day period there was bombing every night. We could see the columns of smoke rising outside Mornei. There were special army and police forces in Mornei, from Khartoum. They would go out on mission every day and come back. Helicopters came and took the wounded Janjaweed away from Mornei.73
During the attacks in the Wadi Saleh and Mornei areas many civilians found in the villages were tortured and others were killed. A seventy-five-year old trader from Arwalla told Human Rights Watch that he stayed in his village after everyone else was gone. "Fleeing is shameful and I am a Muslim who has been in Mecca," he said. When the Janjaweed militia arrived, they were screaming "Nuba, abid" he said. The Janjaweed mutilated him and left him for dead.
The Janjaweed came to my house and asked me why I was not gone like the others. I said I had been in Mecca and I could not flee from a person. Then they shot me on my back. I fell. Then they cut my skin on the top of my head and my ears. Then they picked me up and threw me into the fire. They looted everything, the market, everything. They were very numerous, as numerous as ants.74
People displaced from the destroyed rural villages around Sindu tried to escape these attacks and flee to the towns, hoping for some refuge in urban areas where they might find safety in numbers and access to services. However, many of the displaced fleeing the February attacks were refused entry to Garsila and were unable to reach other towns because of the presence of groups of Janjaweed on the roads.75 Groups of armed militia men stationed on the outskirts threatened those who tried to enter the town and forced them to move in other directions.76  It appears that many of the displaced people were specifically moved to Deleig, where the men were then rounded up and later executed.77
A thirty-year-old woman from Zarey described the organized manner in which the villages were attacked and the men were separated from the women in preparation for the men's execution. The militia members told the women that the men would be transferred to Deleig. In Deleig, the women found dead bodies.
The Janjaweed and government [soldiers] divided in three groups, and each group had a different task. The first group took every man between the age of eighteen and forty. They put them on trucks. Another group was looting the huts and the last group took the cattle. The women were able to run away. The Janjaweed told the women that they would bring the men to Deleig. When the women arrived in Deleig [twelve days later], there were dead bodies lying on the ground in the streets. Some men had been taken in the mountains and murdered in groups. Some others disappeared.78
Once the villages were emptied, the regional commissioners tried to control the movement of the displaced civilians by posting groups of militia along the main roads. While he was commissioner of Garsila, Ja'afar el Hakh refused to allow displaced people to move and seek refuge in certain towns, apparently as part of a policy of controlling the concentrations of displaced persons in select locations and under certain conditions. For instance, when displaced people fled Garsila and Deleig after the March executions and then tried to proceed to Nyala by truck, they were refused entry to Nyala: apparently on the orders of Ja'afar el Hakh; most of these displaced people returned to Zalingei.79  The rationale for this may have been that the authorities did not want witnesses of the atrocities in and around Nyala, where there was a larger international presence and therefore more foreign observers, journalists, and aid workers who might hear about the abuses.
A policy of forcing displaced persons to remain in specific locations was also followed in South Darfur in the same period. The then-commissioner of Kass, Ahmed Angabo Ahmed, also allegedly issued orders for displaced persons in Kailek to be confined to that area and not permitted to travel to Nyala. For weeks he also refused to permit humanitarian agencies to enter Kailek, despite the mounting humanitarian crisis there.80 International humanitarian law requires that in cases of displacement, states must take all possible measures to ensure that displaced persons receive satisfactory conditions of shelter, hygiene, health, safety, and nutrition and that members of the same family are not separated81 Parties to a conflict must also allow and facilitate rapid and unimpeded passage of impartial humanitarian relief for civilians in need.82
A twenty-seven-year-old Fur man from Arwalla was among the scores of displaced men who were arrested in the first days of March 2004, and identified Ali Kosheib, who attended the transfer of these jailed men to Garsila:
There were many in jail. I saw many people being taken out and we knew for sure they were going to be executed. My uncle was killed, brother of my father. One Friday they took all the prisoners in Deleig east of the market. They forced us to lie down and started walking over our bodies…. I was taken to Garsila…. Ali Kosheib was with me during the trip. They beat us and insulted us, "You slaves, this is not your country."83
Another eyewitness who identified Ali Kosheib during the August 15, 2003 attack on Bindisi said, "During the attack he was screaming 'Nuba, Nuba, you are monarada [opposition], you are all slaves."84 Yet another eyewitness who was in Arwalla when it was attacked identified Ali Kosheib as a leader of the attack: "Ali Kosheib was there, I saw him. [He] has animals in Garsila, I know him from before.… He was in a vehicle and gave orders."85 Witnesses from Tanako, a large village west of Deleig, also described Ali Kosheib as present during the March 2004 attack on Tanako.86
In Mukjar, a similar scenario unfolded as in Deleig. "The Janjaweed and government were attacking [in Sindu] during three days," said one displaced witness who was living in Mukjar in February 2004. "Then they returned and hell began."87 According to a thirty-eight-year-old Fur man, 154 people were arrested in the last days of February in Mukjar alone. Many were arrested by the police and told they were being taken to Garsila, according to several witnesses. Dozens were loaded into trucks and then taken a few kilometers away from Mukjar, where they were executed. "They forced them to lie down and [they were] shot. I know he [Ali Kosheib] killed almost all of them because I saw the five victims who arrived wounded in Mukjar; three died two days later."88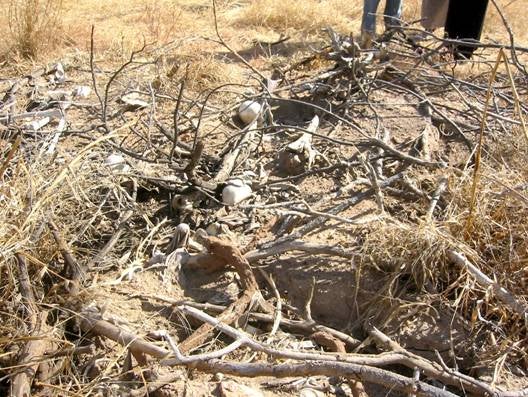 Mass grave possibly containing victims of the March 2004 executions around Mukjar. © 2004 Private
As of early 2005, Ali Kosheib was still based in Garsila, but his current location is unknown (as is the current location of Hassa Balla).
Ja'afar Abdul El Hakh was the provincial commissioner of Garsila from 2003 through March 2004, and as such had overall responsibility in Garsila (and Wadi Saleh province) as the highest-ranking local official during the March 2004 mass executions in Deleig and Garsila.  He appears to have had a direct role planning and coordinating the operation, and was identified as participating in at least one attack. A thirty-six-year-old Fur civilian from Tanako described El Hakh's role in arming the militias (Tanako, which was believed to have an SLA presence, was repeatedly attacked, including in early March 2004). He identified El Hakh as the man who gave a speech in Garsila, blaming the Zaghawa, Fur and Masalit as "rebels" and threatening to execute anyone who joined the rebellion. He told Human Rights Watch: 
[El Hakh] is the one who distributed the weapons. He gave a big speech in Garsila and organized a party in Garsila in September 2003. He said, "Zaghawa, Fur and Masalit have become rebels. We will burn everything down and only leave behind the trees. They can destroy all Darfur and even if there is only one soldier left, he will fight against America. This is now jihad." He called everybody by speakers on a vehicle to gather in order to listen to his speech. Since that day the situation changed completely. He said, "If you join the rebellion we will execute you." That very day he gave weapons to four thousand. Then the coupeurs de route [literally road-cutters, meaning bandits] and pillage started. Even in town there were murders. The weapons came to Nyala by plane and then by military vehicles: Kalashnikovs [AK-47 assault rifles] . . . machine guns for vehicles, Mengistus [M-14 rifles], G-3s etc.89
Commissioner El Hakh also may have directly participated in some of the attacks on villages around Garsila. A resident of Arwalla told Human Rights Watch, "In Arwalla the [man] responsible was Ja'afar Abdul el Hakh. I know it because he said in front of everybody that we [the Fur] had to leave that year. He said it was because we are against the government. He is Fur but he was involved [with the government]. I saw him during the attack on Arwalla. He was ahead of the forces. Hamdi and Ali Kosheib gave him orders.90
In late March 2004, El Hakh was transferred to Geneina as the minister for health for West Darfur state. In October 2005, he was promoted to be the governor of West Darfur state. 
El Tayib Abdallah Torshain, then provincial commissioner of Mukjar, is a former army officer. He is also believed to have played a pivotal role in supervising and coordinating the government's policies on both security and specifically on recruitment, arming, and use of the militia forces. He may also have played a more direct role: a man who was detained in Mukjar but managed to eventually flee the area, told Human Rights Watch that he met Torshain in prison, where he was personally threatened by the commissioner.91 
El Tayib Abdallah Torshain certainly knew about the executions and did nothing to prevent the crimes or punish the perpetrators.  The brother of a man who was executed, along with twenty-eight other men, just outside Mukjar in March, told Human Rights Watch that after he learned that his brother's body was lying near the airstrip, he met with the commissioner and the head of police in Mukjar and asked for permission to go and retrieve his brother's body. He said, "the commissioner of Mukjar was present but he said nothing. The police said…they would get back to me but until now there is nothing. Aside from the police, there is no other option—no court—even the commissioner is with them [those who executed his brother.]"92
According to residents of Mukjar, El Tayib Abdallah Torshain left Mukjar for Khartoum in January 2005, after the report of the International Commission of Inquiry was published, perhaps fearing his name would be among those on the sealed list of fifty-one individuals identified as bearing responsibility for the crimes. In March 2005, he apparently returned to Mukjar, where he remained commissioner until October 2005, when the entire administration of West Darfur was replaced.
---
[53] Human Rights Watch interview with Governor Al Haj Attar Al Mannan Idris, Nyala, South Darfur, October 9, 2004.
[54] The ruling party came to power through a military-Islamist coup in 1989 and, until the Comprehensive Peace Agreement (CPA) was signed on January 9, 2005, with the southern rebels, was the sole party in government. It purged secular members of the civil service and judiciary and banned unions and political parties, only lifting that ban years later, after it created its own parallel organizations in an attempt to control civil society. Security organizations proliferated, as did Islamist militias formed under party inspiration. The NC is now in control of 52 percent of the national assembly and the executive branch of the national government.
[55] The military has had a large role in Sudanese political life since independence in 1956. In 1958 General Aboud overthrew the elected president and ruled until he was overthrown by a civilian uprising in 1964. The next elected president was overthrown by Col. Ja'afar Nimeiri, who ruled until another civilian uprising in 1985. The next elected government was overthrown by the military-Islamist junta that is still in power.
[56] See "Darfur Documents Confirm Government Policy of Militia Support," A Human Rights Watch Briefing Paper, July 20, 2004. Human Rights Watch has not published the full text of the documents due to concerns for the security of those individuals who helped obtain them.
[57] Ibid.
[58] The five provinces are Kutum, Kebkabiya, El Fashir, Mellit and Um Keddada. Each province is subdivided into localities or mahaliyas. For instance, Kutum province has two localities.
[59] "Sudan: Rebels Dismiss President's Claim of Victory in Darfur," IRIN, February 10, 2004, and "UN Hails Sudan's Agreement to Let Aid Workers in Troubled Darfur Region," UN News Centre, February 10, 2004 at http://www.cpmtsudan.org/news_archive/2004_archive/February/10Feb.htm
[60] Al Waha locality apparently includes areas in both North and South Darfur. Human Rights Watch interviews, April 2005.
[61] An April 7, 2005 report from the United Nations noted "The local radio station in El Fasher announced that in a meeting with tribal leaders on 4 Apr., the Commissioner of El-Waha locality in El Fasher (a locality of nomadic tribes in North and part of South Darfur) rejected Security Council Resolution 1593, and proclaimed that El-Waha will be the Falluja of Sudan if any of its people are taken to the ICC." United Nations Sudan Situation Report, April 7, 2005, at http://www.humanitarianinfo.org/darfur/uploads/situation/unsitreps/2005/april/02.%20Sit%20Rep%20for%2007%20Apr%2005.doc
[62] Human Rights Watch interviews with displaced people in Kalma and other camps in South Darfur, October 2004 and interviews in displaced camps in July 2005.
[63] Human Rights Watch interview, Mershing, South Darfur, July 2005
[64] Human Rights Watch interviews Mukjar and Garsila, October 2004 and refugee camps, Chad, July 2005.
[65]  See Targeting the Fur: Mass Killings in Darfur," A Human Rights Watch Briefing Paper, January 24, 2005.
[66] Human Rights Watch interview, refugee camp, Chad, June 27, 2005. The Misseriya are Arab cattle herders living in Kordofan, with some members also in South Darfur.
[67] E-mail communication to Human Rights Watch from an international observer, June 8, 2005.
[68] For background on the events in Wadi Saleh, see "Targeting the Fur," Human Rights Watch, January 2005.
[69] Civilians in the town of Zalingei reported that there were rebels in Dereissa, for instance. Human Rights Watch interview, Zalingei, West Darfur, October 18, 2004.
[70] Human Rights Watch interviews, Garsila and Mukjar, October 2004, and in refugee camps, Chad, July 2005.
[71] Human Rights Watch interview, refugee camp, Chad, June 27, 2005.
[72] Koert Lindijer, "Inschakeling Strafhof geeft hoop aan ontheemden in Darfur," [ICC gives displaced people hope in Darfur] NRC Handelsblad, The Netherlands, April 9, 2005.
[73] Human Rights Watch interview, Bahai, Chad, June 4, 2004.
[74] Human Rights Watch interview, refugee camp, Chad, June 27, 2005. The scars were visible on this man's body and head.
[75]Interviews with internally displaced women from Wadi Saleh, June 2004.
[76]Ibid.
[77] Human Rights Watch, "Targeting the Fur."
[78] Interviews with internally displaced women from Wadi Saleh, June 2004.
[79] Interviews with internally displaced women from Wadi Saleh, April 2004.
[80] "United Nations Inter-Agency Fact Finding and Rapid Assessment Mission: Kailek town, South Darfur," April 25, 2004, p.4.
[81] See ICRC, Customary International Humanitarian Law, rule 131, citing Protocol II, articles 17(1) & 4(3)(b).
[82] Ibid., rule 55, citing Protocol II, article 18(2).
[83] Human Rights Watch interview, refugee camp, Chad, June 27, 2005.
[84] Human Rights Watch interview, refugee camp, Chad, June 27, 2005.
[85] Human Rights Watch interview, refugee camp, Chad, June 27, 2005
[86] Human Rights Watch interview, refugee camp, Chad, June 28, 2005.
[87] Human Rights Watch interview, refugee camp, Chad, June 27, 2005.
[88] Human Rights Watch interview, refugee camp, Chad, June 27, 2005.
[89] Human Rights Watch interview, refugee camp, Chad, June 28, 2005.
[90] Human Rights Watch interview, refugee camp, Chad, June 27, 2005.
[91] Human Rights Watch interview, refugee camp, Chad, June 27, 2005.
[92] Human Rights Watch interview, Mukjar, West Darfur, October 17, 2004.