<<previous | index | next>>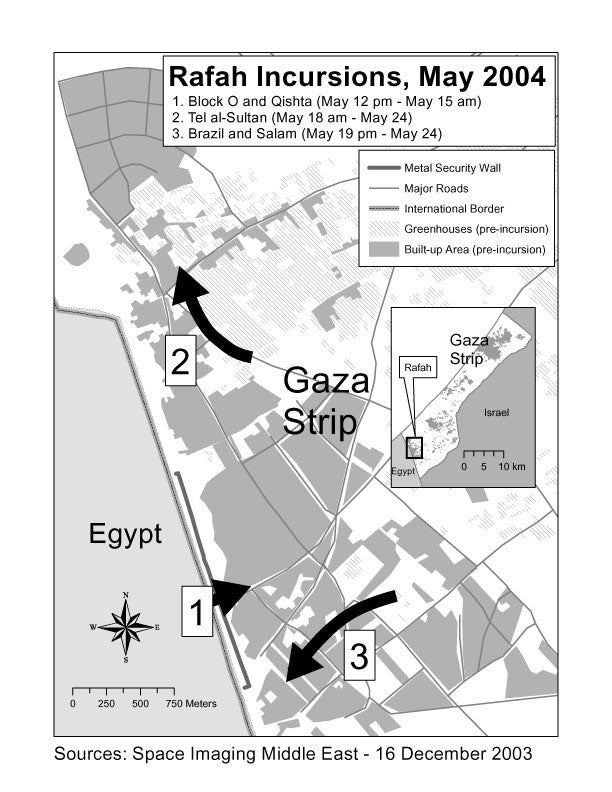 Download pdf version of Map 5 (82 Kb)
Shortly after the APC was destroyed in Rafah, IDF troops entered the buffer zone to collect the soldiers' remains.  Within hours, tanks, Caterpillar D9s, and helicopters moved against Block O on the evening of May 12, firing shells and missiles as residents fled.  Rafah residents interviewed by Human Rights Watch saw small groups of armed fighters approaching Block O as they fled.  The flight of the civilians under IDF fire, leaving few eyewitnesses, makes a detailed assessment of the nature and extent of hostilities in Block O difficult.  The IDF insists that soldiers engaged in the recovery operation came under constant fire from the area.  While there were hostilities in Block O, the nature and extent of the destruction suggest that bulldozing was indiscriminate and excessive.  The IDF demolished several rows of houses in Block O, including homes that had been separated from the buffer zone by several others.  As nearly all of the housing in this area had been composed of one-story houses and were located on level ground, it is unlikely these homes could have been used to fire at the APC or the recovery teams.
On the second day of the incursion, Israeli forces moved into Qishta, a neighborhood next to Rafah, also facing the border, and spent one day methodically bulldozing shops and small houses, while commandeering taller buildings as sniper outposts.  Many residents did not expect an incursion there and were still at home, as Qishta has experienced relatively few demolitions.  Eyewitnesses insisted that Palestinian fighters were not operating in the area, and Human Rights Watch researchers found no evidence of battle damage on the sides of remaining buildings that did not face the border.  The IDF also destroyed homes that were several rows from the buffer zone; some homes were demolished even though their view to the buffer zone was obstructed by taller buildings that are still standing.  Two Israeli soldiers were killed in Qishta and two more wounded late in the operation, but they were apparently shot by snipers stationed outside of Qishta.
By the time the IDF left Block O and Qishta on the morning of May 15, it had demolished at least eighty-eight houses.183  During the two-day incursion, fifteen Palestinians, one of whom was under fifteen years old, were killed, mostly by helicopter-launched missiles in other parts of Rafah; according to press reports, six of the dead were armed fighters.184
As the IDF tore away the edges of Block O and Qishta, high-level Israeli officials approved plans to widen the buffer zone by demolishing "dozens or perhaps hundreds" of homes (see previous chapter).185  After an outbreak of international criticism, the government decided not to implement the plan immediately but continued to prepare for a large-scale assault on Rafah.  The main stated aim of the operation then became the destruction of smugglers' tunnels.
On May 17, the IDF launched "Operation Rainbow," the first division-level offensive in the Gaza Strip during the current uprising.  It primarily targeted two areas: Tel al-Sultan, on the northwest outskirts of Rafah; and the Brazil and Salam neighborhoods, in eastern Rafah, closer to the border.  To the surprise of many residents and members of armed organizations interviewed by Human Rights Watch, the IDF did not enter the densely populated center of Rafah, including areas such as Shabura and Yibna, where armed organizations had concentrated fighters and prepared roadside bombs.
Both Tel al-Sultan and Brazil are housing projects built in the 1970s to resettle Palestinian refugees who were displaced, many for the second time, by house demolitions in Rafah.  In 1971, the IDF Southern Command, then led by General Ariel Sharon, demolished several hundred houses to widen roads in the center of Rafah to increase the IDF's control in the camps.186  The widened streets in Rafah became known euphemistically as "Sharon Boulevards."  Tel al-Sultan and Brazil were consequently designed by Israeli authorities with these concerns in mind, including wider streets to facilitate vehicular access.187  According to one architect's analysis of Tel al-Sultan written before the current uprising (and which could be applied to Brazil as well):
... lessons learned from the 'Iron Fist' policy of suppressing Palestinian resistance and the thinning out of the refugee camps have been integrated into the planning of Tel al-Sultan. The street grid of Tel al-Sultan is based on the 'Sharon Streets' of the early 1970s: the wide perimeter road and the single transverse road allow for easy access for military vehicles. From these main roads, there is no single blind alley. All the secondary streets and alleys are oriented towards the primary access roads, allowing for clear lines of [sic] site from the main roads to anywhere in the camp. A military patrol can effectively bring the community under complete control without setting foot in it.188
Based on observation by Human Rights Watch researchers, who covered the areas on foot, and on satellite imagery, the average width of the streets in these areas was ten meters, with additional space on either side.  A Merkava tank is 3.72 meters wide; a Caterpillar D9 armored bulldozer is 4.58 meters wide without armor.  Wide roads also restrict the mobility of fighters by depriving them of adequate cover and complicating the laying of explosive devices.  The width of the roads also contradicts a reason given by senior IDF officers for the destruction in the camp, namely that the streets were too narrow for use by armored vehicles.189
In Brazil, the IDF bulldozed paths through houses.  An IDF officer confirmed to Human Rights Watch that Israeli forces inside Brazil followed a general directive to avoid roads – even those wide enough to accommodate armored vehicles – as much as possible, irrespective of whether a particular area was believed to be rigged with explosives or not. 
According to a list of 290 houses destroyed in Rafah in May 2004 prepared by PCHR, at least ninety percent were one-story dwellings.  Unlike in Block O, Brazil is an area where single and multi-story housing is largely mixed; yet there is no reason to presume why one-story buildings would be more likely to conceal tunnel exits or would be more likely to be used by Palestinian attackers.  Numerous Rafah residents expressed the belief that one-story structures were demolished simply because they were easier to destroy.
Box 3
Destruction in Rafah: Shifting Justifications
Israeli officials gave different reasons for the assault on Rafah after the death of five soldiers in the Philadelphi corridor on May 12.  As the operation continued and international criticism mounted, the justifications for demolition evolved from the broadly strategic to the narrowly tactical, relying on claims that became increasingly difficult to confirm.
On May 13, the day after the incident, Prime Minister Ariel Sharon, Defense Minister Shaul Mofaz, and other top officials reportedly approved a plan to widen the Philadelphi  corridor by destroying "dozens or perhaps hundreds" of homes.190  At the same time, the IDF was in the midst of demolishing homes in Block O, effectively contributing to such an outcome.
When the plan was reported in the Israeli media the next day, international criticism began to mount.  U.N. Secretary-General Kofi Annan "strongly condemn[ed]" the widespread destruction of homes in the Gaza Strip.191  Speaking for the E.U. Presidency, Irish Foreign Minister Brian Cowen called upon Israel to "immediately" halt demolitions in Rafah.192  Two days later, during a brief respite in demolitions, U.S. Secretary of State Colin Powell voiced opposition to the "wholesale bulldozing of houses" in Rafah: "We know Israel has a right for self-defense, but the kind of actions that they're taking in Rafah with the destruction of Palestinian homes, we oppose."193
On May 17, the IDF launched a major operation aimed at Rafah ("Operation Rainbow") but the goal of widening the Philadelphi corridor was replaced in public statements with a combination of objectives: Finding and destroying smuggling tunnels, targeting "terrorists," and securing the Philadelphi road.  The last of these objectives was still vague enough to include widening of the buffer zone through house demolitions.194
As the operation started, Israeli officials added another, more urgent reason.  On May 18, IDF Chief of Staff Lieutenant-General Moshe "Bogey" Ya'alon told the Knesset Foreign Affairs and Defense Committee of arms shipments in the Sinai from Iran waiting to be smuggled through the tunnels into Gaza.195  Subsequent leaks to Israeli media mentioned anti-aircraft missiles and long-range rockets waiting to get in.  According to a press report based on one unnamed IDF source, the arms were brought into the Sinai by, among other means, tunnels underneath the Suez canal.196  Israeli Justice Minister Yosef "Tommy" Lapid said on May 20 that the Rafah operation was necessary to protect Israeli civilian airliners from anti-aircraft missiles that smugglers were attempting to bring into Rafah: "If this happens, God forbid, and airplanes are shot down, people will ask us why we didn't act to stop it."197
Israeli officials never explained what Egyptian authorities were doing about the alleged arms or what ultimately became of them, citing security concerns.  They have made no claims to have captured such weapons.  In conversations with Human Rights Watch, multiple foreign diplomats in Tel Aviv who were briefed about the alleged cache by the IDF treated the claim with skepticism.  A high-ranking Egyptian Ministry of Interior official interviewed by Human Rights Watch denied the existence of the shipment.198  An official with the Multinational Force and Observers (MFO) that monitors the Egypt-Israel border also had no knowledge of the alleged arms and said that neither state had asked the MFO to conduct a search.199  When asked for information about what became of the shipment, an IDF spokeswoman declined to provide further details to Human Rights Watch.200  Human Rights Watch did not find any further references to the shipment in public statements by Israeli officials
While few commentators in Israel questioned the need to combat smuggling tunnels, many saw the assault on Rafah as excessive, and mainly motivated by an IDF desire to appear strong in the event of "disengagement."  One veteran military analyst wrote:
The decision to undertake the operation 'came from the gut, not the head,' as army idiom puts it; and its goal was to show the Palestinians what will happen in the future if they continue to resort to violence after Israel pulls out of the Gaza Strip. … This was an operation undertaken by an angry army.  The blowing up of two IDF armored personnel carriers in the Gaza Strip infuriated the IDF General Staff.201
Damage to Israel's international image concerned even those who supported the operation in principle.  As one commentator said:
… the operation made us forget to some extent the feeling of failure and helplessness over the Palestinian RPG rocket attacks, and returned the initiative to the IDF.  … [but] in the world – which has already completely forgotten the attacks on the armored personnel carriers – the operation resulted in heavy public relations damage.  And in this case, the price was heavy because in addition to the fact that it required thousands of soldiers, the terrible pictures of the demolished houses in Rafah and their pitiful owners among the ruins touched many hearts in Israel as well, and made it clear to the IDF that its scope of legitimacy for drastic actions is limited.202
An editorial in the daily newspaper Yediot Ahronoth proclaimed: "In delicate language, this is 'searing the consciousness' in another phrase coined by the IDF … In slightly less polite language, this is revenge, pure and simple."203
After sealing Rafah from the rest of the Gaza Strip, Israeli forces seized control of Tel al-Sultan on May 18 and imposed a twenty-four hour curfew.  The IDF reportedly killed twenty Palestinians, fifteen of whom were civilians, and destroyed ten houses in Tel al-Sultan.  Israeli D9 bulldozers extensively tore up roads, causing severe damage to sewage and water networks.  Elsewhere in Rafah, IDF helicopters killed six Palestinians, including three armed men who were in Block P, adjacent to Block O and away from Tel al-Sultan.  All of the fighters were killed during the initial phase of the incursion.
On May 19, a group of several hundred Palestinians marched towards Tel al-Sultan from the center of Rafah, demonstrating against the incursion there.  Israeli tanks and helicopters opened fire on the crowd, killing nine people, includingthree people under age eighteen.  The IDF did not claim that its forces had come under fire, but did allege that there were gunmen in the crowd; Palestinian and foreign eyewitnesses disputed this (see Box 4 below).
Despite international condemnation of the killings at the protest, the Israeli incursions accelerated.  On the night of May 19, the IDF invaded Brazil from the north and east, cutting it off from the center of Rafah.  Israeli forces demolished extensively, often bulldozing paths through houses in order to avoid roads.  They also wiped away blocks of housing near the border, both in Brazil and Salam, ostensibly in the search for tunnels.  Many residents had only moments to leave their homes, or were inside their homes as demolitions began.  According to UNRWA, the IDF destroyed 154 houses in these two neighborhoods, leaving over 1,900 people homeless.  Four Palestinian civilians were reportedly killed, including a three-year-old girl shot near her home and a three-year-old boy who died of shock from a house demolition.  Four armed fighters were also killed by helicopter-launched missiles in the early hours of the incursion.  Another Palestinian civilian was reportedly shot near his house elsewhere in Rafah.  The IDF claimed to have found three smuggling tunnels, but later clarified that one was an incomplete shaft and another was outside of Rafah.
On the morning of May 21, the IDF pulled out of the centers of Tel al-Sultan and Brazil but maintained a tight cordon.  Demolitions continued in Brazil and Salam closer to the border while IDF D9s razed two large swathes of greenhouses outside Tel al-Sultan over one kilometer from the border.  The operation came to an end on May 24, as Israeli forces left the area.
In an overview briefing given to journalists at the close of the operation, the IDF made no specific references to armed resistance from Palestinians, instead generally claiming that "the terrorists where shooting from inside populated houses" and that forty "armed terrorists" had been killed – a figure which would have to assume that every adult male killed was a combatant, as well as at least four of the child fatalities.204  The IDF later told Human Rights Watch that "IDF forces faced attacks from the terrorist activists in the form of automatic weapons' fire from occupied and abandoned buildings and streets, grenade attacks, anti-tank fire and high-explosive devices," but was vague as to whether this description referred to the May 18-24 operations in Tel al-Sultan and Brazil only or included the May 12-15 incursion into Block O and Qishta as well.205
Based on extensive interviews with Rafah camp residents, members of armed organizations, and a review of IDF statements and media reporting, Human Rights Watch finds that armed resistance in Tel al-Sultan and Brazil was limited at best.  The IDF operated in areas where the urban layout presented the fewest risks and where they were least expected by Palestinians, including armed groups.  In the initial hours of the incursion, armed gunmen in these areas were quickly overwhelmed by helicopter gunships, tanks, and snipers as the IDF took control of targeted neighborhoods.  The IDF suffered no fatalities or injuries during the six days and did not respond to Human Rights Watch's verbal and written requests for figures on vehicles damaged or destroyed, incidents of armed confrontation, or IEDs encountered.206
By limiting the scope of the operation to the newer housing projects with their wider streets, the IDF largely circumvented most of the Palestinian fighters and was able to keep them at bay by controlling key access points.  This contrasts sharply with the April 2002 assault on Jenin refugee camp, in which the IDF attempted to fight its way through the densely populated heart of the camp, resulting in the death of fifty-two Palestinians, including twenty-seven confirmed civilians, and thirteen IDF soldiers and the leveling of the center of the camp.
Rafah residents and members of armed organizations consistently told Human Rights Watch that both the neighborhoods and routes chosen by the IDF were a surprise, and probably calculated to minimize confrontation with armed groups.  As one fighter from Islamic Jihad said:
Areas like Brazil and Tel al-Sultan are easy for the army to invade.  We're waiting for them to come to the center of the town in Yibna. … The places they invaded, it was very difficult for us to resist there.  Tel al-Sultan was closed off, so what could we do?  Brazil, too, we didn't expect.  And Brazil was sealed off so, in fact, the resistance had no successes [there].207
A member of the Popular Resistance Committees similarly told Human Rights Watch:
Tel al-Sultan was easy [for the Israeli army].  It is surrounded by settlements, it has wide streets, and it was easy to invade and control.  In Tel al-Sultan it was difficult for the resistance to do its work well. … [In Brazil] Some roads they chose were not anticipated.  The roads they took were not a threat to us.  This didn't affect us.208
Consistent with these claims, a thorough search of media reporting shows only two communiqués issued by Palestinian groups claiming responsibility for attacks on IDF forces in Rafah during the May 18-24 incursions: one for an explosive charge set off against an APC in Tel al-Sultan and another attack on a D9 in Jnayna neighborhood on May 20.209
The scarcity of evidence indicating combat in the public statements of the IDF and Palestinian armed groups contrasts sharply with the October 2003 IDF incursions into Rafah that left 198 homes demolished, also with no IDF fatalities.  Statements issued by the military wings of Hamas and Islamic Jihad at that time, although possibly exaggerated, claimed credit for six explosive charges against tanks and D9s, two shooting attacks on IDF troops, and an RPG strike on an Israeli APC.210  Similarly, an IDF press release on the October incursions reported that "During the operation, an exchange of fire erupted, in which two soldiers were lightly wounded.  Terrorists detonated dozens of explosives, hurled dozens of grenades, fired anti-tank missiles, and fired numerous times at IDF forces from buildings in the area.  IDF forces returned fire."211
Block O is one of the most densely populated areas of Rafah refugee camp, consisting mostly of overcrowded one-story concrete homes with asbestos roofs, separated by very narrow alleys.  Block O used to extend to within several meters of the edge of the Israeli patrol corridor but successive demolitions since 2000 have wiped away large portions of the neighborhood.
In little more than forty-eight hours from the evening of May 12 to the early morning of May 15, the IDF demolished approximately one hundred houses in the two areas.  In Block O, entire chunks of refugee dwellings were razed, widening the buffer zone.  In Qishta, the IDF razed one-story homes but left many of the taller buildings standing, leading many to believe that smaller homes were targeted because they were easier to bulldoze and not because of absolute military necessity.  The IDF also reportedly killed nine Palestinian civilians and six fighters in various parts of Rafah, many of them killed by missiles launched from helicopter gunships at Block O as well as other areas.
Human Rights Watch spoke to a number of residents who heard the explosion of the Israeli APC in Block O in the late afternoon on May 12.  The shock of the explosion soon gave way to fear of revenge.  Awad Seidam, who was still living with his family in the classroom of a local elementary school two months after the demolition, recalled the incident vividly:
We were sitting in our houses.  There was no shooting from either side before the explosion.  We are used to hearing tanks and APCs coming but everything was quiet this time. … A piece of the vehicle fell into my house, coming through the window. … In minutes, word had spread that an APC had been destroyed.  At that moment everyone knew revenge was coming.  I thought to myself, "They kill us without a reason anyway, so imagine how it will be this time."212
Israeli troops entered the buffer zone shortly after the explosion to recover body parts of the dead soldiers.  Having experienced multiple incursions, many Block O residents living near the buffer zone left immediately, leaving few eyewitnesses to the events that followed.  Those who lived in houses slightly further from the buffer zone stayed until the IDF began an assault on the area shortly after nightfall with tanks and helicopter gunships.
Sabreen Faramawi, whose home was separated from the demolished area by three rows of houses at the time, had several relatives who were injured by shrapnel from the approaching tanks and helicopters.
The shell from a tank hit one door [of our house just after we left].  I took nothing with me, not ID cards, not money, food, or anything. … We went back right after the withdrawal.  The house was completely destroyed. … I was shocked when I saw it.213
While local residents saw small groups of armed Palestinian fighters, usually with fewer than half a dozen men each, gathering in or near Block O, the extent to which these fighters attempted to engage Israeli forces is unclear.  Human Rights Watch spoke to two residents who, while fleeing the incursion, saw fighters gathering in small groups in Block O, though they did not see them fighting.  Even if there had been an organized Palestinian resistance, it is unrealistic to believe that gunmen were shooting from all or even most of the approximately seventy houses destroyed in Block O, especially those located several rows away from the edge of the destroyed area
By the second day of the operation, May 14, Israeli forces began demolishing houses in the Qishta neighborhood.  Located next to Block O to the east and also facing the border, Qishta is named for the extended clan that owns much of the area, and was composed of one-story houses with asbestos roofs and multistory dwellings.  The Qishta family is originally from Rafah, and consequently there are few refugees in the neighborhood.  The area had also experienced relatively few demolitions up until that point, and many residents remained in their homes during the incursion.
At approximately 4:00 a.m. on May 14, a group of Israeli soldiers seized control of a four-story building in Qishta.  Hamdia Qishta, her husband, and daughter were home at the time; her sons, who live on the other floors, were abroad, leaving the other apartments in the family-owned building empty:
First [the soldiers] broke the door down and then let dogs in without soldiers.  I saw dogs walking around.  They went out and came back again.  Then the soldiers came.  There were more than ten of them.  They asked "Who's around?"  "Just us three," we said.  They told us, "Okay, sit here."  I lost track of time.  I was afraid.  … They asked my husband to check the other rooms.  But he's sick, so I went to the soldiers instead.  I went up to the other floors and checked for them.  I showed them there was nothing and they said okay.
After finishing the search, the soldiers confined Ms. Qishta, her husband, and daughter to one room on the third floor and started knocking holes in the walls on the fourth floor for use by snipers.214
At dawn, Dr. Ihsan Qishta was on the roof of his home watching his brother-in-law Ashraf, aged thirty-seven, move furniture out of his house across the street, which had been partially demolished hours before.  Tanks had begun moving out of the area, and rumors were spreading that the incursion was over.  The interruption was only temporary, however, and residents soon realized that snipers had set up positions in Hamdia Qishta's home nearby.  As Ihsan Qishta explained:
I saw a soldier's arm and a sniper rifle [through an opening in the building].  The rifle fired three bullets, with fifteen seconds between each shot.  The bullet was not normal.  The whole top of [Ashraf's] head was taken off. … He was hit twice in the heart, once in the head.  I was yelling across the alley at my brother and they shot at me as well.215
Within hours, the remainder of Ashraf Qishta's house was bulldozed.  His body could not be evacuated until the IDF left the area twenty-four hours later.
Bulldozing continued in Qishta through May 14.  Nadia Sha'er saw five armored bulldozers and more than ten tanks in the area, destroying the homes of her neighbors as well as shops.  The Caterpillar D9s came to her house in the late afternoon, while she, her mother-in-law, and daughter were inside.  She told Human Rights Watch:
[The bulldozer] smashed through the wall of the sitting room.  We were in another room at the time.  We made a white flag and left immediately through the door.  … We were standing in the alley and watched two bulldozers destroy the house.  It took just a few minutes.  There was no warning, no announcement.  When I yelled at the bulldozers [to stop], the tanks pointed their cannons towards me. … I lived there for over forty years.  All of our furniture was inside: the tables, the TV, the chairs, the furniture, the clothes.216
Ms. Sha'er escaped to a three-story building next door, shared by her sons and their families.  The IDF did not try to demolish it: "It was easier for them to destroy one-story houses," she said.  "They hit the corners of high buildings [with bulldozers].  They destroyed some high buildings but mostly short ones."  When Human Rights Watch researchers visited the area, they noticed that several of the multi-story houses had parts of their supporting columns knocked away, which residents said had come from the May incursion.  In between the multi-story buildings were expanses of sand where the one-story houses once stood.
Also that afternoon, Palestinian militants killed an IDF soldier in the same apartment building from which Ashraf Qishta was shot.  Another IDF soldier was killed in the attempt to evacuate his wounded comrade.  Hamdia Qishta, who had been confined with her family to the third-floor apartment since the early morning, witnessed the shooting of one of the soldiers as he stood guard in her sitting room:
I heard one of the soldiers cry out.  I went to him in the main hall to see what happened.  I didn't see any blood.  The other [soldiers] were lying on the ground in fear.  I tried to wake him up but he didn't answer.  I took off his helmet and flak jacket and found a wound under his left armpit.  It was very small.
…The other soldier was talking on his radio.  Two soldiers eventually came with a stretcher.  They crawled along the floor towards their comrade.  They were afraid to enter the hall.  I asked them to give me the stretcher and I put it under the wounded one and asked for their help [to carry him].  I and another soldier carried him.  He was bleeding through the wound.  He was so young, what do you expect me to do? … They carried him down the stairs, and two others stayed with me.  I heard people falling in the stairwell.  I heard later that another soldier was hit but I didn't see it.  All the soldiers soon left.  The whole incident took maybe half an hour.  They were all very scared.217
A Human Rights Watch researcher examined the sitting room in which Ms. Qishta said the soldier had been shot.  The room had a large picture window at least 2.5 meters wide facing west that would have been clearly visible from any of several three- or four-story buildings deep in Block O or other neighborhoods.
The IDF gave a different version of what happened in the building: "When an elderly woman asked permission to bring food into the building, [Staff-Sergeant Rotem] Adam escorted her to the entrance and was shot and mortally wounded by a sniper when he opened the door."  One of his comrades was shot and killed in the evacuation attempt and two others wounded.218
Around midnight on May 14, the Israeli Supreme Court issued a temporary injunction against the demolition of a group of houses in Block O whose owners were represented by Gaza-based human rights organizations, pending a hearing scheduled for May 16.  The injunction allowed demolitions to go ahead, however, in the event of immediate military necessity, a risk to soldiers, or a hindrance to a military operation.  Around 5:00 a.m. on May 15, the IDF left Block O and Qishta, having demolished eighty-eight homes, as well as twenty-three shops, a mosque, and a bank.219  The next day, the Court declined to hear the petition after the IDF said that it had no intention of demolishing the homes.
---
[183] UNRWA: 88; PCHR: 101 (86 in Block O, 15 in Qishta and Sha'er); B'tselem: 116.
[184] "A hospital in Rafah said five of those killed were militants, but the seven others were civilians who had been in the crowds with the militants" ("Twelve dead as Gaza violence continues to escalate," Deutsche Presse-Agentur, May 13, 2004).  The Popular Resistance Committees were also quoted as saying that one of their fighters was killed by Israeli troops near Rafiah Yam settlement, nearly one kilometer away from Block O (Adel Zaanoun, "Israel to demolish Rafah homes, PA and UN warn of humanitarian catastrophe," Agence France Presse, May 14, 2004).
[185] "Palestinians: IDF razing homes in Gaza refugee camp," Ha'aretz online, May 14, 2004.
[186] As mentioned in chapter 2, the demolitions were carried out throughout the month of August 1971 and were not connected to combat.  As Sharon recalls in his memoirs, "These crowded alleys provided ideal ground for the terrorists, and now I widened some of them so that we could patrol more efficiently" (Sharon and Charnoff, Warrior: The Autobiography of Ariel Sharon, p. 258).
[187] The design of housing projects in order to accommodate maneuverability of military vehicles in the OPT has continued.  UNRWA is constructing more than four hundred shelters in Jenin refugee camp to replace those destroyed by the IDF in April 2002.  The project, funded by a U.S.$ 27 million grant from the United Arab Emirates Red Crescent Society, reportedly takes fifteen percent of the original area of each destroyed house in order to widen the roads to facilitate the movement of tanks and other heavy vehicles (Gideon Levy, "Tank Lanes Built Between New Jenin Homes," Ha'aretz, June 10, 2004).  IDF troops have forcibly entered the reconstruction project's Jenin office twice, most recently on May 20, when local and international staff were handcuffed, blindfolded, and threatened for over three hours by IDF troops.  The IDF apologized to UNRWA for both incidents ("UNRWA Protests Israeli incursion into Jenin Camp Reconstruction Project Office and Detention of Senior Project Manager," UNRWA press release, May 23, 2004).
[188] Nicolas Kelemen, "Fifty Years Under the Tent: A Case Study on Palestinian Refugee Housing" (Unpublished master's thesis, Harvard Graduate School of Design, 1999), pp. 66-67.
[189] "A summary of the briefing held today by the GOC southern command, Maj. Gen. Dan Harel, regarding the operation in Rafah," IDF Spokesperson's Unit, May 25, 2004.
[190] "Palestinians: IDF razing homes in Gaza refugee camp," Ha'aretz online, May 14, 2004.
[191] "UN SG 'strongly condemns' Israel's ongoing, widespread destruction of Palestinian homes in Gaza," SG/SM/9307, May 14, 2004.  Annan repeated his call for an end to demolitions on May 17 ("Annan calls on Israel to halt destruction of Palestinian homes in Gaza," UN News, May 17, 2004).
[192] "Israel Must 'Immediately' Stop Demolition of Palestinian Homes," Agence-France Presse, May 14, 2004.
[193] Aluf Benn, "Rice criticizes Israel for planned Rafah demolitions," Ha'aretz, May 18, 2004.
[194] "A summary of the briefing held today by the GOC southern command, Maj. Gen. Dan Harel, regarding the operation in Rafah," IDF Spokesperson's Unit, May 25, 2004.
[195] Nina Gilbert, "'Only IDF Can Secure Gaza' – Ya'alon," Jerusalem Post, May 18, 2004.
[196] Margot Dudkevitch, et al., "IDF Targets Anti-aircraft Missiles," Jerusalem Post, May 19, 2004.
[197] Margot Dudkevitch and Herb Keinon, "IDF Expands Rafah Operation," Jerusalem Post, May 20, 2004.
[198] Human Rights Watch interview with General Ahmed Omar, Egyptian Interior Ministry, Cairo, July 28, 2004.
[199] David Parsons, "Sinai Multinational Force Not Looking For Role In Fight Over Gaza Tunnels," International Christian Embassy in Jerusalem, May 21, 2004, available at http://www.icej.org/cgi-local/view.cgi?type=specials&artid=2004/05/21/864870966 (accessed August 17, 2004).
[200] Human Rights Watch interview with Major Sharon Feinberg, IDF Spokesperson's Unit, Tel Aviv, July 6, 2004.
[201] Ze'ev Schiff, "Gaza Rainbow of marginal worth," Ha'aretz, May 27, 2004.
[202] Amir Rapaport, "Price too heavy," Ma'ariv, May 25, 2004, translated by BBC monitoring.
[203] Quoted in Sharmila Devi, "Israeli media attack Gaza siege as forces pull out of Rafah camp," Financial Times, May 25, 2004.
[204] "A summary of the briefing held today by the GOC southern command, Maj. Gen. Dan Harel, regarding the operation in Rafah," IDF Spokesperson's Unit, May 25, 2004.
[205] Letter from Major Sam Wiedermann, Head of International Organizations Desk, IDF Spokesperson's Unit, to Human Rights Watch, August 22, 2004.
[206] Correspondence with IDF on file with Human Rights Watch.
[207] Human Rights Watch interview with "Abu Husayn" [pseudonym], al-Quds Brigades, Islamic Jihad, Rafah, July 16, 2004.
[208] Human Rights Watch interview with representative of Popular Resistance Committees, Rafah, July 15, 2004.
[209] "Hamas military wing says it 'directly hit' Israeli carrier," BBC monitoring, May 21, 2004, and "Qassam Brigades Affirm Intention to Fight in Rafah to the End," Palestinian Information Center, May 22, 2004.  Available at http://www.palestine-info.co.uk/am/publish/article_5715.shtml, (accessed August 11, 2004).
[210] "Palestinian factions claim to 'repulse' Israeli raid on Rafah refugee camp," BBC monitoring, October 11, 2003; "Islamic Jihad statement reports attacks on Israeli troops in Rafah," BBC monitoring, October 14, 2003; "Hamas military wing claims Israeli bulldozer blast in Rafah," BBC monitoring, October 14, 2003.
[211] "Weekly Summary of Security Events & Activities (October 9-16, 2003)," IDF Spokesperson's Unit, October 16, 2003, available at: http://web.archive.org/web/20040228052628/www.idf.il/english/announcements/2003/october/16.stm.
[212] Human Rights Watch interview with Awad Seidam, aged fifty-nine, Rafah, July 15, 2004.
[213] Human Rights Watch interview with Sabreen Faramawi, aged twenty-three, Rafah, July 15, 2004.
[214] Human Rights Watch interview with Hamdia Qishta, aged fifty-seven, Rafah, July 16, 2004.  A Human Rights Watch researcher visited the building and found sniper holes consistent with Ms. Qishta's account.
[215] Human Rights Watch interview with Ihsan Qishta, aged twenty-nine, Rafah, July 22, 2004.
[216] Human Rights Watch interview with Nadia Sha'er, aged forty-eight, Rafah, July 16, 2004.
[217] Human Rights Watch interview with Hamdia Qishta, aged fifty-seven, Rafah, July 16, 2004
[218] http://www.mfa.gov.il/MFA/Terrorism-+Obstacle+to+Peace/Memorial/2004/St.-Sgt.+Rotem+Adam.htm (accessed August 17, 2004).
[219] Palestinian Centre for Human Rights, "Weekly Report 19/2004," May 13-19, 2004.