<<previous | index | next>>
United States military and coalition forces in Iraq keep meticulous records of soldiers killed in duty, providing daily accounts to the press,1 but they do not keep statistics on civilian deaths. "We know how many of us are killed or wounded because we know their names," coalition military spokeswoman Lt. Kate Noble told Human Rights Watch. "But when we do return, the civilian casualties are moved or hospitalized."2
At a press briefing in Baghdad on August 4, 2003, U.S. military spokesman Col. Guy Shields said there was "no accurate way" to keep a record:
Well, we do not keep records, and there—it—for the simple reasons that there's really no accurate way. There's times when we have conducted operations, and we're pretty certain that there are casualties, and we'll go back and check. And there's nobody there. So that's just—we do not keep records like that.3
In response to a Human Rights Watch request for information about civilian casualties, the coalition's press office sent this reply:
It is tragic that civilians have died as a result of our operations and we are fully aware that every time a civilian is caught in the line of coalition fire, we potentially lose allies among the Iraqi population. In terms of statistics, we have no definitive estimates of civilian casualties for the overall campaign. It would be irresponsible to give firm estimates given the wide range of variables. For example, we have had cases where during a conflict, we believed civilians had been wounded and perhaps killed, but by the time our forces have a chance to fully assess the outcomes of the contact, the wounded or dead civilians have been removed from the scene. Factors such as this make it impossible for us to maintain an accurate account.4
While the coalition claims an accurate account of civilian deaths is impossible to maintain, Human Rights Watch collected data from a variety of sources for a database of post-war civilian casualties in Baghdad. Based on its research, Human Rights Watch estimates that U.S. soldiers killed ninety-four civilians between May 1 and September 30, 2003, in legally questionable circumstances that merit an investigation. Human Rights Watch did not verify each of these individual allegations but, taken as a whole, they reveal a pattern of alleged unlawful deaths that should prompt concern and investigations.
For the purposes of this report, a civilian casualty means an Iraqi not taking part in hostile acts against coalition forces who was killed by the U.S. military during a raid, at a checkpoint or after U.S. troops came under attack from a sniper, an ambush, or a road-side bomb. The database does not include those who died from unexploded ordinance from the war or from explosions caused when U.S. soldiers destroyed Iraqi arsenals. Likewise, civilians killed in traffic accidents with U.S. military vehicles are not included.
Human Rights Watch used six sources to obtain data:
Direct interviews with witnesses or the family of victims accounted for twenty-one deaths.

Records from Iraqi police in Baghdad account for fifty-four civilian deaths. At Human Rights Watch's request, Baghdad's two district headquarters, in al-Rasafa and al-Karkh, sent orders to the police stations in their respective jurisdictions to send all reports of civilian casualties by U.S. forces since May 1. Those records were collected from Al-Rasafa on September 25 and from al-Karkh on September 27. Twenty-four civilian deaths were reported from al-Rasafa and twenty-eight from al-Karkh.

The numbers are not precise because the Iraqi police are still rebuilding after the war. Human Rights Watch did not confirm all of their reports, and some of the deaths may not have been caused by U.S. troops. On the other hand, not all civilian casualties are reported to the police. In its own interviews, for example, Human Rights Watch documented eight cases that did not appear in police records. In addition, because the data was collected in the last week of September, some reports from that month may not have made it into the data set.

A local human rights group, The Human Rights Organization in Iraq, reported thirty-three cases of civilian casualties in Baghdad. It provided Human Rights Watch with the names and addresses of victims, plus the date and location of incidents. Four of the reported deaths were confirmed by a second source.

Western news media reported fifteen civilian deaths, but Human Rights Watch included only those deaths reported with a victim's name. General mention of a death without a name were excluded.5

Other non-governmental organizations reported six civilian deaths. Amnesty International documented two killings in Baghdad and Occupation Watch, an international coalition of peace and justice groups, provided information about four, three of which were confirmed by Human Rights Watch.6
Twenty-three deaths were reported by two or more sources, leaving a total of ninety-four.
Of the ninety-four reported civilian deaths, eight were of women. This reflects the fact that women in Iraq have led very private lives since the war, mostly due to the lack of public security.10
The data provides the ages for twenty-five of the ninety-four civilian casualties (26.6%), four of them women.11 Twenty-two of the casualties for whom ages are known, or 88%, were adults between the ages of seventeen and fifty years old.
Of the ninety-four reported civilian deaths, Human Rights Watch documented the exact date in 88 cases, or 93.6%.12 As Graph 1 shows, the patterns of deaths over time appears to include two surges and two decreases. The apparent decline in September could be due to improved checkpoint visibility, increased reliance on Iraqi police during raids and other police actions, and a general transition from combat operations. At the same time, the statistics may be low because they were collected at the end of September, before reports could be filed with the police or local human rights groups and therefore make their way into the data set. In addition, as the graph shows, previous decreases were followed by a surge, and this pattern may occur again in the future.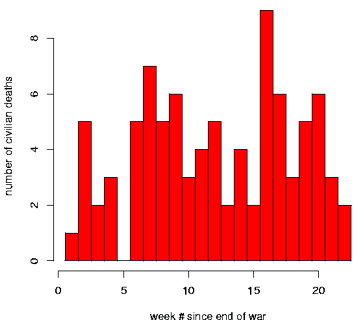 Iraqis rarely knew the unit of soldiers responsible for inflicting casualties. Through its own research or media reports, however, Human Rights Watch identified at least the military division, if not the specific unit, in eight incidents involving sixteen civilian deaths. Of these, the 82nd Airborne was involved in four incidents in which seven civilians were killed and the 1st Armored Division was involved in four incidents in which nine civilians were killed. Four civilians were killed in an operation by Task Force 20, a combined CIA-Army special forces team established to capture Iraq's former rulers, but it is not clear if they were responsible for the shooting.
The following is a list of civilian casualties in Baghdad for which the specific U.S. military unit is known:
Mardan Muhammad Hassan and Farah Fadhil al-Janabi on September 1 in Mahmudiyya killed by soldiers from the 3rd Battalion, 505th Parachute Infantry Regiment. (See case study below.)
Iraqi guards Ra`ad Fahd Shallal, Sa`id Majid Sa`dun and `Abbas `Uday `Abbas `Aday on July 10 in the al-Bayya` neighborhood. (See case study below.)
Muhammad Subhi Hassan al-Qubaisi on June 26 in the Hay al-Jihad neighborhood. (See case study below.)
`Uday Ahmad Mustafa on July 10 behind the Baya'a Police Station/al-Dora Patrol Station. (See case study below.)
`Ali Muhsin, killed on August 11 by the 1st Battalion, 36 Infantry.13
Lt. 'Ala' `Ali Salih and Sgt. Muhammad Hilal Nahi, killed on August 9 on the Abu Ghraib road by soldiers from the 1st Battalion, 41st Infantry of the 1st Armored Division's 3rd Brigade. (See case study below.)
Izhar Mahmud Ridha killed on August 1 in the al-Mansur neighborhood by soldiers from the 1st Armored Division's 3rd Brigade.14
Soldiers from Alpha Company, 2nd Battalion, 3rd Field Artillery Regiment of the 1st Armored Division15 shot and killed Saif Ra`ad `AliSa`id al-`Azawi when he failed to stop at a checkpoint. In a second car, soldiers killed `Adil `Abd al-Karim `Abd al-Karim al-Kawwaz and three of his children, Haidar, `Ula and Mirvat . (See case study below.)
---
1 Between May 1 and September 30, 2003, eighty-eight U.S. soldiers were killed in hostile deaths and more than 800 wounded. During that time, there were also ninety-four non-hostile deaths and 197 non-hostile injuries among U.S. troops since May 1. [See "One U.S. Soldier Killed in Iraq Bombing," by Robert H. Reid, Associated Press, October 1, 2003, and "3 U.S. Soldiers Are Killed in 2 Separate Incidents in Iraq," by Terence Neilan, New York Times, October 7, 2003.]
2 Human Rights Watch interview with Lt. Kate Noble, Baghdad, September 20, 2003.
3 Department of Defense Briefing, "Coalition Provisional Authority Update Briefing to Include Background Briefing on Iraqi Compensation," Baghdad, August 4, 2003.
4 E-mail sent to Human Rights Watch from coalition press office on September 29, 2003.
5 The articles which mention a civilian casualty by name are: "Civilian Deaths Stoke Iraqis' Resentment," by Vivienne Walt, San Francisco Chronicle, August 4, 2003; "Farah Tried to Plead with the US Troops But She Was Killed Anyway," by Peter Beaumont, The Observer, September 7, 2003; "In Iraq, One Incident, Two Stories," by Scott Peterson, Christian Science Monitor, September 28, 2003; "Angry Iraqis Tell of U.S. Troops Fatal Errors," by Ken Dilanian and Drew Brown, Knight Ridder, September 10, 2003; "How and Why Did Iraqi Die? 2 Tales of Anger and Denial," by John Tierney, New York Times, August 26, 2003; "As Iraqis Die, Hate for U.S. Spreads," by Gary Marx, Chicago Tribune, August 17, 2003; "Iraqi Gunmen Curse America at Protester's Funeral," by Esmat Salaheddin, Reuters, June 19, 2003; "U.S. Soldiers Shoot Dead Two Iraqi Policemen," by Rory Mulholland, Agence France Presse, August 11, 2003; "Iraqis Mourn Family Lost in U.S. Shooting," by Ken Dilanian, Philadelphia Inquirer, August 12, 2003; "Jittery U.S. Soldiers Firing in the Dark Kill Six Iraqis Trying to Get home Before Curfew," by Scheherezade Faramarzi, Associated Press, August 10, 2003.
6 Amnesty International, Memorandum on Concerns Relating to Law and Order, AI INDEX: MDE 14/157/2003, July 23, 2003, and Human Rights Watch interview with Nermin al-Mufti, Baghdad, September 29, 2003.
7 "Forces Kill Two Iraqis at Checkpoint," Coalition Joint Task Force–Seven press release, July 29, 2003; and "Iraqi Woman Killed During Attack on U.S. Soldiers," Coalition Joint Task Force–Seven press release, August 2, 2003.
8 Human Rights Watch interview with Col. Marc Warren, Col. Mike Kelly and Major P.J. Perrone, Baghdad, September 23, 2003.
9 The victim was Izhar Mahmud Ridha, killed on August 1 in the al-Mansur neighborhood. See "As Iraqis Die, Hate for U.S. Spreads," by Gary Marx, Chicago Tribune, August 17, 2003.
10 For details on conditions in Baghdad for women and girls, see Human Rights Watch Report, Climate of Fear: Sexual Violence and Abduction of Women and Girls in Baghdad, July 2003.
11 The ages of female victims were eight, seventeen, nineteen and seventy-five years-old.
12 In four cases, only the date when the incident was reported to the police is known. In two cases, there is no date at all.
13 "How and Why did Iraqi Die? 2 Tales of Anger and Denial," by John Tierney, New York Times, August 27, 2003.