(New York, May 15, 2000)—The current crisis in Sierra Leone, in which rebels with the Revolutionary United Front (RUF) have clashed with U.N. peacekeepers and pro-government forces, suggests that the fragile peace agreed to in July 1999 is rapidly unraveling. According to numerous reports, they also have taken hundreds of hostages, fired at a crowd of protesters, resulting in several deaths, and advanced to thirty miles east of Freetown. While the RUF's intentions remain unclear, the rebel group's actions raise serious concerns that it might activate the arms supply channels it has used in the past to obtain additional weapons with which to renew a brutal war.

For months since signing the Lomé peace agreement that formally ended the country's eight-year civil war in July 1999, the RUF has failed to live up to its promise to demobilize its forces and disarm, a key requirement of the peace accord. As of April 15, according to the National Committee for Disarmament, Demobilization, and Reintegration, only some 5,000 weapons had been handed in by Sierra Leonean rebels, who reportedly number approximately 45,000, and most of those appear to have been surrendered by members of Sierra Leone's former army rather than by RUF fighters. Instead of disarming, RUF rebels have obtained further weapons, seizing them from West African ECOMOG peacekeepers and, more recently, the U.N. peacekeepers who have replaced them. A February 2000 report from the U.N. wire service operated by the U.N. Foundation indicated that "rebels have stolen at least 500 automatic rifles, six heavy artillery pieces, anti-aircraft guns, three armored vehicles, and five trucks from Kenyan and Guinean troops." Recent incidents, including the disarming of abducted U.N. peacekeepers, reportedly have yielded the RUF hundreds of guns and more than a dozen armored personnel carriers. In addition, Human Rights Watch has been concerned by reports that, despite being subject to an international arms embargo since 1997, RUF rebels have imported weapons via neighboring countries, including Liberia (which is also under a U.N. arms embargo). The U.N.'s failure to enforce the sanctions, as well as the RUF's ready access to valuable mineral resources, has created the conditions in which the apparent flouting of the embargo on the RUF, reports of which are detailed below, has been possible. Embargoes Imposed, Neglected The United Nations Security Council imposed arms embargoes on Liberia in 1992 and Sierra Leone in 1997. While the embargo on Liberia remains in force, the embargo on Sierra Leone was modified in 1998 to apply to rebel forces only. Both embargoes have been observed primarily in the breach, as numerous reports of weapons movements to Liberia and from Liberia into rebel-controlled areas in Sierra Leone underscore. The Security Council has neglected to take up embargo enforcement in Liberia and Sierra Leone, leaving it to ECOMOG in both cases. ECOMOG peacekeepers in Liberia, responsible for maintaining security until closing operations in mid-1999, undertook to monitor the country's borders and main entry points and inspect aircraft landing at Robertsfield airport in Monrovia. Their efforts to restrict weapons supplies, however, were to little effect. Expressing frustration in late 1998 about ongoing inflows of weapons to Liberia, the ECOMOG commander in Liberia urged the Security Council to take measures to enforce the embargo it had imposed. In Sierra Leone the U.N. formally delegated to ECOMOG responsibility to enforce the U.N. arms embargo, but the regional force again showed little capacity to halt illegal weapons inflows. When U.N. peacekeeping forces began taking over responsibility for the Sierra Leone mission in December 1999, their mandate did not include enforcement of the international arms embargo against the rebels through border monitoring and other measures. ECOMOG forces completed their withdrawal from Sierra Leone two weeks ago, leaving no one with responsibility for embargo enforcement. In addition, the Security Council has not provided for reported breaches of the embargoes to be properly investigated. The Security Council did not create a committee to monitor the arms embargo until April 1995, three years after imposing sanctions on Liberia. Even then, the Liberia sanctions committee is not known to have carried out a single investigation of a reported sanctions violation. The committee's insistence that reports of violations should first be brought to the attention of the government of the state in which the suspected violators were thought to be located is likely to have discouraged potential informants from stepping forward. The sanctions committee set up to monitor implementation of the 1997 embargo on Sierra Leone is likewise not known to have independently investigated reported embargo breaches, even if a certain amount of correspondence has been generated in individual cases (see one example below). In the post-Lomé period, the government of Sierra Leone has been so preoccupied with the peace process and so reluctant to ruffle the RUF's feathers that it has refrained from reporting embargo violations to the Sierra Leone sanctions committee. Human Rights Watch asked one U.N. official in mid-October 1999 whether there had been any formal complaints lodged by the Sierra Leonean government about allegations of arms coming over the border from Liberia to the RUF after the signing of the peace accord. The official responded that, there "could be other alleged violations" but Sierra Leone is going "through the whole peace process, the process of reconciliation….They are more interested in the political process" than in pointing out any recent violations. Reports of Illegal Arms Shipment to the RUF
---

During the civil war, the RUF established external supply lines for the provision of military equipment, taking advantage of roads and rough tracks, rivers, airports, and airfields.

---
During the civil war, the RUF established external supply lines for the provision of military equipment, taking advantage of roads and rough tracks, rivers, airports, and airfields (see Map of West Africa and Map of Sierra Leone/Liberia). There have been reports that the RUF has imported weapons over the past year through neighboring countries. Liberia and Burkina Faso in particular have been linked to arms shipments believed destined to the rebels. For example, the United States government asserted in a July 1999 report on arms and conflict in Africa that the president of Liberia had armed the RUF. Human Rights Watch made public allegations implicating both Liberia and Burkina Faso in a March letter to the president of Burkina Faso calling for an independent inquiry. A copy of this letter was forwarded to Security Council members.
---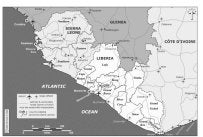 As yet uncorroborated reports of weapons flows to the RUF via Liberia are consistent with longstanding claims of direct support by Liberia's President Taylor for the RUF's forces.
---
In April 1999 the commander of ECOMOG in Sierra Leone, Maj.-Gen. Felix Mujakperuo, accused Liberia and Burkina Faso of shipping arms to the RUF. He asserted that on March 14, 1999, a Ukrainian-registered cargo plane had delivered sixty-eight tons of weapons and ammunition to Ouagadougou, the Burkinabe capital, for on-shipment to the RUF via Liberia. In Ouagadougou, he claimed, the plane parked in the airport's VIP terminal. There the cargo was transferred for shipment by smaller aircraft to Liberia and, once in Liberia, the weapons were transported onward by land to the RUF inside Sierra Leone. Mujakperuo, who made these allegations at a press conference in Freetown, also reported the incident to the United Nations. The Ukrainian government responded to the charges in a June 1, 1999, letter to the Sierra Leone sanctions committee at the U.N., attaching copies of relevant documents. Ukraine held that, rather than supplying the RUF, it had sold the weapons to the government of Burkina Faso. The documents provided, which Human Rights Watch has on file, show that the Gibraltar-based Chartered Engineering and Technical Company, Ltd. bought weapons in Ukraine on behalf of the government of Burkina Faso. The latter issued an end-user certificate to the Ukrainian state-owned company Ukrspetsexport, which acted as the Ukrainian agent responsible for the shipment. The end-user certificate explicitly states that the ministry of defense of Burkina Faso, "the final consumer" of the goods listed, was committing itself to refrain from re-exporting the equipment without the agreement of the government of Ukraine. The Gibraltar-based company then contracted the British company Air Foyle, a trade agent of the Ukrainian air carrier Antonov Design Bureau, to fly the goods to Burkina Faso. According to the documents, 67,564 kilograms of "defense equipment and ammunition" were transported from Kiev to Ouagadougou on March 13, 1999, aboard flight ADB1737, an Antonov-124 (registration UR-82008). The deal, as specified in the end-user certificate, involved 3,000 AKM (Kalashnikov) assault rifles, fifty machine guns, twenty-five rocket-propelled grenade launchers (RPGs), five Strela-3 (also known as SA-7) missiles, and five Metis anti-tank guided missile systems, as well as ammunition for these weapons. It is important to note that, according to two sources on national arms inventories—Jane's Infantry Weapons and the International Institute for Strategic Studies' Military Balance—Burkina Faso has been using NATO-standard weaponry for its armed forces and has no known armaments deriving from the former Warsaw Pact. It is therefore unclear why Burkina Faso would have ordered and purchased for its own defense needs the large quantities of weapons from the former Soviet Union provided in the shipment described. In another case, Burkina Faso also was named as a transshipment country for weapons that were delivered to Sierra Leone. The Washington Post reported in October 1999 that ECOMOG said five aircraft had carried weapons to the RUF via Liberia. The registration of one of the planes matched that of a Boeing 727 owned by the government of Burkina Faso. Quoting ECOMOG, Washington Post correspondent James Rupert told Human Rights Watch that the Burkinabe Boeing 727-14, registration number XT-BBE, "was seen offloading arms on 26 and 29 February 1998, each time after flying Rabat [Morocco]-Ouagadougou-Robertsfield" and that the flights from Ouagadougou to Robertsfield took place in both February and September 1998. As yet uncorroborated allegations, which are consistent with longstanding claims of direct support by Liberia's President Taylor for the RUF's forces likewise merit further investigation. For example, illegal weapons shipments in the first half of 1999 were also described to Human Rights Watch by a Western military source who, speaking in September 1999, claimed that on March 25 that year a British Aerospace BAC-111 arrived at Robertsfield in Liberia and was unloaded at night under heavy guard. Then on March 30, a BAC-111 arrived and at least two trailer loads of ammunition were unloaded. The same source alleged that, on the evening of May 20, 1999, a Libyan Boeing 727 aircraft arrived at Robertsfield also under heavy guard. The cargo was presumed to include "crates of ammunition and possibly small arms," considering the types of crates that were unloaded. The following evening, on May 21, a Boeing 707 from Libya arrived and was similarly unloaded under heavy guard, although in this instance the cargo was said to be uniforms and RPGs. These reported weapons and ammunition shipments to Robertsfield airport, in violation of the arms embargo on Liberia, have not been independently confirmed. Further inquiry is needed to determine if the alleged March flights, for example, might have been the same ones as those that brought in the weapons from the Ukraine deal exposed by ECOMOG in April, in which case the arms shipments would have been intended for Sierra Leone. In a separate interview, a Western diplomat told Human Rights Watch, confirming reports by local human rights workers, that it is fairly easy to transport arms across the Liberia-Sierra Leone border without detection. Speaking in September 1999, the diplomat stated: "You can move great big army trucks full of arms all over the place" under the cover of forest that has grown over the paths of former railway lines that were dismantled several years ago. "They have a virtually full-proof way of moving large quantities of guns, arms, and men out of sight. You basically have an undercover road." Similarly, with regard to post-Lomé arms shipments, Human Rights Watch learned of two troubling reports which, while still unconfirmed, also merit investigation. First, the Western diplomat cited above stated to Human Rights Watch in September 1999 that a weapons shipment transited through Burkina Faso and Liberia on its way to RUF troops after the Lomé accord. He said: "I can confirm that the last consignment came in after the peace agreement was signed. [...] We know that a consignment of arms went into Burkina Faso and then over the border into Monrovia." Without specifying further, he said the shipment involved "two large planes from Ukraine." Describing a separate incident, a former rebel who had defected to the government, and whose testimony must therefore be treated with caution, told Human Rights Watch that he had first-hand information about an arms shipment delivered in early October 1999 from across the Liberian border. He stated that he witnessed two trucks carrying sixty 122mm rockets for the BM-21 Grad rocket launcher and other ammunition from Liberia into Sierra Leone sometime between October 4 and 11, 1999, and that he accompanied the cargo to Makeni, where it was unloaded. A separate account of the story was reported in November 1999 in a Sierra Leonean newspaper, Unity Now. That report apparently was based on senior Liberian government sources and claimed that a RUF commander had obtained sixty 122mm rockets for the BM-21 that were transported from Liberia in containers "under the guise of relief materials." The RUF's ability to finance its military operations reportedly has depended on its continued control of diamond-rich areas in Sierra Leone. A January 2000 report from Ottawa-based Partnership Africa Canada, entitled "The Heart of the Matter: Sierra Leone, Diamonds, and Human Security," for example, argued that large-scale diamond smuggling had fueled the civil war in Sierra Leone, with rebels smuggling diamonds via Liberia in exchange for weapons. An April Washington Post report, citing a senior mining official, estimated that diamond smuggling from RUF areas brings an annual revenue of $200 to $300 million. The Lomé Accord grants the government "full control of the exploitation of gold, diamonds and other resources for the benefit of the people of Sierra Leone." It also gave RUF leader Foday Sankoh control over lucrative mining rights by appointing him head of a new government body, the Commission for the Management of Strategic Resources, National Reconstruction and Development (CMRRD). Under the accord's provisions, no diamond mining is permitted until the CMRRD initiates operations, which are long overdue. According to the U.N., however, the RUF has steadfastly refused to cede control over the diamond-producing areas, resisting recent U.N. efforts to enter diamond-rich areas. Conclusion The tenuous peace in Sierra Leone is coming apart. As the fighting resumes, the RUF can be expected to reactivate its traditional arms supply channels to obtain additional weapons with which to threaten civilians and U.N. peacekeepers and possibly renew a brutal war. Allegations of past arms flows to the RUF via neighboring countries, apparently financed with diamond revenue, suggest that rebels retain the ability to flout poorly-enforced sanctions with impunity.
---