Tiananmen, 15 Years On
Where Are Some of the "Most Wanted" Participants Today?
What makes it so difficult to forget the events of June 3-4, 1989? That night, the Chinese government turned its troops and tanks against its own citizens, slaughtering hundreds to stop a coalition of students, a handful of workers, and a few academics, writers, and journalists from seeking more control over their own lives and for a pluralistic political system. Pressure for far-reaching reform had been building for years and there was a real sense that Chinese history might again take a dramatic turn should the students succeed. Instead, hundreds of civilians, massed in the streets of Beijing to stop the army from reaching Tiananmen Square, lost their lives. In the Square, the students waited and negotiated. Would they be allowed to leave alive? Did they prefer martyrdom? What message did they want to send the waiting world?


Update

In February 2004, 72-year-old Dr. Jiang Yanyong sent a private letter to the National People's Congress (China's Parliament) and other Chinese leaders asking for an official reassessment of the events leading to the Chinese government crackdown on June 4, 1989. The letter found its way into the public arena and is rapidly being signed by hundreds of Chinese dissidents, academics and others, inside China and elsewhere.

On June 1, 2004, three days before the fifteenth anniversary of June 4th, Dr. Jiang and his wife went missing. They had left home in transportation provided by the Beijing 301 Military Hospital to attend to some matters that should have taken no more than two hours. As of June 3, they had not returned home. Their children were unsuccessful in their attempts to reach them or to trace them through the hospital, where Dr. Jiang works as a semi-retired surgeon.




In the end, the students, who had occupied the Square for close to two months, chose to leave in an orderly and responsible fashion. The authorities would not let that happen. In no time they had to scatter, only to be hunted down by a government determined to prove it had a lock on truth and virtue. It claimed that those involved had instigated a "counterrevolutionary rebellion" and deserved punishment. That official government verdict remains unchanged today. It denies redress and public acknowledgement of their losses to those whose sons, daughters, wives, husbands were killed. It prevents those who escaped from returning to China to visit their families, to mourn parents, even to be reunited with their own children. For those who stayed in China, the intervening years have been harsh. Authorities refused them permission to return to their studies, employers fired them after security personnel came calling, banks refused them loans to start their own companies. Some were rearrested for continuing to call for human rights, political pluralism, and their right to speak out.

Beginning on June 12, 1989, the Chinese government issued "wanted lists." Human Rights Watch has copies of three: "Wanted List 1: The 21 Beijing Student Leaders," "Wanted List 2: Three Workers Leaders," and a "Ministry of Public Security Compilation No. 2" in which sixty-two people are listed. We asked a sampling of people from the lists to tell us about their involvement in what has come to be known as the "pro-democracy movement," the immediate aftermath of the crackdown, their lives subsequent to June 4, 1989, and their assessment of what June 4, 1989 meant to them and what they believe it has meant and will continue to mean for the future of China. We believe the stories taken together tell a story that speaks to the indomitability of the human spirit and to what a few can accomplish if they stand together and do not forget.

Human Rights Watch salutes all those who on June 4 stood up to assert their rights. On their behalf we urge China to overturn the official verdict, to allow for a full and public account of the events leading to the crackdown, and to end impunity for those responsible. Beijing should launch a full investigation by an impartial body to uncover what happened in Beijing and in all other cities where there were crackdowns on pro-democracy protestors in 1989. It is equally urgent that the Chinese government make known the names of all those dead and injured during the crackdowns.

China's "Most Wanted," 15 Years Later


Wang Dan
" The future for democracy in China is dependent not just on political institutions but on the growth of a vibrant civil society."
—May 25, 2004
Feng Congde
"Tiananmen was the beginning of the end of the communist camp. It was a wake-up call to Chinese inside and outside China."
—May 2004
Zhang Boli
"1989 stands out as a beautiful moment. We stood up. It wasn't easy. Overturning the government's official verdict isn't important; what's important is what we did. History will judge us properly."
—June 2, 2004
Liu Gang
"We didn't fail—failure is the mother of success. There'll be more chances—and we have more experience."
—May 2004
Zheng Yi
Zheng worked with other intellectuals to craft statements of support for the students including the famous "Declaration of May 16."
Wang Chaohua
"I jumped into the center of the movement. I thought I could make a decision for myself....But this...decision had repercussions for others, including ones I love dearly."
—May 26, 2004
Li Lu
"Once in [Tiananmen] Square you did anything and everything that needed doing."
Zheng Xuguang
"Within the movement we consistently adhered to the principles of peace, reason and nonviolence."
—1993 "Peace Charter"
Zhang Ming
Accused of inciting subversion and attempting to overthrow the socialist system, Zhang was sentenced in January 1991 to a three-year term.
Xiong Yan
"We believe, no matter whether the government does or does not, that history will recognize this movement as a patriotic and democratic movement…."
—May 1989
Wang Juntao
"Tiananmen changed Chinese history. It was a benchmark in Chinese political development, furthering the liberal trend of the 1980s and destroying the legitimacy of the Chinese Communist Party."
—May 2004
Ma Shaofang
Ma Shaofang, the former Beijing Film Academy student who was No. 10 on the most wanted student list, has remained politically active in China.
Wang Youcai
"The development of a democratic system is crucially important. Democracy is the only way to avoid a second Tiananmen."
—May 2004
Yang Tao
Authorities charged Yang Tao had been an instigator of a "counterrevolutionary rebellion," had "advocated bourgeois liberalism," and "wantonly attacked Marxism."
Han Dongfang
"1989 was the very first time the Chinese people themselves directly faced the regime. Before that time, there was only hope.
—May 2004
Zhou Fengsuo
"It was the one time I experienced the beautiful character of the Chinese people longing for a democratic China where we could freely speak our minds."
—May 2004
Zhang Zhiqing
Zhang Zhiqing, No. 16 on "Wanted List 1," disappeared from view shortly after June 4, 1989. None of the other students on the most wanted list has heard from him since.
Yan Jiaqi
By the time the 1989 protests came to a head, Yan Jiaqi had years of experience in reform politics, working both inside and outside the system.
Lu Jinghua
"Tiananmen 100 percent changed my life. Even since '89, I've tried to make people understand what life without human rights is really all about."
—May 24, 2004
Fang Lizhi
"June 4, 1989 was one of the most important events of the last century."
—May 2004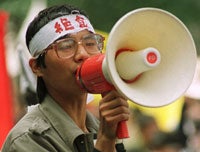 Chinese dissident Wang Dan addresses fellow students during a demonstration in Beijing's Tiananmen Square in May 1989. The Chinese characters on his headband read "Hunger Strike" (AP Photo).

Reports


Nipped in the Bud: The Suppression of the China Democracy Party
Slamming the Door on Dissent: Wang Dan's Trial and the New "State Security" Era
Leaking State Secrets: The Case of Gao Yu
China: Enforced Exile of Dissidents" Government "Re-entry Blacklist" Revealed
From the Archives



Chronicle of a Crackdown:
Selected Human Rights Watch Updates on Arrests and Releases in China after Tiananmen (.pdf files)
June 12, 1989
June 15, 1989
June 24, 1989
Jan. 2, 1990
Jan. 27, 1991
Feb. 27, 1991
March 11, 1991
April 1, 1991
July 25, 1991

Further Reading



Chinese Scholars Detained
Human Rights Watch Campaign Document

Tiananmen Mother's Campaign
Off-Site Link

Dr. Jiang Yanyong's Letter and Petition
Off-Site Link