Interview: Women Unequal Under Lebanon's Laws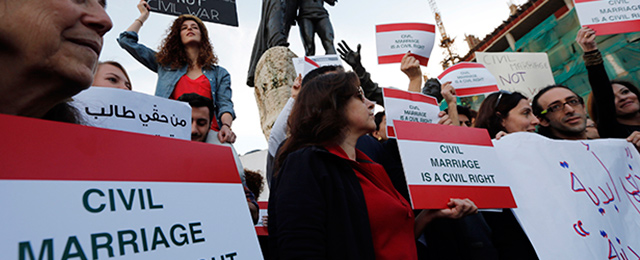 Photo © 2013 Reuters/Jamal Saidi

When Lebanon was part of the Ottoman Empire – before it was even a country – its religious groups were allowed to oversee the equivalent of family law. French colonizers upheld this system, and today Lebanon has 15 different codes – for Sunni, Shia, Druze, Catholic, Orthodox, Evangelical groups and others – governing divorce, child custody, and the financial rights of spouses during and after marriage.

Each group is treated differently, but members of one group in particular – women – suffer discrimination across all religious groups.

For three years, a team of researchers, including the Human Rights Watch Lebanon and Syria researcher Lama Fakih, poured over 450 legal cases and interviewed 70 people to examine the discriminatory nature of these personal status laws and the courts that implement them for a new report, Unequal and Unprotected. Fakih speaks about what, in practice, this system means for Lebanon's women.
share on:


In Ethiopia, Media Being Decimated
Ethiopia's government has systematically assaulted the country's independent voices, treating the media as a threat rather than a valued source of information and analysis. Ethiopia's media should be playing a crucial role in the May elections, but instead many journalists fear that their next article could get them thrown in jail.
See the Latest News in Africa »
share on:


In Afghanistan, Media Under Attack
Afghan officials, warlords, and insurgents have threatened, assaulted, and killed dozens of journalists since 2002 without any fear of prosecution. President Ashraf Ghani needs to back-up his campaign promises to protect media freedom by bringing to justice anyone who abuses members of the press.
See the Latest News in Asia »
share on:


VIDEO
 
 
Thai agricultural workers in Israel face serious labor rights abuses. Watch Now »
VIDEO
 
 
In France, migrants and asylum seekers are abused and destitute, ante. 
View Now »
Human Rights Watch
350 Fifth Avenue, 34th Floor New York, NY 10118 USA
Tel: 1 (212) 290-4700 | news@hrw.org