Having trouble viewing this email? Click here.
Witness: Branded a Troublemaker – Ruth's Story



Photo © 2014 Mary F. Calvert

As a little girl, Ruth Riviera (not her real name) loved to step into her dad's army boots and strut around the house with pride and self-importance. Her dad, a Non-Commission Officer in the US Army, was her childhood hero. She admired pretty much everything about him: his creativity, his courage and his attitude that one can accomplish anything one puts one's mind to. It felt natural to Riviera to follow in his footsteps and sign up for the Reserve Officer Training Corps (ROTC), a military program for students, when enrolling in college at 18.

Fifteen years later, the idealistic young woman, who excelled in college and planned on serving her country as a military leader and role model, is looking back on shattered dreams and the end of her army career. Riviera had dared what most of her colleagues shunned: She had reported male colleagues for sexual harassment.


share on:


"These are people floating around, waiting to die."
Thousands of minority Rohingya Muslims remain stranded at sea without adequate food and water. On Wednesday, Malaysia and Indonesia finally bowed to mounting international pressure, announcing that they would offer refugees temporary shelter provided that they are resettled and repatriated by the international community within a year. Roma Rajpal Weiß speaks with Human Rights Watch Deputy Asia Director Phil Robertson about the crisis.

See the Latest News in Asia »
share on:


Attacks on Health Facilities, Staff, Patients
Over the past year armed groups have attacked hospitals, clinics, and health personnel in 41 incidents in Afghanistan and deliberately killed over 45 health workers, primarily polio vaccinators, in Nigeria and Pakistan. In Syria, where medical facilities in Aleppo have been hit with government barrel bombs, 194 medical personnel have been killed and 104 medical facilities attacked since 2014.

Read More »
share on:


MAP
 
 
 
Interactive Map: What countries outlaw same-sex relations, and what's the impact on LGBTI people?
View now »
BOOK
 
 
 
A Front-row seat to the fall of communism in Albania, Modern Albania is a new book by Human Rights Watch's Fred Abrahams.  
Learn More »
MAP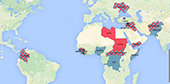 Attacks on Health: An interactive map
View Now »
Human Rights Watch
350 Fifth Avenue, 34th Floor New York, NY 10118 USA
Tel: 1 (212) 290-4700 | news@hrw.org